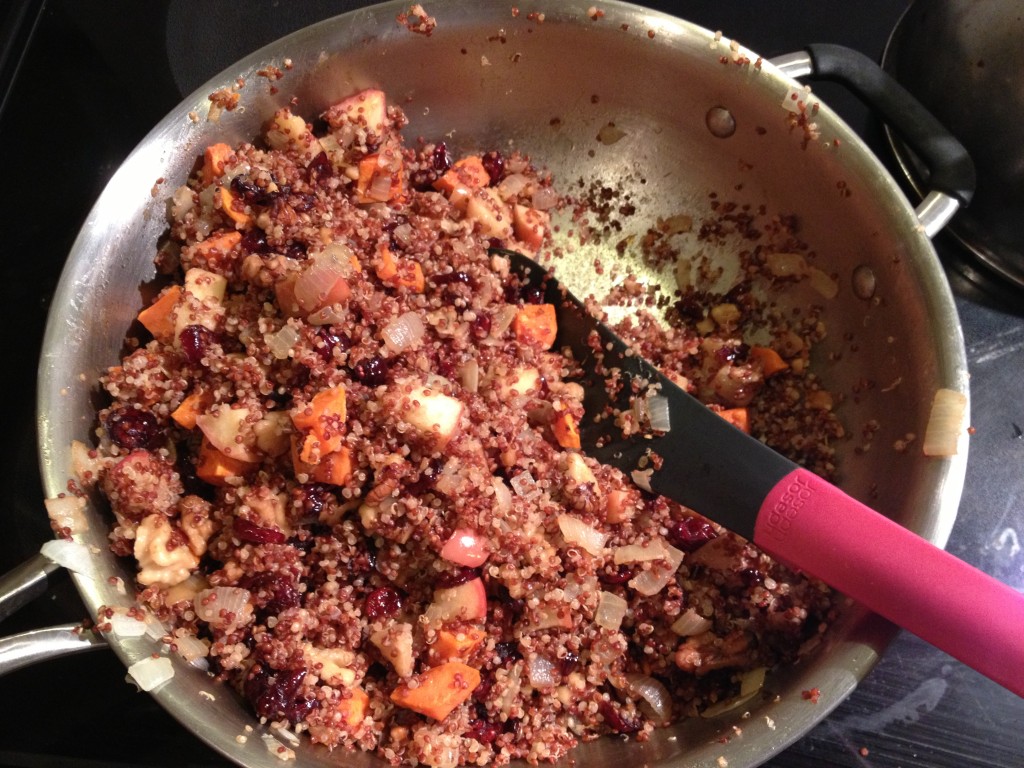 There's been a lot of quinoa around here recently… in my defense, it's in the URL and everything.
When I made this stuffed acorn squash a few weeks ago, I got a little bit obsessed with the quinoa stuffing. I wanted to make it again, without all that filling squash, so that I could eat more of it! The apples and slow-cooked onions in Emily's original recipe were delicious, but I added a few things to this version (toasted walnuts and roasted sweet potato) and think it's even more amazing than before. I also used a mix of red and white quinoa when I made this. The red stuff tastes nuttier to me, but the white is about 1/3 of the price, so I like to mix!
I'm not going to lie, there's a lot going on when you make this, especially if you haven't toasted the walnuts beforehand. (But I would NOT leave out toasting the nuts – they add a ton of flavor.) If anything, you could leave out the sweet potato, or cook your pot of quinoa the night before, so that you don't have 2 things in the oven and 3 pots on the stovetop. Clearly I did not plan that far ahead, and my tiny kitchen was a war zone with quinoa in every crevice when I was done.
This would make an awesome Thanksgiving side dish! I loved this recipe and plan on making it again this fall… as soon as I make my way through all the leftovers from the first batch! This recipe makes a really large amount.
P.S. I hesitated to put an entire tablespoon of cinnamon in the dressing, but don't be afraid – it's going on a huge amount of quinoa.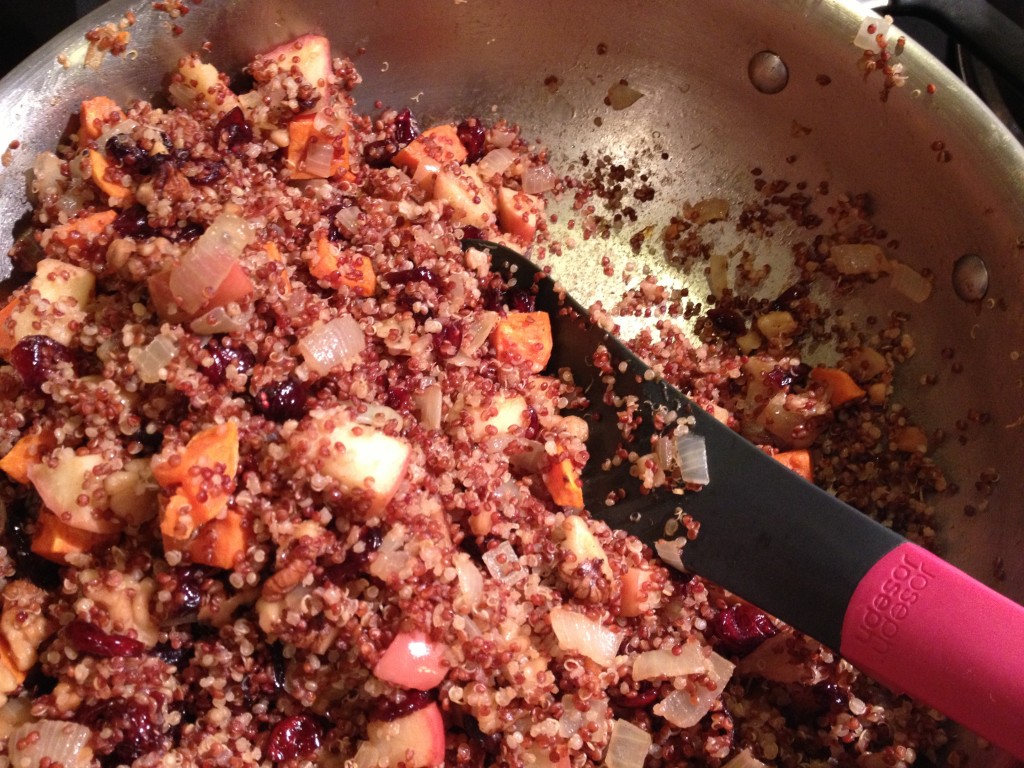 Autumn Harvest Quinoa
Adapted from Daily Garnish
Serves 8-10 as a side dish
Ingredients:
For the quinoa:
2 cups dried quinoa, rinsed (I used a combo of red and white)
1 large sweet potato
1 ½ large yellow onions, diced
2 large or 3 small apples, diced but not peeled (I used Gala)
1 cup dried cranberries
1 cup walnuts, toasted and chopped
For the dressing:
¼ cup olive oil
¼ cup white wine vinegar
1 Tbsp cinnamon
1 tsp kosher salt
Balsamic reduction or balsamic vinegar to finish (optional)
Directions:
Preheat oven to 400. Line a baking sheet with foil for easy clean-up. Peel and dice the sweet potato into about 3/4-inch chunks. Place on baking sheet, drizzle with a tiny bit of olive oil and sprinkle with a pinch or two of salt, and toss to coat. Spread in an even layer and bake for about 20-25 minutes or until sweet potato is fork-tender. Set aside.
Add quinoa along with 2.5 cups of water to a small pot. Simmer for 15 minutes or until quinoa is tender. Drain any remaining water if necessary.
Add a bit of olive oil to a large pan and saute the onions on medium heat until a bit browned, about 10-15 minutes. At this point, add the diced apples and continue sauteing until they are softened. Add the cranberries, walnuts, cooked quinoa and sweet potato chunks and stir gently.
Whisk the dressing ingredients together in a small bowl. Pour over the quinoa mixture and stir to combine. Saute about 2 more minutes, until everything is heated through.
Serve along with balsamic reduction or balsamic vinegar to top. The balsamic isn't necessary, but it adds a sweetness that I like.
Enjoy, and have a happy Halloween!