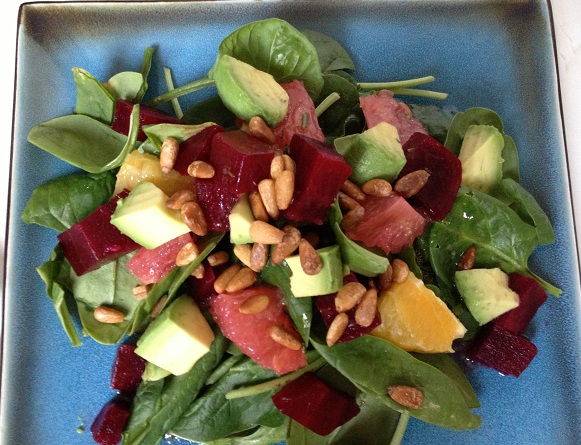 How about a salad?
I don't know about you, but after a weekend of bingeing on Thanksgiving leftovers, that's just what I need.
This salad makes me happy because it's fresh and colorful, while still being made with winter produce. You may not be able to tell from my 8:00 am iPhone photos here, but between the beets and the citrus, the colors are beautiful.
I've been mildly obsessed with beets lately, starting with the roasted beet hummus I made for Thanksgiving. They're just so pretty! If you've been scared of roasting beets, like I was before last week, don't be. You stick them in the oven and forget about them, then easily push the skin off with a knife once they're cool. Easy as pie! No… way easier than pie.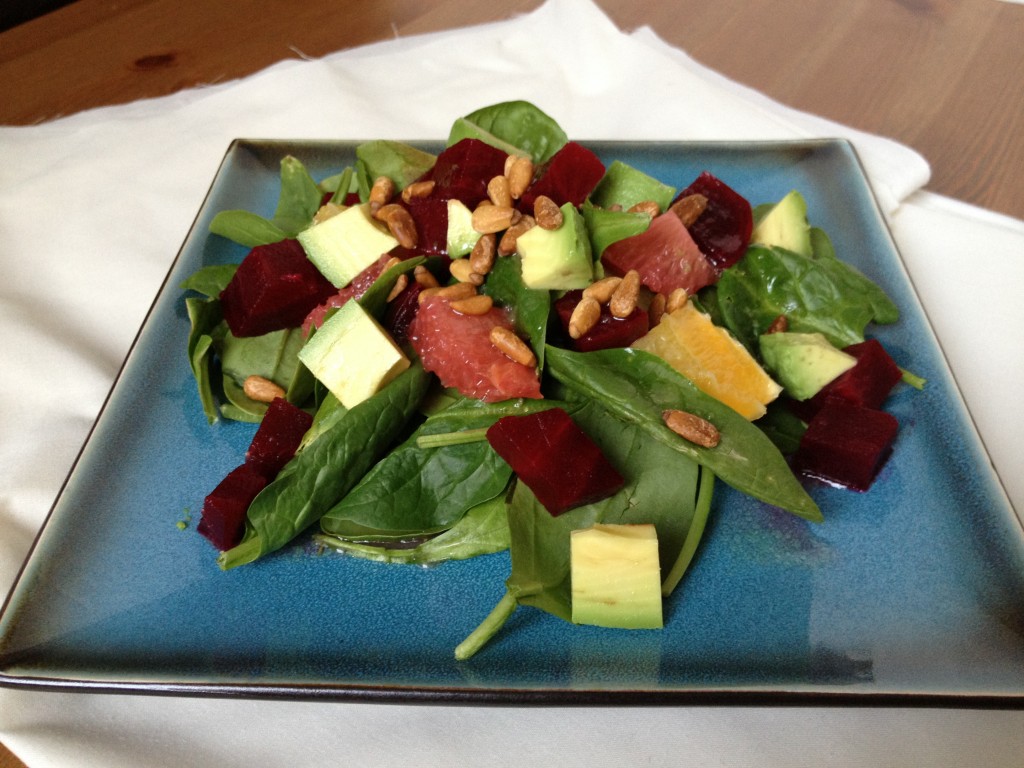 Citrus Beet Salad with Rosemary Vinaigrette
The beets can be roasted ahead of time and stored in the fridge either before or after peeling.
Ingredients
FOR THE SALAD:
1 medium beet (or 2 small beets)
1 grapefruit, peeled and segmented
2 oranges, peeled and segmented
1 avocado, chopped
5 oz. baby spinach
several handfuls pine nuts, toasted
FOR THE DRESSING:
juice of 1 orange
1 tsp finely chopped rosemary
2 Tbsp olive oil
2 Tbsp white wine vinegar
salt and pepper to taste
Instructions
To roast the beet(s), preheat oven to 400. Trim stems and scrub off dirt. Loosely wrap in foil. Roast for 60 minutes or until a fork slides easily to the center of the beet. Remove from oven, unwrap and set aside until cool enough to handle.
Once beet has cooled, slide the skin off using the back of a knife. Slice off top and bottom and chop into small cubes.
To make dressing, whisk all ingredients together in a small bowl.
To assemble, layer salad ingredients and top with dressing.