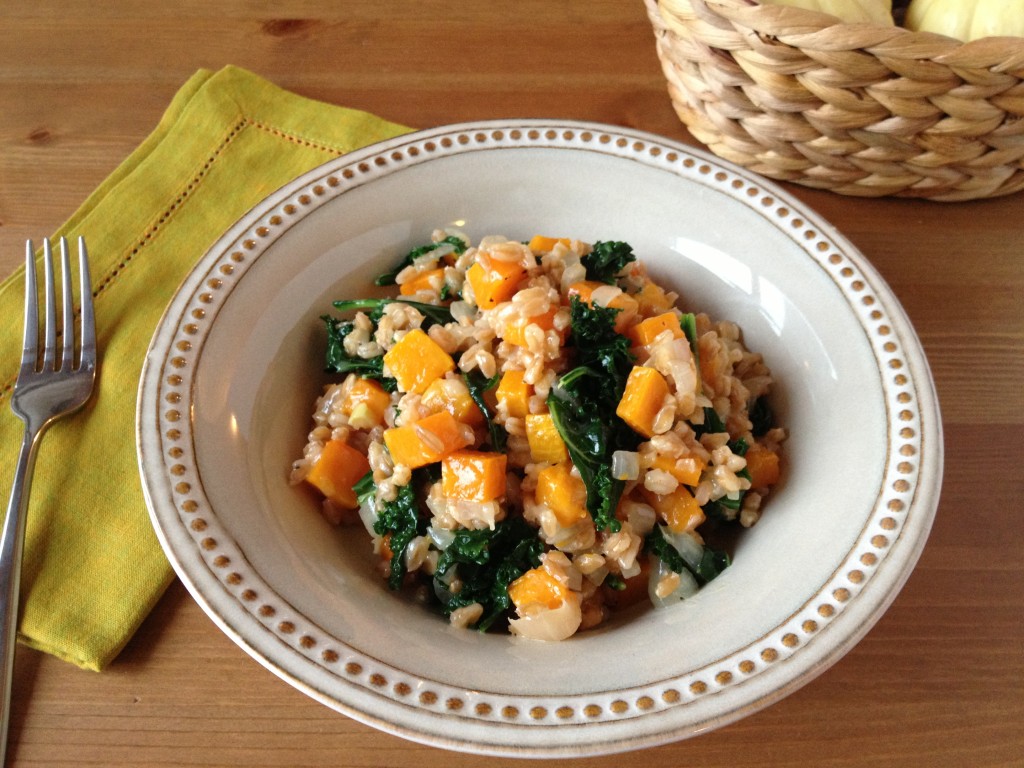 Happy Friday! Do you need the weekend as much as I do?
Last weekend, I had a whole list of things to cook and bake. I woke up early on Saturday morning energized to get started, and just kept going all weekend. As much fun as it was to try out a bunch of new dishes, I don't think this weekend will be like that. I just want to sleep! And ski. Oh yeah… and bake some pies for a Thanksgiving dinner party I'm going to on Saturday night. OK, so maybe it will be a liiiiittle bit like last weekend.
With any luck, I'll have some pie recipes to share with you next week. For today, I have this risotto, which was part of last weekend's craziness. Nate says it's a keeper, and I have to agree with him, seeing as I ate about two servings worth of samples as I stood over the stove.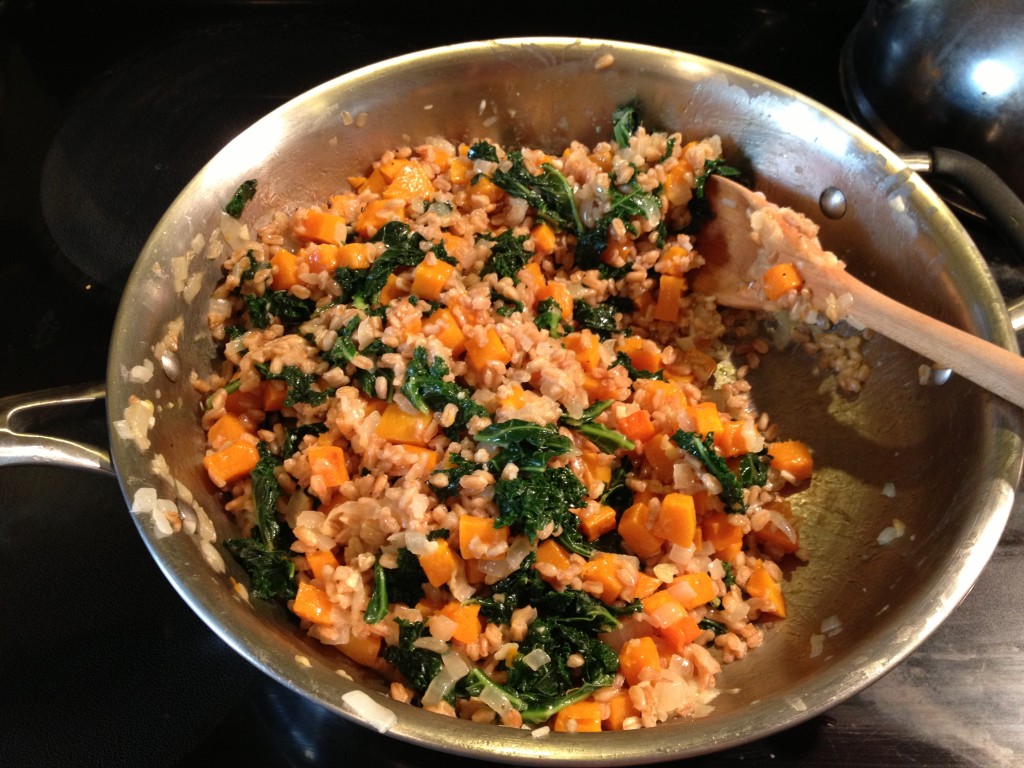 I was pretty scared of risotto after my last attempt, on Valentine's Day, left me a hot sweaty mess after stirring the stuff for about an hour longer than the recipe called for. Not very romantic, especially since I was pretty grumpy by the time it was done. It was also a farro risotto… the stuff just would not cook! Nate's mom pointed out to me that I should use pearled farro, which cooks a lot more quickly. Make sure you use that here to reduce the time you spend stirring! I found a package of it in Whole Foods near the rice (although they didn't have it in bulk).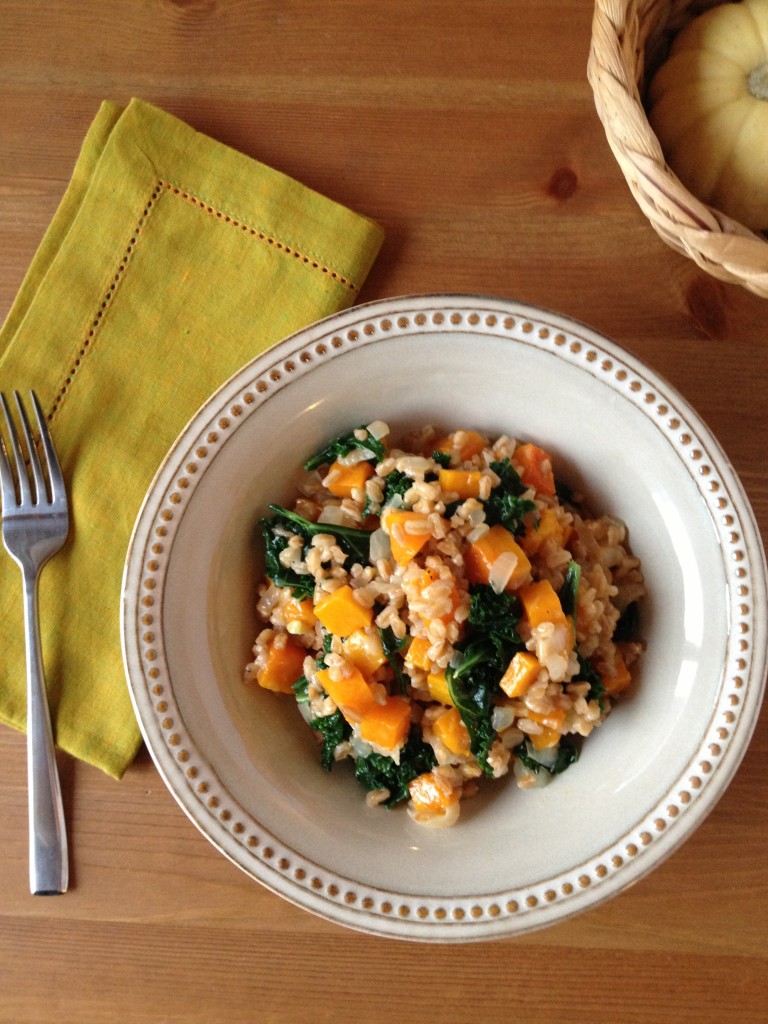 I am all about easy cooking (very little patience over here). So if I can make risotto and not be be swearing by the end… trust me, you can, too!
For this risotto, the squash and kale are cooked separately (this could even be done ahead of time) and then added at the end. The farro, onion, and garlic are simmered with white wine and vegetable broth. I tend to favor a "stir once or twice and then just stay in the vicinity" technique rather than constant stirring. That way I don't go crazy, and I even get some dishes washed while I cook.
There is a fair amount of olive oil and vegan butter going on here. So it's definitely a treat, but a tasty one worth having once in a while!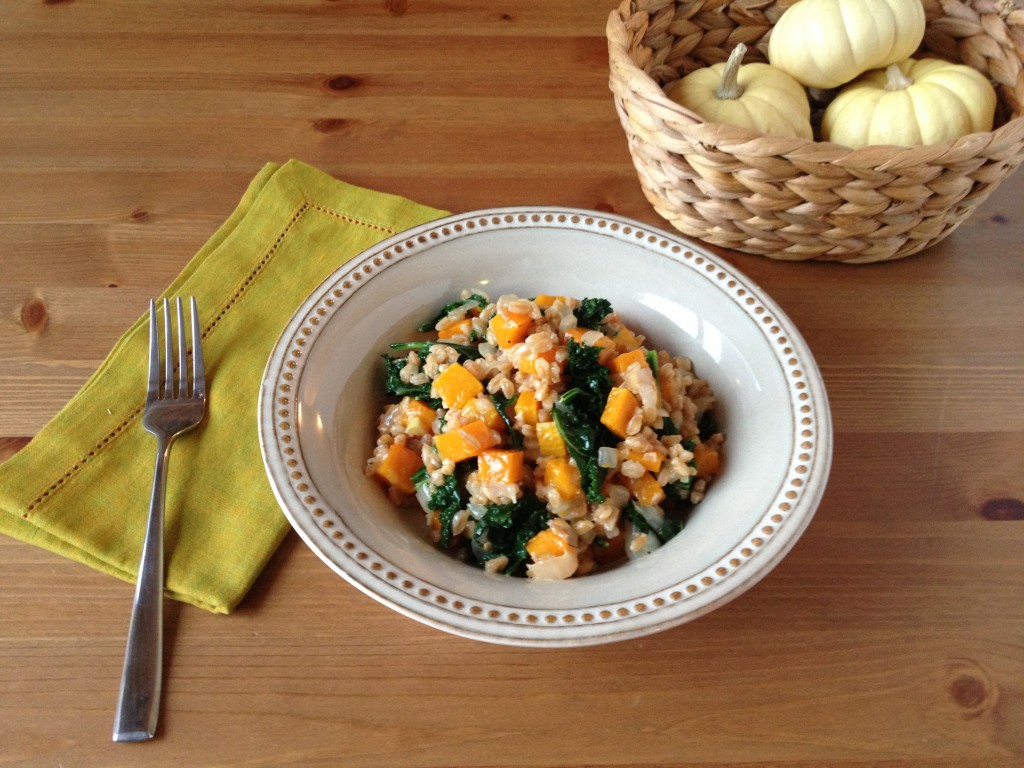 Farro Risotto with Butternut Squash and Kale
Ingredients
3 Tbsp vegan butter, divided (I used Earth Balance)
1 medium butternut squash, chopped into 1/2 inch cubes
large bunch of kale (I used curly), stems removed, leaves torn into 2-inch pieces
3 Tbsp olive oil, divided
1 1/2 cups pearled farro (can use regular farro but cooking time will double)
1 sweet onion, diced
3 large or 4 small cloves garlic, minced
1 cup dry white wine
4 cups vegetable stock, warmed (you may use slightly more or less depending on cooking time)
Instructions
First, roast the squash. (You can do this step ahead of time and keep roasted squash in the fridge.) Preheat oven to 375 degrees. On a foil-lined baking sheet, toss the cubed butternut squash with 1 Tbsp olive oil and season with salt and pepper. Roast about 35 minutes, until squash is tender, stirring 2-3 times in the process to cook evenly.
Next, toast the farro. Heat remaining olive oil in a large oven-proof skillet over medium-high heat. Add farro and toss to coat. Toast the farro about 1-2 minutes in the pan (you will hear it start to sizzle), then transfer to the oven (still at 375) to finish toasting for about 6 more minutes. Stir once after 3 minutes. The farro won't look toasted, but it will start to smell a bit toasted and will be sizzling. Remove the farro to a bowl and wipe out your skillet.
Now we'll actually cook the risotto. In the same skillet, melt 2 Tbsp vegan butter over medium-high heat. Once hot, add the onion and saute until translucent, about 5 minutes. Stir in garlic and cook about 2 minutes more. Now add 1/2 cup of the wine and increase heat to high to deglaze the pan. Stir once or twice, reduce heat to medium, and let simmer until the wine is almost evaporated, about 2-3 minutes.
Add farro and about 1/2 cup of vegetable stock to the skillet. Stir and let simmer until almost all liquid is absorbed. Continue doing this, alternating veg stock with the rest of the white wine, until your farro is tender, about 20 minutes.
Meanwhile, cook your kale by sauteing with a small amount of water, tossing continuously, until bright green, about 30 seconds. Run under cold water until cool, then set aside.
Once farro is tender, stir in remaining Tbsp vegan butter, squash, and kale. Season to taste with salt and pepper. Serve hot!
Notes
Adapted from Bon Appetit magazine via http://iheartyum.com/main-course/farro-risotto-with-butternut-squash-and-kale/