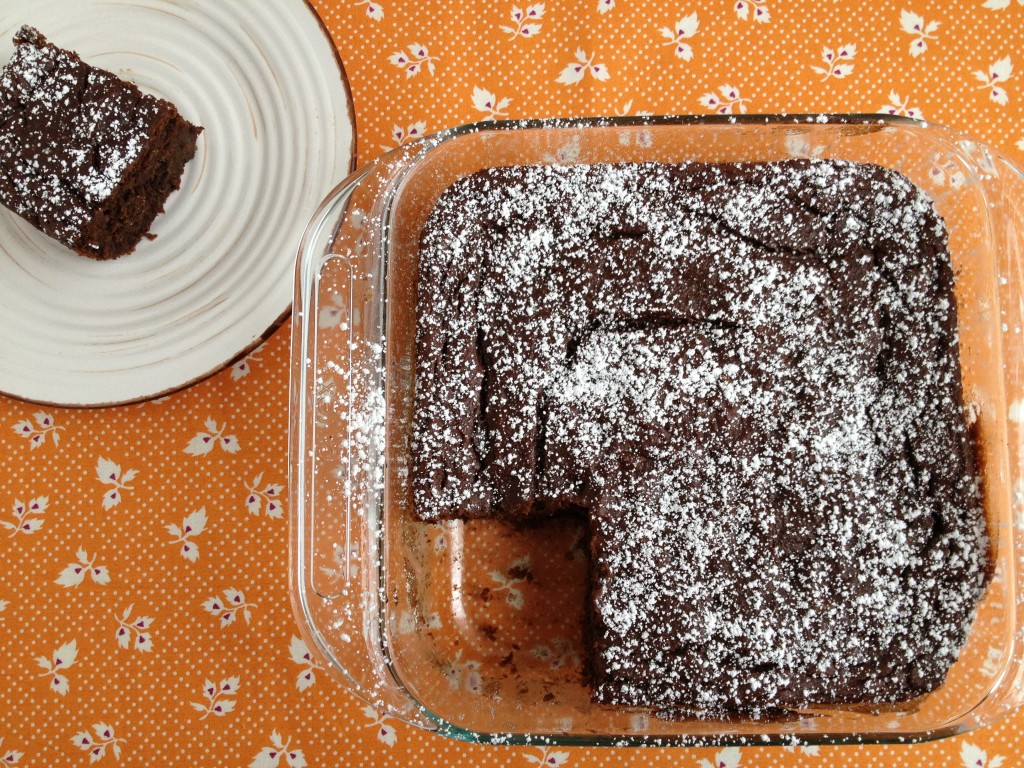 I had planned on posting about something completely different today.
But then I thought that would be unfair, because I've had chocolate on the brain all week. So obviously everyone should. Also, do you see this cake?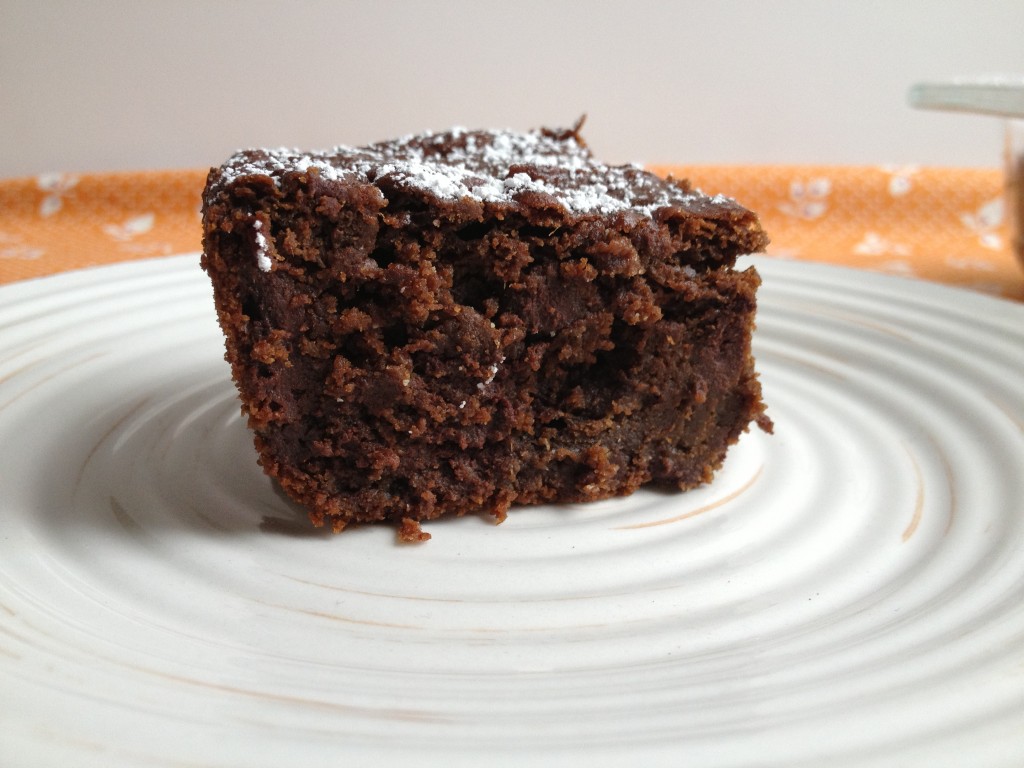 It is fudgy, pumpkiny and vegan. I really hope you're not sick of pumpkin yet, because this cake is something special!
Last fall, my roommate and I found this recipe on the Whole Foods website. I'm not sure what we were looking for when we found it (not a pumpkin recipe, I don't think), but we tried it and it was way better than we expected. It was so good that she made it again to surprise me for my birthday! So sweet. (Miss you Kera!)
I was also pleasantly surprised this weekend when I was able to create a vegan version of this cake pretty uneventfully. (That has not been the case for most of my vegan baking attempts… but more on that some other time.) Probably because it was somewhat healthy to start out with, containing pumpkin and all, the vegan version tasted just like I remembered it. Success!
I'm embarrassed to say that this particular cake spent less than 36 hours on this earth. I had some help… but not much.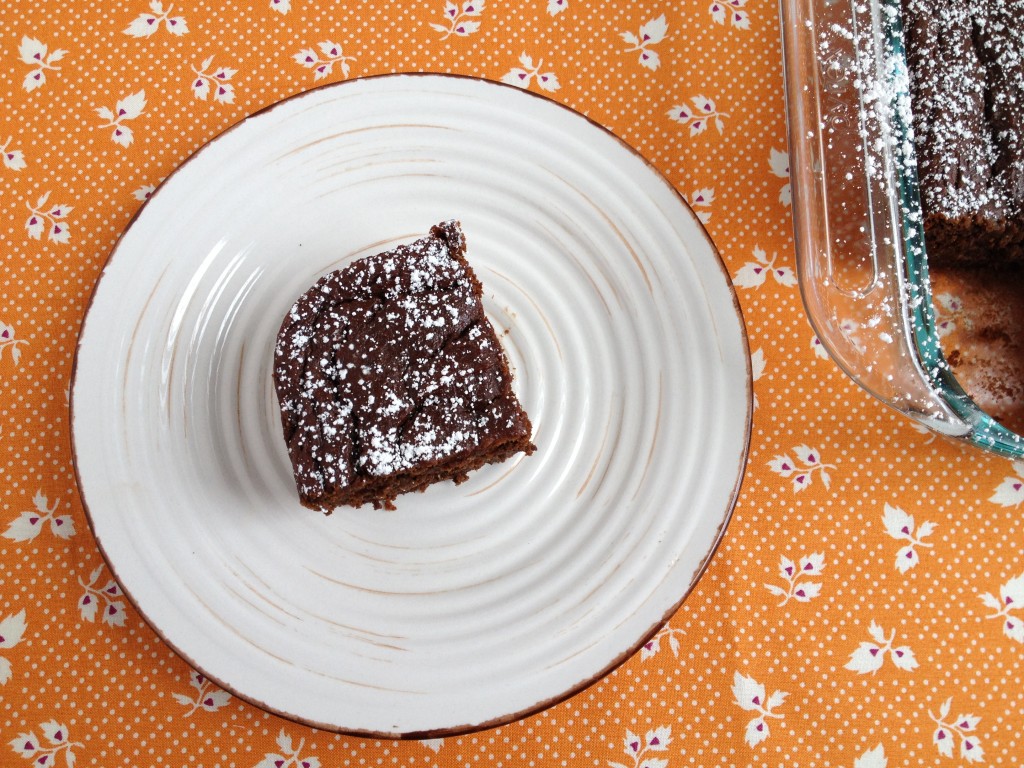 This cake isn't too fancy. It's good for snacking, or bringing over to a friend's house to share. It's sweet, but still pretty healthy!
The one problem with this cake is that it always looks so uneven, you know? Every time you cut a slice, the remaining cake just needs to be evened off a little… now just a little over here… oh shoot, might as well just eat the rest of that row.
And that, my friends, is why there was no cake left when Nate got home on Sunday.

Fudgy Chocolate Pumpkin Cake
Ingredients
1 cup whole wheat pastry flour
1/3 cup cocoa powder
2 tsp pumpkin pie spice
1 tsp baking powder
1/2 tsp baking soda
1/4 tsp salt
1/4 cup canola oil
3/4 cup natural cane sugar
1 6-oz container plain soy yogurt (3/4 cup)
1 15-oz can pumpkin purée (1 ½ cups)
1 tsp vanilla extract
1 ½ cups vegan chocolate chips
powdered sugar, for dusting (optional)
Instructions
Preheat oven to 350 degrees. Spray an 8-inch square baking dish.
In a medium-sized bowl, whisk together the dry ingredients (flour through salt).
In a separate large bowl, whisk together the oil, sugar, yogurt, pumpkin, and vanilla.
Mix the flour mixture into the wet ingredients until well combined. Stir in the chocolate chips.
Pour into prepared dish. Bake until a toothpick inserted in the center comes out with fudgy crumbs, about 35 minutes. Set the dish on a cooling rack.
Once thoroughly cool, dust with optional powdered sugar. Slice and serve directly from the dish.
Notes
Adapted from Whole Foods http://www.wholefoodsmarket.com/recipe/pumpkin-chocolate-cake