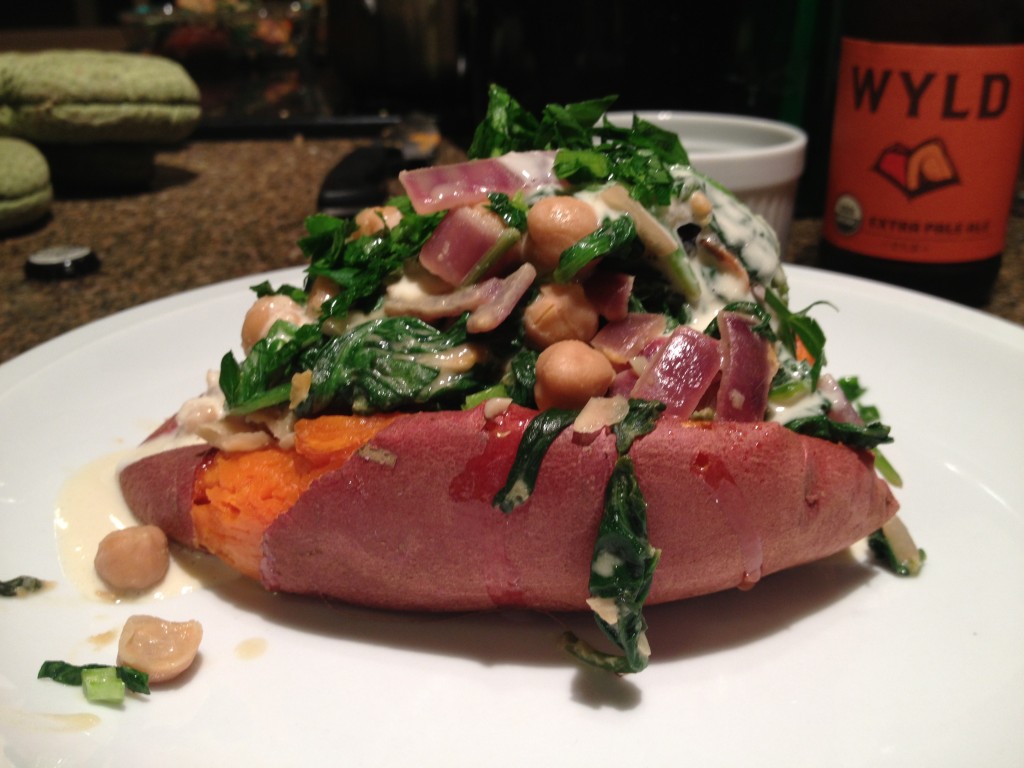 I don't want to get too political or anything… but I am one happy girl today.
OK, now back to food.
Until recently, I didn't think I liked sweet potatoes.
I think I'd mostly seen them in a casserole dish (there's your first mistake) covered with marshmallows and tasting as sugary as candy. That's just not my idea of a potato, you know? If I have to pick a potato, it's going to be white and mashed up with lots of butter and cream. With so many dishes on the table at Thanksgiving, even I can't do them all, and my potato compartment has historically been reserved for mashed potatoes only.
But last winter my roommate introduced me to sweet potatoes without all the other sweet stuff, and I kind of liked them! And now, after making these stuffed guys, I really like them.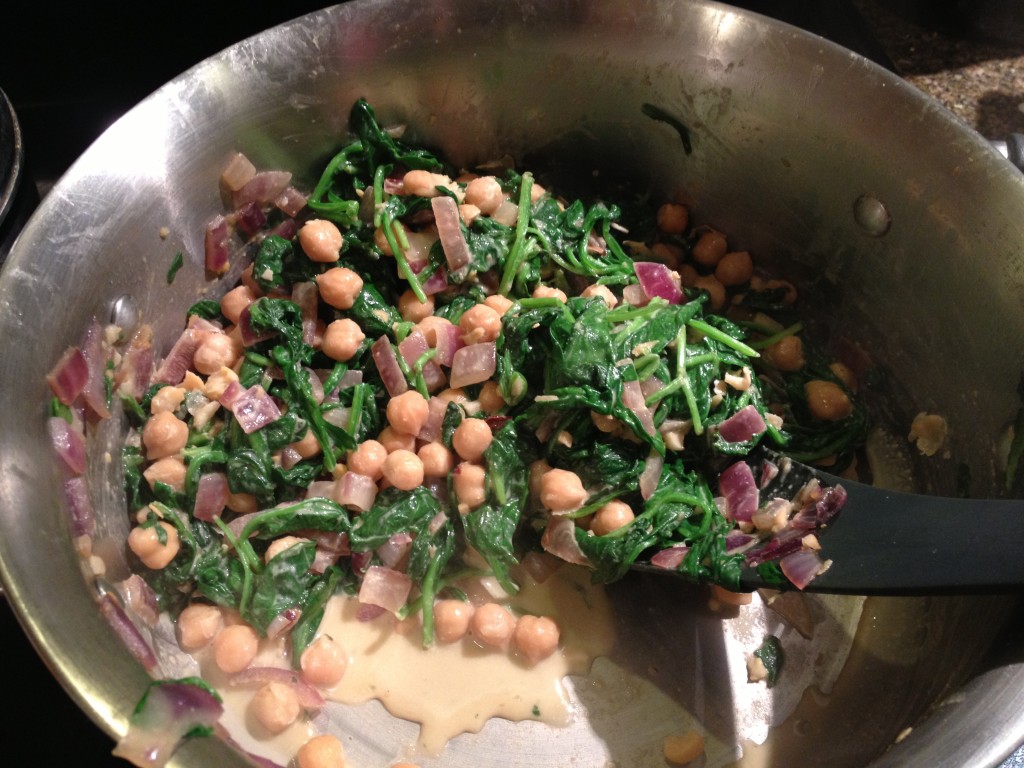 These taste simple and yummy and are simple to make. Saute some onions, spinach and chickpeas while the potatoes are cooking, whisk together the dressing, heap it all on top of each other, and grab your fork.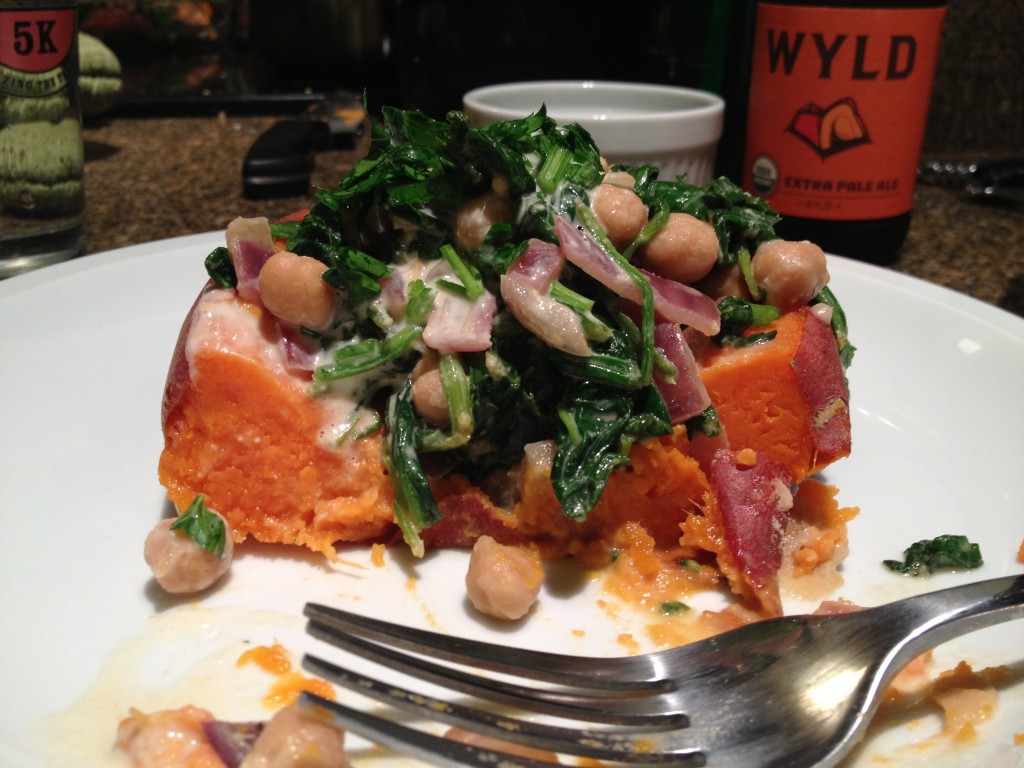 This dish is healthy and so filling! It got the Nate stamp of approval – always a good sign. Best served with some Utah beer, as pictured above!
Healthy Stuffed Sweet Potatoes with Lemon Tahini Sauce
Inspired by The Kitchn and Smitten Kitchen
Makes 4 servings
Ingredients:
4 small sweet potatoes
½ red onion, diced
1 lb fresh spinach
3 cloves garlic, minced (divided)
1 15-oz can chickpeas, drained and rinsed
1 tsp lemon zest
juice of 1 lemon
1/4 cup tahini
2 Tbsp olive oil
¼ cup water
½ tsp kosher salt
parsley for sprinkling (optional)
Directions:
First, bake the sweet potatoes. Preheat oven to 400 degrees. Wash sweet potatoes thoroughly, pat dry, and pierce each one several times with a fork. Place on a baking sheet in the oven and bake for about 45 minutes or until potatoes are tender when pierced with a fork.
While sweet potatoes are baking, make the dressing. Combine all dressing ingredients (lemon juice, tahini, olive oil, water, kosher salt and half of garlic) in a small bowl and whisk (or blend with an immersion blender – my favorite!) until smooth.
Heat a bit of olive oil in a large pot over medium-high heat. Add the onion and cook for about 5 minutes, or until translucent and beginning to brown. Add in the chickpeas and the rest of the garlic and cook until the chickpeas begin to turn golden, about 3 minutes. Add the lemon zest.
Toss in the spinach in large handfuls, waiting a minute or so for each handful to wilt and make room in the pot before tossing in the next. Once all the spinach has been added and reduced a bit, stir in about half the dressing. Toss so that everything is evenly mixed and continue to cook for a minute or two until the chickpeas and spinach are heated through.
Cut a slit down the center of each sweet potato and stuff with the spinach and chickpea mixture. Serve with extra dressing on the side and parsley for sprinkling.
Enjoy!