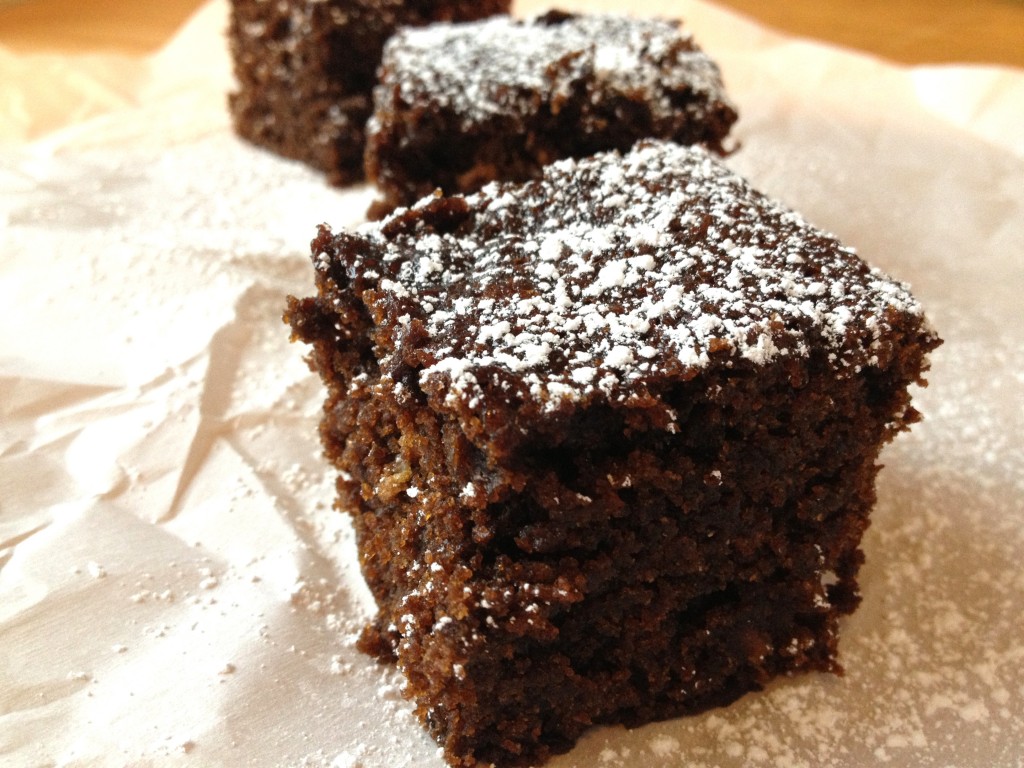 Happy 12/12/12! I was tempted to publish this post at 12:12, but I resisted. I will smile inwardly every time I type the date today, though!
Now I hate to disappoint you… but this is not a thumbprint cookie recipe. I have never had a thumbprint cookie. What is it with those this year? Do they dominate the internet every holiday season, or is it just a recent Pinterest trend – this month's version of pull-apart breads? Someone please fill me in on the thumbprint phenomenon.
OK, now that I've gotten that off my chest, it's gingerbread time.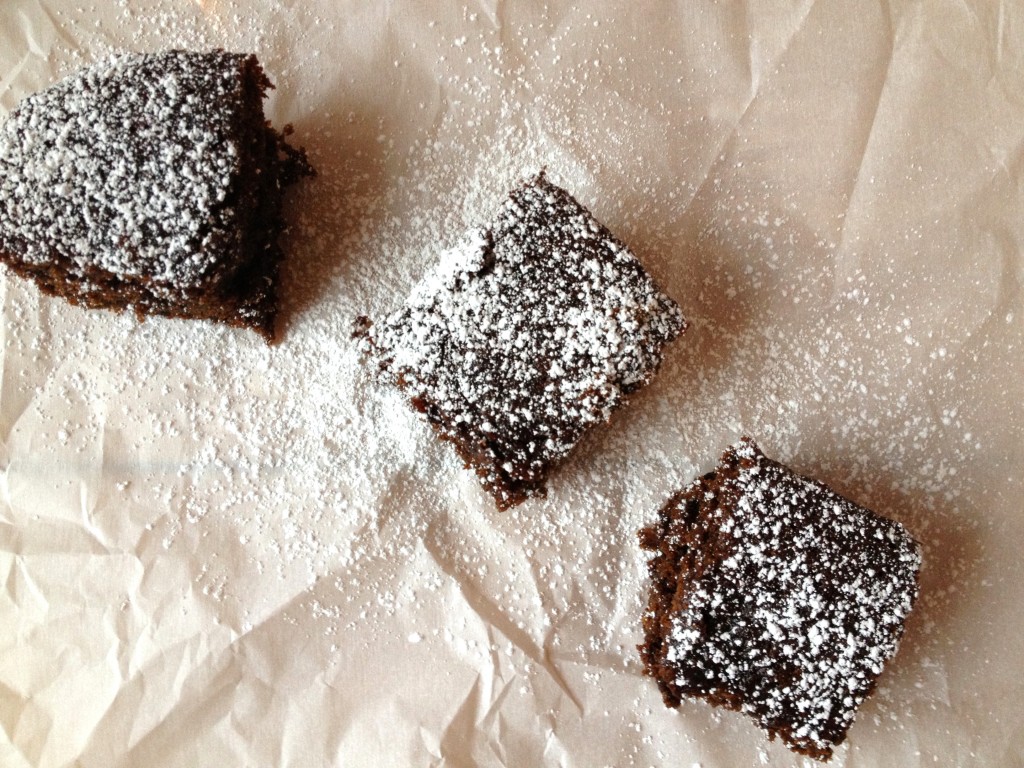 I think most people (including myself before this weekend) have only ever had gingerbread in cookie form. And dare I say this is better than gingerbread cookies?
Chewy, gooey, and moist desserts tend to be my favorite. That's why gingerbread cookies to me are… meh. While this actual gingerbread, on the other hand, is amazing. It is dense, sticky, and the edges get perfectly caramelized in the oven. Mmmmm.
I made this this weekend (during my holiday multi-tasking!), then proceeded to force it on everyone who walked through the door for the next few days. "Hi, how are you, eat some gingerbread!" This recipe really makes quite a bit! Perfect if you have lots of holiday house guests. Not perfect when you're home alone in your sweatpants staring at a huge tray of your new favorite dessert. I had to get the rest of it out the door! I was only partially successful… my hands are sticking to the keyboard as I type this.
Have you noticed a pattern to my recipe posts? "I made this this weekend. It was really good. I ate way too much of it." Rinse, repeat. Sounds about right.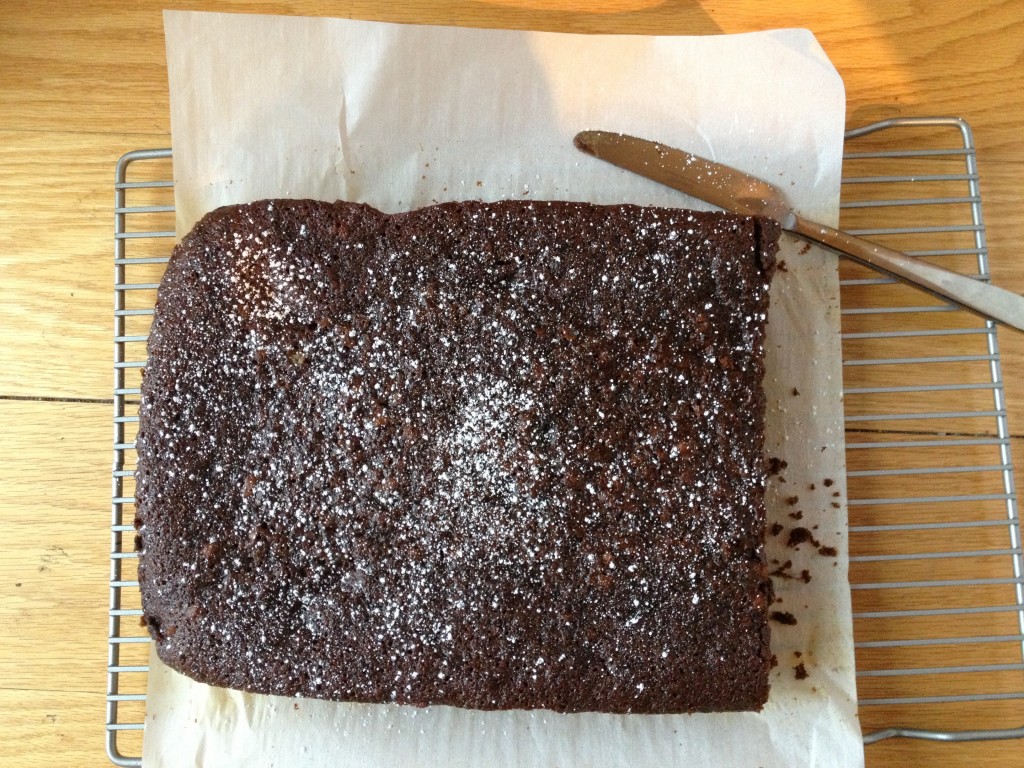 This recipe comes straight from 101 Cookbooks. Take a look back at the original post – I echo everything Heidi says!
Black Sticky Gingerbread
From 101 Cookbooks
Makes 20 hearty squares
Ingredients:
1 cup (2 sticks) unsalted butter
1/2 cup water
3/4 cup unsulphured blackstrap molasses
3/4 cup honey
1 cup packed dark brown sugar
3 cups whole wheat pastry flour (or all-purpose flour)
1 1/2 tsp baking soda
1/2 tsp salt
2 tsp ground ginger
2 tsp  ground cinnamon
1/2 tsp allspice
1/4 tsp ground cloves
3 large eggs, at room temperature
1/2 cup milk (I used almond milk)
1 Tbsp fresh ginger, grated or finely minced
Instructions:
Preheat oven to 325. Spray a 13×9 baking dish (I used glass) and line with parchment paper so that a few edges of paper hang over the sides.
In a medium saucepan over low heat, combine the butter, water, molasses, honey, and sugar. Heat until the butter is just melted, stirring occasionally. Remove from heat, pour into a large bowl, and set aside to cool.
In the meantime, combine the flour, baking soda, salt, and spices in a medium bowl. Set aside.
Once the molasses mixture feels just warm to the touch, add the eggs one at a time. Stir will to incorporate after each addition. Stir in the milk, then the dry ingredients. (Heidi says not to be too concerned if you can't get every lump out. I found that my batter was somewhat lumpy, but Heidi was right – that was no big deal.) Stir in the minced ginger.
Pour into your prepared pan. The batter will be very thin. Don't worry if some of it escapes the edges of the parchment paper. As long as the parchment paper is covering 2 sides of your pan, you should be able to remove the cake later with no problems.  Bake for 45-60 minutes, until the center of the cake springs back when pressed. (Like Heidi, this took me about 55 minutes.)
Remove from oven and cool for 10 minutes on a baking rack. At this point, use the parchment paper to remove the cake from the pan, and let it cool completely by itself on the rack.
Store in the refrigerator. Texture will be denser when cold and more cake-like when brought up to room temperature.