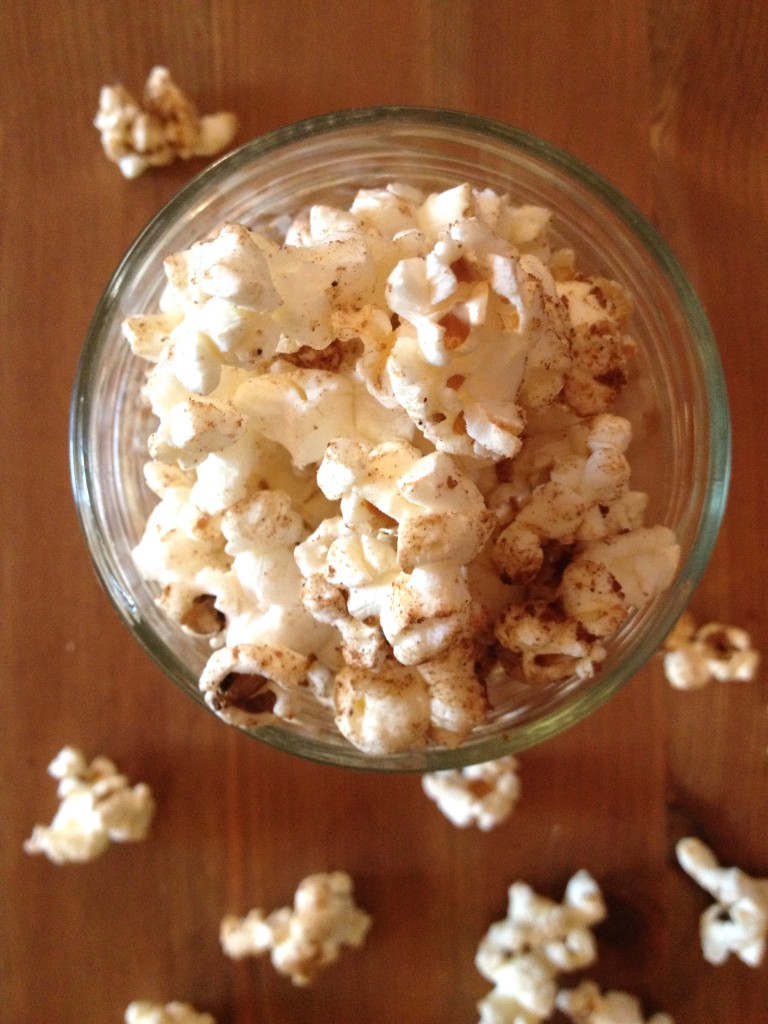 You're going to think I'm a crazy person in about 2 seconds.
I'm about to tell you to put popcorn kernels in a paper bag and stick it in your microwave. Crazy, right? I know. I think so too.
In case you're wondering, yes, this was a Pinterest find. Like so many things I enthusiastically pin, I didn't try this out for months. But then the other night I wanted some popcorn, and I'm still kind of scared of making it in a pot with oil… it just doesn't sound foolproof enough for this girl, who is prone to burning things to the bottom of her pots. Plus washing a large, oily and possibly scorched pot is like the last thing I want to do.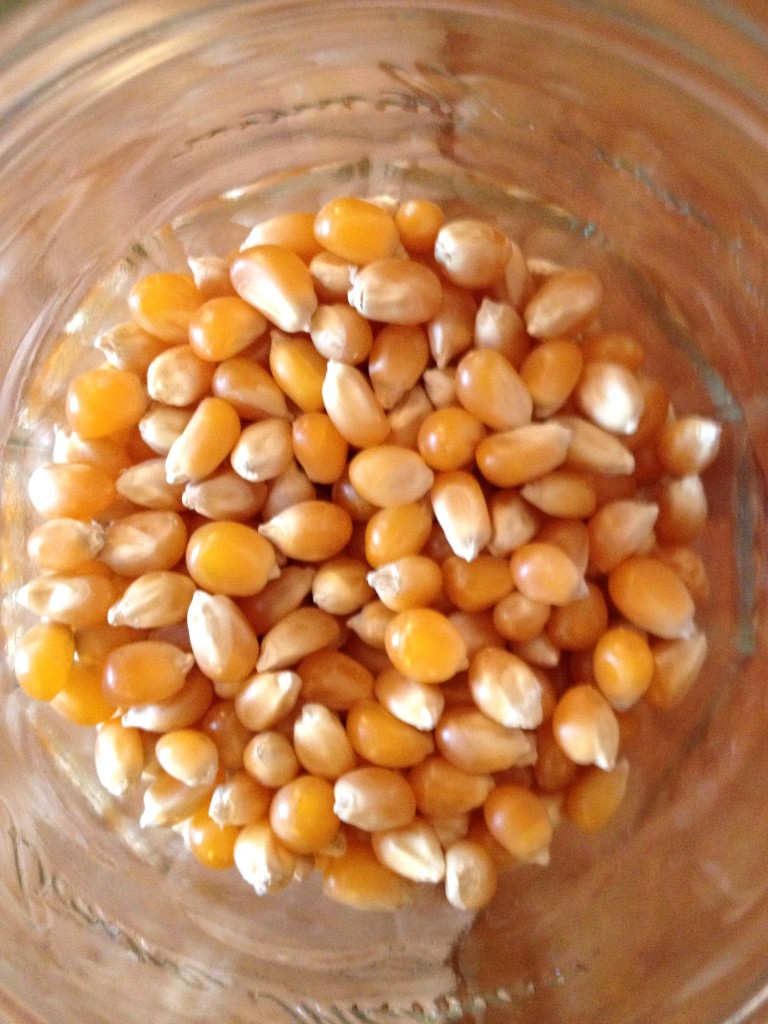 So I tried this, expecting it to be a waste of popcorn kernels and the 100 brown paper bags that I had to buy because apparently they are not sold in smaller quantities. But then I started hearing the first magical popping sounds. Mr. Orville Redenbacher (or whoever first made microwave popcorn into a business) was a con man, because you can literally make it in a brown paper bag.
Basically, you do just that – pour 1/4 cup of popcorn kernels into a brown paper bag, fold the bag over, and microwave it. Even without any oil, it pops just like microwave popcorn does. And then, because it has no oil, obviously you can smother it in butter, brown sugar and spices and eat a whole bowl full of it.
This recipe makes less than your standard bag of microwave popcorn, because lunch bags don't expand with those nice rounded sides the way microwave popcorn bags do. Let's just say I tried a larger amount, and ended up with popcorn kernels flying loose around my microwave!
I added some gingerbread spices to this popcorn for a holiday twist. I will definitely be making some different versions of it in the future!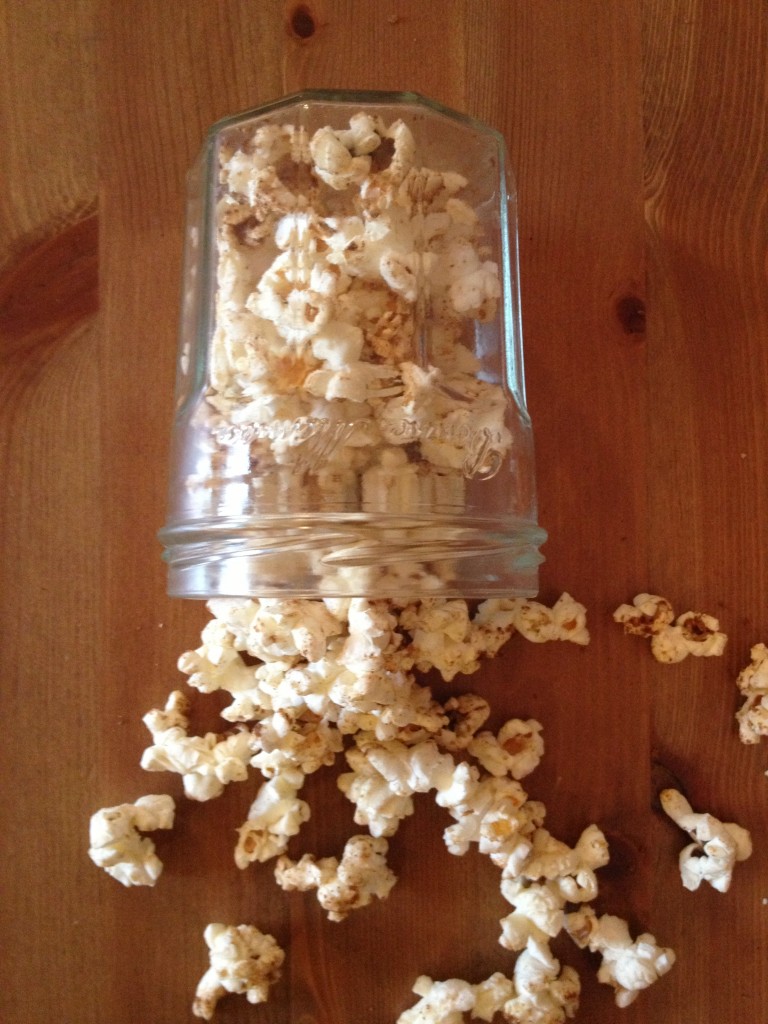 Gingerbread Spiced Popcorn
Method from Squawkfox
Ingredients:
1/4 cup unpopped kernels
1 Tbsp butter or Earth Balance, melted
1/4 tsp salt
1 tsp brown sugar
1 tsp ground ginger
½ tsp cinnamon
¼ tsp allspice
pinch ground cloves
Instructions:
Pour popcorn kernels into a brown paper lunch bag. Fold the top over several times and place in microwave. Microwave on high for 3 minutes, but stay close by to listen to the popping. Remove from microwave as soon as popping slows to 1-2 seconds in between pops, which is usually between 2:30-2:40 for me. Leaving it in the whole 3 minutes will probably burn it, depending on your microwave.
While popcorn is popping, mix together the salt, sugar and spices in a small bowl. You may have to break up the brown sugar with the back of the spoon to incorporate it into the spices.
Pour popped popcorn into a large bowl. Drizzle melted butter over and toss with hands. Sprinkle spice mixture over the top, tossing several times to coat. You can use as little or as much of the spice mixture as you like – I like to use it all.
Enjoy!
Makes 6 cups popped
Time: 5-10 minutes