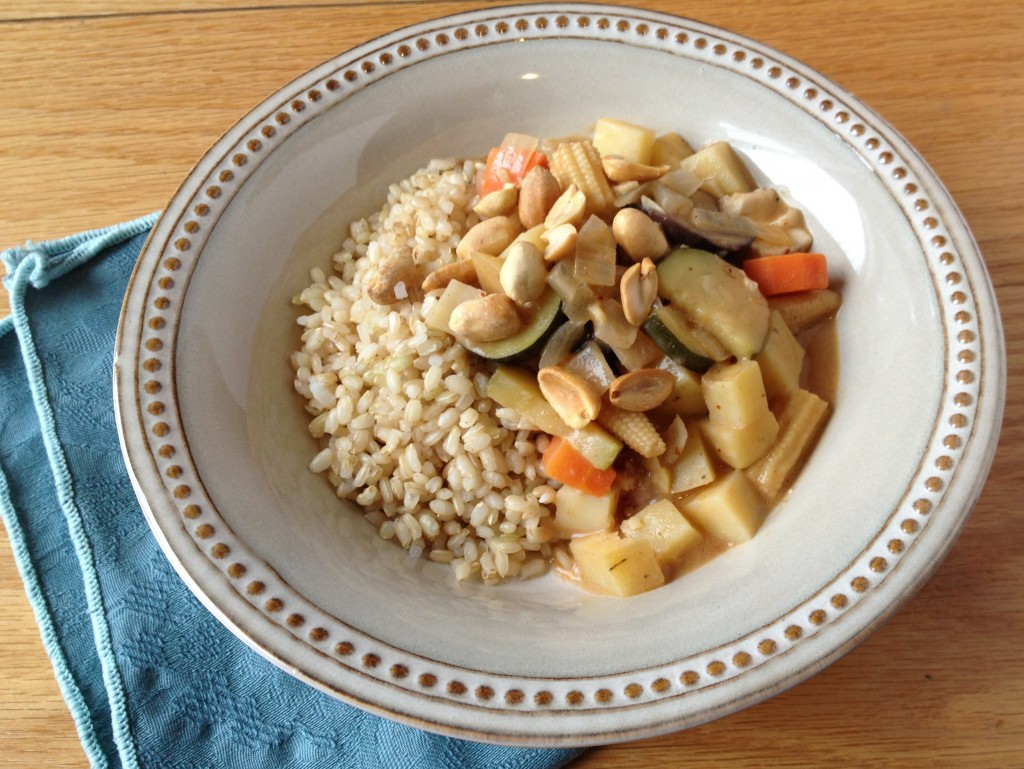 Do you have a favorite takeout place?
Mine is a Thai restaurant a few minutes away. Their curries and noodles are amazing. And almost as good as the food is the ritual of ordering takeout. I call (usually when leaving yoga) and the same guy answers the phone every time. Seriously, this guy must work 80 hours a week. I have his script down pat. I know exactly how much it's going to cost ($12.89) and when it will be ready (10-15 minutes). I could order from there in my sleep. One time they were randomly closed on a Tuesday and my call went straight to voicemail. It really threw me for a loop. I called back at least 3 times before I could acknowledge that I wasn't going to be able to place my routine takeout order.
This Massaman curry is actually NOT my usual Thai order (that would be drunken stirfry with tofu). But I was introduced to it recently and loved it so much that I changed my usual order the other night to this. It cost $13.49, not $12.89, so that was a sad little departure from the norm, but at least it was still ready in 10-15 minutes.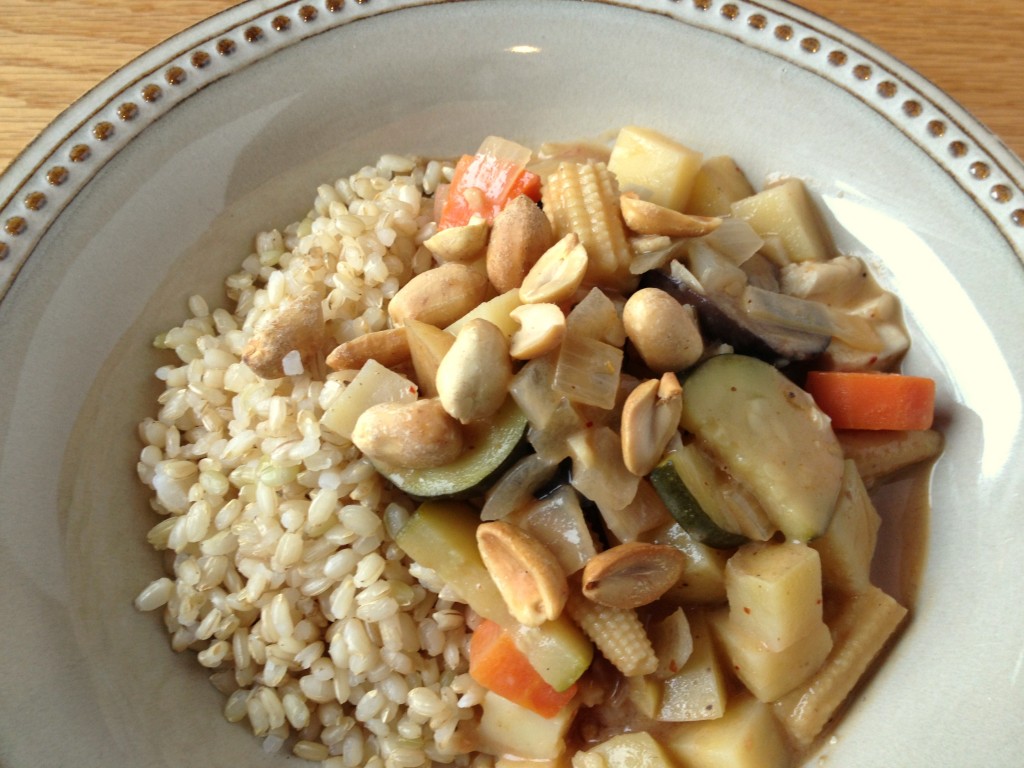 I've never had a Massaman curry other than the one from my favorite Thai place, so I tried to replicate the flavor of theirs as closely as possible. It's not your typical curry in that it's actually very mild. It's also peanut-y, creamy, and coconut-y – yet packed with vegetables?? So many good things.
Speaking of the vegetables in this recipe, they're just a suggestion really. The takeout I get has tofu, potatoes and carrots only, but more veggies and less tofu seemed like a good idea to me. I've also tried broccoli in here, but found that it didn't reheat well. Feel free to use your favorite veggies (or just whatever you have in the fridge!).

Massaman Curry with Tofu
This vegan version of a Massaman curry is mild yet flavorful and packed with vegetables. You'll never order Thai takeout again.
Ingredients
brown rice for serving
2 Tbsp coconut oil
2 Tbsp Massaman curry paste
1 yellow onion, diced
2 cloves garlic, minced
1 knob of ginger (about ¾ inch), peeled and minced or grated
2 cans light coconut milk
3 Tbsp brown sugar
1/2 Tbsp tamarind paste
1/3 cup peanut butter
juice of 1 lime
½ Tbsp low-sodium tamari or soy sauce
1 ½ lbs potatoes, chopped into ½ inch chunks, peels left on (I used Yukon gold)
1 large carrot, peeled and chopped
1-2 small zucchini, sliced into half-coins
5 oz mushrooms, sliced
2 vine-ripened tomatoes, cut into wedges
1 can baby corn, drained and chopped
8 oz firm or extra firm tofu, cubed
roasted peanuts for topping
Instructions
Cook rice according to these instructions.
Heat coconut oil in a large deep pan over medium heat. Add the curry paste and mash into oil until combined and hot.
Stir onion, garlic and ginger into the curry mixture. Saute for a few minutes until very fragrant and slightly softened.
Whisk in the coconut milk. Add the brown sugar, tamarind paste, peanut butter, lime juice, and tamari and whisk to incorporate.
Add potatoes and carrots. Cover and bring to a simmer. Simmer for about 20 minutes (depending on the size of your potato chunks), until potatoes are tender.
Add zucchini, mushrooms, and any other veggies you might be using that need to cook for a few minutes. Simmer for 2-3 minutes.
Finally, stir in the tomato wedges, baby corn, and tofu. Remove from heat and let sit for a minute or two until tofu is heated through.
Serve over rice and top with roasted peanuts.