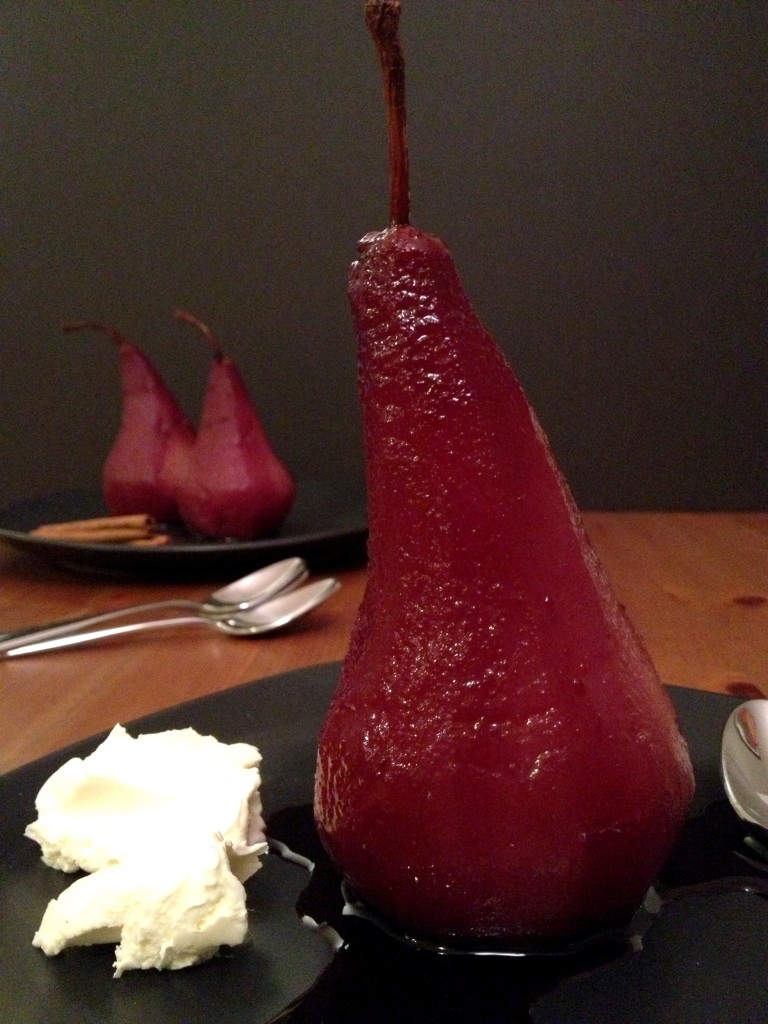 OK, if chocolate and hazelnut isn't your thing, (then I don't understand you BUT) I've still got you covered for Christmas dessert. You can totally invite me over if you're going to serve these. (You should have a little talk with your taste buds about the chocolate hazelnut thing, though.)
This is the perfect dessert to end a rich holiday meal, when you know there will be cookies and other sweets on the table, too. Spiced red wine poached pears are positively healthy compared with what you could be serving (ahem hazelnut cake), yet elegant and interesting enough to satisfy any dessert-lover. And for those who like rich desserts (this girl!), a healthy dollop of mascarpone cheese is recommended.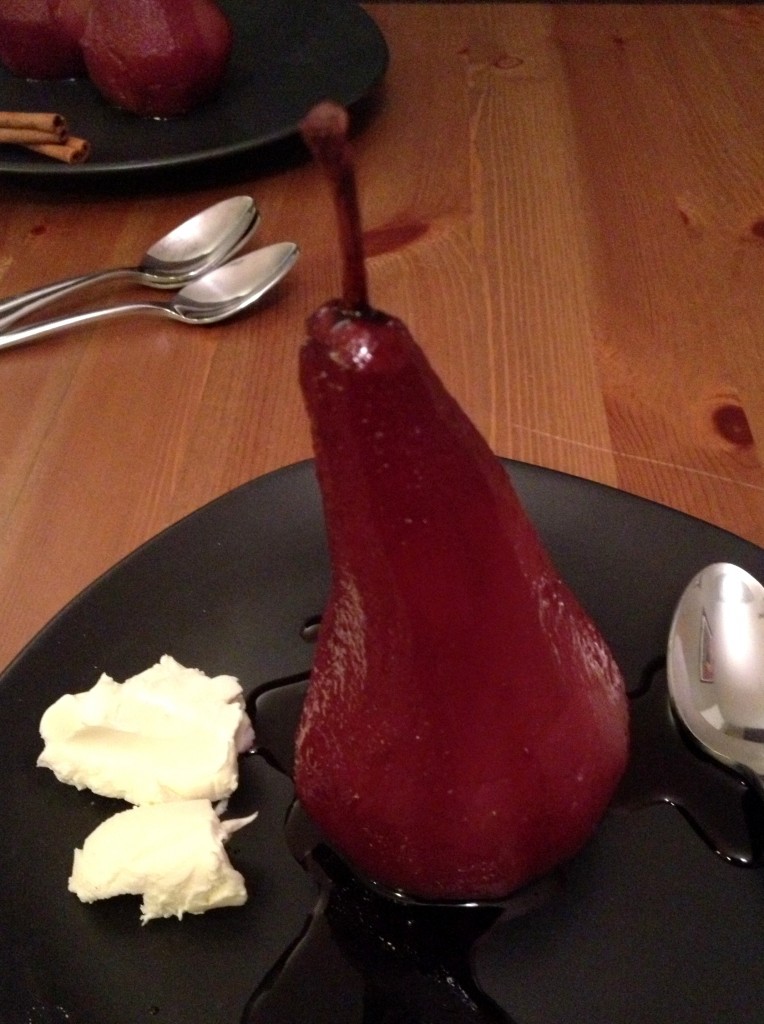 Can you tell from these pictures how beautiful these pears are? They are poached (fancy word for simmered!) in red wine, then further soaked in the poaching liquid, which is finally reduced down to a syrupy glaze to pour over the pears. The color is just gorgeous. You know I have a thing for colorful Christmastime foods! And served with the creamy mascarpone, they are just heaven.
This is definitely an adult-table-only dish. Sorry kids! You wouldn't like it anyway… way too grown-up for you :)
(Am I the only one that liked the taste of wine as a kid? I specifically remember dipping my finger in my dad's white wine when I couldn't have been older than 6. My mom told me to stop because wine made kids "sick." Hah!)
Plan a day or so ahead for these pears so you can give them time to soak overnight and take on the beautiful color and flavor of the spiced wine. That means leaving some extra room in the fridge for them during your Christmas food prep… and oh yeah, leaving some extra room at the table for me!
Spiced Red Wine Poached Pears
Adapted from The Boston Globe
Ingredients:
4 cups cold water
juice of 1 lemon
4-6 firm but ripe pears with stems intact (I used Bosc, but Bartlett will work, too)
1 bottle light red wine (mine cost $6.99 and was perfect for the job)
1/2 cup sugar
juice of 1 orange
1 2-inch strip orange rind
1 star anise
1 tsp vanilla extract
2 whole cloves
1 cinnamon stick
3/4 cup mascarpone for serving (or whipped cream, if you prefer)
Instructions:
Juice the lemon into a large bowl with the water. Carefully peel the pears, keeping the stems intact and taking care not to dent them. Cut a small slice from the base of each pear so that it can sit upright. Place each one into the lemon juice mixture as you finish peeling and cutting it. This will miraculously keep them from browning!
In a pot large enough to hold all the pears, combine all other ingredients besides the mascarpone (wine through cinnamon stick). Bring to a simmer over medium heat, stirring until the sugar dissolves.
Add the pears and simmer for 25 minutes, turning every 5 minutes or so to ensure even color. They should be tender when pierced with a skewer. (They may need 5 to 10 minutes longer if they were not ripe.)
Remove from heat and allow pears to cool completely in the poaching liquid.
Once completely cool, transfer the pears in their liquid to the fridge for at least several hours and as long as 3 days. (I recommend at least overnight to develop a deeper color.) You can keep the whole pot in the fridge, or transfer to a different container to save space. If your pot/container is deep enough, keep the pears standing upright. If not, that's fine, just turn them over occasionally to let them soak evenly. The sides where they lie down will be a little flat and less colored, but no one will mind.
Before serving, strain about 1/3 of the poaching liquid into a saucepan. Bring it to a boil over high heat. Remove lid, reduce heat to medium and let the mixture bubble steadily until it reduces to a syrupy glaze, about 15-20 minutes.
To serve, place each pear on a dessert plate or in a shallow bowl and drizzle with the syrup. Add mascarpone on the side.
Enjoy!
Time:
4 hours to 3 days (includes refrigeration time)