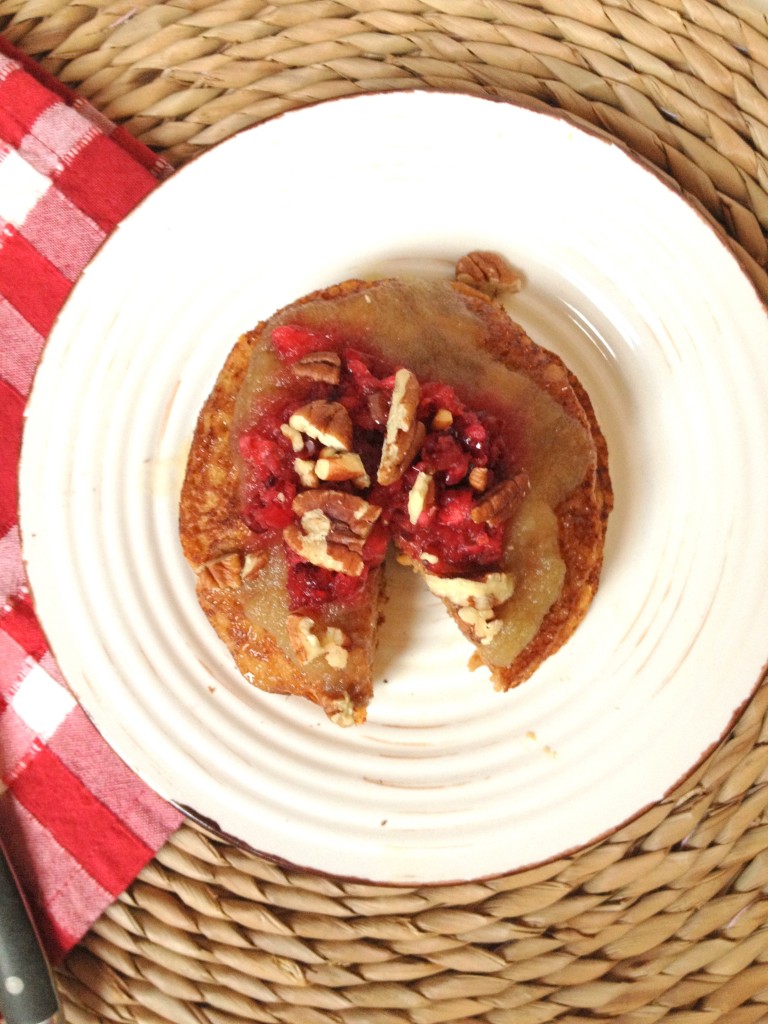 Yep, that's right. It's The Week of the Sweet Potato over here. Yesterday in sushi bowls, today in pancakes. What can I say? It's the sweet potato time of year.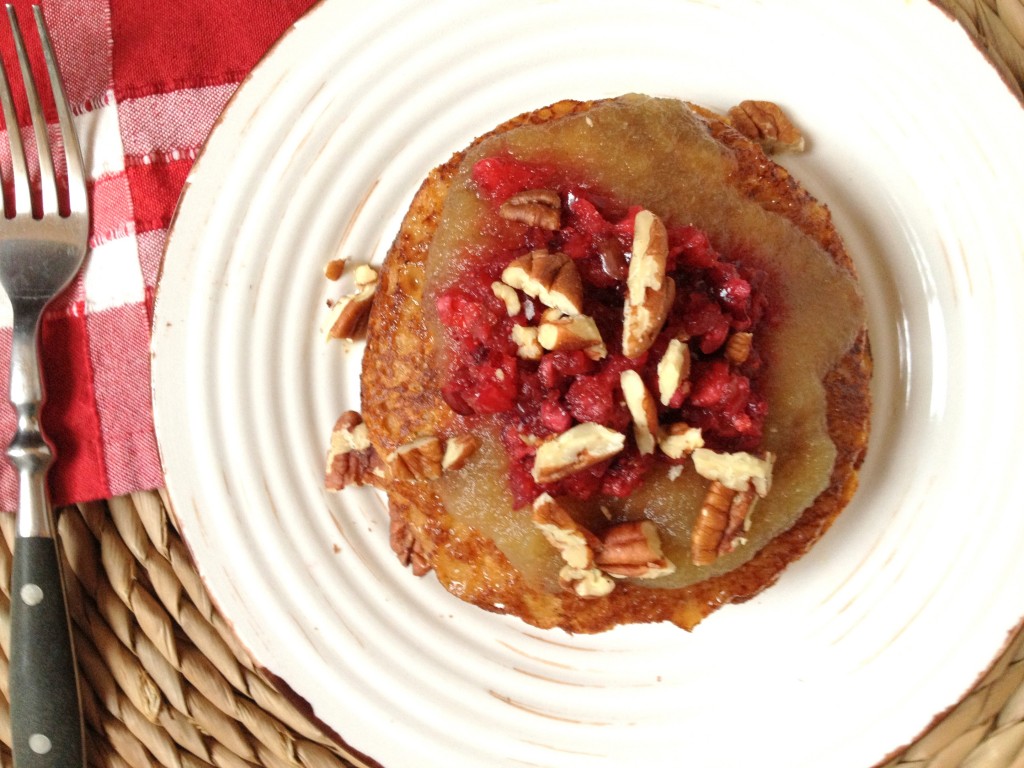 Now, about said pancakes. I have a question for you: How would you rank pancakes, waffles, and French toast in order of your favorite?
For some reason this became a big topic of discussion at my last job. In a very scientific study (involving asking everyone whenever it came up), we determined that men almost always liked pancakes the most, while women usually preferred waffles or French toast.
Now, I have to admit that French toast comes first for me, followed by waffles, and pancakes come in last (unless it's my mom's German pancakes, which always come in first). Buuuut throw some sweet potato into the mix, and I may have to change my mind. Because these are pretty delicious.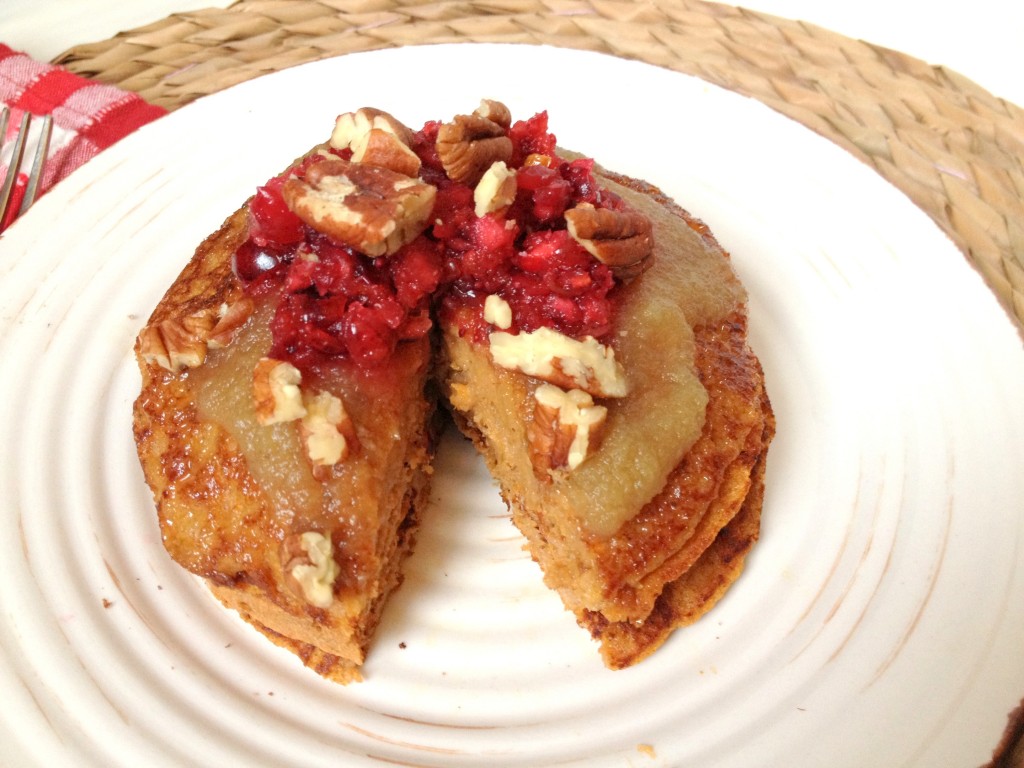 Be warned: I like a lot of spices in my pancakes, baked goods, etc. (and that's probably why I like these guys). If you prefer more subtly spiced cakey things, you might want to cut down on the cinnamon and nutmeg. Also, the spices don't really come through in the uncooked batter, soooo no matter how much spice you choose to add, you're not really going to know how they taste until they're cooked!
If you have a man in your life, studies show he probably loves pancakes. Maybe make these for him this weekend?
Sweet Potato Pancakes
Makes 10-12 pancakes
Ingredients:
1 medium to large sweet potato, cooked, peeled, and mashed (about 1 ½ cups)
1 cup spelt flour*
1/2 cup whole wheat pastry flour*
1 Tbsp baking powder
2 tsp cinnamon
1 tsp nutmeg
pinch of ground clove
pinch of salt
2 ¼ cups regular unsweetened almond milk
vegan butter or coconut oil for the pan
Suggested toppings:
apple sauce and maple syrup mixed in a 4:1 ratio (lower calorie and less sweet!)
toasted chopped pecans
leftover cranberry sauce
*Flour note: This is what I used, but you could use all spelt flour, all whole wheat, or even all white flour. I'm sure whatever you have in the pantry will work!
Instructions:
First, bake your sweet potato at 375 until soft when squeezed, about 45 minutes to an hour. (This is best done ahead of time.) Pull the skin off and mash the potato.
In a large bowl, mix all the dry ingredients. Whisk in the almond milk and sweet potato.
Heat a non-stick pan over medium heat. Once hot, add a pat of vegan butter or coconut oil and swirl to coat. Ladle a scoop of the pancake batter into the center of the pan. Cook until bubbles start to form in the center of the pancake. Flip only once, and cook on that side until browned.
It's pretty much a rule that the first pancake is an ugly duckling. See how it looks when you cut into it (then eat it yourself!). The sweet potato adds a lot of moisture, so the middle may still be a bit mushy even though the outsides are nicely browned. If this happens, add more milk to the batter, 1/4 cup at a time. This will make thinner pancakes that cook more quickly on the inside. You may also have to turn the heat down as you go along and the pan heats up more, especially if you have electric burners.
Top with apple sauce, maple syrup, pecans, cranberry sauce, or your favorite pancake toppings.
Enjoy!