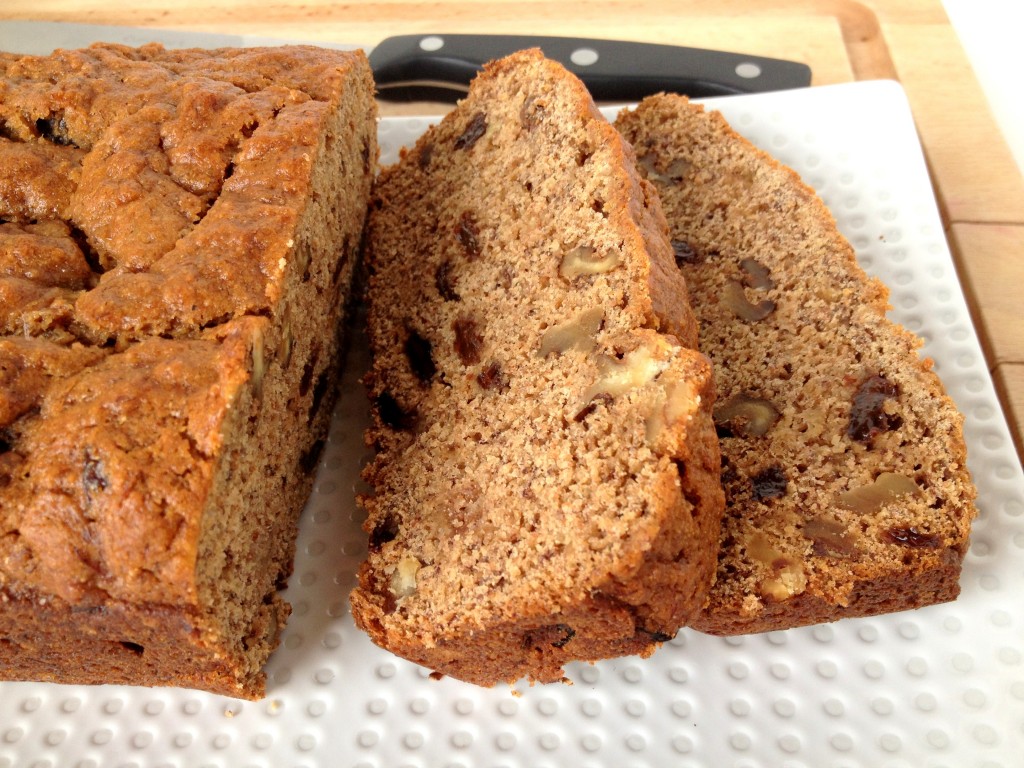 Good morning and happy Friday!
As I write this (Thursday evening), I'm making my way back across the country after a wonderful Christmas with my family in Boston. When I'm booking a trip, it's often tough for me to tell whether I'll wish I had a longer or shorter time at my destination, but this is definitely a time that I wish I had an extra couple days to spend with everyone after the craziness of the holiday. Of course, everyone else starts heading home tomorrow, so maybe it's good that I was the first one to leave… before I get bored or anything, you know :)
But instead of lounging around eating Mom's cooking in their (newly redecorated and beautiful!) house, I'll be headed into work tomorrow to catch up on the last stuff that needs to be done before the end of the year. I'm guessing about 50% of my co-workers will be there, and it should be a pretty relaxed day, although I do have a bunch to get done. But after that, thank goodness, is a 4-day weekend to spend skiing, cooking, and catching up on the other stuff in my life that obviously didn't get done while I was playing Bejeweled and eating Christmas cookies in Boston.
The main thing I'm looking forward to this weekend is playing with my new camera! My dad and I tested it out for a few hours last night and again this morning, learning how to set the shutter speed and aperture, adjust the white balance and ISO exposure, and all kinds of other crazy stuff I've never done before. Of course, it has an auto mode, but I'm determined to use it like a DSLR and not just a point-and-shoot. We learned some cool stuff and I feel much less overwhelmed taking it home (like I'm a new parent or something) and learning what it can do. I took a few pictures this morning on the iPhone for contrast, and I'll upload the DSLR and iPhone versions for contrast so you can see the difference at some point. It is CRAZY and I'm so excited to be using this awesome new camera! I really have a lot to learn, but I can already see that it will be WAY worth it.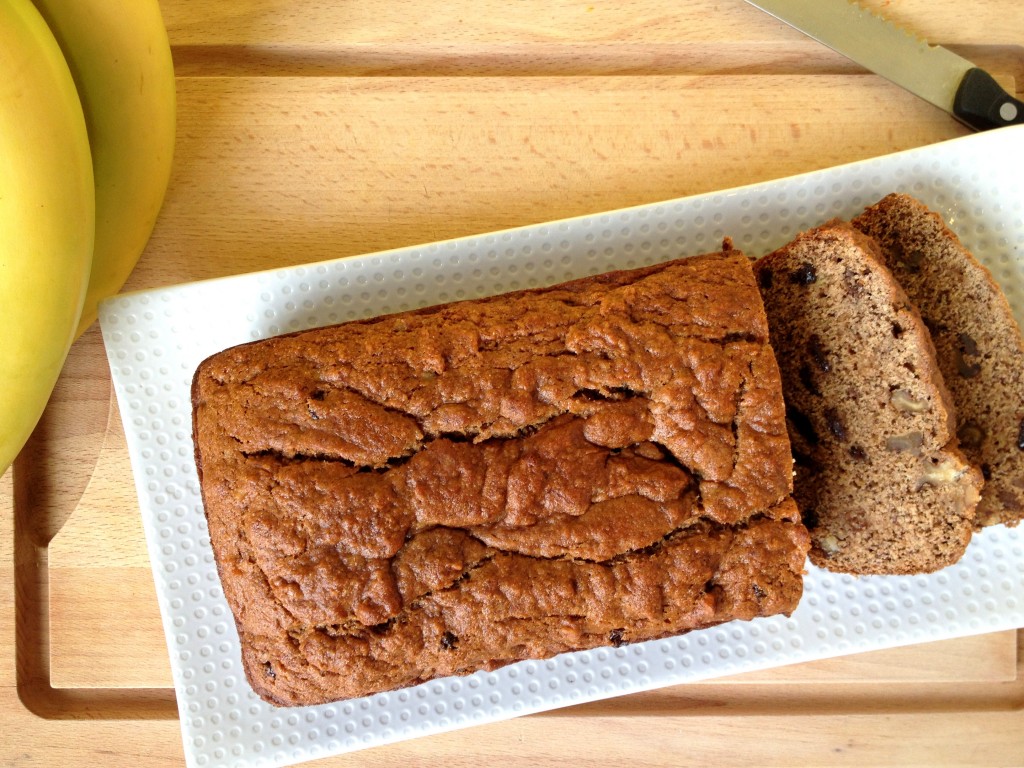 Anyway, it shouldn't come a surprise that I didn't have time to try out any new recipes at my parents' house this week. But I do want to share this banana bread recipe that I made before I left Salt Lake. (And because I made it last week, that means these are still iPhone photos!) If, like me, you have a relaxing 4-day weekend ahead of you, this would be the perfect thing to pop in the oven to make your kitchen smell wonderful. It's vegan (unlike ALLLL the baked goods I ate this week) and relatively healthy (again… unlike the pounds and pounds of Christmas cookies I've consumed), so it's the perfect snack for this weekend between holidays. The fact that this banana bread is vegan does mean that it's a little denser than one you'd make with eggs. It doesn't rise as high, but don't let that deter you – it tastes amazing!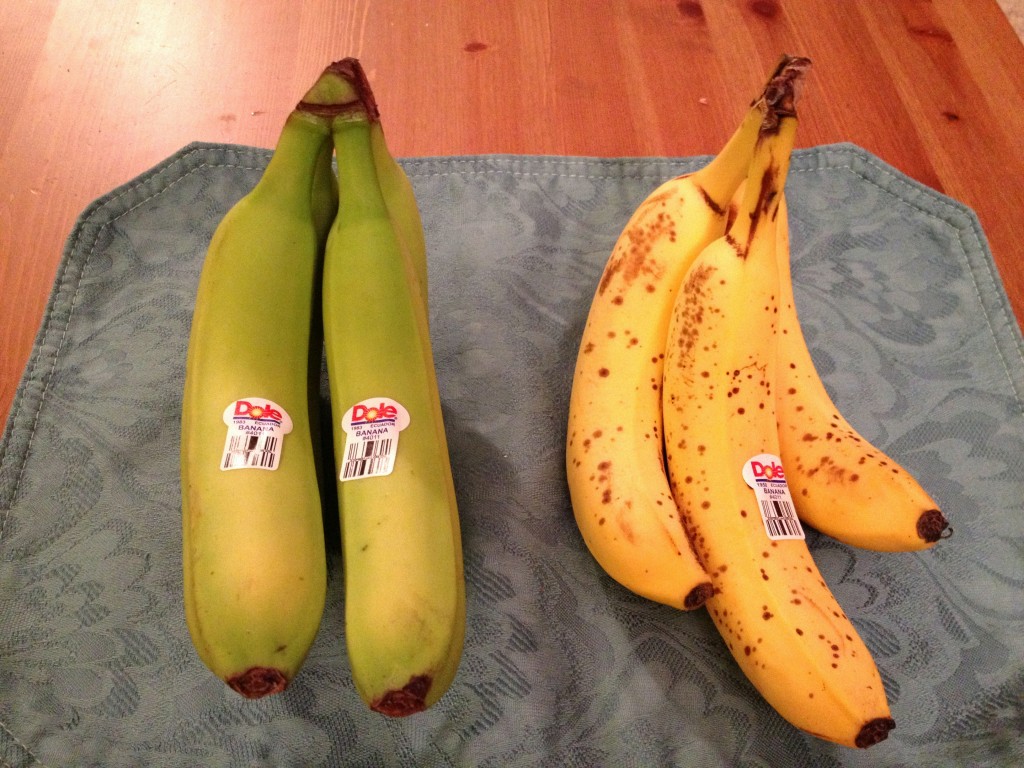 Those of you who saw this "his and hers" banana picture on Facebook a few weeks ago may be able to guess that we end up with a LOT of banana bread-worthy fruit in our house. Nate prefers rock-hard totally green fruit, and typically doesn't eat any of the bananas on our counter once they're blemished with a single speck of brown. I will eat bananas at almost any stage, but I haven't quite gotten down the science of how many to buy for our various ripeness preferences. We often end up with many bananas that he won't eat and I just can't keep up with. So I've taken to freezing them in a big Ziploc, planning on making lots of banana bread. I'm still not keeping up, though… we probably have at least a dozen bananas in our freezer.
What I'm getting at is that there might be a LOT of banana bread in the Coffee & Quinoa future. I'm hoping to make a more seasonal one this weekend! Enjoy this vegan banana bread in the meantime, though, and if you have any favorite banana bread recipes for me to try out, please send them my way!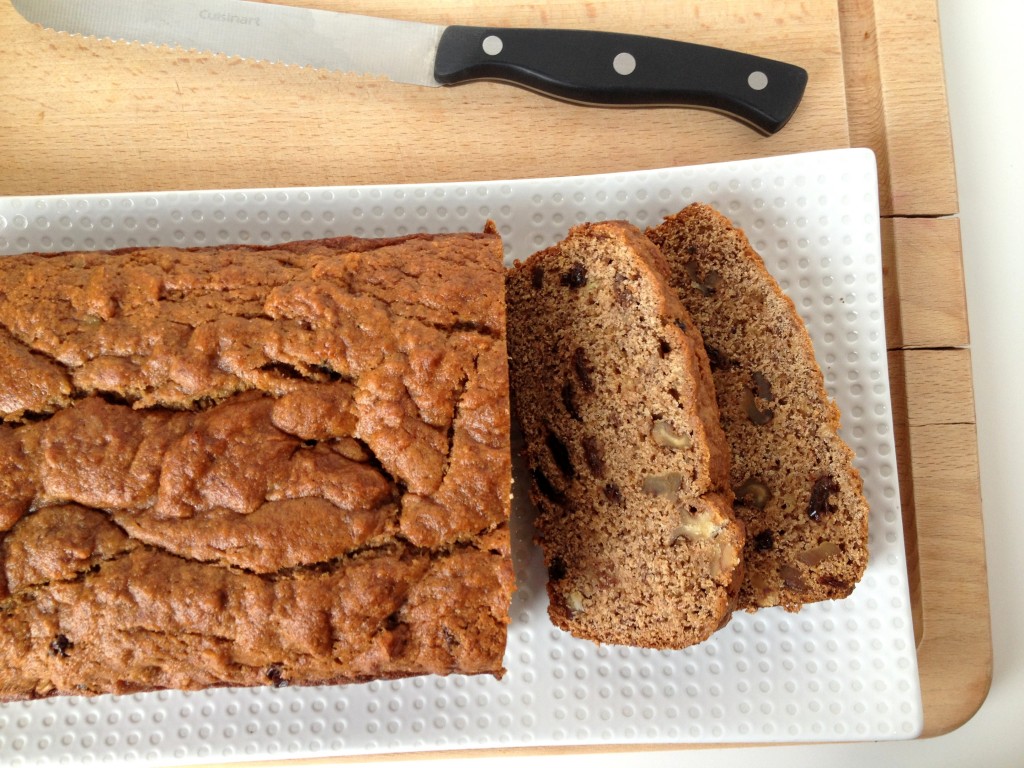 Vegan Banana Bread
This vegan banana bread is lightly seasoned with cinnamon, nutmeg, and cloves and studded with raisins and walnuts.
Ingredients
3-4 very ripe to overripe bananas
½ cup brown sugar
¼ cup melted vegan butter or melted coconut oil (I used coconut oil)
2 Tbsp maple syrup
2 cups spelt flour (whole wheat or white flour would also work)
1 tsp baking soda
1 tsp cinnamon
1 tsp kosher salt
1/2 tsp nutmeg
pinch of ground cloves
½ cup chopped walnuts, lightly toasted
½ cup raisins
Instructions
Preheat oven to 350 degrees. Spray a loaf pan with cooking spray and set aside.
Mash bananas (with a fork is fine) in a medium-sized bowl. Add sugar, coconut oil, and maple syrup and stir to combine.
In a separate large bowl, sift together the flour, baking soda, and spices. Gently fold in the banana mixture, followed by the walnuts and raisins.
Pour into the prepared loaf pan and bake until a toothpick inserted into the middle comes out with moist crumbs, about 40 minutes. Remove from oven and cool in the pan on a wire rack. After 15 minutes, run a knife around the edges and invert onto the rack to finish cooling.
Once cool (or you can even do this once the bread is warm, not hot), wrap in tin foil and store in the fridge. This keeps the edges nice and moist. I prefer to eat the banana bread the following day, not right out of the oven, but that's personal preference. It will keep for several days in the fridge.