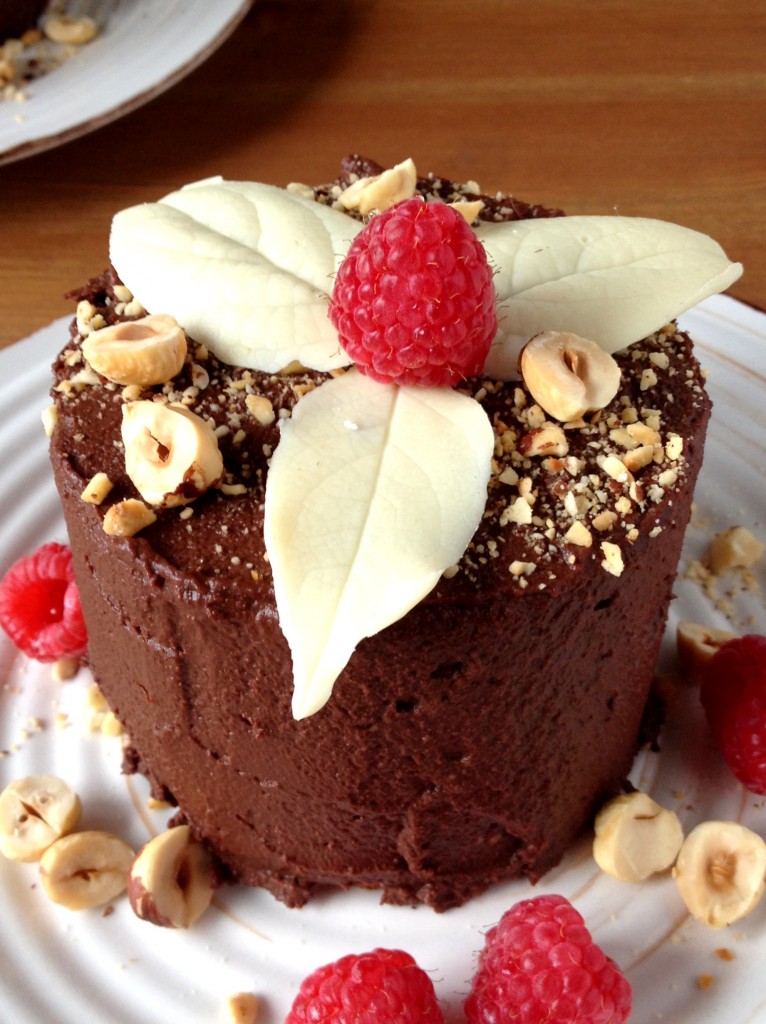 I once bought a cookbook just because a cake like this was on the cover.
I think I was waiting for the bus. Next thing I knew, I had spent $25 on a cookbook. Oops.
I've since lost that cookbook during one of my moves. I don't even remember the title or the author. It didn't really matter – the cookbook, including the cake recipe that went along with the picture, turned out to be nothing special. Those beautiful white chocolate leaves, on the other hand, were something special. So special that I think they belong on your Christmas dessert this year. If you're in charge of the sweets, you can't do much better than a gorgeous cake that is so simple to decorate.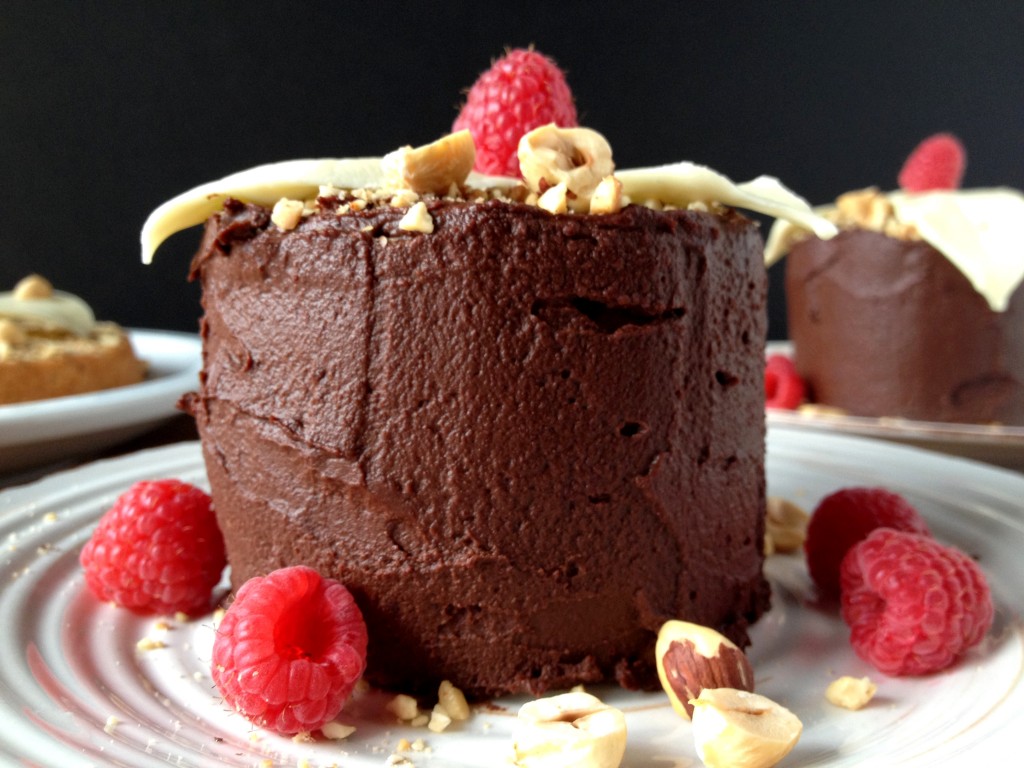 These chocolate leaves look like they involve some serious work, but they actually take only 10 or 15 minutes. Below is a step-by-step tutorial.
This weekend I made these leaves to go on a hazelnut brown butter cake from Smitten Kitchen with this vegan chocolate ganache. I baked mini cakes in 1-cup ramekins (1/2 cup of batter in each), and used 2 layers for each little tower. I highly recommend the hazelnut brown butter/chocolate ganache combo, with some extra ganache and chopped hazelnuts in between layers! (One thing to note about the ganache, though: it starts to turn a darker brown pretty quickly, so you would do best to decorate the cake within 2 hours of eating. If that's not possible, use a different ganache recipe.) If you're a white chocolate lover, a cake covered in white chocolate ganache, topped with these, and dusted with powdered sugar would be to die for.
White Chocolate Leaves
Makes leaves to cover a 9″ round cake
You will need:
several stems of lemon leaves
small pastry brush
4-6 oz white chocolate
Instructions:
First, get some lemon leaves from your local florist.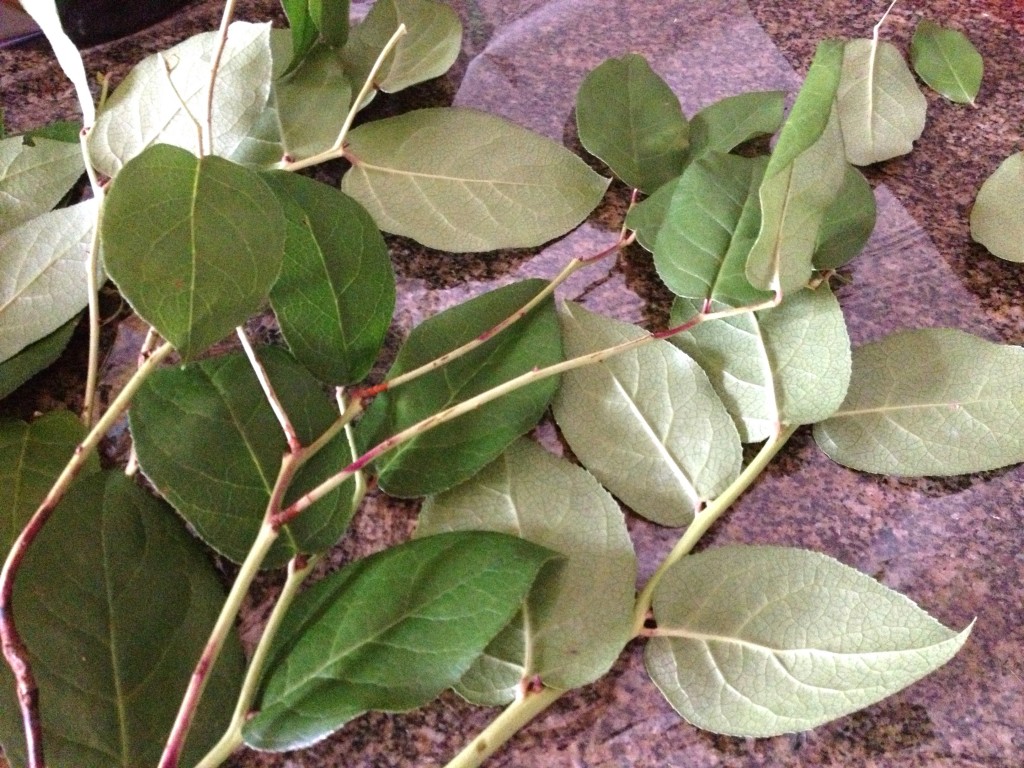 It's helpful to call ahead, because you'll sometimes get blank stares when you ask for them! Many florists have customers that buy lemon leaves for working with chocolate, but many others will have no idea why you want them. In any case, they're cheap – I paid $2.67 for 4 stems. I tend to favor the small leaves, especially if I'm not covering an entire cake with them. You can ask the florist to try to pick out some stems with small leaves for you.
Pluck off the leaves you want to use and lay them face down on a flat surface. To top a 9-inch cake, you will probably want 20-25 leaves.
Melt the white chocolate in a small dish in the microwave, 30 seconds at a time. Stir in between. May I suggest that you have another 4-6 oz of white chocolate chips ready as a back-up? White chocolate burns very easily… I probably burn it 50% of the time I use it! So stirring every 30 seconds is important.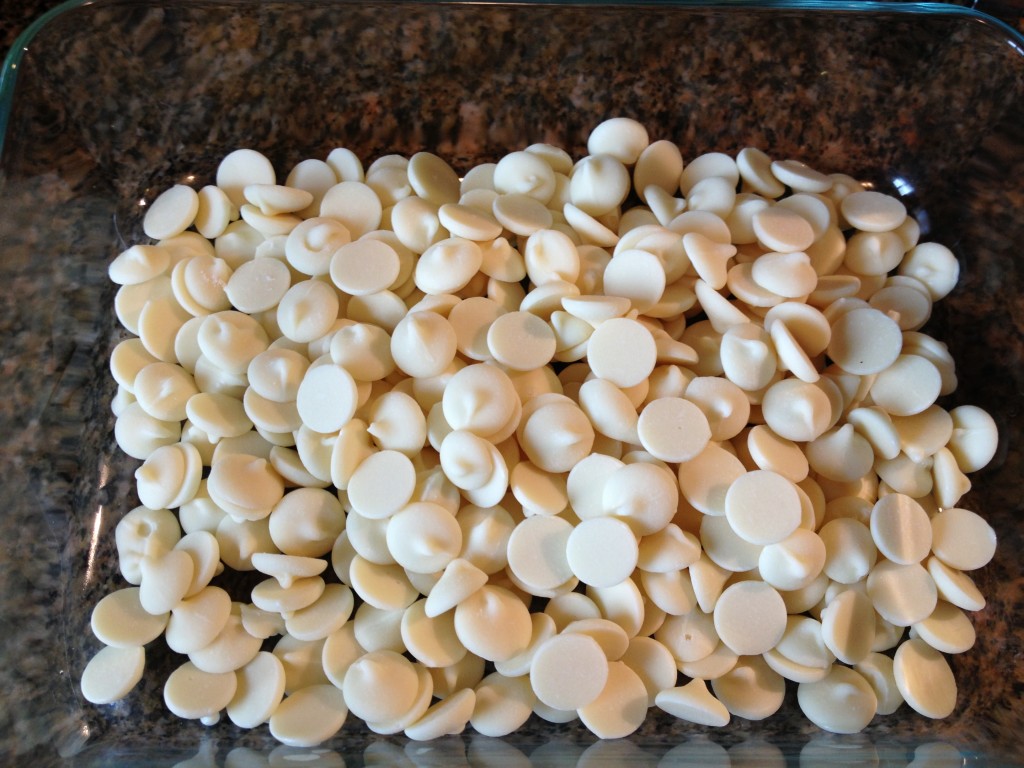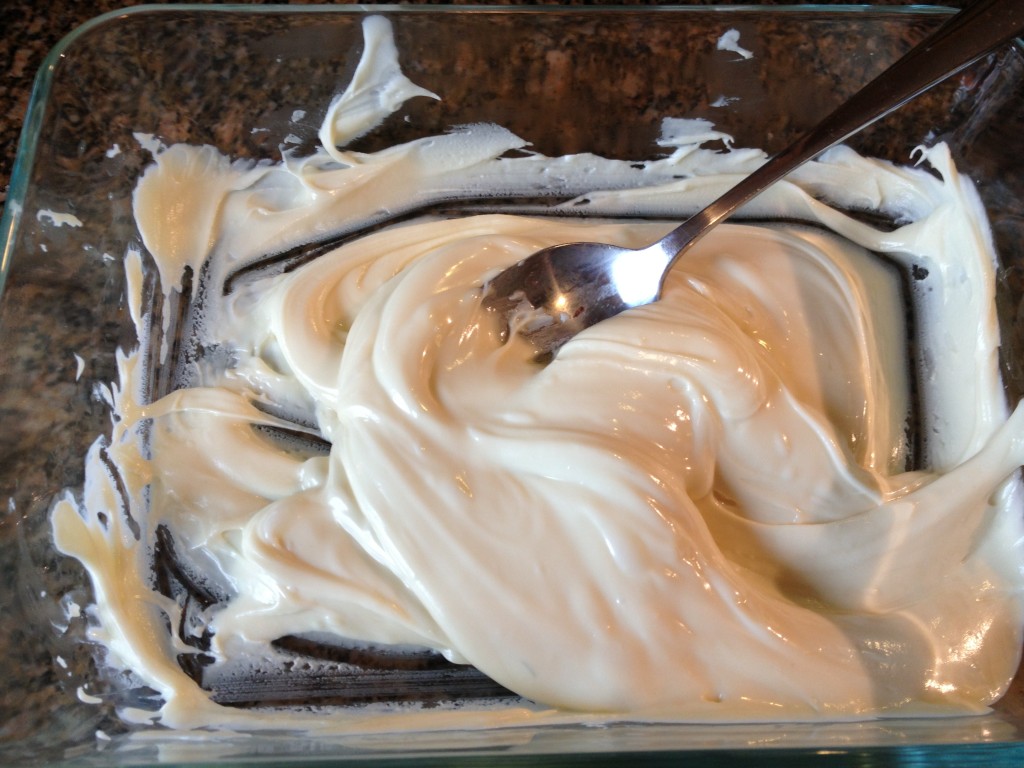 Now your chocolate is melted. Using the pastry brush, carefully brush the chocolate onto the back of each leaf. This way, when you peel the leaves off, the front of your chocolate will be indented.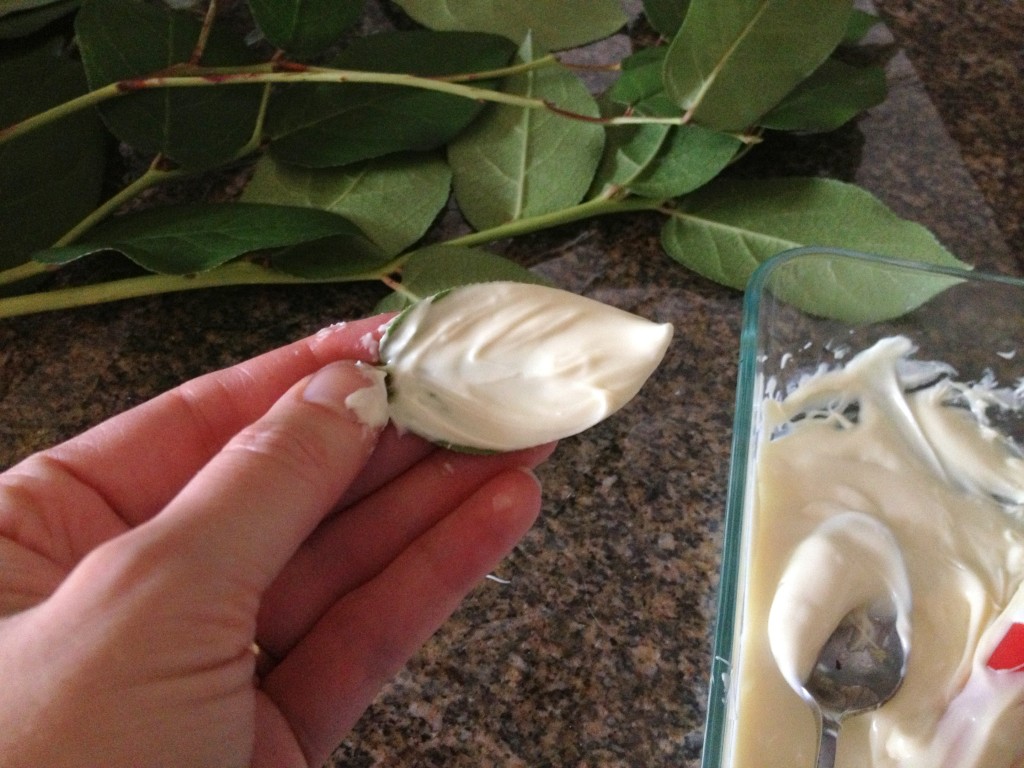 The chocolate is heavy and a little more difficult to work with than you would think. It's OK (in fact preferable) to give every leaf a thick coat. Don't worry if it looks lumpy – you're not going to see that part anyway. Just try to make smooth edges, because those will be visible from the front. If your chocolate starts to cool down too much and becomes too difficult to paint, warming it up for 15 seconds should make things easier.
As you finish each leaf, place them in a bowl to harden. You could also use a plate or baking sheet, but I like to use a bowl so that the leaves curl up a bit. They look more natural and elegant this way than if they are all flattened out.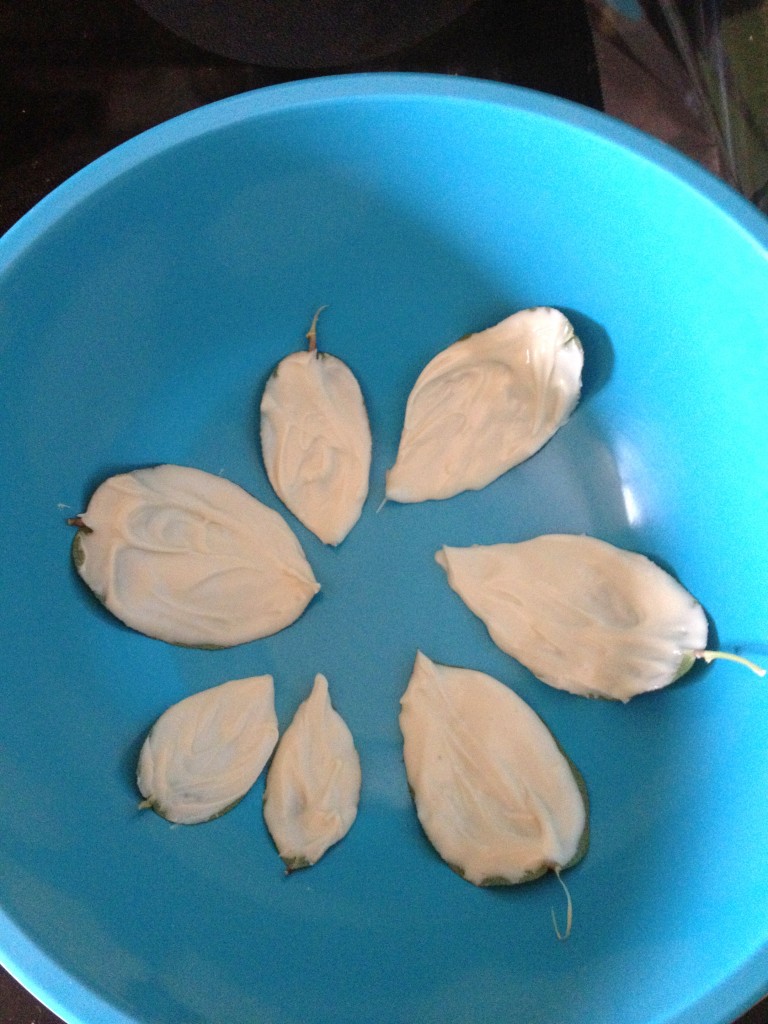 Once you're finished, place the bowl in the fridge or freezer to harden. This should only take a few minutes, but you can also leave them in the fridge overnight.
When you're ready to decorate your cake, remove the bowl from the fridge. Place one leaf at a time on your palm for a few seconds to warm it up. Then carefully peel the leaf away. It should come off very easily. If it sticks at all, warm the leaf up with your hand for a few more seconds.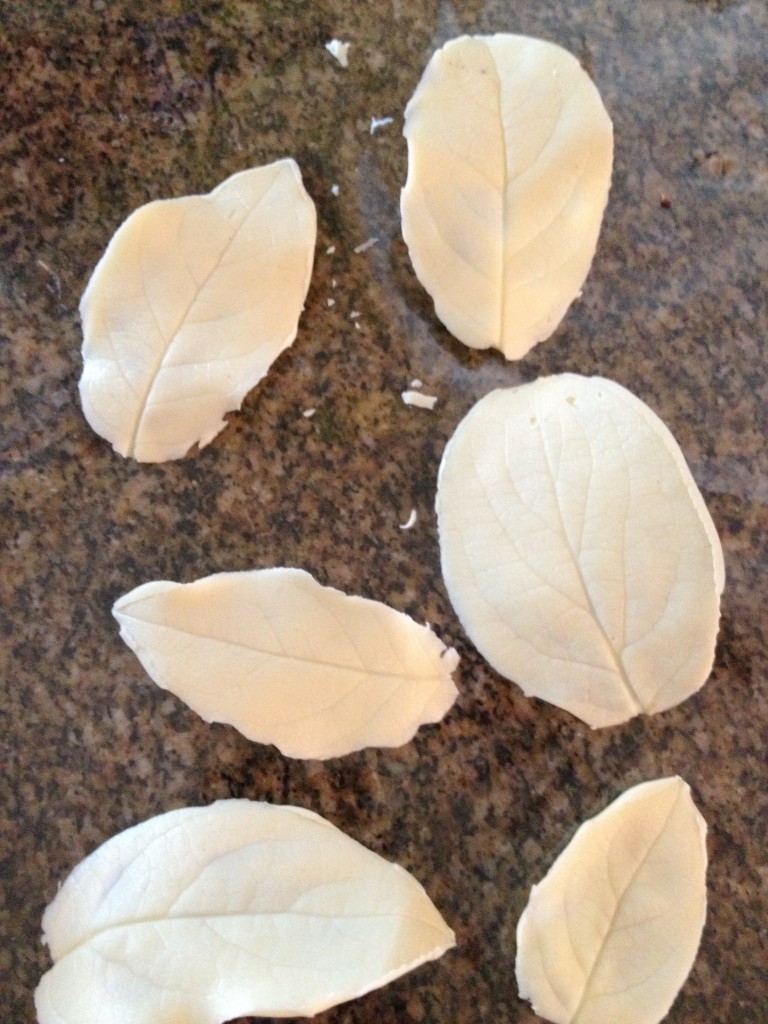 Now decorate your cake, touching the leaves as little as possible, as the white chocolate melts easily. If you're decorating a whole cake, you can place the leaves in concentric circles and scatter some hazelnut halves or raspberries in the center. If you're topping smaller cakes, you can place just a few on each cake.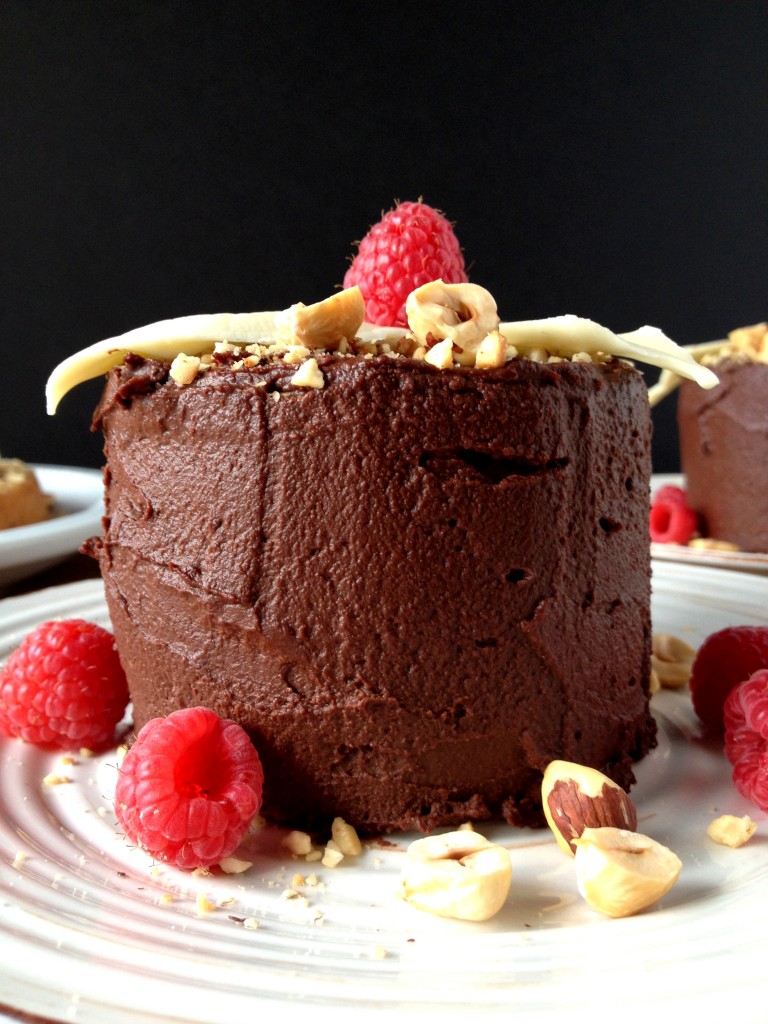 So pretty. Definitely a special occasion dessert!
Enjoy :)