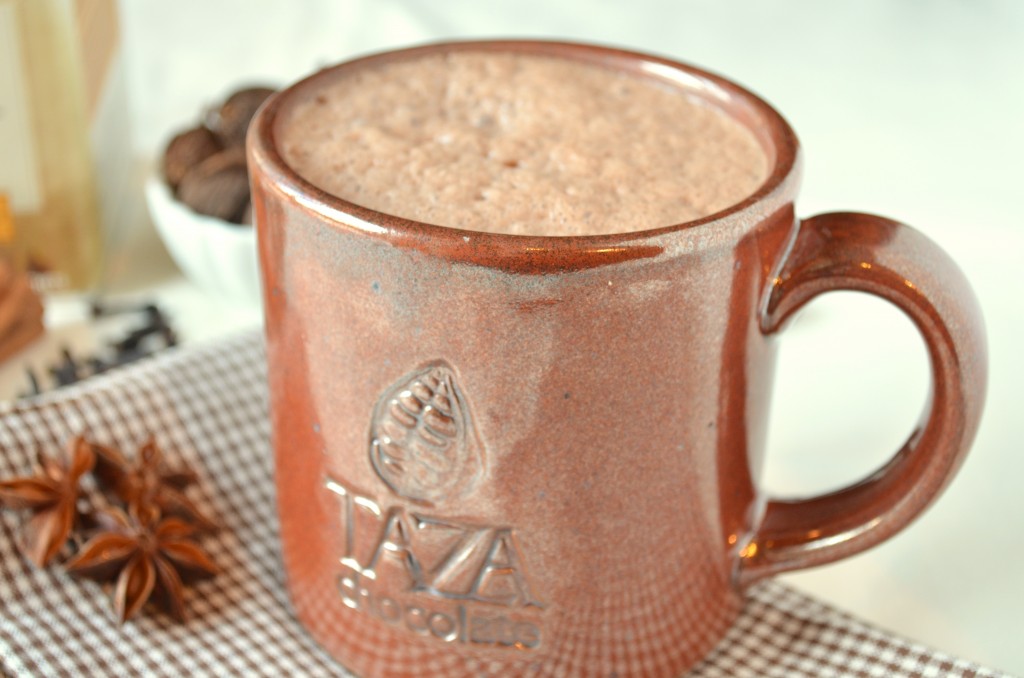 Have you ever had a "dirty" chai latte?
Well, this is not that.
But a dirty chai latte, I learned the day after Christmas, is a chai latte with a shot of espresso, and is an "off-the-menu" item at Starbucks. I tried a friend's recently and it was delicious. Not sure I'll be ordering it any time soon, though, because how awkward would it be to include the word "dirty" in your Starbucks order? What if the cashier didn't know what you were talking about? Or… misinterpreted it? I feel like Utah is a place where that would happen.
Anyway, chai spiced hot chocolate is kind of the inverse of a dirty chai latte, and for chocolate lovers, but just as brilliant. Also, it contains no potentially confusing adjectives, which is key when you're ordering it/telling other people about it.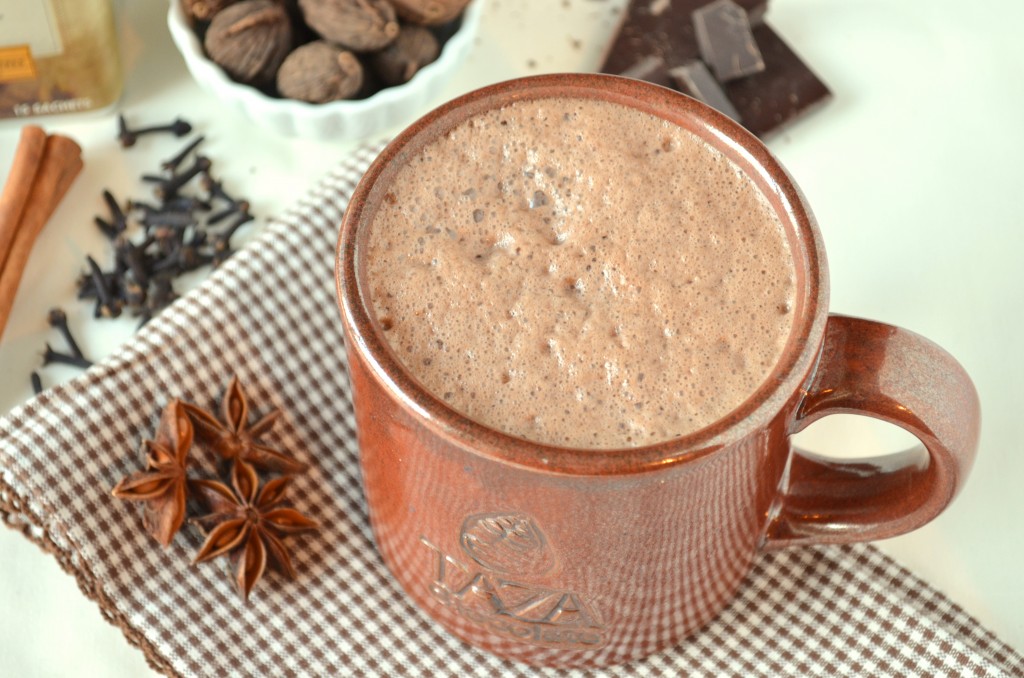 This is inspired by the Williams-Sonoma chai-spiced hot chocolate that my aunt and uncle (hi Aunt Kathy!) got me for Christmas. It was just the perfect thing to warm up with after skiing! It had never occurred to me that two seemingly distinct hot beverages, tea and hot chocolate, could be combined. Two of your favorite things, right?
But I suspect that not everyone will run out to Williams-Sonoma to buy this "premium" (quoting from the website now),  "mellow-bodied," "perfectly balanced" hot chocolate. So I came up with a semi-homemade version (Sandra Lee-style) to share with you.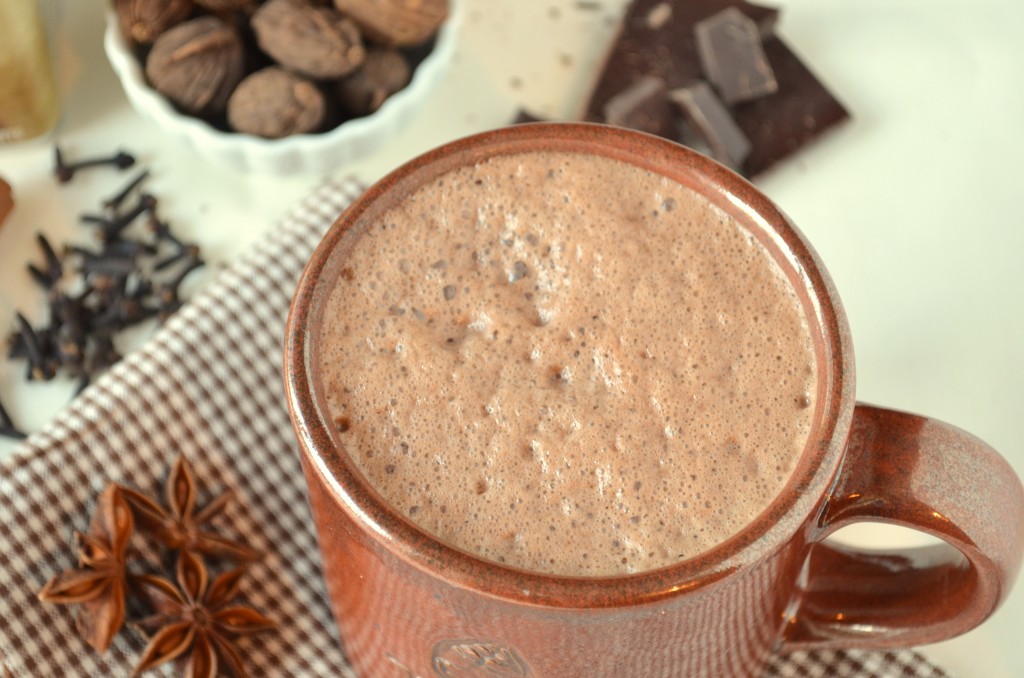 And despite my pictures here with fancy spices, none of those are necessary. A chai tea bag and some Hershey's cocoa powder, people. Semi-homemade. I was just so proud that I had so many whole spices sitting around that I had to include them.
I feel obliged here to link to something hysterical, if you haven't seen it already: The Hater's Guide To The Williams-Sonoma Catalog. It had me hunched over my desk squeaking I was laughing so hard. This "world-class" hot chocolate is not even in the same category as the absurd Williams-Sonoma products and descriptions featured there. If you've ever looked at their catalog and shouted at your roommate "who the hell BUYS this stuff?!" you should check it out. Although if you are intrigued by and end up purchasing the "reclaimed rustic chicken coop" for $759.95, I'm sure your roommate will understand.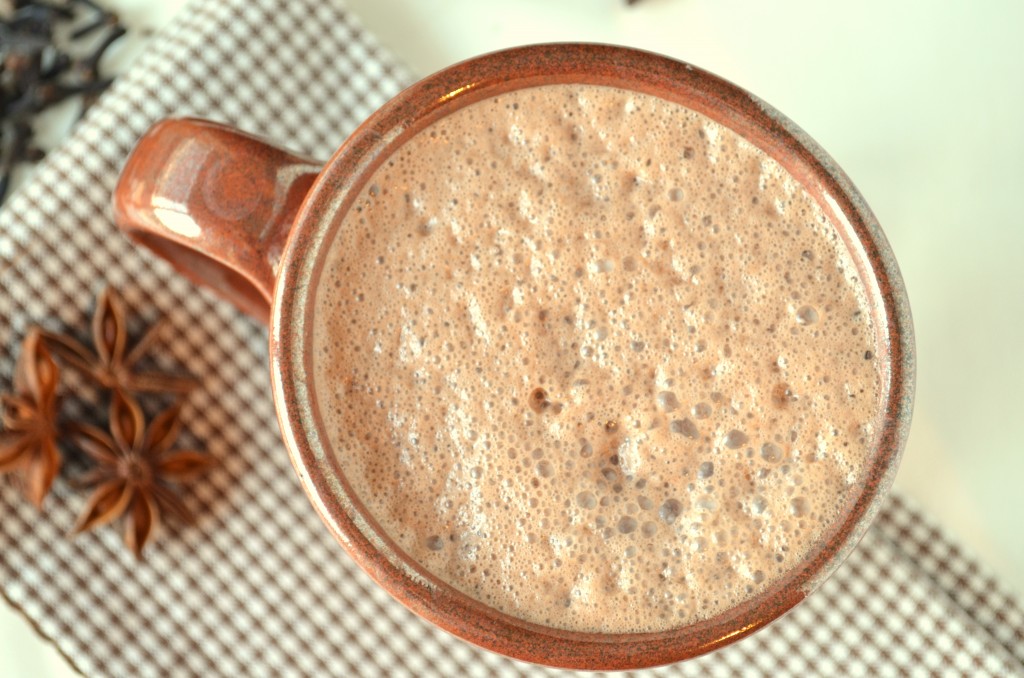 Chai Spiced Hot Chocolate
Makes 2 1-cup servings
Inspired by Williams-Sonoma
Ingredients:
2 cups plain unsweetened almond milk
1 chai tea bag (I used Tazo)
1/4 cup Hershey's unsweetened cocoa powder
2 Tbsp sugar
1/8 tsp vanilla
Instructions:
In a heat-proof dish (such as a Pyrex glass measuring cup), microwave almond milk until hot, about 4 minutes, stopping and stirring every minute or so.
Remove from microwave and steep the chai tea bag in the almond milk for about 2 minutes. Discard tea bag.
Stir in cocoa powder, sugar, and vanilla. If necessary, microwave for an additional minute to dissolve sugar.
Whisk or blend to get it nice and frothy, being careful not to spill. (You may have to transfer to a different dish/bowl for this.) Pour into two small mugs to serve.
Enjoy!
Time:
6 minutes