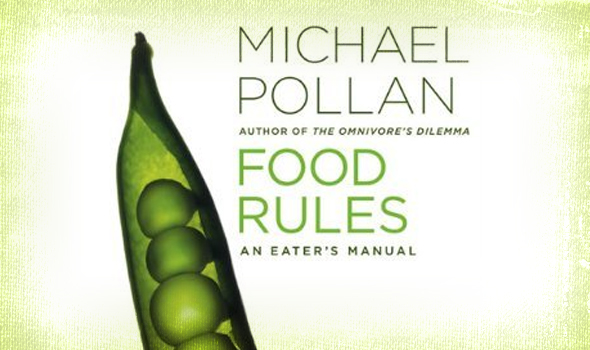 I read this book cover to cover this weekend, and just had to share it with you.
Several months ago, I read another Michael Pollan book, The Omnivore's Dilemma. It was one of the most insightful books I've read in a long time, and changed the way I think about the food I'm putting into my body. So I was kind of surprised to find that I've owned Food Rules for about 2 years and never read it! I found it sitting on my bookshelf the other day when I was moving things around.
It's a short, simple book, giving 64 "food rules" to help you move away from the typical, unhealthy "Western diet" towards one focused more on natural, whole foods. All the rules center around Pollan's main thesis (which he also discusses in other books and articles):
Eat Food. Not Too Much. Mostly Plants.
Clearly, this hits home with me.
The rules, many hailing from cultures with a healthier diet than ours, are grouped into three sections, one for each part of Pollan's thesis above. Many are just similar ways of remembering the same basic concept. Pollan's hope is to make at least a few of these rules "sticky" enough to stay with the reader at the grocery store, dinner table, etc.
So here are the rules that stuck with me the most:
– Shop the peripheries of the supermarket and stay out of the middle. (You've probably heard this before. So true, though – all the packaged, processed stuff lives in the middle.)
– Avoid food products that make health claims and, similarly, Avoid foods you see advertised on television. (If the company making this food has a big enough marketing budget to secure FDA-approved health claims or place TV ads, this food is probably heavily processed. You never see spinach advertised on television, and unpackaged foods literally can't make health claims on the box or bag.)
– Buy your snacks at the farmer's market. (This is so you'll snack on fresh food, not the high-calorie processed stuff marketed as snacks.)
– Treat meat as a flavoring or special occasion food. (Many of the rules in the book are about the benefits of eating plants, especially leaves. It's OK to eat meat sometimes, in small quantities – just make sure the meal is centered around fruits and veggies.)
– Eat your colors. (To eat a number of different antioxidants! This lines up so nicely with my obsession with colorful food.)
– Eat all the junk food you want, as long as you cook it yourself. (It's difficult and time-consuming to make fried chicken, donuts, cakes, etc. And it should be. It's OK to indulge once in a while – as often as you're willing to put in all the effort that goes toward these treats. Unfortunately, I'm a little more willing than most to spend an hour making a pan of brownies… but you get the picture. Never buy unhealthy pre-made foods!)
– Have a glass of wine with dinner. (Just did, thank you very much. Love this rule.)
– Pay more, eat less. (You get what you pay for with expensive, high-quality produce. This is a hard one for me to remember at the grocery store!)
– Cook. (By cooking your own meals, you take control over what you put into your body, rather than handing that control over to a corporation that doesn't care about your health. This is my favorite rule by far!)
You could call this a clean eating book, and that's what I'm trying to do lately. I think anyone who already eats this way – or wants some inspiration to clean up their act in the new year – would enjoy this book! Like I said, it's super short and simple – it took me an hour or two to read it cover to cover.
Aaaand I just requested another Michael Pollan book, In Defense of Food, from the library. When I'm not cooking, eating, or writing about food, I like to be reading about it.