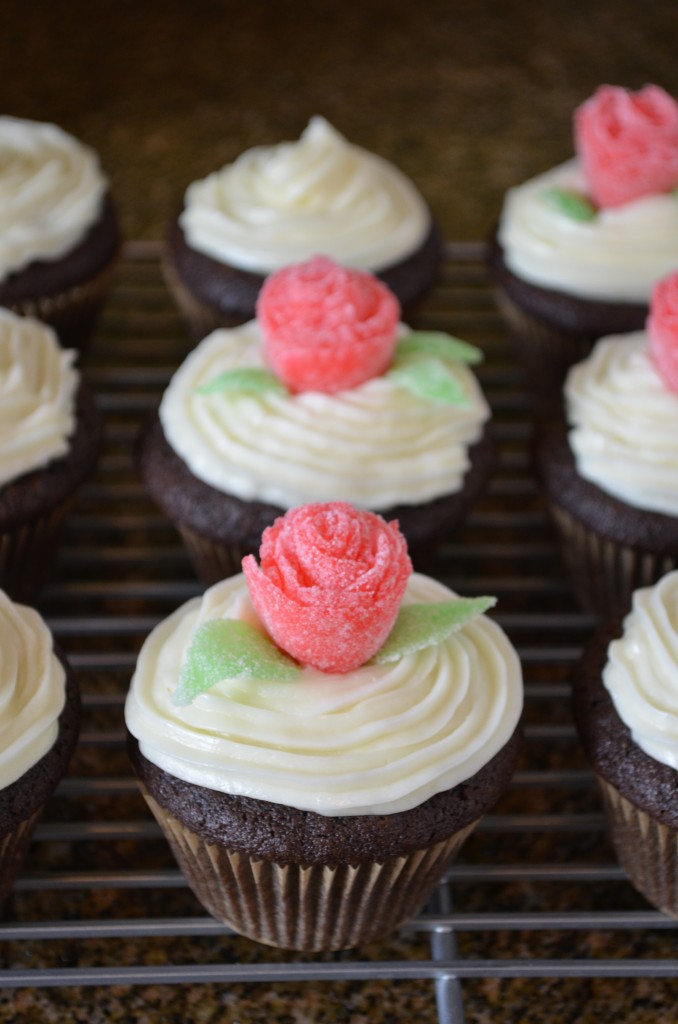 Warning: A million cupcake photos ahead. It was too hard to narrow these down, so I didn't even try. Try not to drool too much.
Now that I've gotten that out of the way, let me tell you why I made these cupcakes. Three little words: BACHELOR SEASON PREMIER.
Were you aware of the national holiday this coming Monday, when 20- and 30-something women everywhere celebrate the new season of ABC's most addictive TV show by sitting on the couch for 2-3 hours drinking oaky chardonnay, judging people, and cringing as dozens of women humiliate themselves on national TV?
Oh… you're not a Bachelor fan? I'm sorry. Much of my Tuesdays during Bachelor season are devoted to debriefing last night's episode with friends, reading recaps, and laughing so hard I squeak as I read my favorite Bachelor blog. I will spare you the lengthy recaps and Bachelor bashing sessions on here… but it's probably going to come up once or twice. You should probably watch so you can keep up with the times!
I may or may not participate in a fantasy league.
I'll just let that sink in for a sec.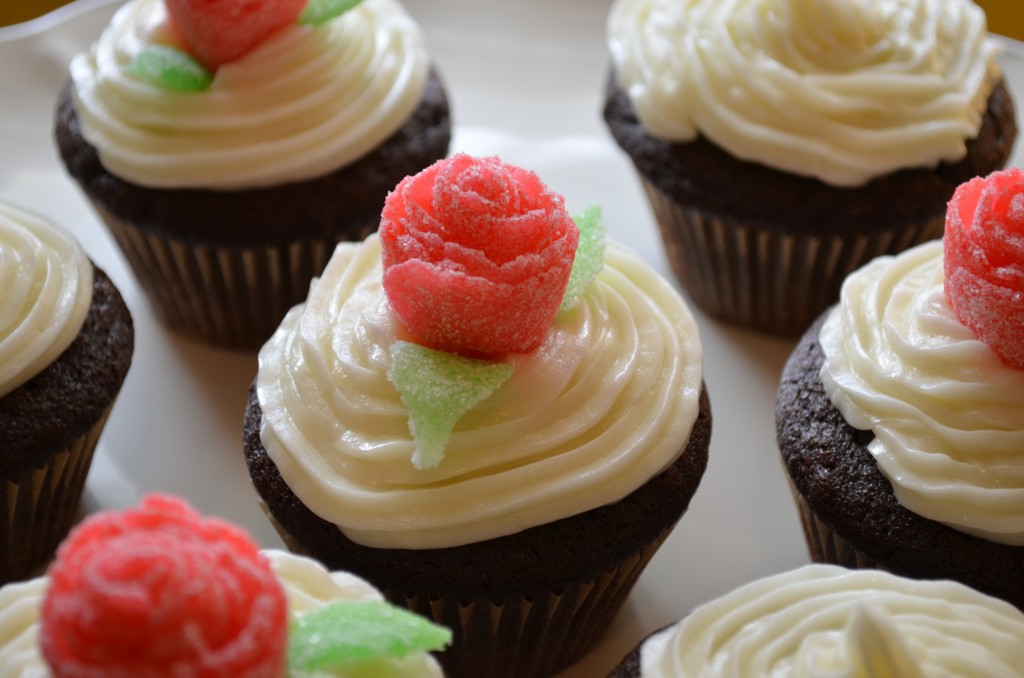 Anyway, each episode of The Bachelor culminates in a rose ceremony, where the bachelor hands out a rose to each girl he'd like to keep around for the next week.
And so, I introduce to you Three Roses Cupcakes. Rosemary chocolate cupcakes. Rose scented buttercream frosting. Gumdrop roses on top. That was as many roses as I could squeeze into one cupcake.
Several years ago back in Boston, I stayed home sick on this Monday and ended up making cupcakes with gumdrop roses for our Bachelor premier party.
I guess I wasn't that sick.
And I decided to do it again this year! (Make cupcakes that is, not stay home… although I do have a gross cold. But I digress.) The other roses (rosemary and rose water) entered my head during my holiday trip to Boston. My family did a beer tasting at Night Shift Brewing before Christmas and tried their Rose brew, a "saison brewed with rosemary, rosehips, and honey, aged on crushed pink peppercorns." The rosemary and rose combo was interesting and these cupcakes seemed like the perfect fit for it.
I'll be honest, these cupcakes are a bit of a project, mostly because there are 3 components. I'm posting them today so that you can set aside a leisurely weekend afternoon to make them :) I'm going to give the cupcake and frosting recipes here, and then a longer photo tutorial for the roses.
If rosemary and/or rose water isn't your thing, feel free to skip one or both of them, and you'll end up with a delicious chocolate cupcake with vanilla buttercream frosting. You could obviously skip the gumdrop roses, too… but they're so pretty! No one will believe you made them.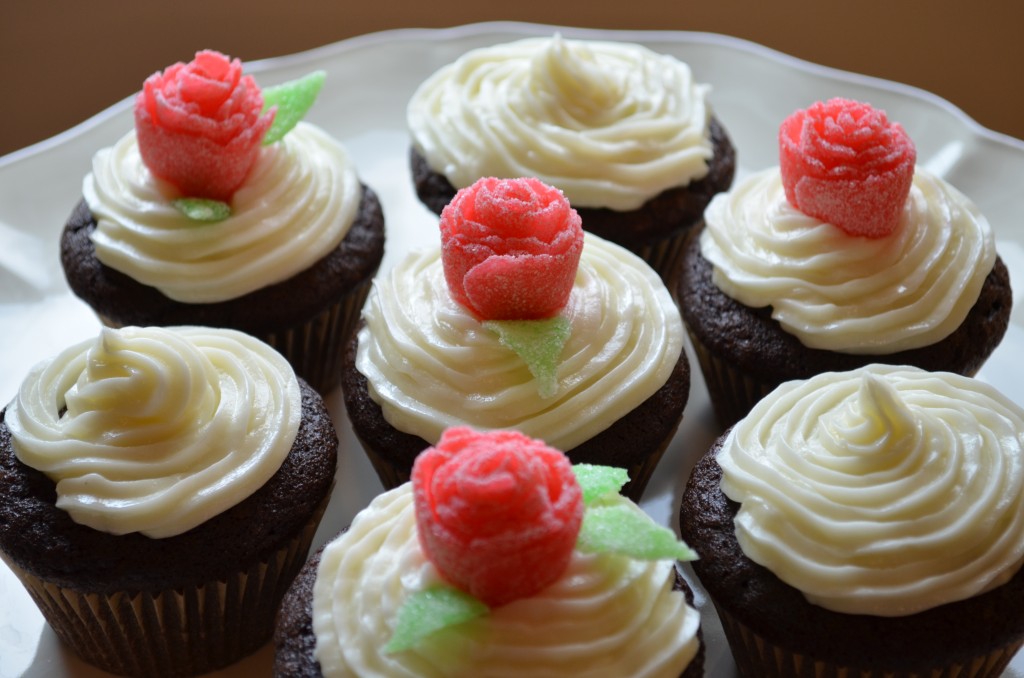 Three Roses Cupcakes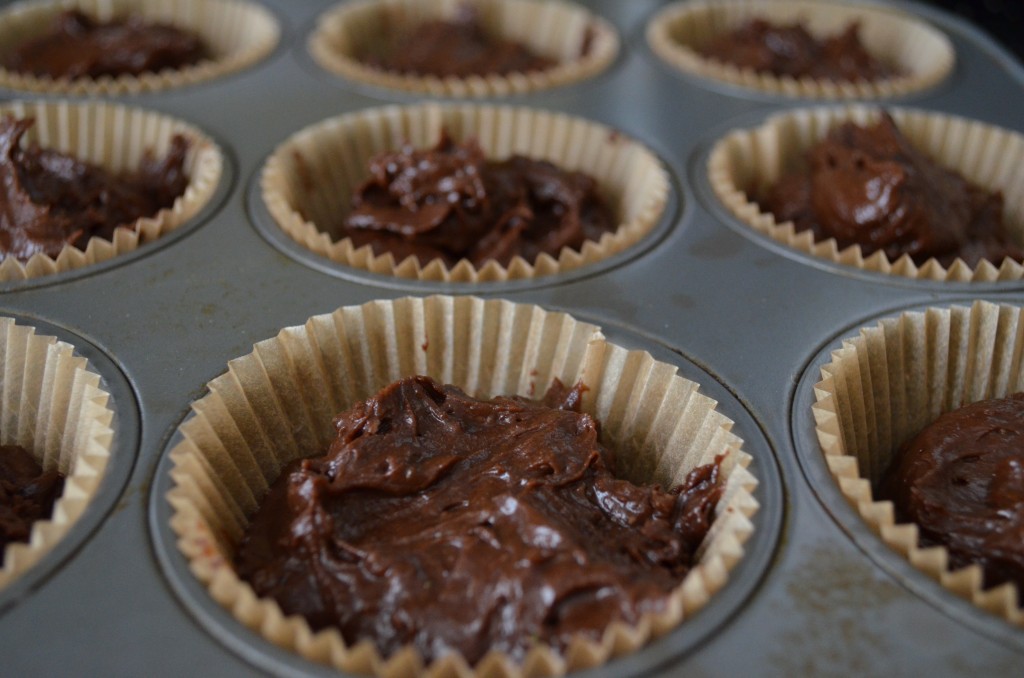 Rosemary Chocolate Cupcakes
Adapted from Flour by Joanne Chang
Yields 10-12 cupcakes (depending on how much batter you sample!)
Ingredients:
2 oz unsweetened chocolate, chopped
1/4 cup cocoa powder
1 cup sugar
1/2 cup (1 stick) unsalted butter
1/3 cup water
1/2 cup milk (I used almond milk)
1 egg
1 egg yolk
1/2 tsp vanilla extract
1 cup all-purpose flour
1 tsp baking powder
1/2 tsp baking soda
1/2 tsp kosher salt
1 Tbsp chopped finely fresh rosemary
Instructions:
Do not preheat oven yet – the batter must sit for an hour beforehand. Sorry!
In a large bowl, combine the chopped chocolate and cocoa powder.
In a heatproof dish, microwave the sugar, butter and water, stopping to stir every 30 seconds to 1 minute, until butter is melted and sugar is dissolved. Pour the hot butter-sugar mixture over the chocolate and whisk until chocolate is completely melted.
Next, whisk the egg, egg yolk, and vanilla into the chocolate mixture until thoroughly combined.
In a separate bowl, sift together the flour, baking powder, and baking soda. Add salt and rosemary and stir until well mixed. Dump the flour mixture on top of the chocolate mixture and whisk until thoroughly combined. The batter will be quite soupy.
Now the batter must sit for an hour at room temperature. This allows the liquid to absorb into the batter and thickens it up. Don't skip this step! I once exploded these cupcakes in my oven after doing just such a thing. You can also keep the batter in your fridge for several days before baking.
After the batter has sat for an hour, you can now preheat the oven to 350. Position a rack in the center of the oven. Line a muffin tin with paper cucpake liners.
Spoon in the batter, filling each cup no more than 2/3 full.
Bake for about 25 minutes, until the tops spring back when pressed with your fingertip, and a toothpick inserted into the center of a cupcake comes out with moist crumbs. Let cool completely in the pan on a wire rack before frosting.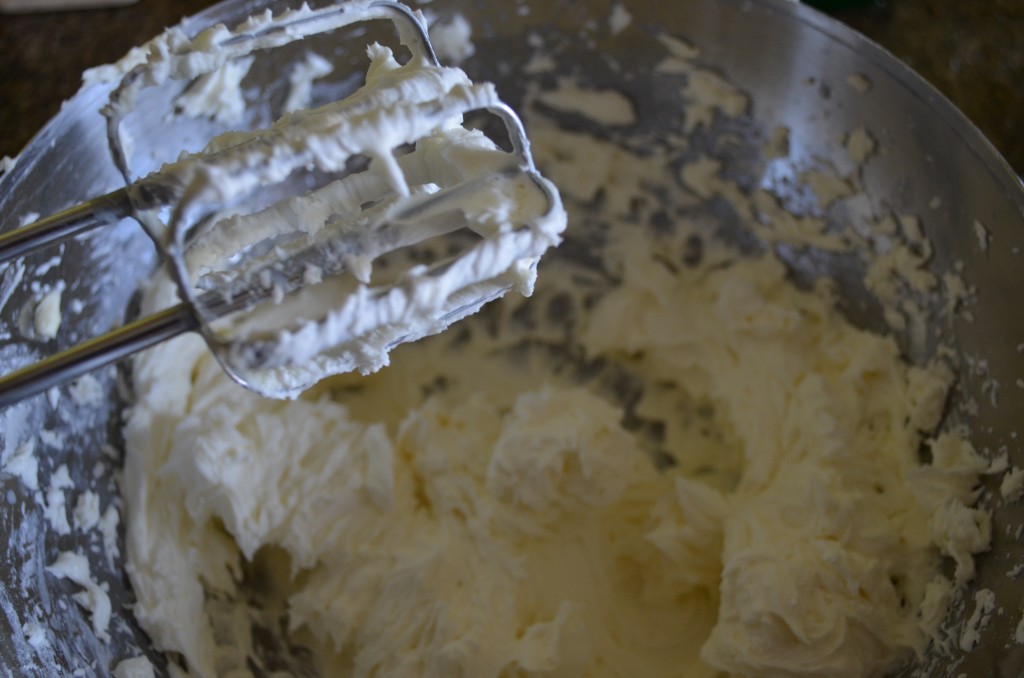 Rose Scented Buttercream
Ingredients:
1 cup (2 sticks) unsalted butter at room temperature (but not warmer)
2 tsp rose water (if leaving out, substitute with 1 tsp vanilla)
4 cups sifted confectioners' sugar
2-4 Tbsp milk (I used almond milk)
Instructions:
With an electric stand or hand mixer, cream together butter and rose water on medium speed.
Sift in sugar 1 cup at a time, beating well and scraping down sides of bowl between each addition.
When all the sugar has been beaten in, the icing will appear dry. Add milk, 1 Tbsp at a time, and beat until light and fluffy.
Keep icing in the fridge, covered with a damp cloth or paper towel, until ready to assemble cupcakes.
Icing can be refrigerated in an airtight container for up to 2 weeks. Re-whip before using.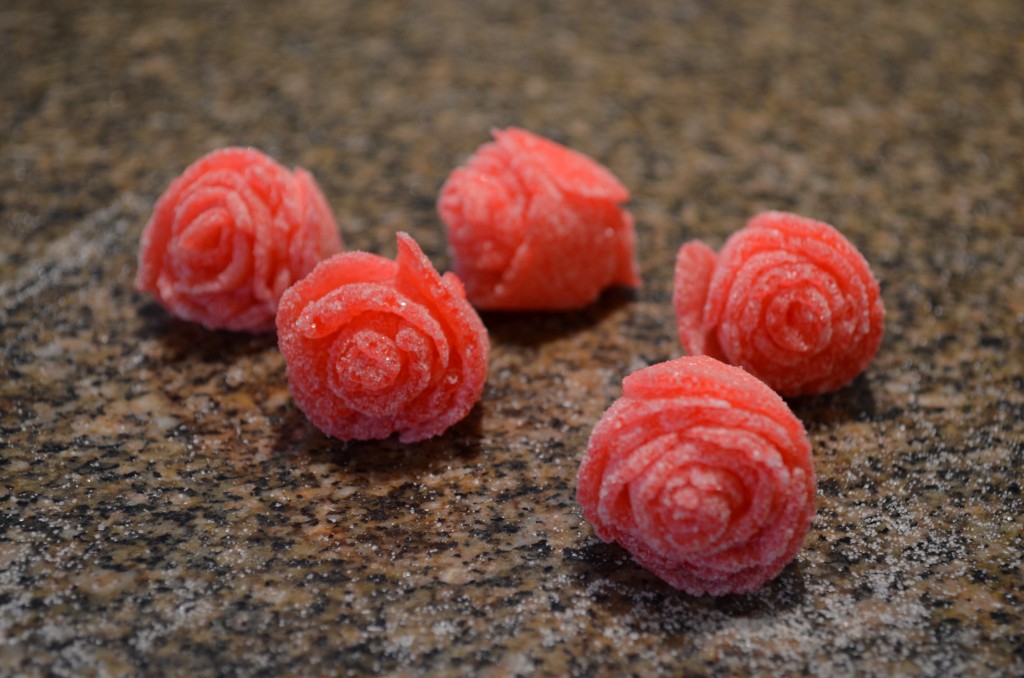 Gumdrop Roses
Adapted from Real Simple
Ingredients:
12 red gumdrops (or more – 3 gumdrops per rose)
3-4 green gumpdrops
granulated sugar for dusting work surface
rolling pin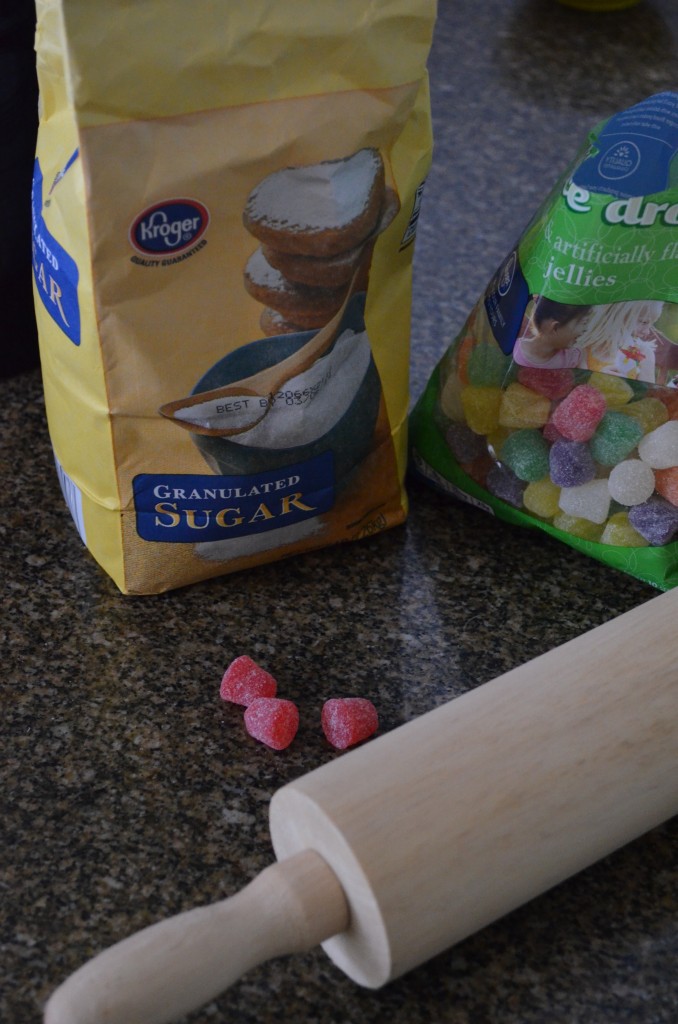 Instructions:
Dust a clean work surface with granulated sugar. Place one gumdrop on the sugar and press with rolling pin.
Press and roll the gumdrop into a long tongue to about 1/8 inch thick. I like to flip the gumdrop over to re-coat it with sugar each time I roll it out to avoid sticking.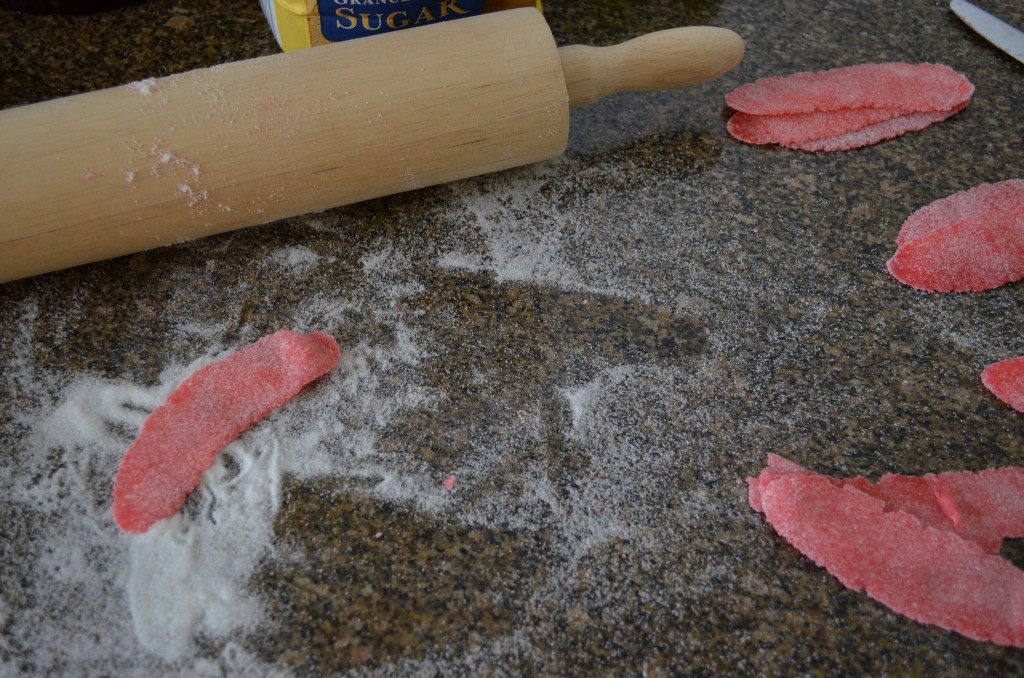 Repeat with remaining gumdrops.
Have you ever "sugared" your work surface before instead of "flouring" it? Isn't it funny that you can do that?! It makes me giggle. The sugar really does a great job of keeping these from sticking, though. Add more sugar if they do start to stick, and wipe the sticky bits off your rolling pin. That being said, don't worry too much if the edges turn out rough. Imperfect roses are some of the best ones!
Now cut each tongue in half crosswise.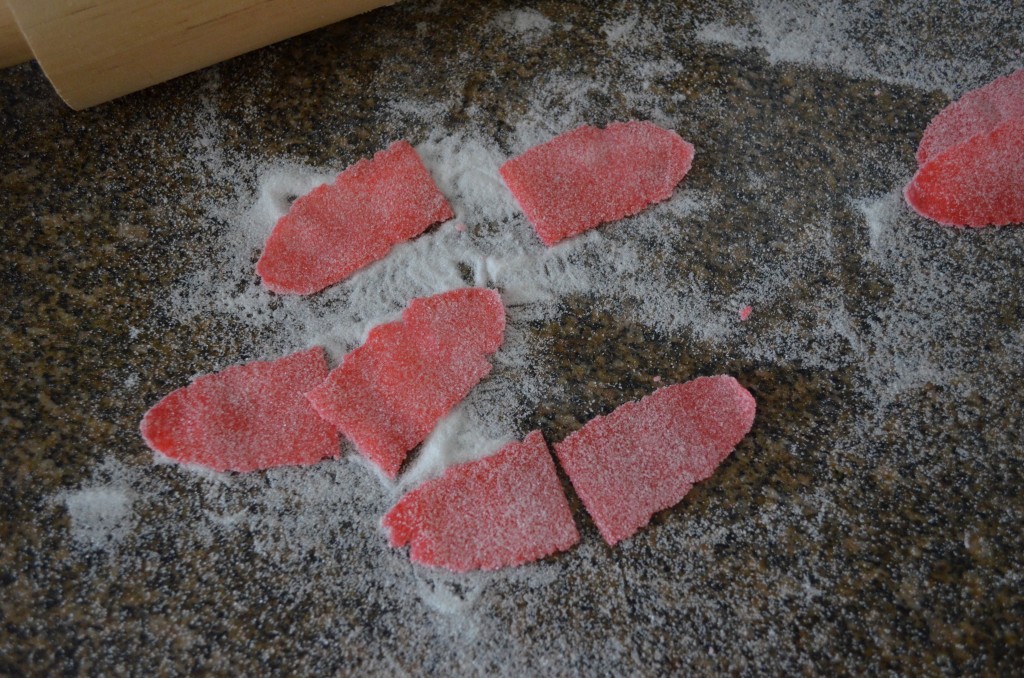 Now we're ready to make the roses! Roll one piece up like so: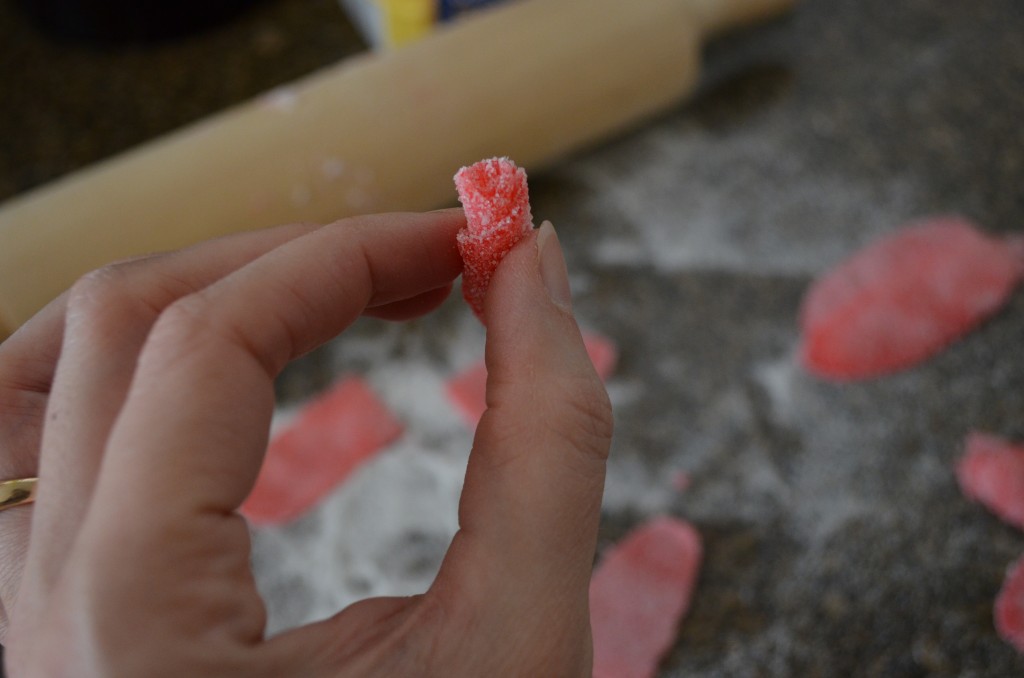 Then wrap the other 5 halves around it, one by one: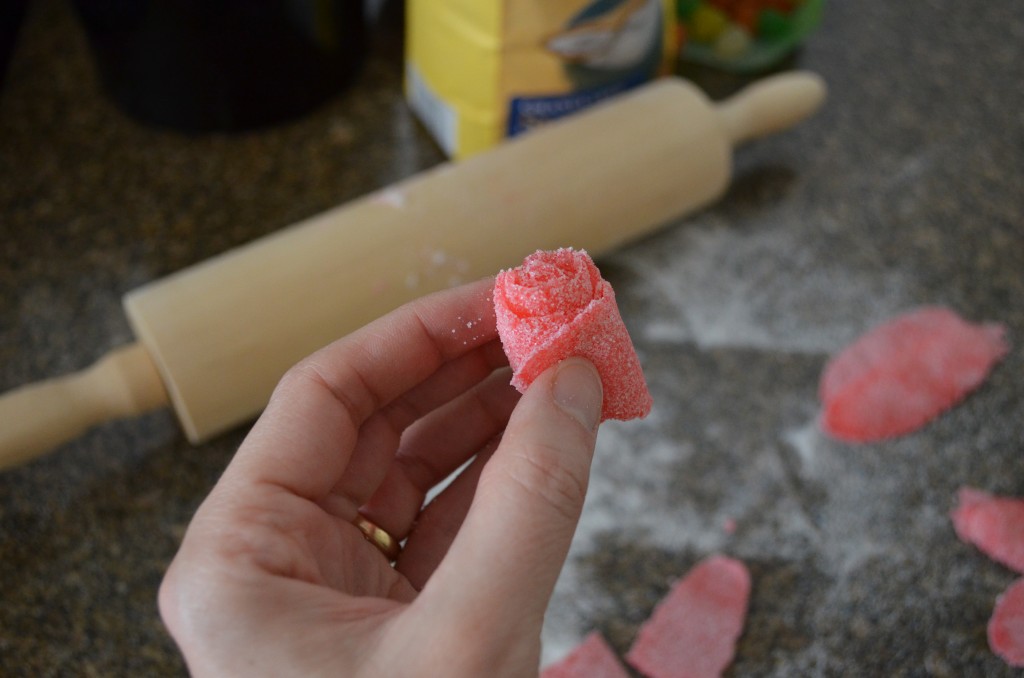 Pinch the bottom of the rose together between each petal to hold it in place.
Repeat until you have 4 roses.
You will end up with a kind of ugly tail on each rose as you pinch the petals into place. No worries! Cut it off when you're done so that the rose will be able to stand upright. Then handle as LITTLE as possible until you place them on the cupcakes.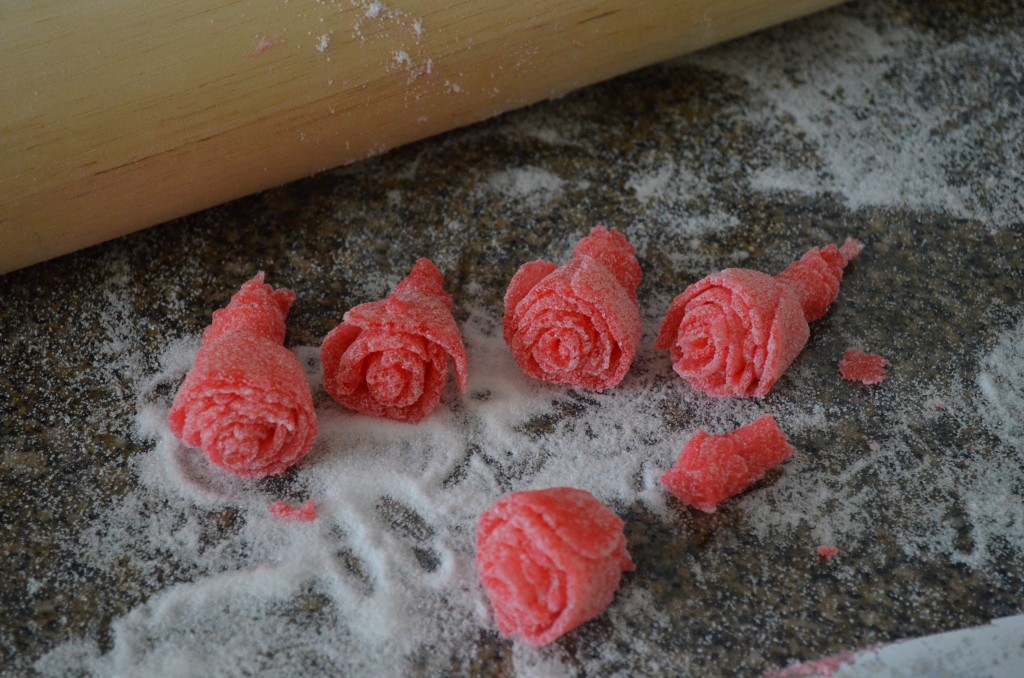 For the leaves, roll out the green gumdrops in a similar way. You will first want to clean any red sticky bits off your rolling pin and work surface first. Then cut little leaf shapes out of the green tongues.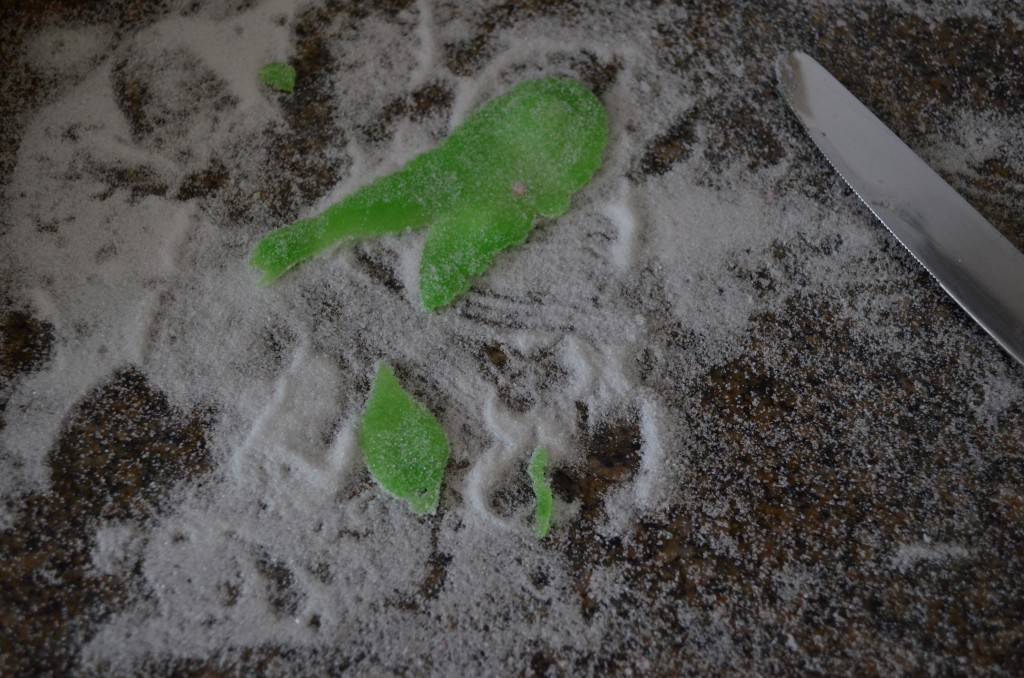 I like to cut 1-3 leaves for each rose; varying the number of leaves looks nice.
You don't need to do anything with the leaves until you're ready to assemble the cupcakes.
And that's it! A couple things to note about these roses:
– I don't recommend eating them, unless you like gumdrops. I don't think they taste very good.
– I've tried making them with Swedish fish, because those taste better! But I found that the Swedish fish took a lot more elbow grease to roll out, and didn't stick together as well. I don't really recommend Swedish fish. But if you know that you are serving these to people who will insist on eating them and then be grossed out by the gumdrop flavor, you could definitely give Swedish fish a try.
– With rolling out the gumdrops, thinner is not necessarily better (unless you're trying to do Swedish fish, where I'd advise that you roll them out pretty thin to get them sticky enough). The picture below illustrates the difference between a rose where the gumdrop petals are rolled out very thinly (left, and as pictured in the "tongue" pictures above) or not so thinly (right). Whichever you prefer!
Now the moment you've been waiting for… you're all done with the many components of these cupcakes! To assemble:
Remove the completely cooled cupcakes (still in their paper liners) from the muffin tin.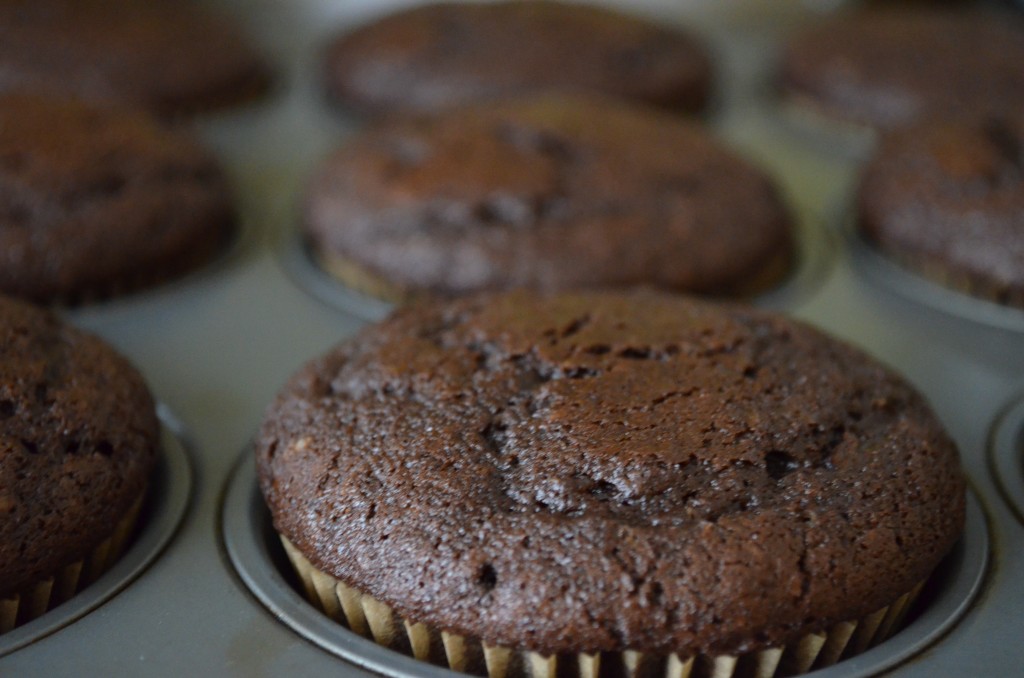 Pipe icing (or spread with a knife) onto the cupcakes.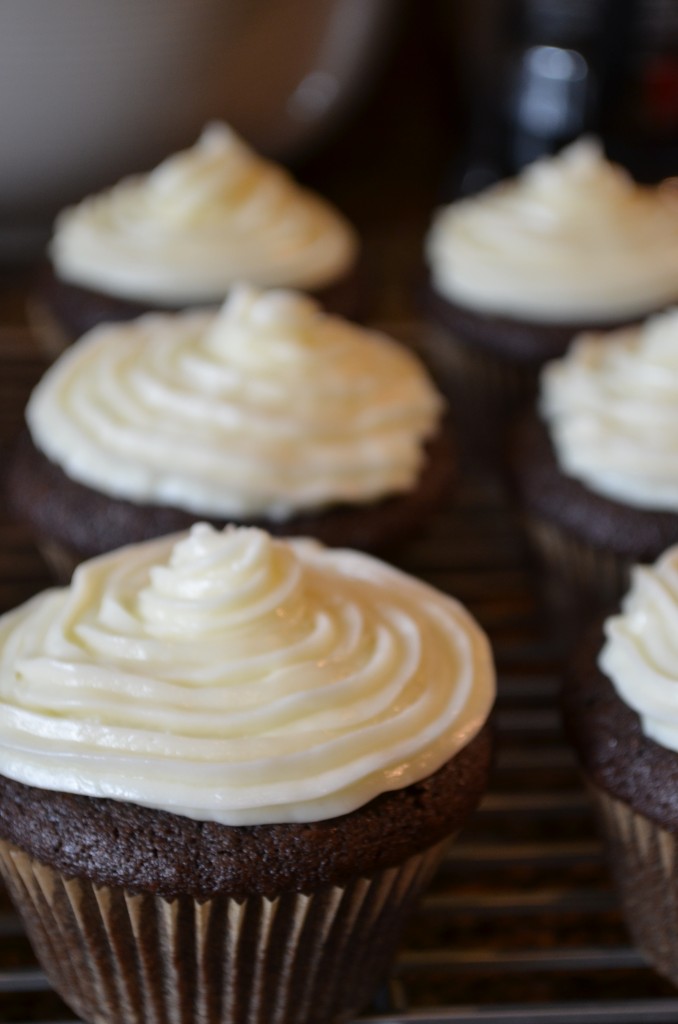 You will most likely have some icing leftover. You can freeze it! Just thaw and re-whip before using.
Place the roses on the cupcakes, sticking a few leaves into the icing next to each one. I think it looks nice to have roses on only a few of the cupcakes, but of course you could make more roses if you're ambitious enough.
Voila! Impress your friends with these beautiful and fragrant cupcakes.
Time:
About 3 hours total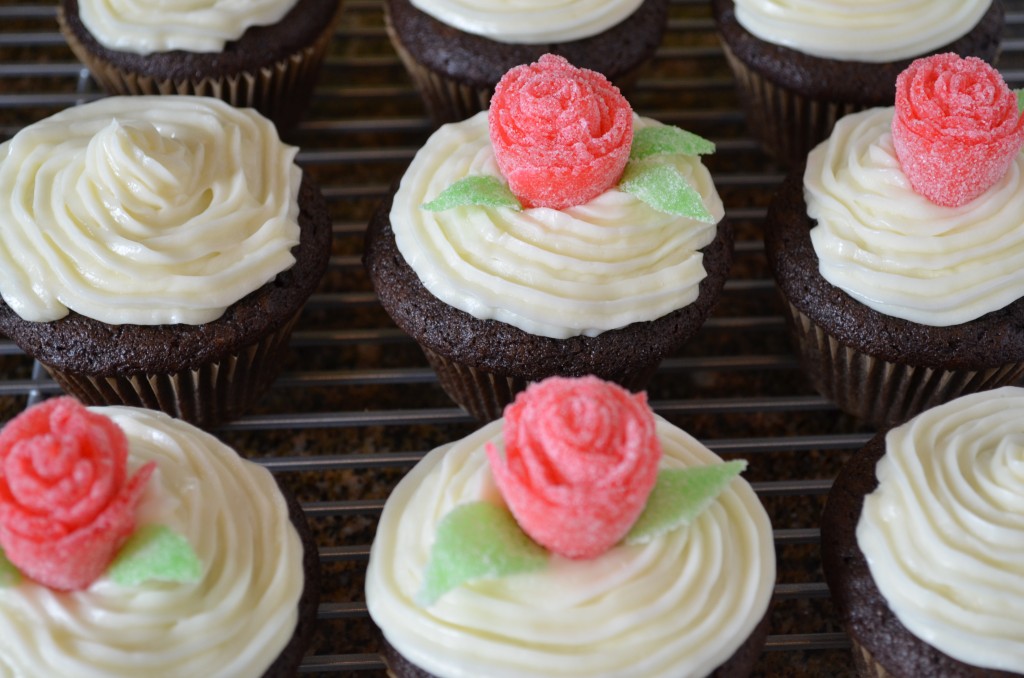 Enjoy and have a good weekend, friends! Let's make sure to discuss The Bachelor on Tuesday.