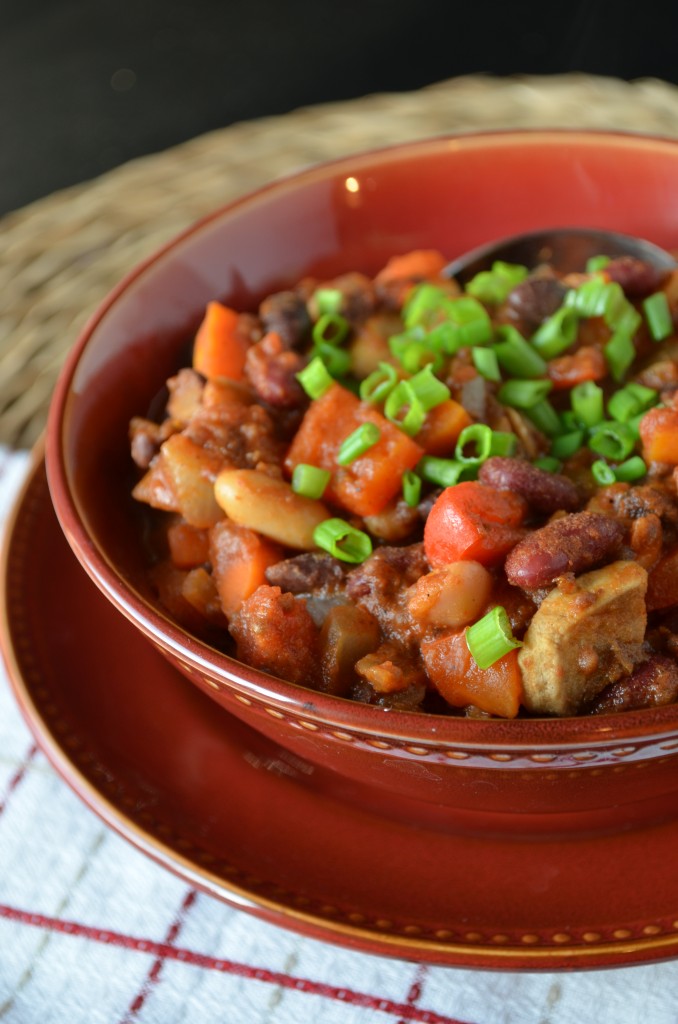 Good morning.
It's Monday.
And I need another weekend to recover from my weekend. Because it looked something like this: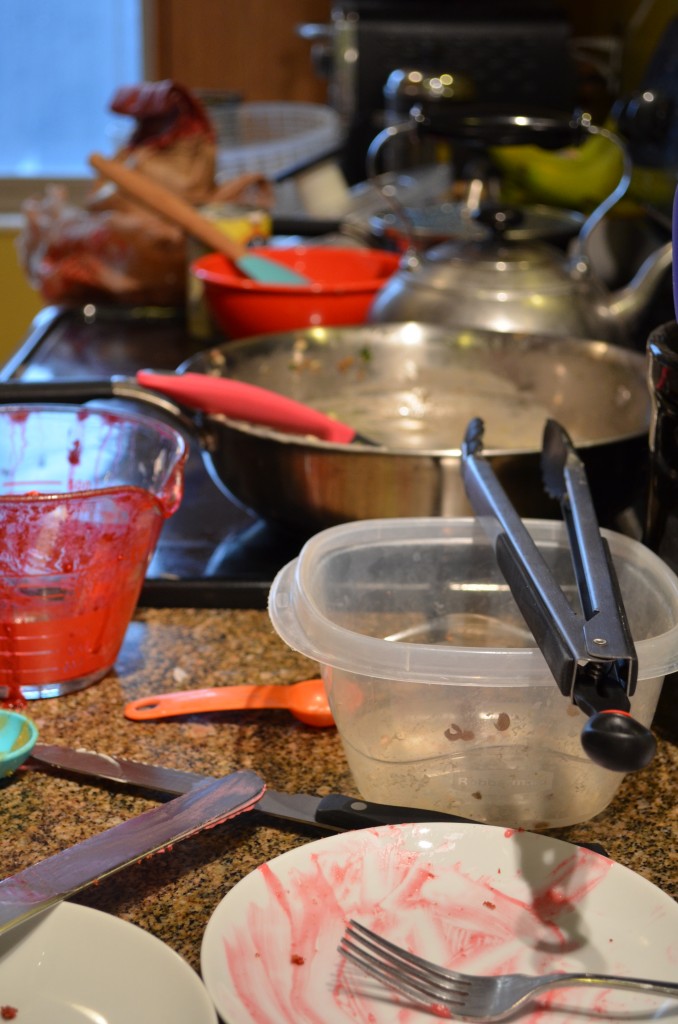 How exciting is my life when an "exhausting weekend" means I stayed in my apartment and cooked the whole time?
I'm 25, not 85, I swear.
I did get out this weekend, too – to hang out with some friends, get my snow tires put on (finallyyyy, and just in time for more snow!), and see a Sundance movie with Nate.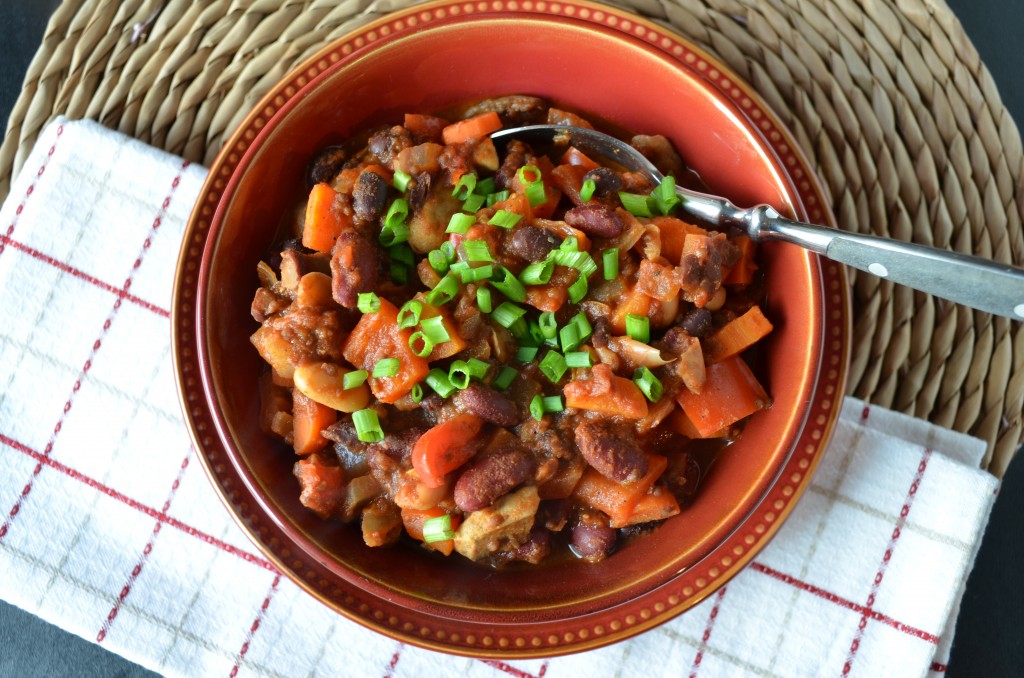 But for the most part, I spent the weekend cooking. And it goes without saying that when I'm cooking, I'm also sampling the food I'm making. This weekend involved its fair share of sampling… as you may be able to tell from the kitchen photo above.
So I could use something healthy to start the week off with.  This vegan chili, chock full of veggies and three types of beans, is just what I have in mind.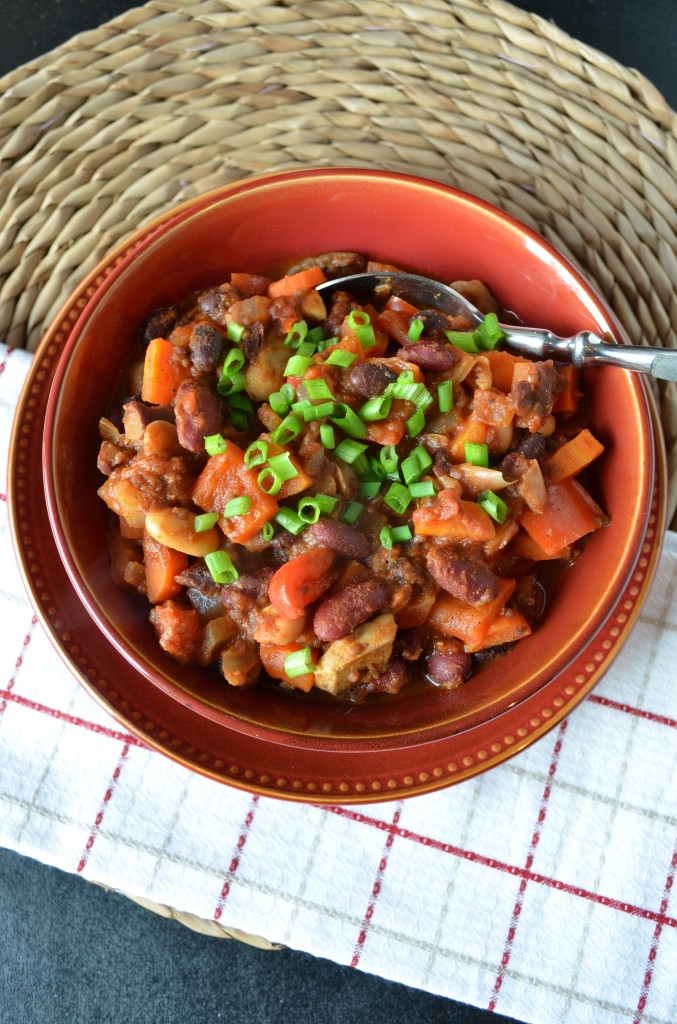 There are many delicious chili recipes out there, but this is my favorite veg-based one. It has similar flavors to the ground beef chili I grew up with, but subs veggies and more beans for the beef.
This is not your simmer-all-day type of chili; it's what I would call a weeknight chili, because it's done in an hour start to finish. And more than half of that time is hands-off, with your chili bubbling on the stove while you come over and wash my dishes for me.
If chili is not what you're craving on a Monday morning, just keep it in mind, because remember? Sunday is the Super Bowl. And chili is cheap, easy to make, and tastes even better reheated. The number of people you can feed with this is only limited by the size of your biggest pot.
Have a great start to your week!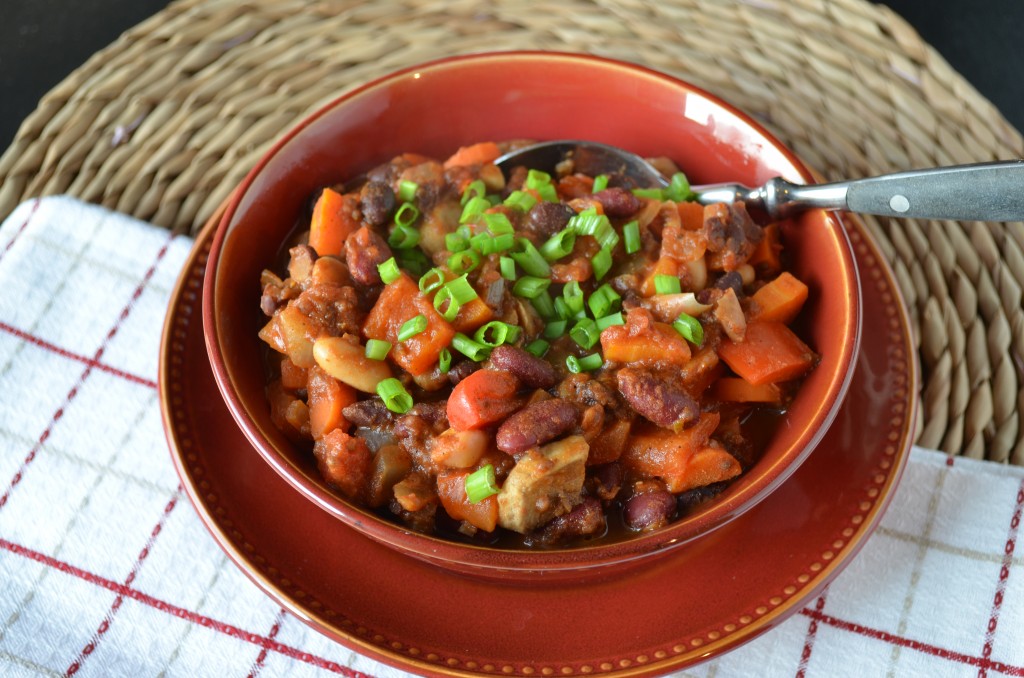 Vegan Three-Bean Chili
Adapted from Oh She Glows
Serves 8-10
Ingredients:
1 Tbsp olive oil
3 garlic cloves, minced
1 yellow onion, diced
3 carrots, peeled and diced
2 red peppers, diced
16 oz. white mushrooms, sliced
1 14.5-oz. can black beans (low-sodium if possible)
1 14.5-oz. can kidney beans (low-sodium if possible)
1 14.5-oz. can cannellini beans (low-sodium if possible)
1 28-oz. can diced or crushed tomatoes in juice
juice of 1 lime
2 Tbsp chia seeds
3 Tbsp chili powder
1 Tbsp cumin
1 Tbsp unsweetened cocoa powder
2 tsp dried oregano
sprinkle of cayenne pepper
salt and pepper to taste
Instructions:
Heat olive oil in a large pot over medium heat. Add garlic and saute for 30 seconds. Add the onion, carrots, and bell peppers and saute for 5 minutes, stirring occasionally.
Stir in the rest of the ingredients, reduce heat to low, and simmer covered for 30-40 minutes.
Serve chili on its own, with rice, or over a potato for a hearty winter meal!
Time:
1 hour