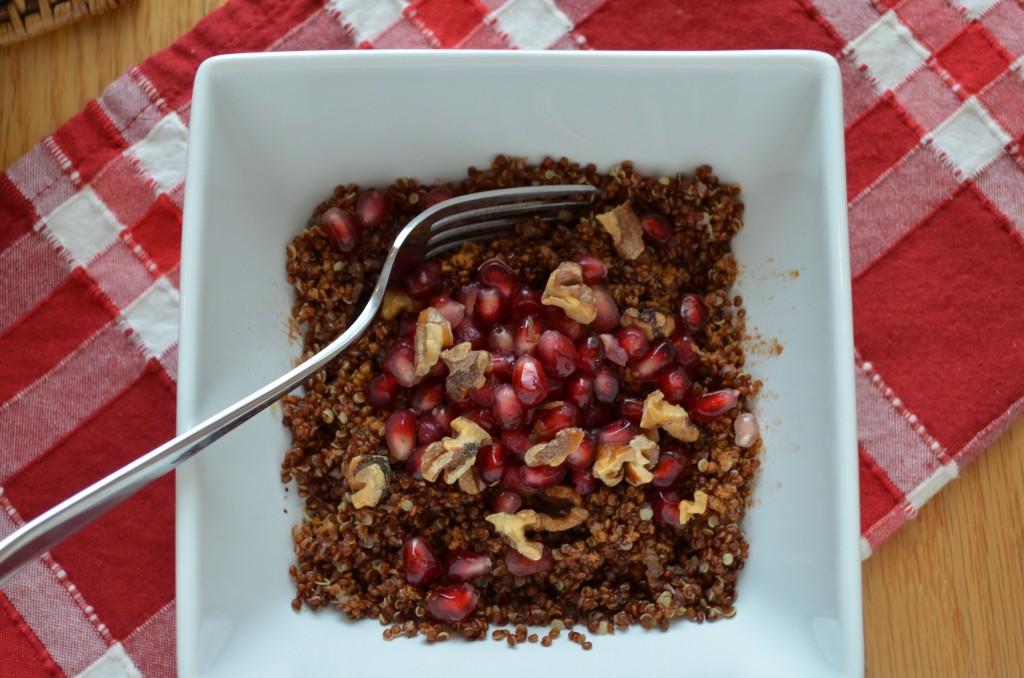 It probably comes as no surprise (given the name of this blog) that I've wanted to post this recipe for quite some time.
The problem was pictures. It's really hard to take a picture of anything in a bowl with an iPhone, because the lens distorts everything and makes it look like you're eating out of funhouse dishes.
Not that these are the best pictures ever (still learning… lots), but with my spiffy new camera, they at least accurately portray this meal in all its whole grain glory without making it look like I shot them through a funhouse mirror.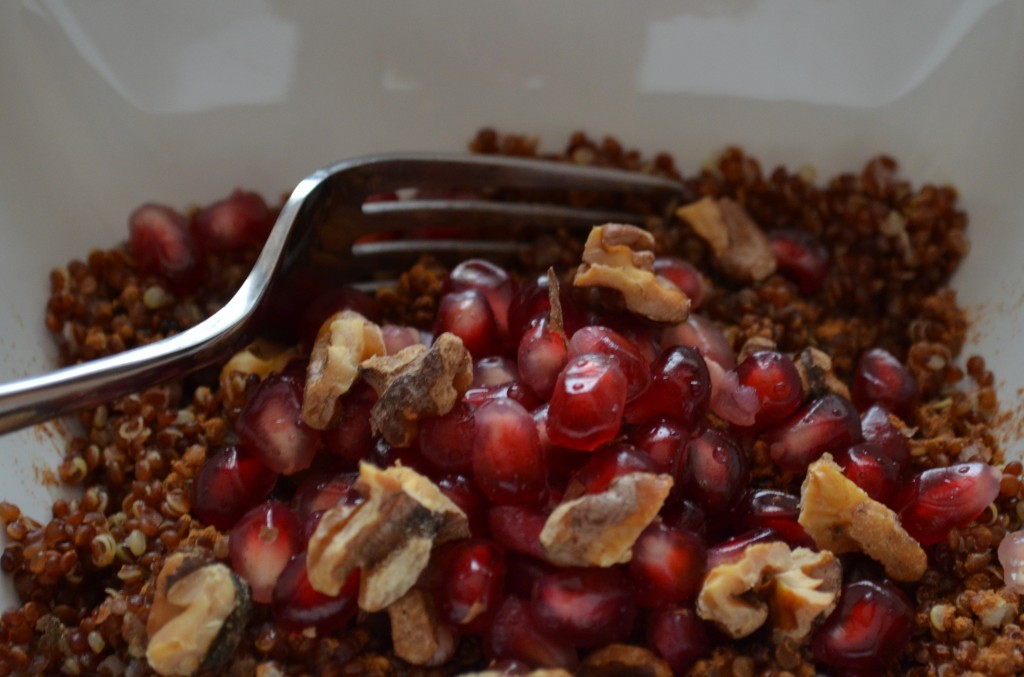 Anyway, about this quinoa. When I was down in Moab with my parents in September, we got breakfast (and lunch) both days from the Love Muffin Cafe, an adorable cafe on Main St. that I had never been to before. If you're ever in Moab, I highly recommend it! They have the best ever breakfast quinoa (that Mom and I ate both days) and that I just had to recreate when I came home. Actually, in the car on the way home from that Moab trip, Mom and I discussed blog names, and I had this dish in mind when I registered this domain name a few weeks later. :) I intended for this to be my first post! But like I said… the pictures.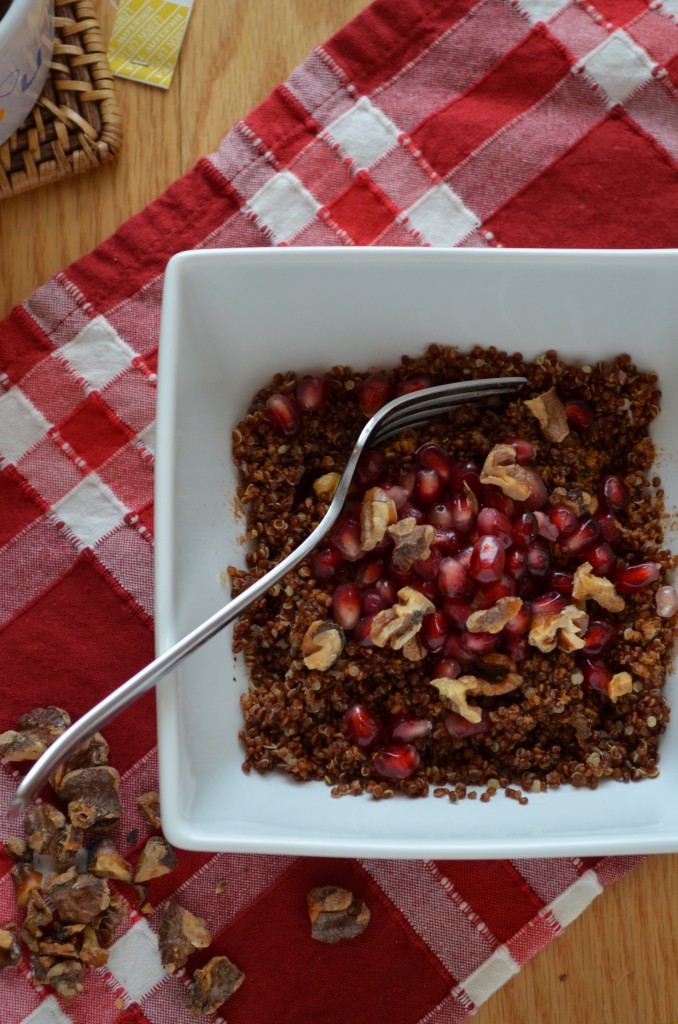 I've tried making other breakfast quinoa recipes before, but they never turned out well enough to start my day with. Thank goodness the Love Muffin Cafe came along! I would have been stuck in a never-ending cycle of oatmeal and Cheerios. Well actually, I still kinda am, but now I have this to mix it up with.
The recipe is simple: quinoa, agave, cinnamon, nuts and fruit, and a splash of milk.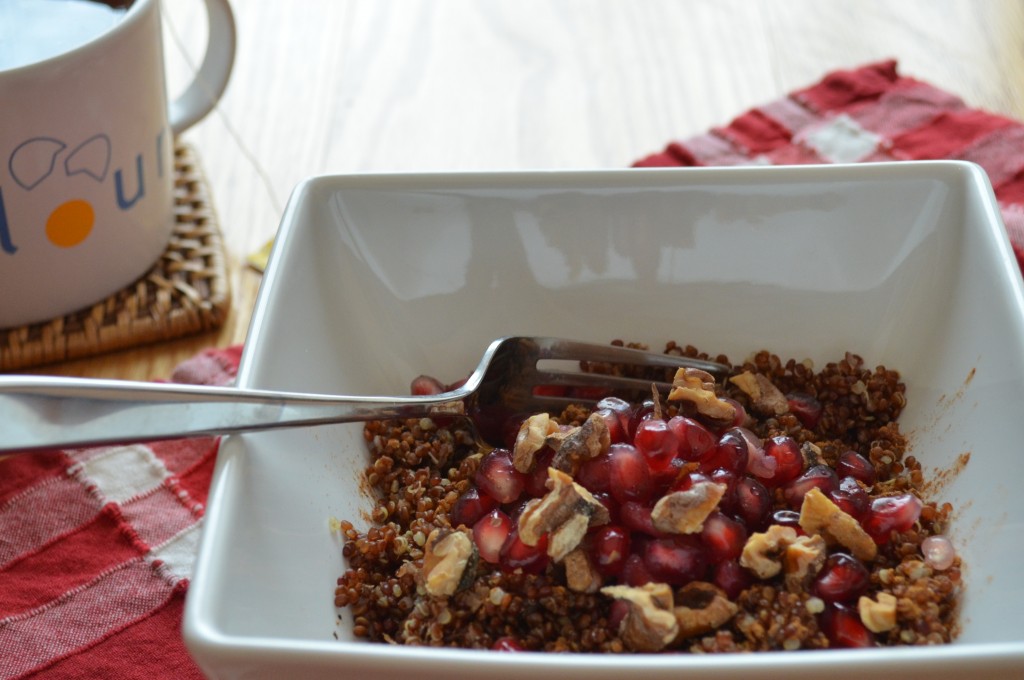 If you're wanting to eat healthier, eat more whole grains, or eat better breakfasts this year, this is pretty much the best place you can start! I've never tried another grain here, but if you prefer farro, wheat berries, etc. you could definitely try substituting that. I don't recommend using white quinoa, though… it doesn't have the same rich nutty flavor as red quinoa. Rainbow or black would probably be OK, though.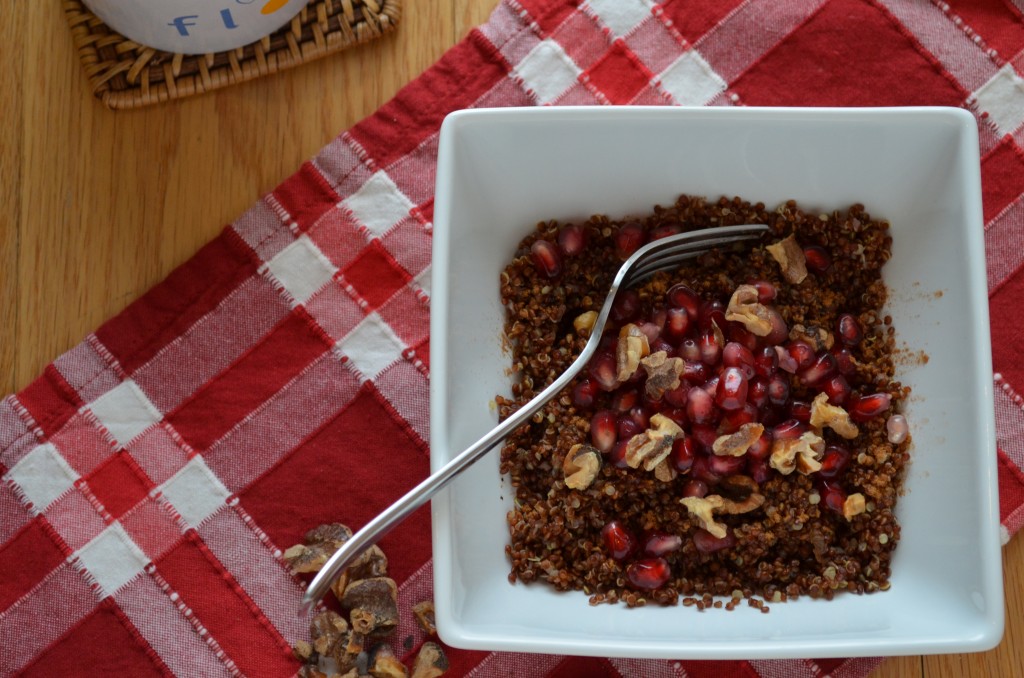 Warm Breakfast Quinoa with Agave and Cinnamon
Inspired by the Love Muffin Cafe in Moab, UT
Serves 1
Ingredients:
1 cup cooked red quinoa (this can be prepared ahead of time)
1 Tbsp agave syrup
heavy sprinkle of cinnamon
small handful of chopped walnuts (toasting is optional)
handful of seasonal fruit such as pomegranate arils or strawberries and blueberries
splash (1-2 Tbsp) of milk (I use plain unsweetened almond milk)
Instructions:
If using leftover quinoa, microwave until warm.
Mix warm quinoa with agave and sprinkle with cinnamon. Top with walnuts and fruit. Pour a splash of milk over the top and stir – the milk will coat everything with the agave and cinnamon. Serve!
Time:
<5 minutes if quinoa is cooked ahead of time, 20-25 minutes if cooking quinoa