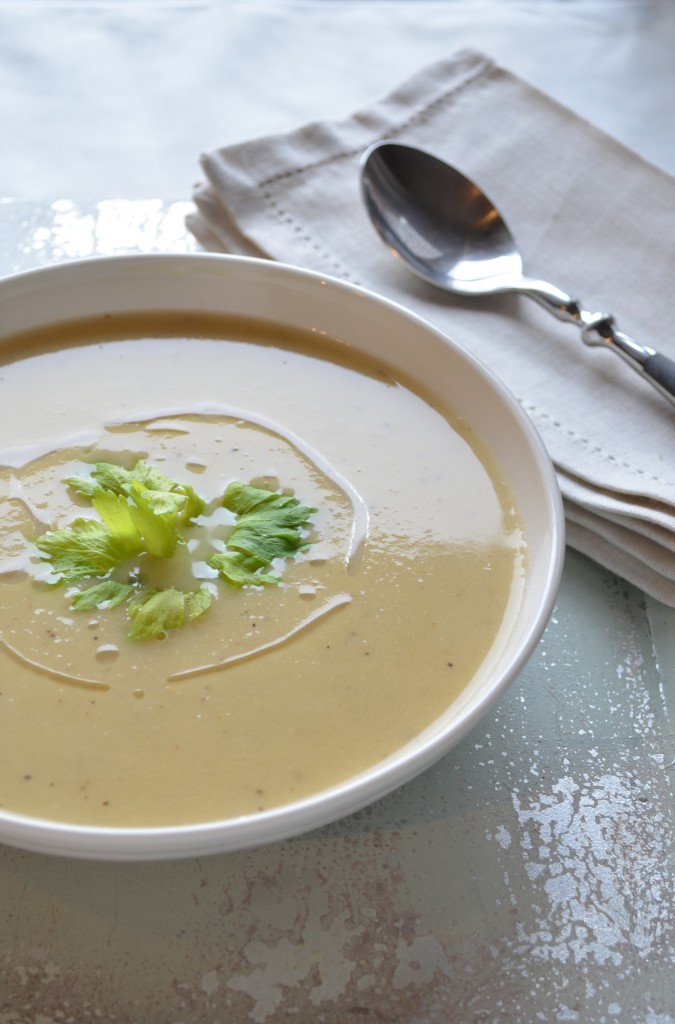 Do you ever feel like the universe is trying to tell you something… and it's about food?
Without warning, everywhere you look, you start seeing a certain ingredient. It's on Facebook. It appears at the grocery store. It shows up on your favorite blogs. Co-workers start mentioning what they've made with it. Finally, although you had never even heard of it before a few weeks ago, you decide that you just can't ignore its presence any longer and have to make a weekend project out of cooking with it.
Does that ever happen to you? No?
Well, it's exactly what happened with me and this weird-ass root.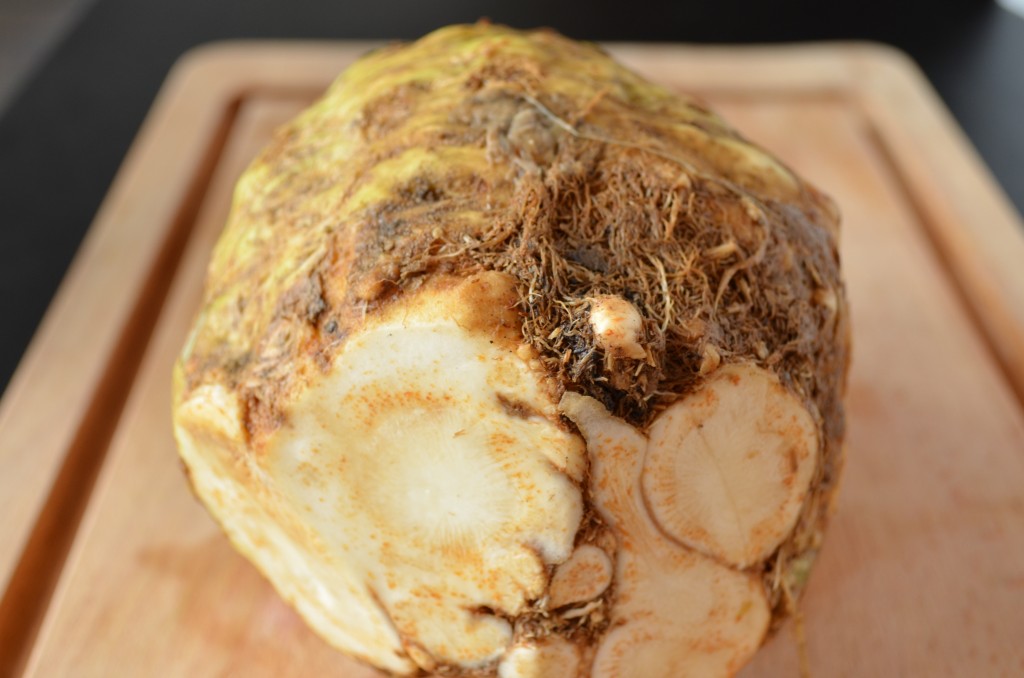 Just look at this thing. I mean, there's a reason it's never made it onto my cutting board before this. Never mind the fact that I didn't even know it existed.
But based on all the signs the universe has been sending me, the celery root and I are destined to be together.
So finally I went out and bought one. This was quite easy because, as I mentioned, my grocery store is displaying them prominently. But then the question remained: what do you do with this thing?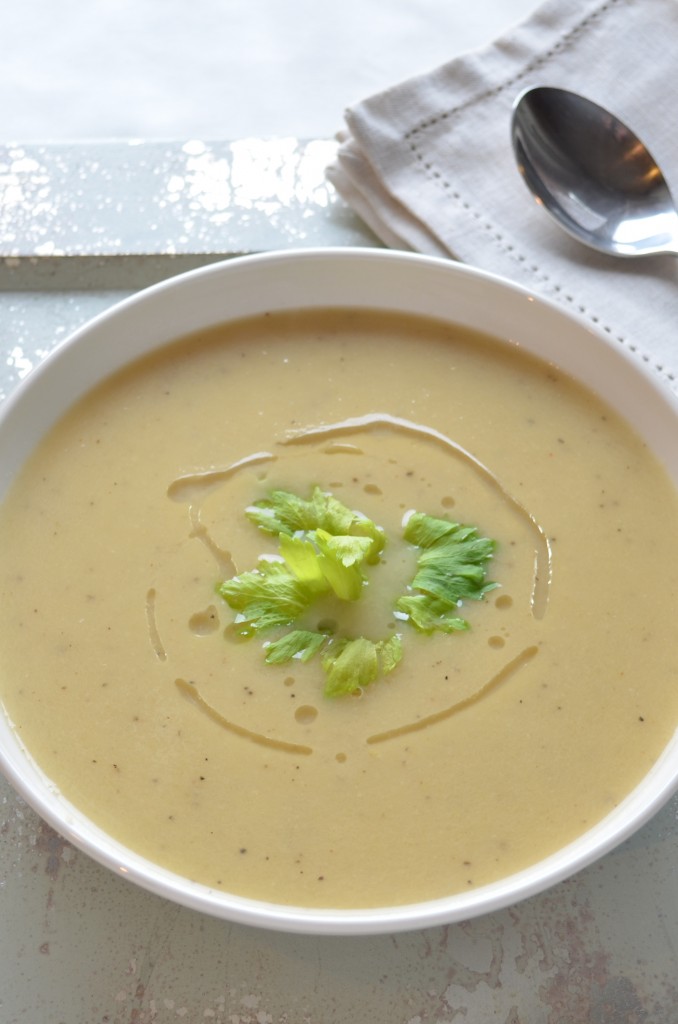 Turns out, you put it in a soup.
Well actually, first you hack it to pieces.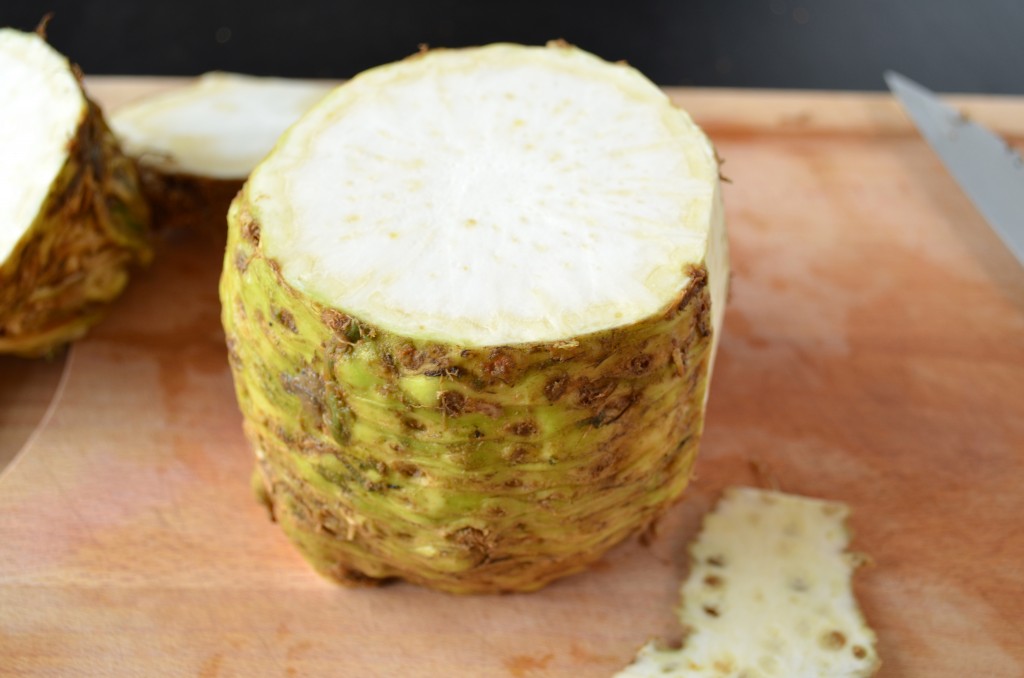 But then you put it in a soup. And drizzle it with truffle oil. And dip crusty hunks of bread in it. (Why did I not get some bread for these pictures? Food blogging lesson learned.) And then you get that comfy cozy feeling that comes from being warmed from the inside out.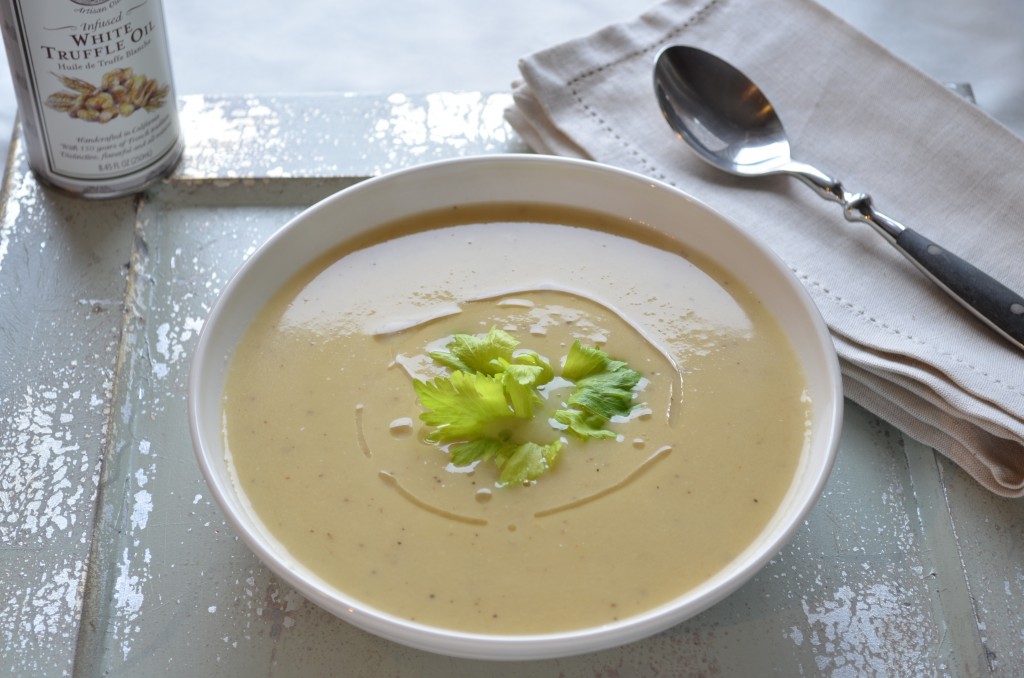 So maybe the celery root and I are destined to be together.
And maybe you two are destined for each other, too. Don't worry, there's enough to go around.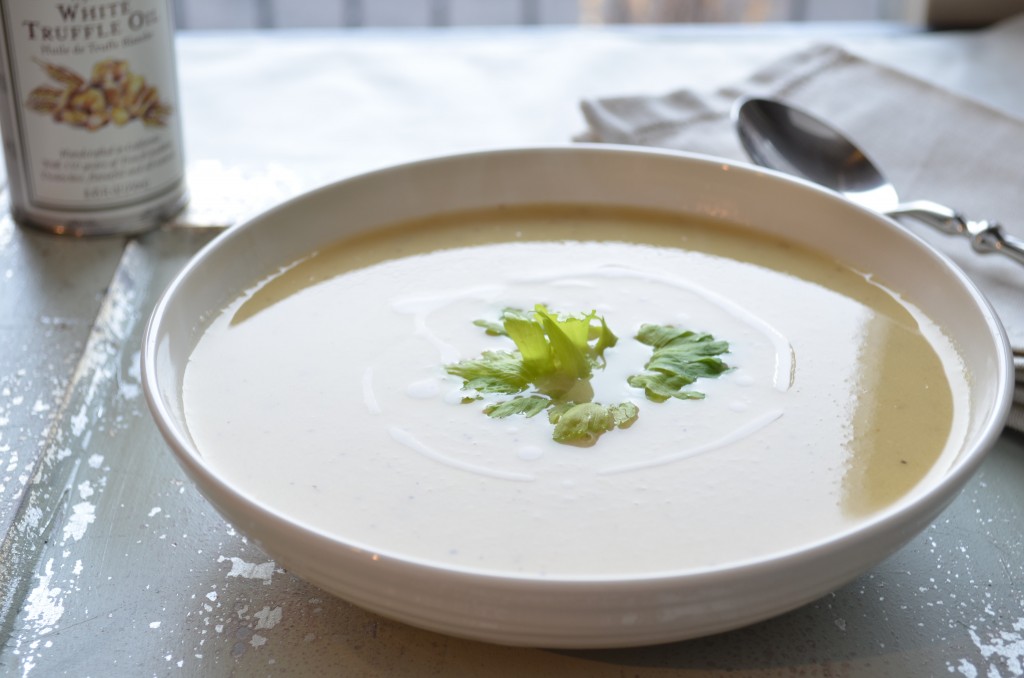 If you haven't met this soulmate of a root vegetable yet, let me tell you what to expect. Not surprisingly, it tastes like celery! Well, like that but more flavorful, and maybe a little more peppery. It has a texture close to a potato, but not as starchy. It has the same creaminess, but with an added delicious flavor. Overall, it has everything I could want in a wintertime soup. I liked this much more than any potato leek soup I've ever tried, and I can definitely imagine making a vegetable soup or stew with chunks of celery root in it.
So… you and the celery root. Together forever.
Consider this your sign from the universe.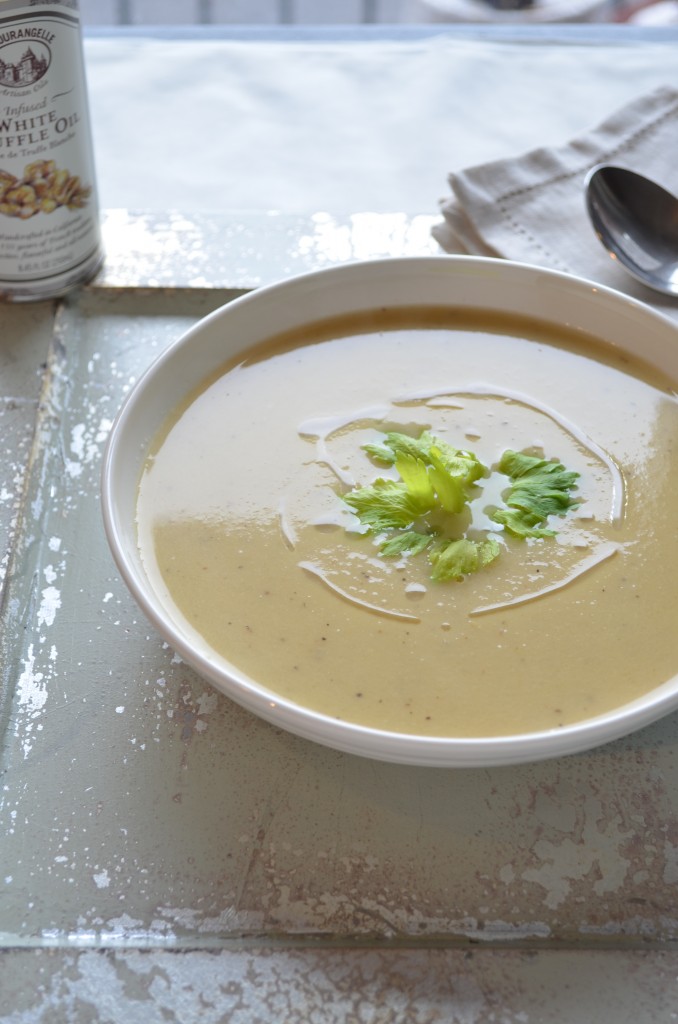 Celery Root Soup
Adapted from David Lebovitz
Serves 4-6
Ingredients:
2 Tbsp butter or margarine
2 Tbsp olive oil
3 leeks, cleaned and chopped
3 garlic cloves, minced
kosher salt to taste
4 lbs celery root (I used 1 large plus 1 small)
5 cups vegetable stock made without tomatoes, such as Whole Foods 365 (or chicken stock)
2 cups water (reduce to 1 cup for a thicker soup)
1 1/2 tsp black pepper
scant 1/8 tsp chile powder
truffle oil or olive oil for serving (optional)
Instructions:
First of all, peel and chop the celery root. Here is a tutorial from The Kitchn on how to peel a celery root. It's really not as hard as you think it will be. Once you've got that done, you can move on to the next step! My 4 lbs of celery root turned into about 7 cups when chopped.
Melt the butter and olive oil in a large pot over medium heat. Once hot, add leeks and saute for about 5 minutes, stirring frequently. Do not let the leeks brown at all; turn down the heat if they start to. Add the garlic cloves and a pinch of salt and continuing sauteing until both the leeks and garlic are soft and translucent, another few minutes.
Add the celery root, vegetable stock, and water. Cover, bring to a boil, and then reduce to what David Lebovitz calls a "strong simmer." Simmer until the celery root is tender. (A fork should slide easily to the center of a cube when pierced.) This will depend on the size of your cubes, but took me about 25 minutes.
Once celery root is tender, add the pepper and chili powder. Puree using an immersion blender (or in batches in a regular blender) until the soup is smooth with no remaining chunks. Add more salt as desired.
Serve hot with a drizzle of truffle or olive oil and a side of rustic bread.
Enjoy!
Time:
45 minutes to an hour