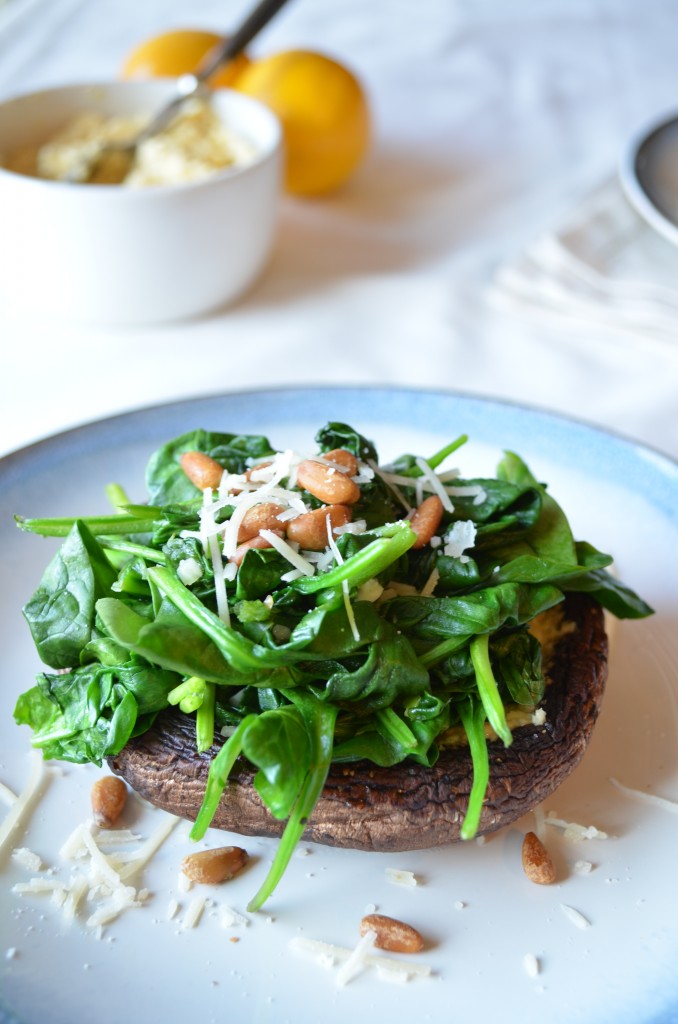 Monday was all about cake. Not to give it away, but Friday is going to be all about cookies. And unlike Monday's cake, Friday's cookies contain absolutely zero vegetables. So let's try to squeeze in some green stuff in the meantime, shall we?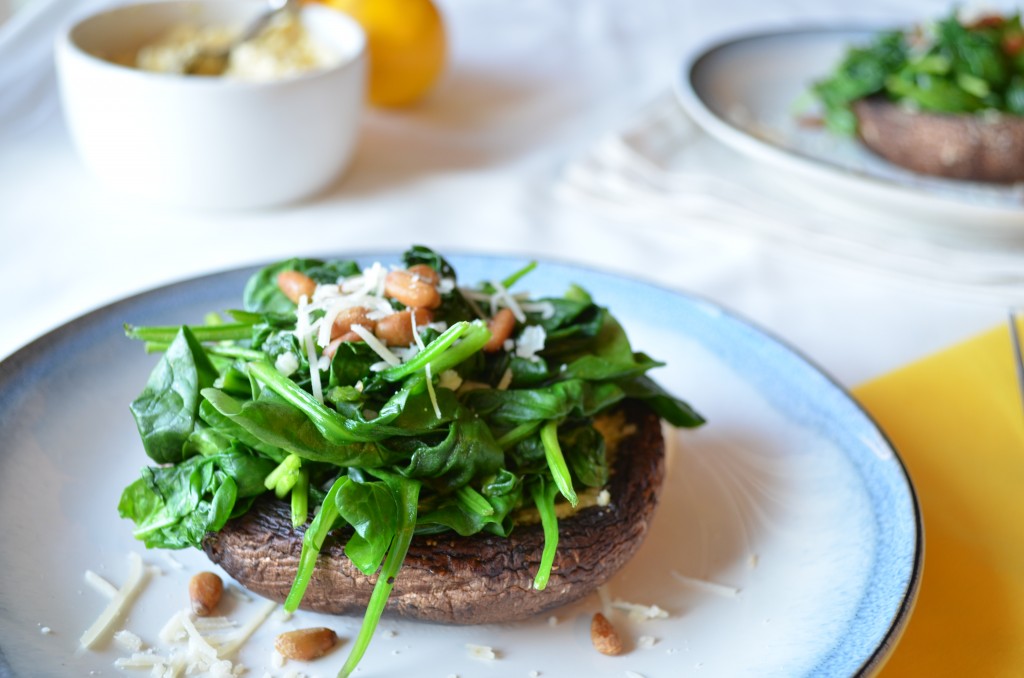 Look at all that spinach! I feel healthier already.
I don't know about you, but I tend to do a lot of baking on the weekends. It's what Nate calls my "wake and bake" (hah) – scones, cakes, muffins, etc. If we haven't destroyed all the sweets by the time Sunday night rolls around, I try to bring them into work and pawn them off on my unsuspecting co-workers on Monday morning. They think I'm being generous, but really I'm just trying to get all the butter and sugar out of my house before I go back for more. By mid-week, I'm (hopefully) back to my healthy weekday routine of veggies, gym, and yoga.
And that's where these portobellos come in! Last summer I discovered the portobello/pesto combination and fell in love. And while I eagerly await summertime basil (like, reeeeally eagerly), I figured I'd make a different but equally tasty citrus pesto.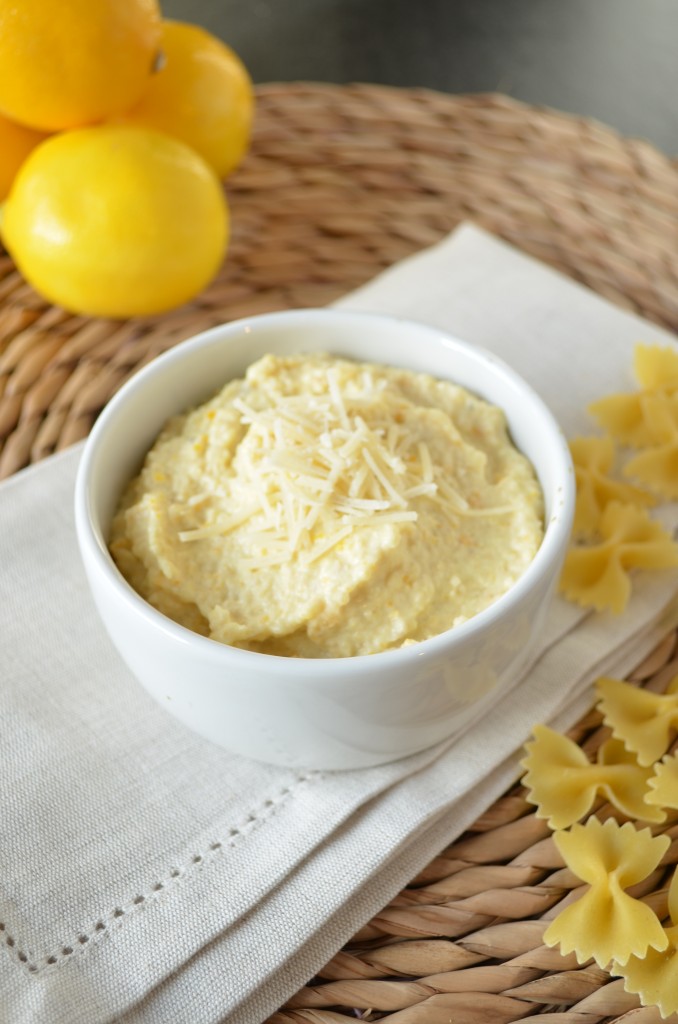 This was my first time using meyer lemons! My regular grocery store doesn't have them, so I trudged out in a snowstorm the other day to pick some up from another nearby store. And I've have to say it was worth it! They are so pretty.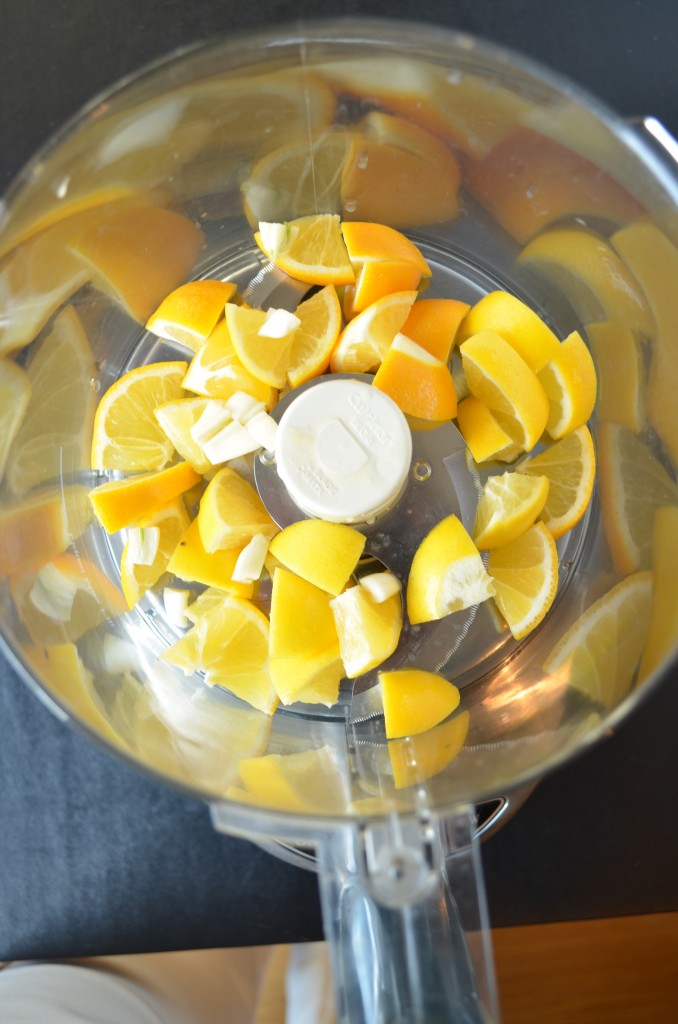 If you can't find meyer lemons, you could use a regular lemon here. Because the rind is much thicker, though, I would probably suggest using only the juice and zest, instead of tossing whole chunks of regular lemon in.
For this dish, I spread a layer of lemon pesto on top of the grilled portobello, then topped with spinach and a sprinkling of parmesan and pine nuts. You could also add a quinoa layer (or combine it with the spinach) for a more filling dish. I haven't tried it, but I'm sure it would be delicious!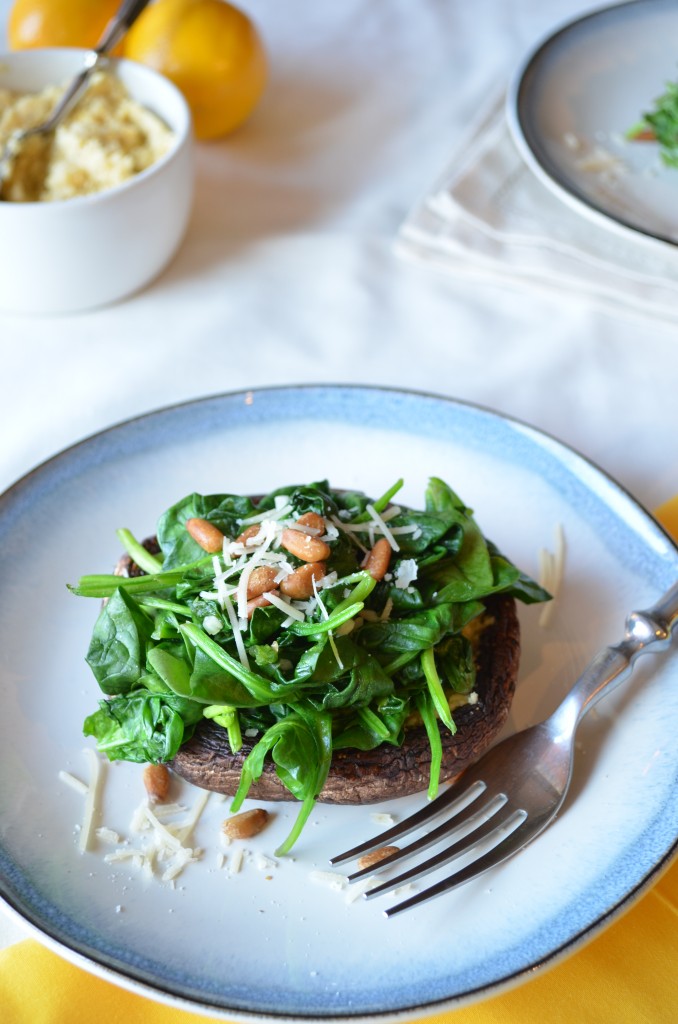 Grilled Portobellos with Meyer Lemon Pesto and Spinach
Serves 2 as an entree or 4 as a side
Ingredients:
For the meyer lemon pesto:
1 meyer lemon
1 small clove garlic
1 Tbsp olive oil
1/4 cup grated parmesan cheese
1/4 cup pine nuts
1/2 tsp honey
sprinkle of salt and pepper
For the grilled portobellos:
4 portobello mushrooms
olive oil
salt and pepper
2 small cloves garlic
10 oz. fresh spinach leaves
handful of toasted pine nuts
sprinkle of grated parmesan cheese
Instructions:
Preheat oven to 375. Break the stems off the portobello caps, and clean each cap with a damp paper towel. I prefer to leave the gills in, but you can scrape them out if you wish. Brush both sides lightly with olive oil and sprinkle with salt and pepper. Roast for 25 minutes with the gills facing up, then turn gills face down for another 5 minutes.
While the mushrooms are cooking, make the pesto. If using a meyer lemon, cut it into chunks and remove the seeds, then toss the entire chunks into the food processor. (If using a regular lemon, add only the zest and juice of the lemon to the food processor.) Blend with the rest of the pesto ingredients, scraping the sides with a spatula occasionally, until smooth.
Heat a large pan over medium heat. Add a tiny drizzle of olive oil. Once hot, saute the garlic for 30 seconds to a minute. Add the spinach, a few handfuls at a time, and saute until wilted and bright green.
To assemble, spread a layer of lemon pesto inside each mushroom. Pile 1/4 of the spinach into the mushroom cap and top with a sprinkle of extra parmesan and pine nuts.
Enjoy!
Time:
35 minutes