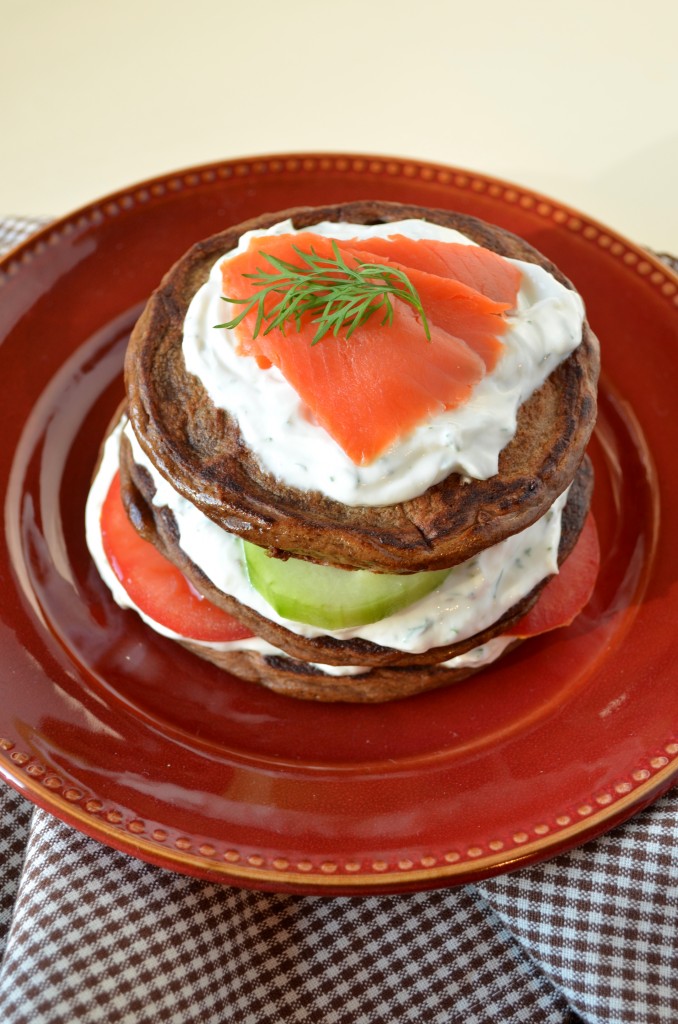 Sometimes when inspiration strikes, you just have to go with it.
This weekend, I walked in the door from the gym, and out of nowhere, my brain shouted "pumpernickel pancakes!" What? Well, OK.
Unlike Monday's pasta dish, I didn't waste any time letting the idea marinate. I rushed out to the store to find some rye flour and caraway seeds, and these pancakes were a reality not long after!
I'm not impatient or anything.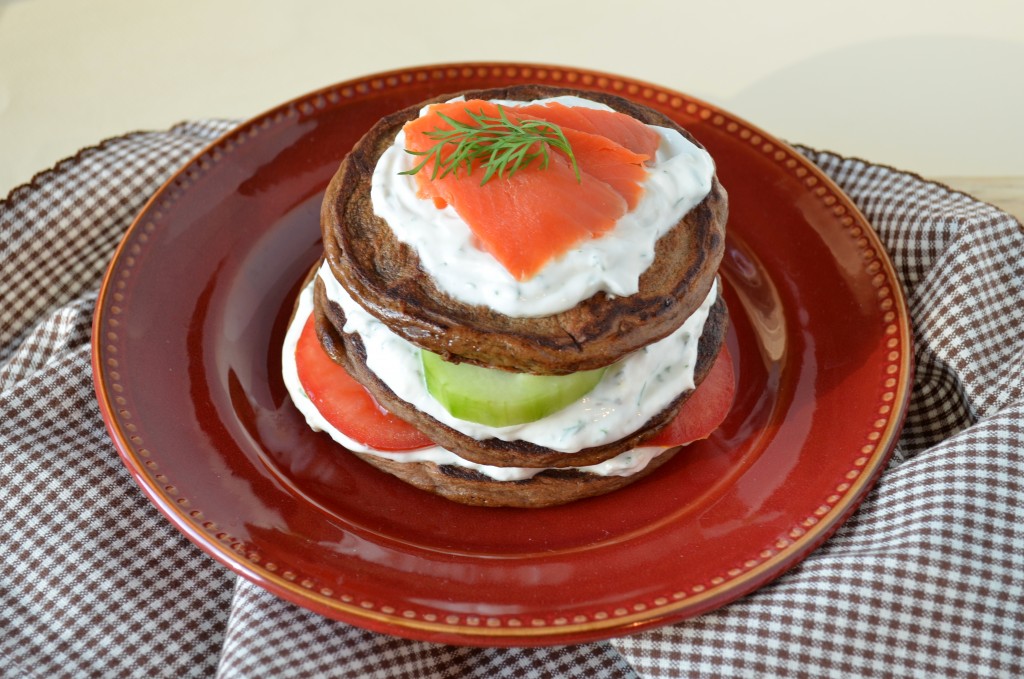 Actually, just a few hours before, I had been planning on spending the day skiing. But when we got off the highway, the traffic was so bad that we turned around almost immediately. We got a big snowstorm on Saturday, and so we definitely weren't the only ones with the idea to get up there on Sunday morning.
I was a little bummed, especially since the exact same thing happened last time I tried to go up :( But on the bright side, I had a whole free morning I hadn't planned on. First on the agenda was a 4 1/2 mile treadmill run, and then when the inspiration for these pancakes struck, I felt like it was serendipity – I had all the time in the world to make them.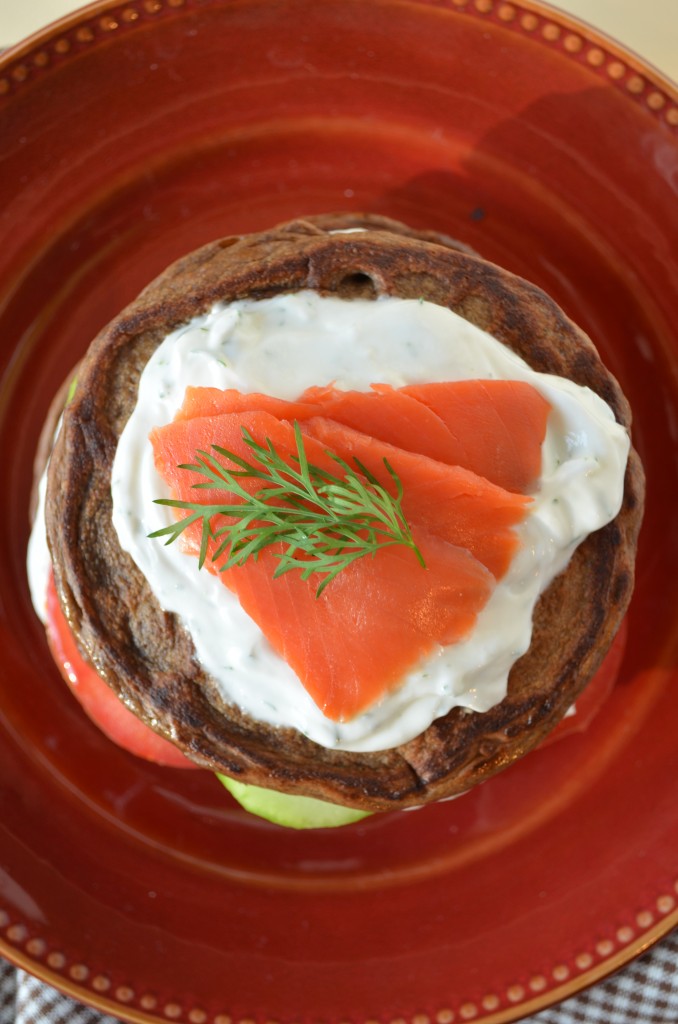 I've probably told you guys before that I'm not generally a pancake lover. On your average weekend, there are lots of breakfast foods I would choose before pancakes. But when the craving hits, it hits hard, and I guess that's what happened this Sunday. If you can't have skiing, you just have to have pancakes, you know?
Whether you're a pancake, bagel, or savory breakfast person, these fit the bill. With all the other bagel fixin's, they're to die for!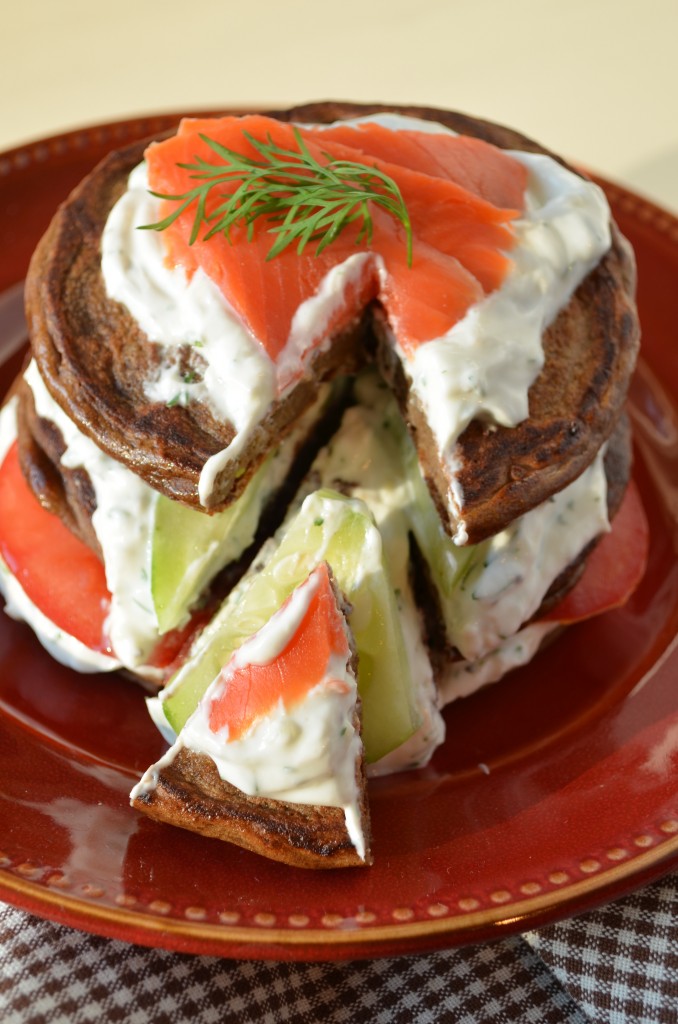 I think this is the first recipe on this blog that's not vegetarian (although it certainly could be if you just leave off the lox). And right on the heels of Monday's recipe using 2 types of cheese, too. Nate is crossing his fingers this is becoming a trend.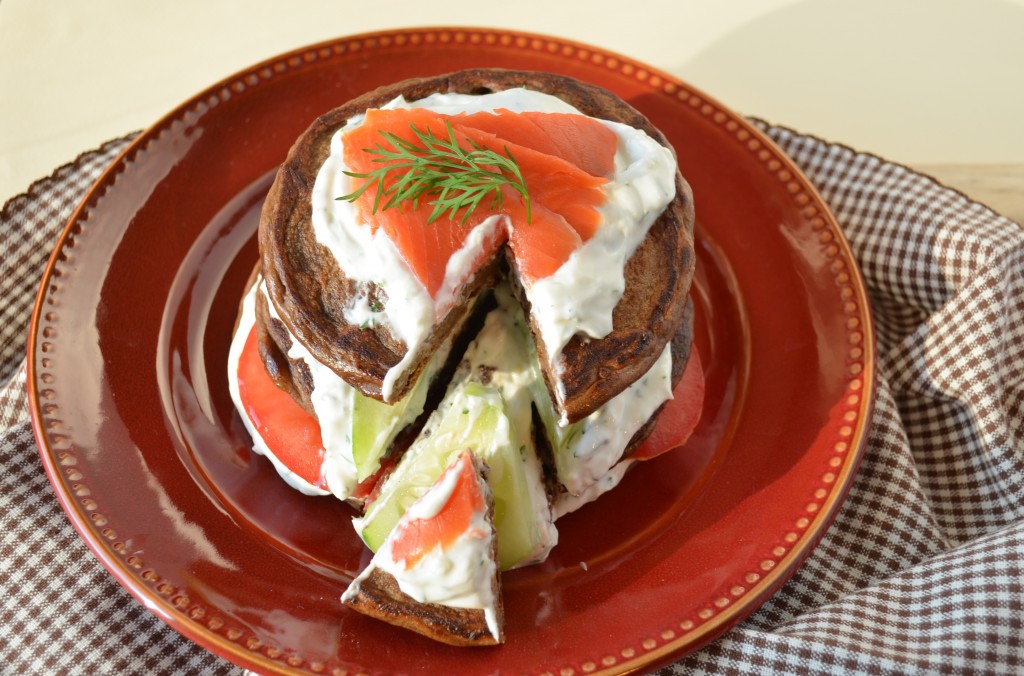 Let's talk quickly about the ingredients in here. As I mentioned, rye flour and caraway seeds were the two ingredients I didn't have on hand and wasn't sure where to buy. They were also the two ingredients necessary to get the pumpernickel flavor in these pancakes. I used Bob's Red Mill dark rye flour, which I found in a natural foods supermarket (Sprouts, for anyone local – they have a huge selection of Bob's Red Mill products!). The caraway seeds were super to easy to find in the spice aisle of my Kroger.
Do you like caraway seeds? I know from my days selling sausage in a German deli (story for another time) that they're a "you love it or you hate it" ingredient. They are the distinctive flavor in pumpernickel bagels, but you can by all means leave them out of these pancakes if you're not a fan. I personally like caraway and would probably grind up an additional tablespoon of the seeds to add to these pancakes next time.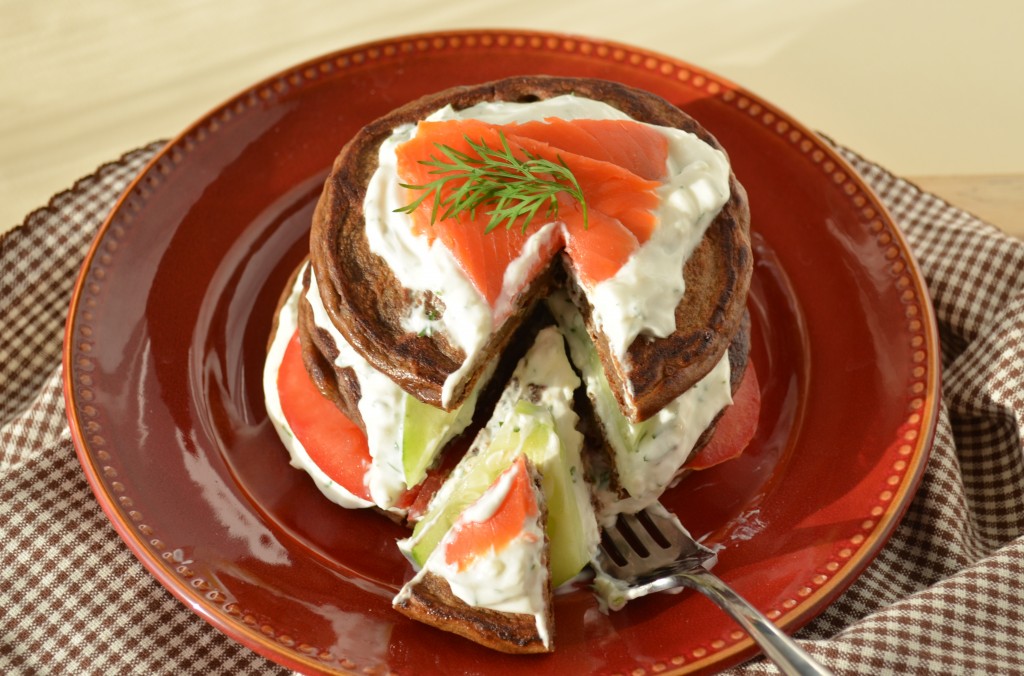 Pumpernickel Pancake Stacks
Yields:
9 small pancakes for 3 stacks
Ingredients
For the pancakes:
1/2 cup whole grain rye flour
1/2 cup whole wheat flour
1/2 tsp baking soda
1/4 tsp baking powder
1/4 tsp kosher salt
1 Tbsp ground flax seed
1 Tbsp cocoa powder
1 Tbsp caraway seeds
2 egg whites
1 Tbsp molasses
1 cup plain unsweetened almond milk (or other unsweetened milk of your choice)
1/2 cup plain Greek yogurt (anything from 0% fat to full fat will work)
For the dill yogurt sauce:
2 cups plain Greek yogurt
juice of 1/2 a lemon (about 2 Tbsp)
2 heaping Tbsp finely chopped fresh dill
2 cloves garlic, minced
sprinkle of salt and pepper
For the stacks:
1/2 cucumber, peeled and sliced
2 vine-ripened tomatoes, sliced
2 oz. smoked salmon (optional)
Instructions
First, make the pancake batter. Mix together all dry ingredients (rye flour through caraway seeds) in a medium bowl. In a small bowl, whisk together wet ingredients (egg whites through Greek yogurt). Pour wet ingredients on top of the dry mixture and whisk until smooth. Let batter sit for at least 10 minutes and up to overnight. (This will allow the wet ingredients to be absorbed more fully and will give you thicker, fluffier pancakes.)
While the batter sits, prepare the dill yogurt sauce. Whisk together all ingredients (Greek yogurt through salt and pepper). Refrigerate until ready to serve.
Preheat oven to 200 and set a baking sheet on a rack in the oven. (You can skip this, but I like to keep my finished pancakes in a warm oven as I go.)
Now cook the pancakes. Heat a large skillet to medium heat. Once hot, add a small drizzle of oil or butter (I used canola oil) and swirl to coat the skillet. Scoop a scant 1/4 cup of the pancake batter into the skillet. Cook until bubbles rise in the center of the pancake and edges are firm, then flip and cook until browned on both sides. Place on baking sheet in warm oven. Continue until you've used up all the batter!
To serve, layer pancakes, dill yogurt sauce, sliced tomatoes and cucumbers, and smoked salmon. Devour!