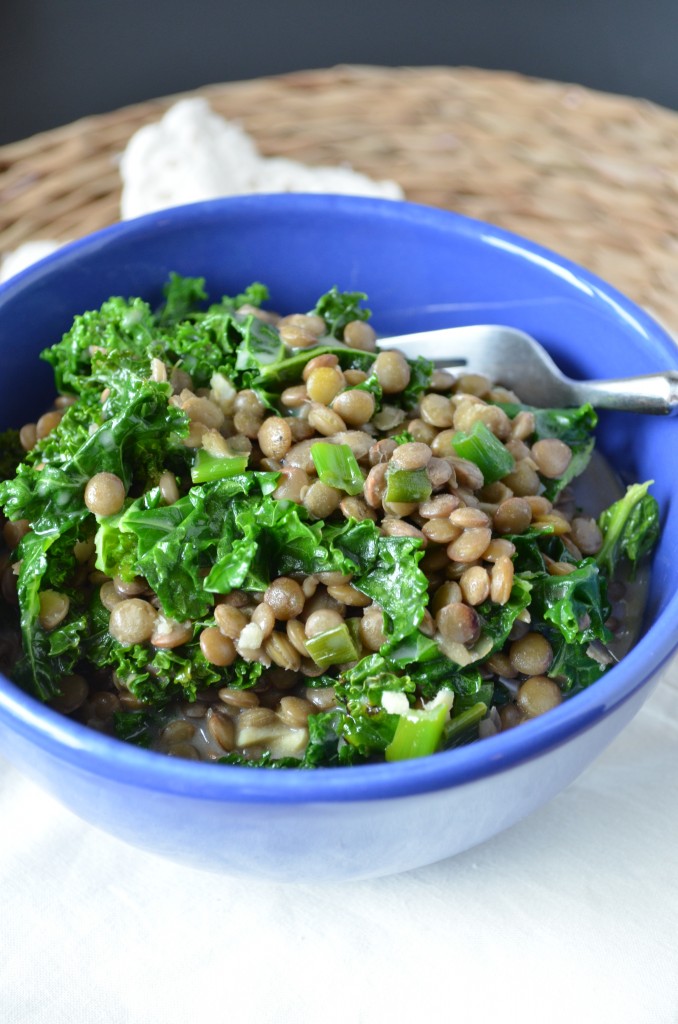 Let's talk lentils.
Just by talking about them, I think we're getting the week off to a healthier start than we otherwise would. Don't you?
It is, of course, the week of Valentine's Day, so I have a hunch we're all going to be eating our fair share of chocolate over the next few days. It can't hurt to eat some green stuff now, before the Hershey's kisses and Ferrero Rochers set in. (Mmmm Ferrero Rochers.)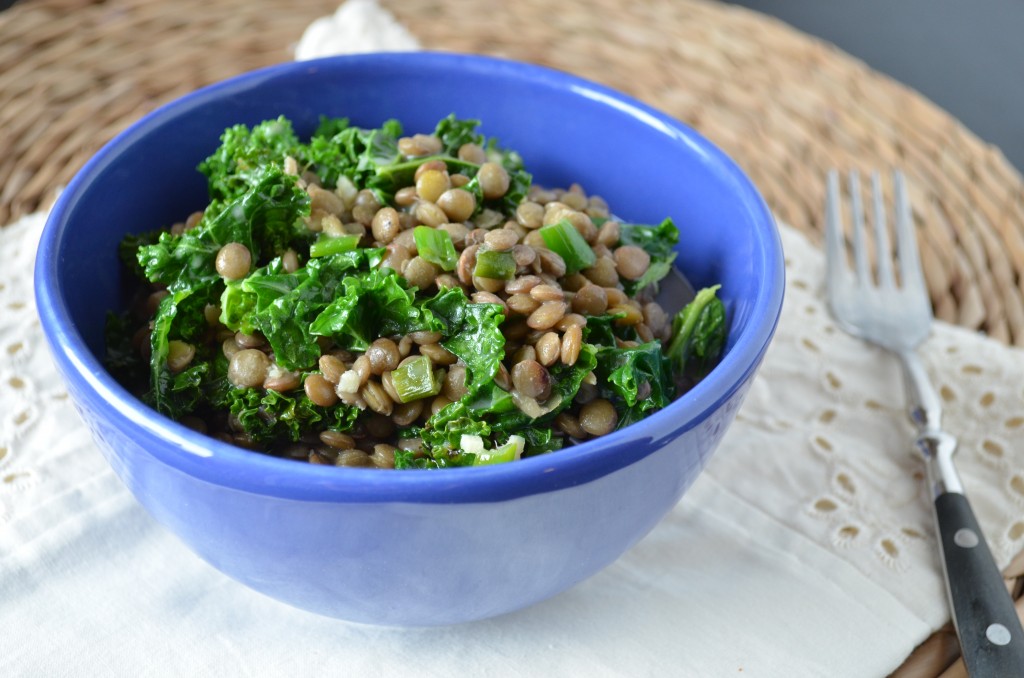 Lentils are one of my favorite bases for a quick and healthy meal. They're filling yet light, chock full of protein, take on pretty much any flavor you want, and taste great with lots of veggies. Lindsay from Pinch of Yum is in love with lentils too, and her lentil creations are some of my favorites. A little while ago I was craving some gingery lentils, and this is the dish I came up with.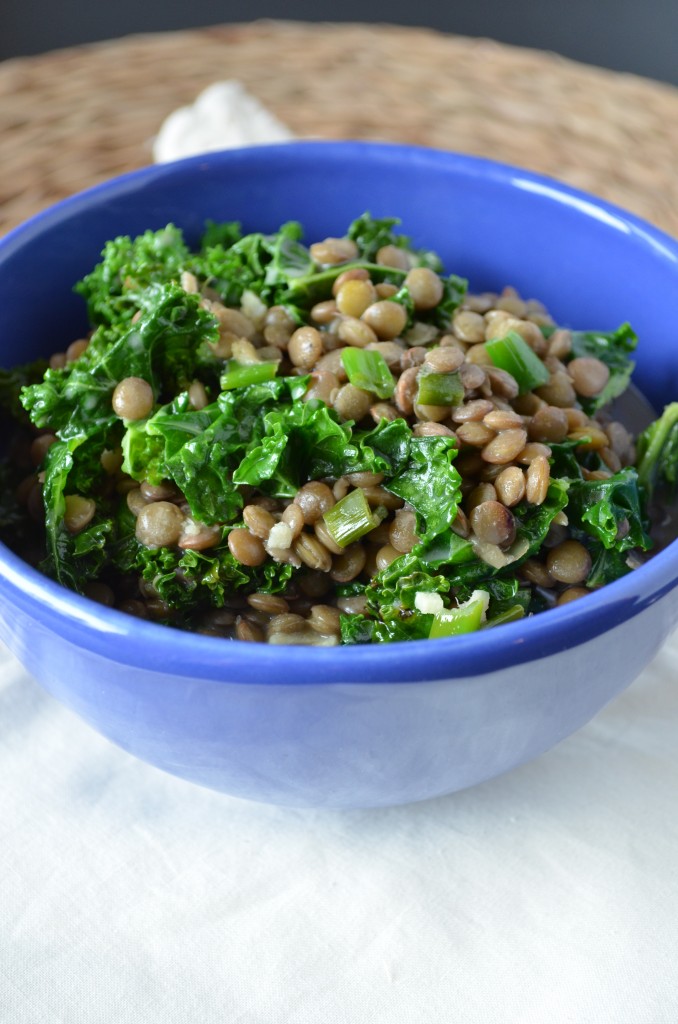 This is a great weeknight meal, and to make it even quicker, you can cook your lentils ahead of time. (I usually do this the night before, or in the morning while I'm showering and getting ready.) Everything comes together very quickly once the lentils are cooked, so you can have dinner on the table in 15 minutes if you plan ahead! Now that is a great start to the week.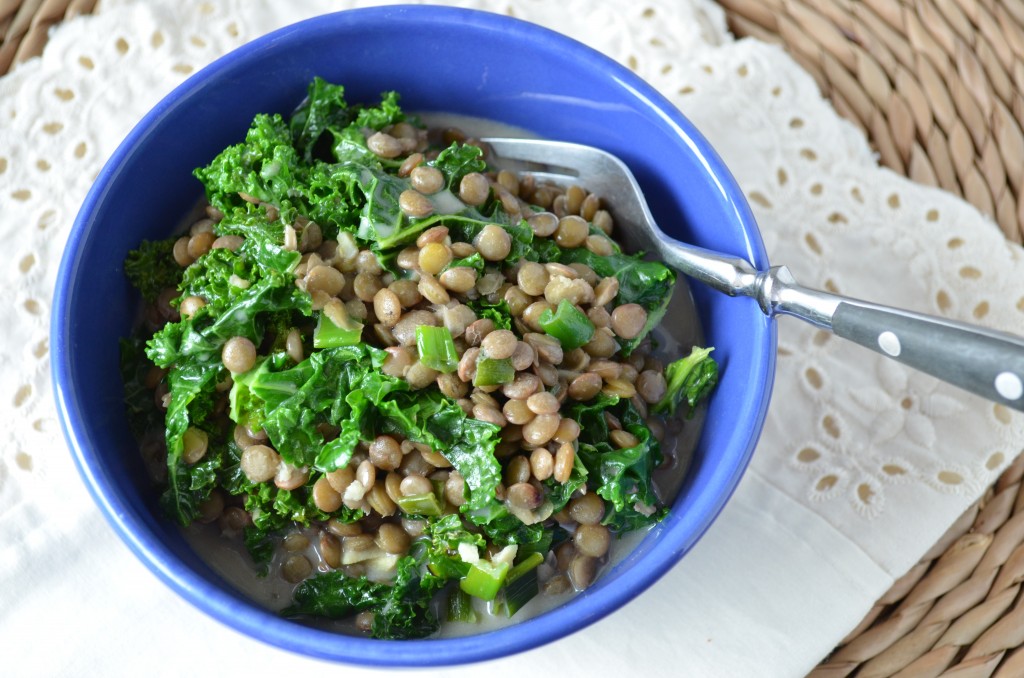 Thai Coconut Lentils with Kale
Serves 3-4
Ingredients:
1 cup dried green or brown lentils
1 Tbsp coconut oil
2 Tbsp tom ka paste (spicy coconut paste, found in Asian markets)
2 small cloves garlic, minced
2 Tbsp minced or grated ginger
6 green onions, sliced, divided
1 14-oz can lite coconut milk
1 bunch curly kale, rinsed and torn into bite-sized pieces
Instructions:
Cook lentils according to package directions. (I like to bring mine to a boil with 1 1/2 cups water, simmer for 40 minutes, then drain excess water.) This can also be done ahead of time.
Heat coconut oil in a large pan or skillet over medium heat. Once melted, mash the tom ka paste into the coconut oil. Stir in the minced garlic and ginger and half of the sliced green onions. Saute until fragrant, about 30 seconds to a minute. Stir in the coconut milk and heat through. Once hot, add the kale and cooked lentils. Continue sauteing, stirring frequently, until kale leaves are softened and bright green.
Serve immediately, topped with remaining green onions. Enjoy!
Time:
50 minutes (15 minutes if the lentils are already cooked)