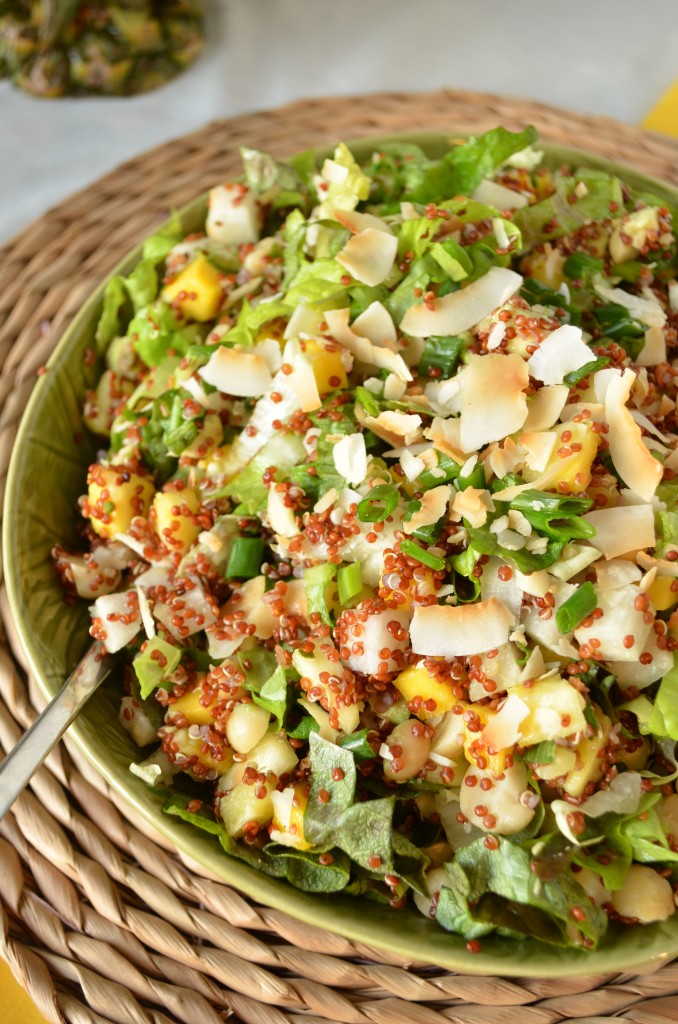 It's that time of year again… the time when we're still in the depths of winter, and I start dreaming of the beach.
The mountains are beautiful in the winter, the skiing is great, the food is hearty, blah blah blah. It's cold and I need a vacation.
This weekend, in an attempt to find the warm weather, Nate and I drove down to Zion National Park for some sun and hiking. Hopefully I'll have a post with pictures for you later in the week! But I don't even have a long weekend, so this morning I'm back at work, chugging away. A little weekend getaway to southern Utah was lovely, but something longer and more tropical would be right up my alley at the moment.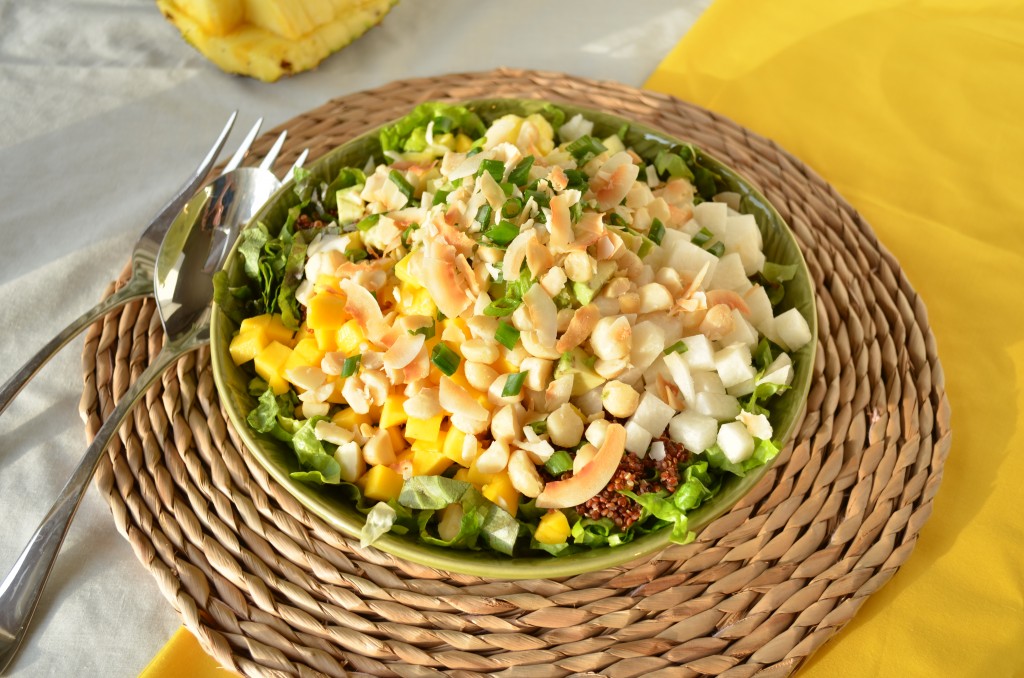 Enter this tropical salad. I went to the store and bought everything I could find that was delicious, in season, and from a warm location (sorry, sustainability), chopped it up, and put it in a bowl. Then I ate it and fantasized that I was sipping a pina colada on a beach, rather than eating salad out of a Tupperware in my office break room. It was so delicious that it almost worked.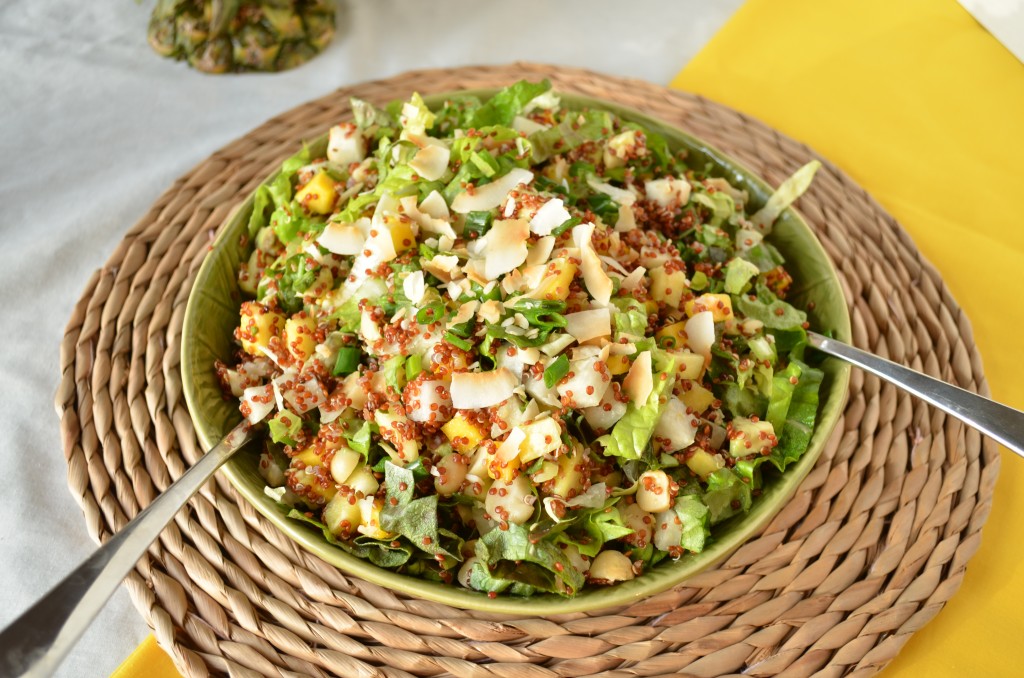 This salad is just what you need at this time of year. Pineapple, mango, coconut, macadamia nuts, avocado? Yes yes yes! I enjoyed mine drizzled with olive oil and a few squeezes of lime, which I would recommend. You could also use your favorite dressing here!
Now to plan my summer beach vacation. Only 5 1/2 more months…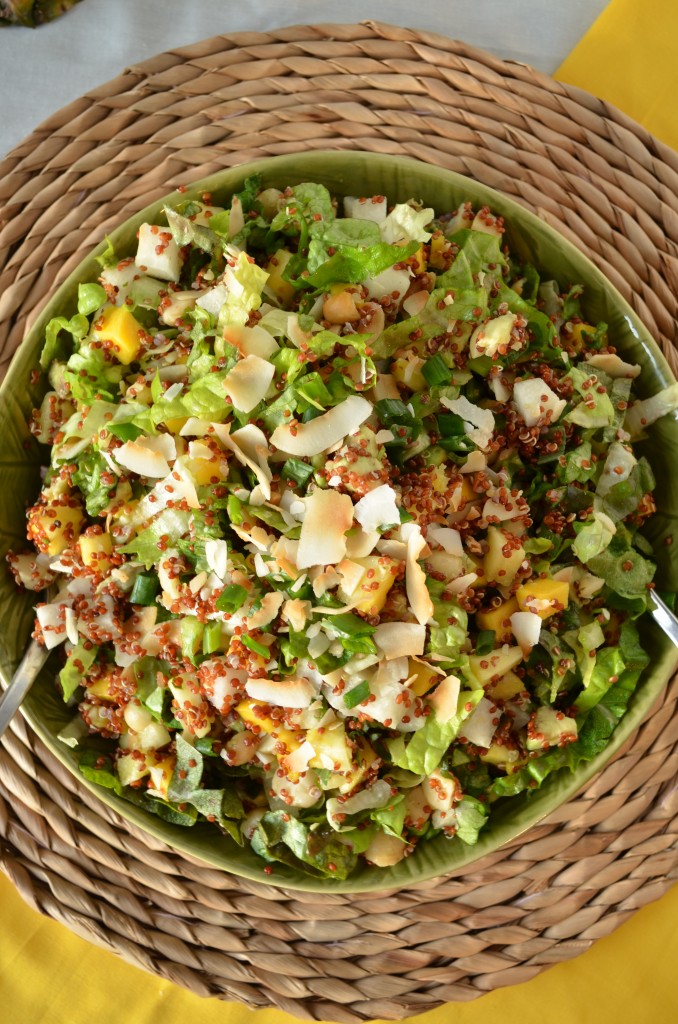 Tropical Chopped Salad with Mango, Pineapple, and Coconut
Serves 4
Ingredients:
For the salad:
½ cup uncooked quinoa
4-5 cups shredded red leaf or romaine lettuce
1 mango, finely chopped
1 cup finely chopped pineapple (about ¼ large pineapple)
1 cup finely chopped jicama
1 avocado, finely chopped
½ cup roasted unsalted macadamia nuts, roughly chopped
½ cup flaked coconut, toasted
2-3 green onions, sliced
For dressing:
drizzle of olive oil
squeeze of lime juice
(or your favorite dressing)
Instructions:
Cook quinoa according to package directions. Add to a large bowl with all other salad ingredients. Toss and serve. Drizzle each serving with olive oil and lime juice.
Time:
30 minutes