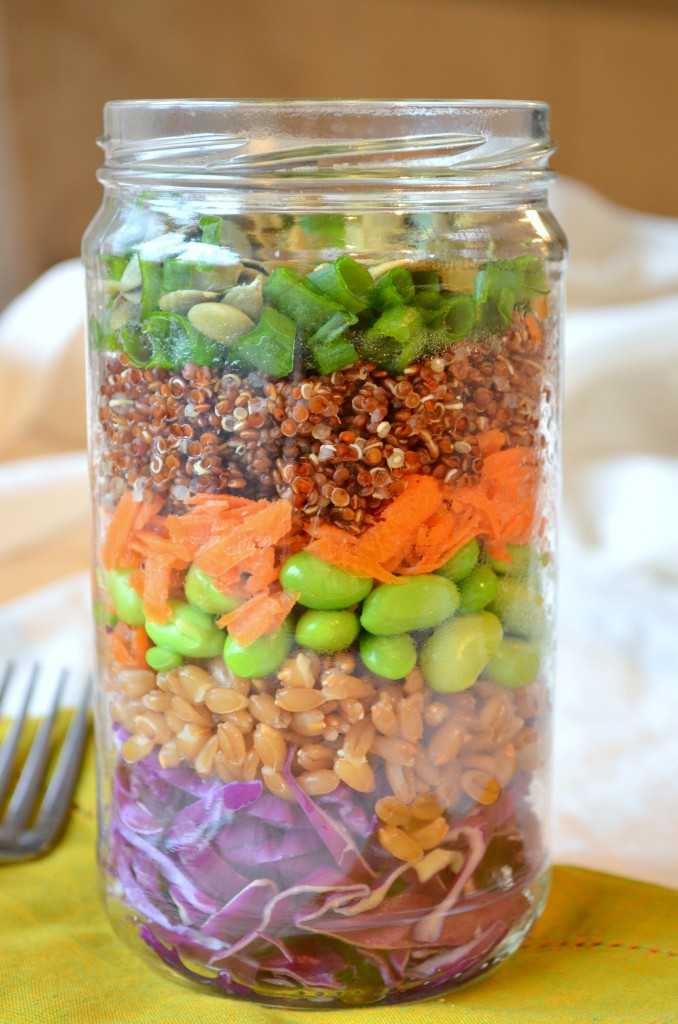 Thank you for all your sweet birthday wishes yesterday! It means so much. I had a great birthday, and I even got to eat one of the cupcakes leftover from yesterday's blog post. I love it when the leftovers stick around that long!
Sometimes, like yesterday, I like to eat a cupcake… or two. And sometimes, especially after two weeks of experimenting with cupcake recipes, I like to eat a salad.
Then, because I ate a salad, I can totally justify a cupcake. I love the way that works.
So here is this week's salad, which might be one of my all-time favorites. And that's a good thing, because I have a lot of cupcakes to make up for earn!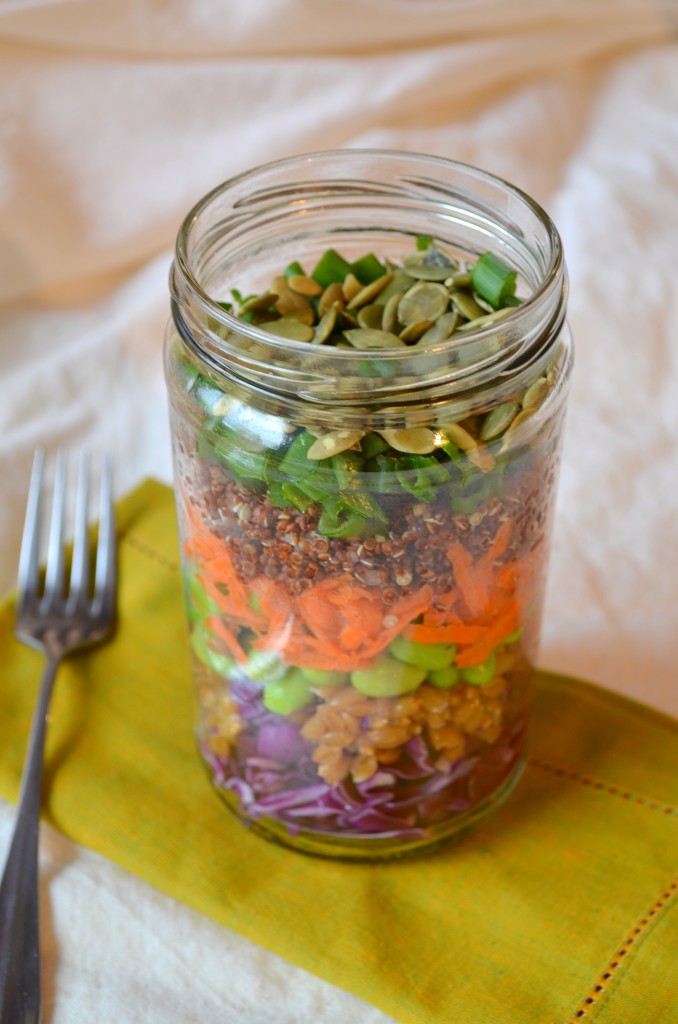 This salad is a combination of all my favorite salad-y things. Red cabbage, which is randomly (but truly) one of my favorite foods. Quinoa and spelt, which are not only some more of my favorite foods, but make this salad much heartier than it would otherwise be. And then edamame, carrots, green onions, and pepitas for more protein, sweetness, flavor and crunch. Not to mention the the light and lemony dressing, which adds the perfect zing.
What could be better than all your favorite healthy foods stacked together in a cute and portable jar?
Not much, I'll tell you that. In fact, when you taste it, you just might start yelling, OH MY GOD, DOUBLE RAINBOW!
Sorry for that reference. I know it's so 2010. I just couldn't resist.
This salad makes the absolute best leftovers (as long as you keep the dressing separate), which is key in my life. I've been eating it for lunch all week!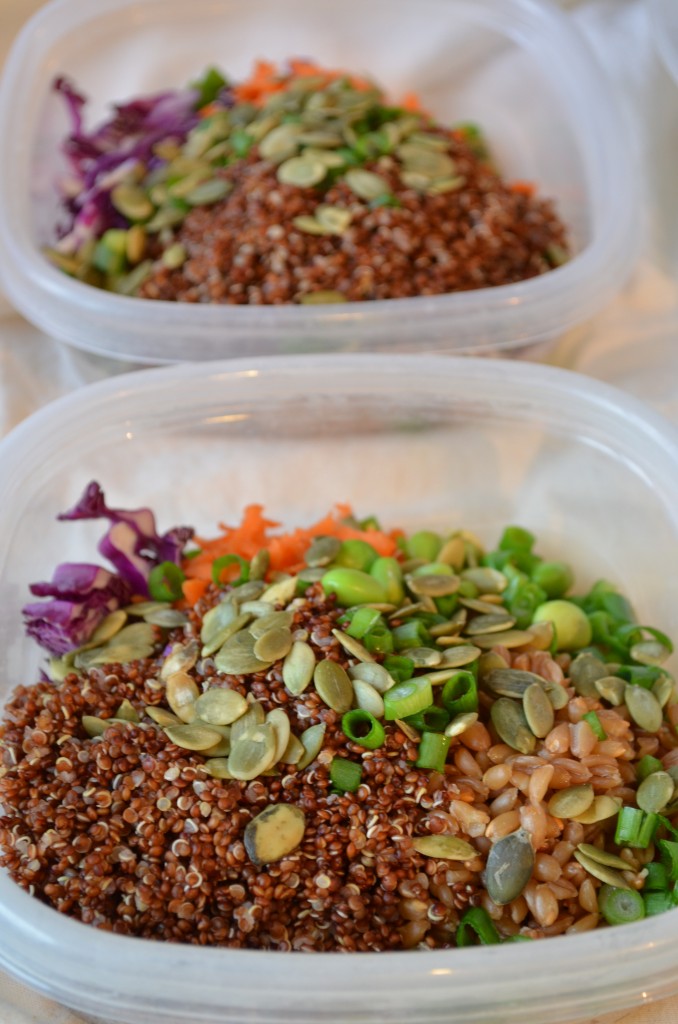 All the ingredients are very sturdy, which also means the salad is super crunchy. (Spelt and red cabbage will do that.) So I may have even liked it best on day 3 or 4, when it was a bit easier on the jaw. (To make it less crunchy, you can put the red cabbage in a strainer and pour a pot of boiling water over it. This will soften it up a bit, but I didn't bother.)
Enjoy this salad and have a fantastic weekend!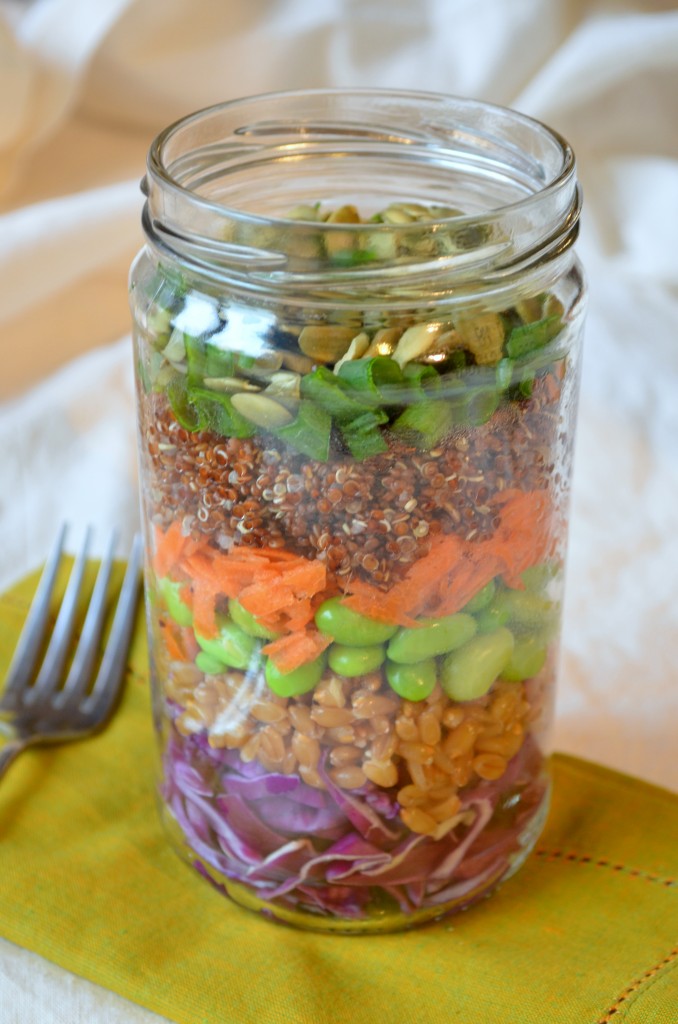 Double Rainbow Layered Salad with Lemon Ginger Dressing
Ingredients
For the salad:
1 cup uncooked spelt berries
1 cup uncooked quinoa
4 cups shredded red cabbage
2 cups grated carrot (about 2 large carrots)
2 cups shelled cooked edamame, defrosted if frozen
6 green onions, sliced
½ cup pepitas
For the dressing:
½ cup lemon juice (about 2 lemons)
heaping Tbsp chopped fresh ginger
1 tsp honey
2 Tbsp olive oil
2-4 Tbsp water
salt and pepper to taste
Instructions
In separate small pots, bring spelt berries and quinoa to a boil with 1 1/2 cups water each. Simmer until tender but still chewy, 50-60 minutes for the spelt berries and about 15 minutes for the quinoa. Drain excess water and set aside to cool. This can be done ahead of time.
While grains cook, prepare the salad dressing. Blend all ingredients together with an immersion blend (or regular blender).
To assemble salad, layer ingredients in single-serving jars or clear bowls. You can also layer the entire salad in a large clear bowl, or just toss all ingredients together. Serve alongside dressing. Will keep for up to a week in the fridge (with dressing separate).