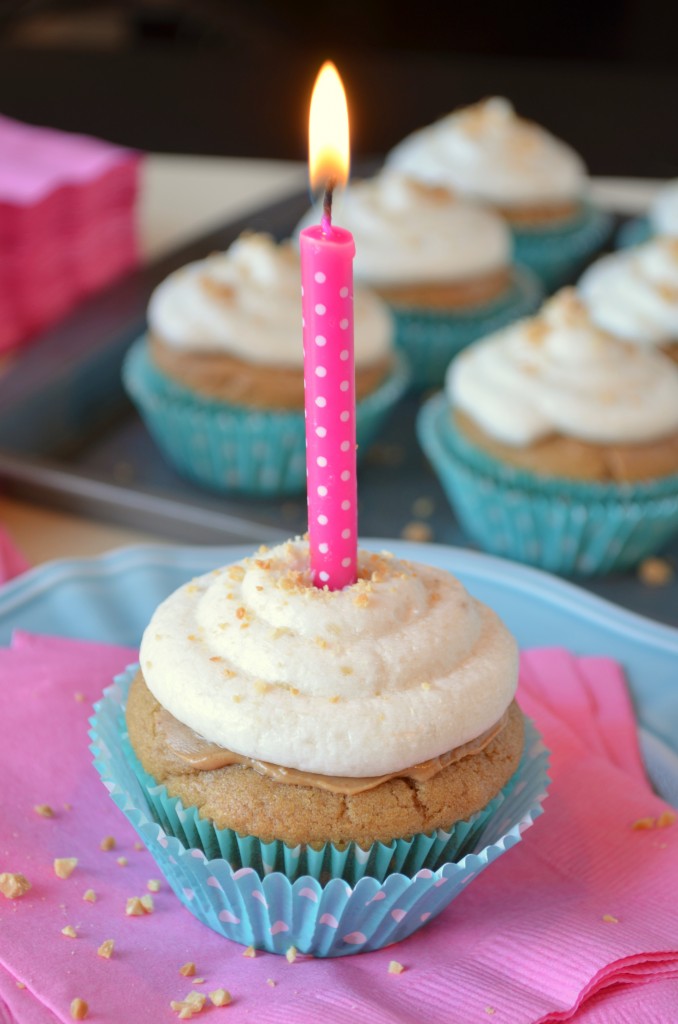 Happy birthday to meeee!
I turn 26 today. Probably not the most exciting age, but still one I hope will bring good things.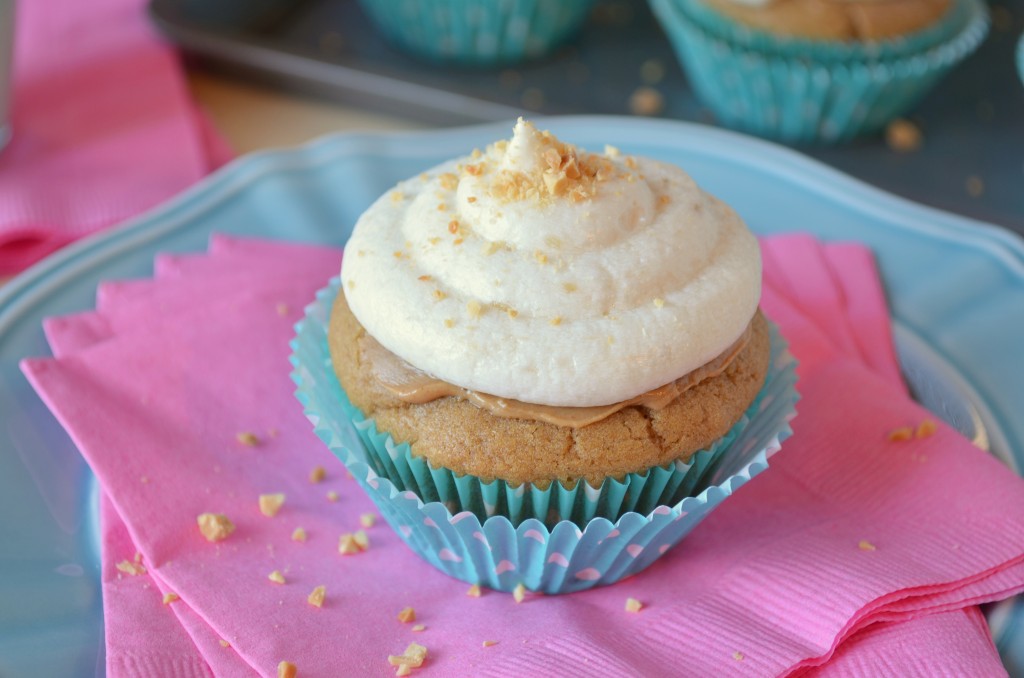 25 was a great year. It wasn't full of huge changes or excitement, but I'd like to think I started spending more time on things I enjoy over the past year. I'm definitely feeling happy at the end of 25, so I can only hope 26 brings more of the same!
No big celebrations planned for 26. In case you don't know, I kind of dread being the center of attention, so I sometimes find my birthday a bit embarrassing. Weird, I know. Last year Nate threw me a surprise party, which was amazing – I was SO surprised! – but I asked him pleeeease not to do that this year, because I just can't handle it! My last surprise party before that was my 16th birthday, so hopefully I have another 10 years or so before the next one. On the 9 birthdays in between, I prefer just a romantic dinner with my sweetie!
Something else I think I'll want on my birthday for the next 9 years? These cupcakes.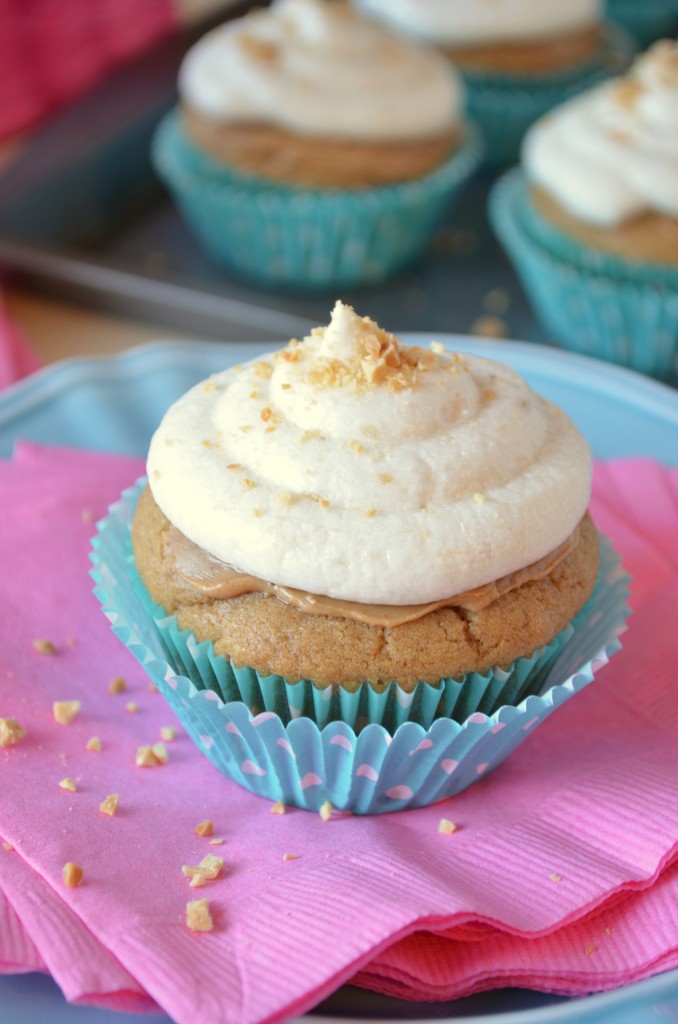 Peanut butter cupcakes with a banana buttercream frosting. If that doesn't make your heart skip a beat, I'm not sure what will.
I have been on a huuuuge peanut butter kick recently. Recently, like for the past year. Peanut butter dolloped on my oatmeal, spread on my fruit, melted over vanilla ice cream and a brownie (what?), and blended into my smoothies and salad dressings. And these cupcakes are pretty much my ultimate peanut butter lovin' creation.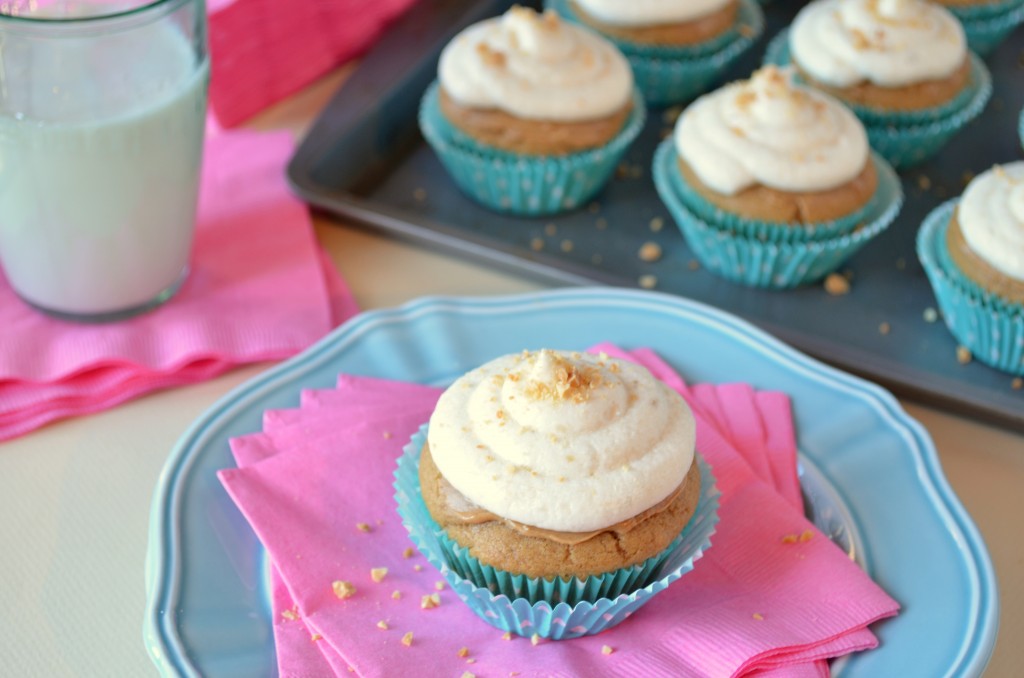 As they should be; it took me THREE batches of cupcakes and FOUR batches of icing to perfect this combination. (Well, one of the batches of cupcakes was because I managed to double everything except the flour… details.)  These cupcakes aren't fussy or anything, it's just that I wanted to make sure I had the perfect cake+icing combo to celebrate my birthday. At one point I tried to use a peanut butter frosting with the peanut butter cupcakes. I thought it was delicious, but was informed by Nate that we might as well be eating peanut butter straight from the jar. I told him not to be silly… these are much healthier than straight PB! Kidding. But I'm glad I listened, because these cupcakes and this soft buttery banana icing are meant to be together.
And as a compromise, I snuck a little extra smear of peanut butter onto each cupcake before I iced them.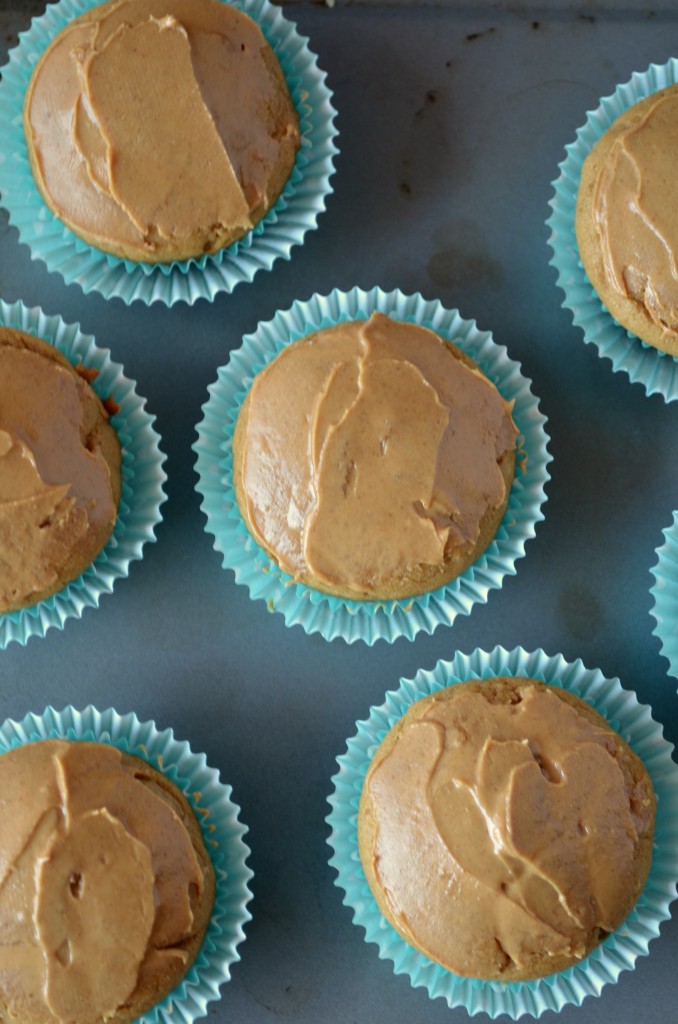 Heaven!
But OMG the frosting. Let's not forget to talk about it. It is buttery, banana-y bliss. I wasn't too sure how a banana would fare in a frosting, but it turns out the answer is VERY WELL. As long as you use a ripe, fresh banana. First I tried using an overripe banana I had defrosted from my freezer (cause those are delicious in smoothies and banana bread), but it turns out that was the wrong choice. (Remember how I had to make four different frostings?) But use a fresh banana here and I promise you'll want to bathe in this frosting. For real.
Also, I should mention that it seems to keep well. I was a little nervous about it turning brown as bananas tend to do while the cupcakes sat in my fridge for a few days, but that wasn't the case. Just as purdy as on day one!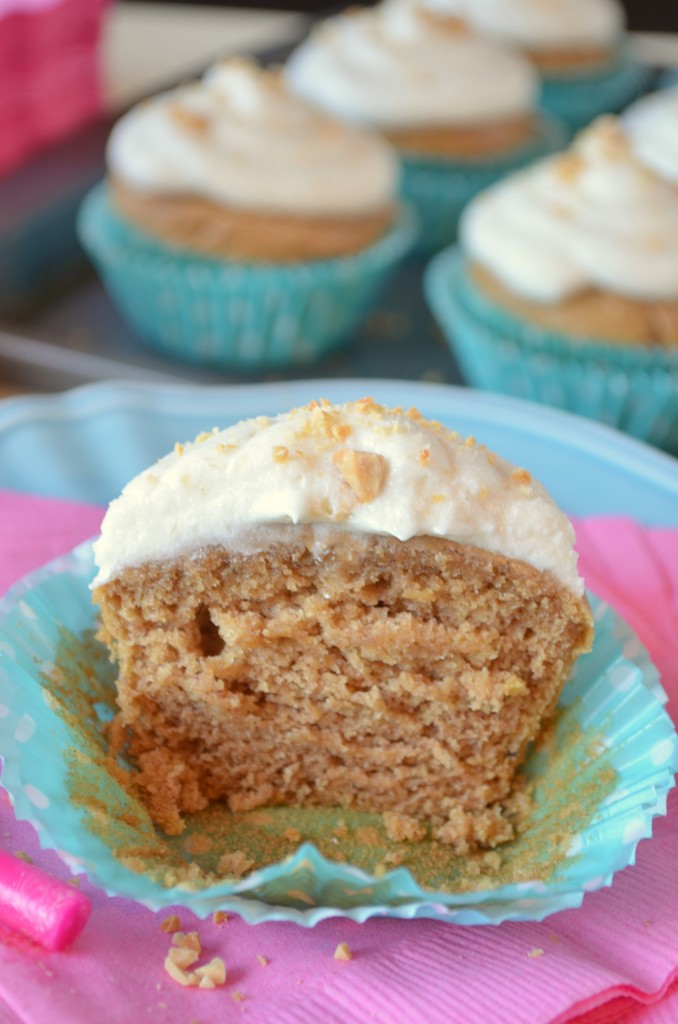 Wishing I could reach into my computer and grab that little cupcake right now. It's my birthday, so I can totally lick the frosting off, right?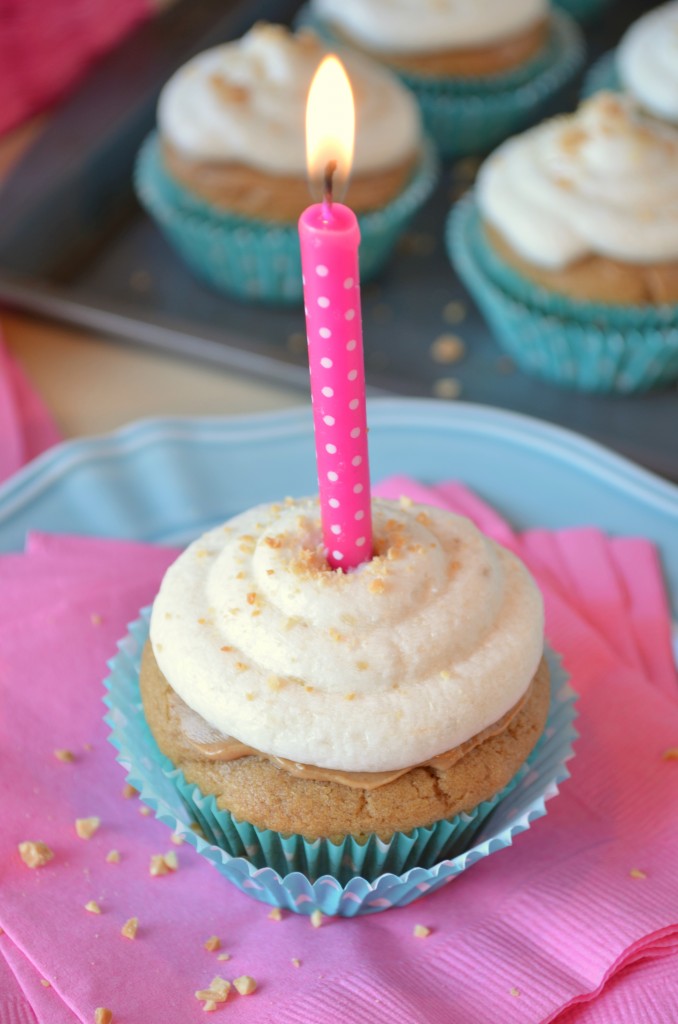 Peanut Butter Birthday Cupcakes with Banana Buttercream Frosting
Ingredients
For the peanut butter cupcakes:
1/4 cup (1/2 stick) unsalted butter, softened
1/2 cup smooth peanut butter
1/2 cup packed brown sugar
1 egg
2 tsp vanilla extract
1 1/4 cup all-purpose flour
1 tsp baking soda
1/4 tsp kosher salt
2/3 cup milk (I used plain unsweetened almond milk)
For the banana buttercream:
1 ripe banana, mashed (not overripe!)
1/2 cup (1 stick) unsalted butter, softened
1 tsp lemon juice
1/2 tsp vanilla extract
pinch of salt
3 cups powdered sugar
To top (optional):
Peanut butter
Finely chopped toasted peanuts
Instructions
Preheat oven to 350 and place liners in cupcake tins.
In a large bowl, beat together the butter, peanut butter and brown sugar for several minutes until light and fluffy. Add egg and vanilla and beat until smooth.
In a separate medium bowl, sift together the flour, baking soda, and salt. Add the dry ingredients to the peanut butter mixture, alternating with the almond milk, beating well after each addition.
Spoon batter into lined cupcake tins, filling each about 2/3 full. Bake until a toothpick inserted in the center of a cupcake comes out with moist crumbs, 18-20 minutes. Remove and cool completely before frosting.
While cupcakes cool, make frosting. With a hand mixer (or stand mixer if you have one!), cream together the banana, butter, lemon juice, vanilla and salt. Beat in the powdered sugar, 1 cup at a time, until you have a creamy and spreadable frosting.
Once cupcakes are completely cool, spread each with a thin layer of peanut butter, about a 1/2 teaspoon (optional). Spread or pipe with icing and sprinkle immediately with crushed peanuts, if using.
Enjoy!