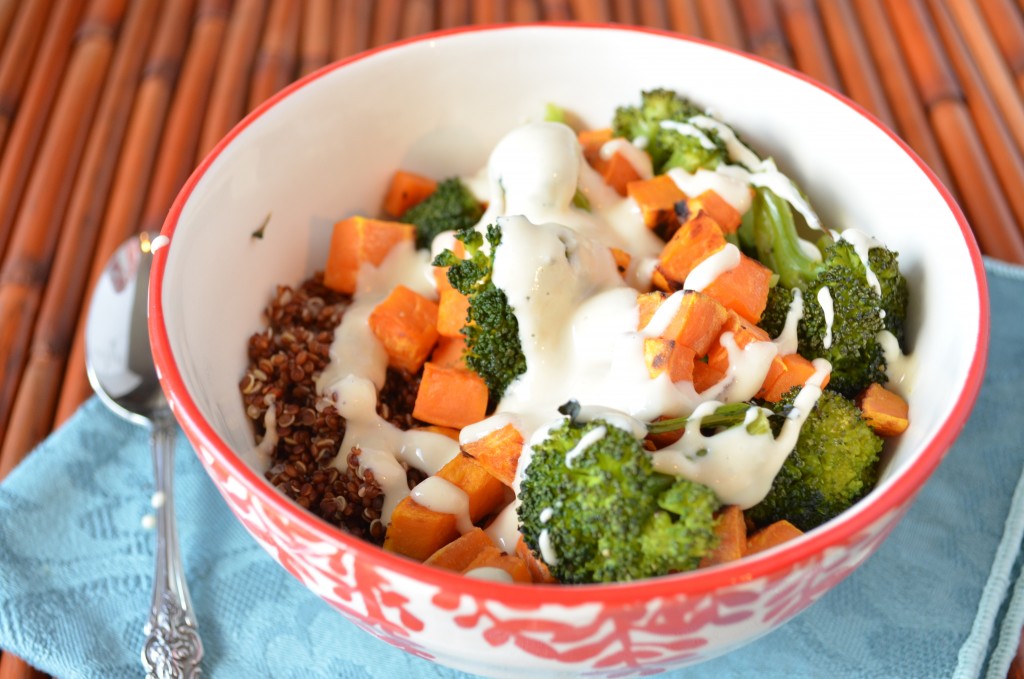 I warned you:  Sweet Potato Fever over here. Can someone come over to my house and tell me if I'm turning orange around the edges?
Here's how we're getting our sweet potato fix today: roasted, in a bowl with quinoa and broccoli, and drenched in a slurpable sauce. This right here is barely a recipe. Buuuut it's one of the meals I've been eating most often recently, so of course I wanted to share. It's a great way to use up any vegetables you might have gotten overzealous with on your last shopping trip… ahem sweet potatoes.
I almost always use sweet potatoes when I make this, but the other vegetable can be changed up. I usually try to use something green. Here it was broccoli, but I've also done Brussels sprouts, cauliflower and kale. Green beans or asparagus would also be great as we head into spring!
For a hot meal, this is super fast to make. Quinoa is a quick-cooking grain, and I love that it's cooked and tender by the time the veggies finish roasting. The dressing can also be whipped up in about 30 seconds, making life so easy.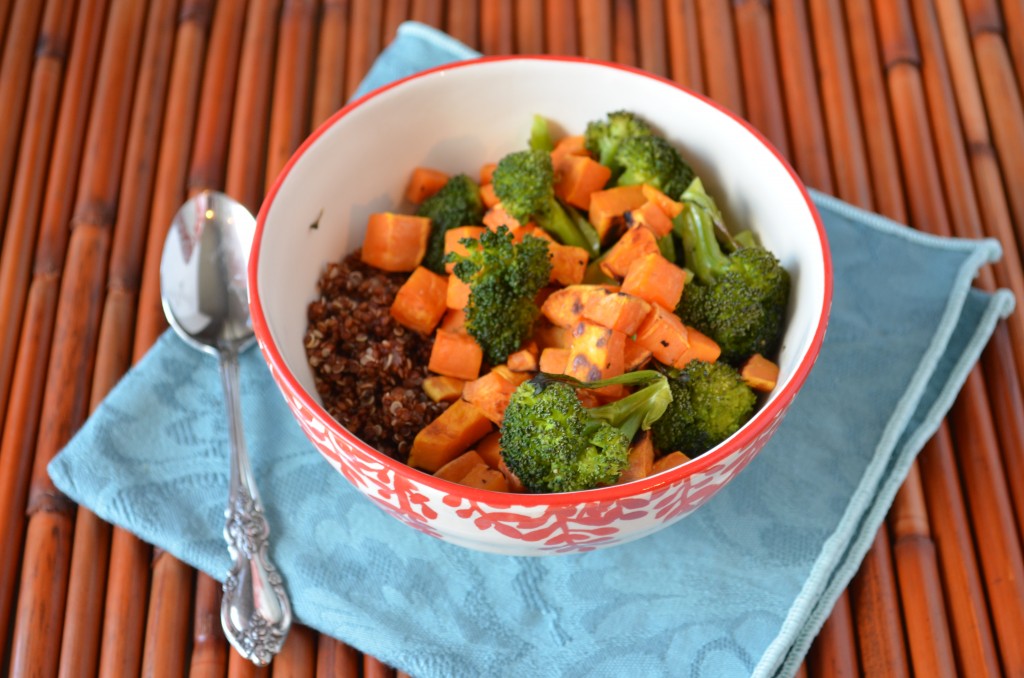 I recently made this for lunch for Nate, our friend Pete and myself before an afternoon of skiing. I was out of the house when Nate texted me, saying he and Pete were stopping to get Pete's ski stuff and would be home soon to eat. Eek – for a second I thought I was going to have to renege on my offer to make lunch. But I quickly got my head screwed on straight, raced home, and popped these veggies in the oven. Lunch was ready by the time the boys got back! Success.
This is also one of my favorite lunches to pack for work. It's so healthy, and the tart and salty sauce is just the type of thing I look forward to eating all morning. Not to mention the sweet potatoes!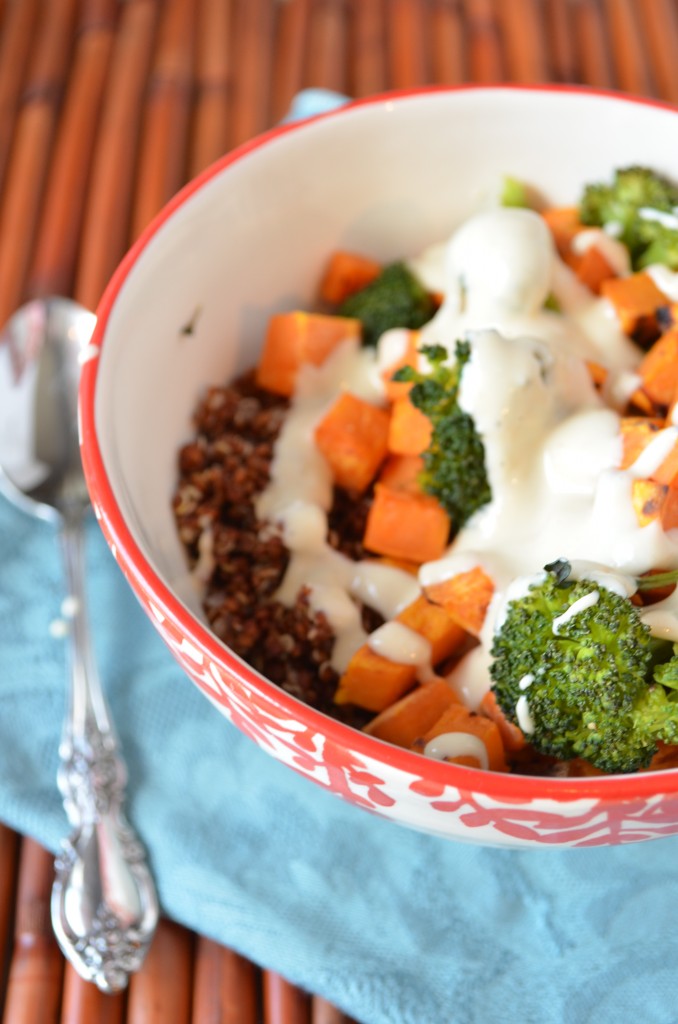 Roasted Veggie Quinoa Bowl with Miso Tahini Sauce
Ingredients
For the bowl:
1 large sweet potato (1 1/2 to 2 lbs), peeled and chopped into 1/2-inch pieces
3 small heads broccoli, chopped into bite-size pieces
2 tsp olive oil
sprinkle of salt and pepper
1 cup uncooked quinoa, rinsed
For the miso tahini sauce:
2 Tbsp white miso paste
2 Tbsp tahini
2 Tbsp fresh lemon juice (about half a lemon)
2-4 Tbsp water (as needed)
1 small clove garlic, minced (optional)
Instructions
Preheat oven to 400 and line 2 baking sheets with tin foil.
Toss sweet potato with 1 tsp olive oil and a sprinkle of salt and pepper and spread onto one of the baking sheets. Do the same with the broccoli, remaining olive oil, and another sprinkle of salt and pepper and spread onto the other baking sheet. Roast both for 20-25 minutes, until starting to brown, stirring once halfway through.
While vegetables are roasting, cook quinoa. Add to small pot with 1 1/2 cups water. Bring to a boil and simmer for 12-15 minutes, until tender. Drain any remaining water.
Finally, prepare the miso tahini sauce. With an immersion blender (or a whisk), mix together the miso, tahini, lemon juice, 2 Tbsp water, and optional garlic. Add additional water to reach desired thickness.
Once vegetables are done, you're ready to eat! Scoop quinoa into each bowl and top with vegetables and miso tahini sauce.
Enjoy!