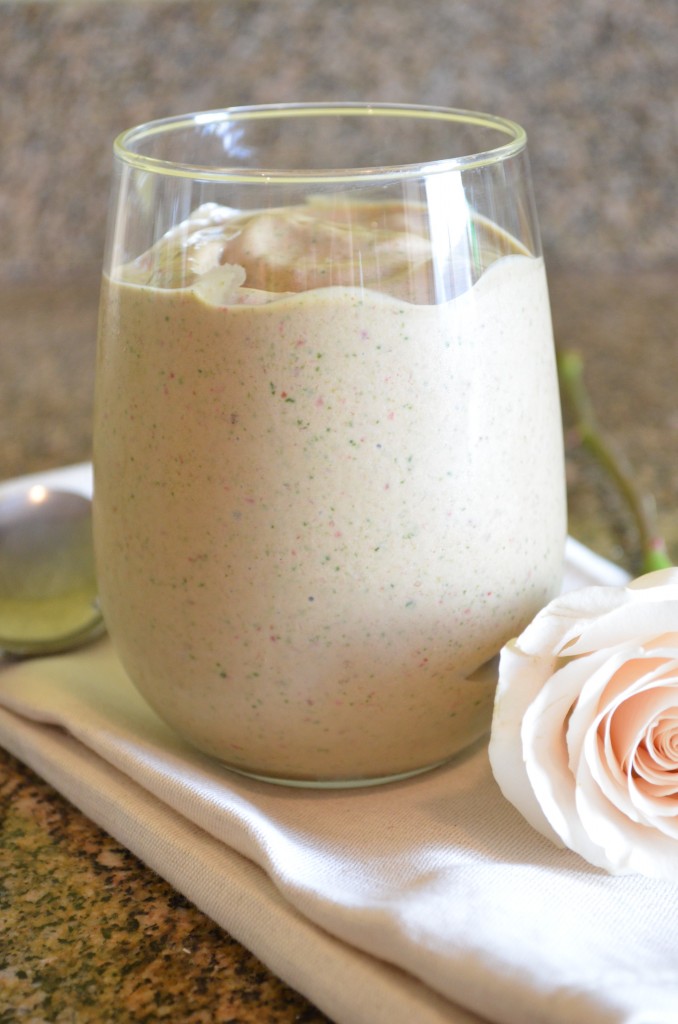 There's nothing like a mug of strong French press coffee and a big, delicious smoothie to start your day off right.
Oh, and some birthday roses from your sweetie… and a couple smooches, too.
But sweet boyfriends aside, smoothies are the breakfast treat I've found myself looking forward to most lately. There are just endless combinations, and the fact that they're sweet and frosty just makes them so much fun. Recently, I've been obsessed with making mine with sunbutter. Although I'm not a huge fan of sunbutter plain – as a spread, I prefer peanut butter – I love it in smoothies, especially with spinach, for some reason. It's what makes this smoothie extra special!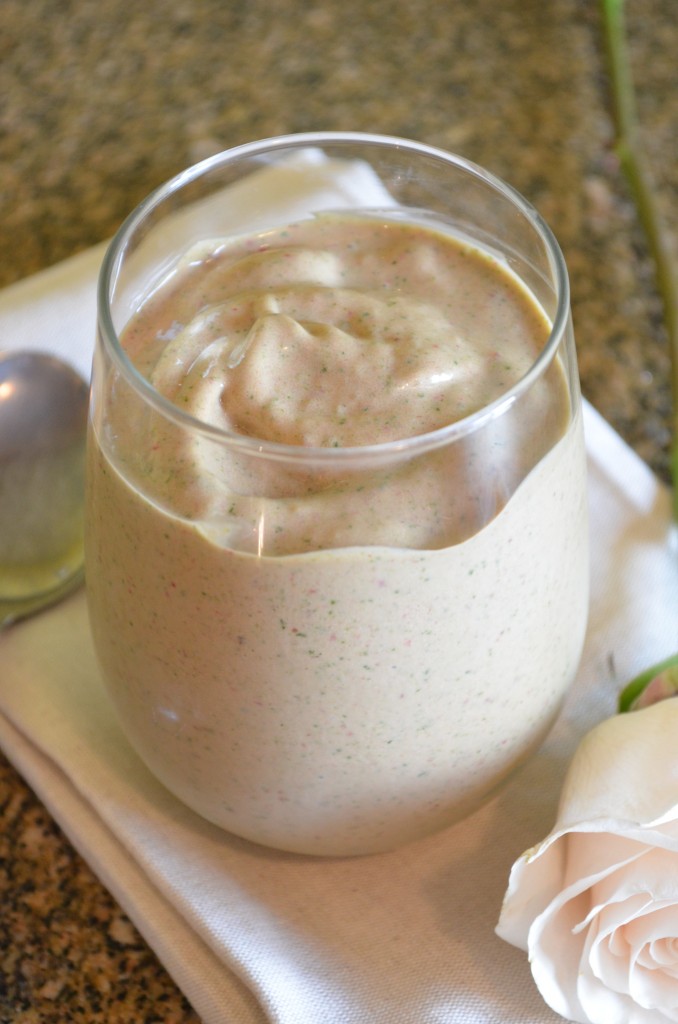 Speaking of spinach: I don't really make green smoothies, but I do like adding spinach to my fruit smoothies. Especially if there are berries involved, the spinach doesn't change the flavor much, although it does turn your smoothie kind of garbage-colored. (I considered naming this post "strawberry sunbutter garbage-colored smoothie," but something about that just didn't seem so appetizing… not sure why.) Anyway, it's the flavor that counts, and the fact that you are eating green stuff for breakfast!
These are also my favorite way to recover from hot summer long runs. Those are a few months away at this point, but I'm looking forward to them lots! I have been dying a long, slow death by treadmill this winter. It has just got to stop.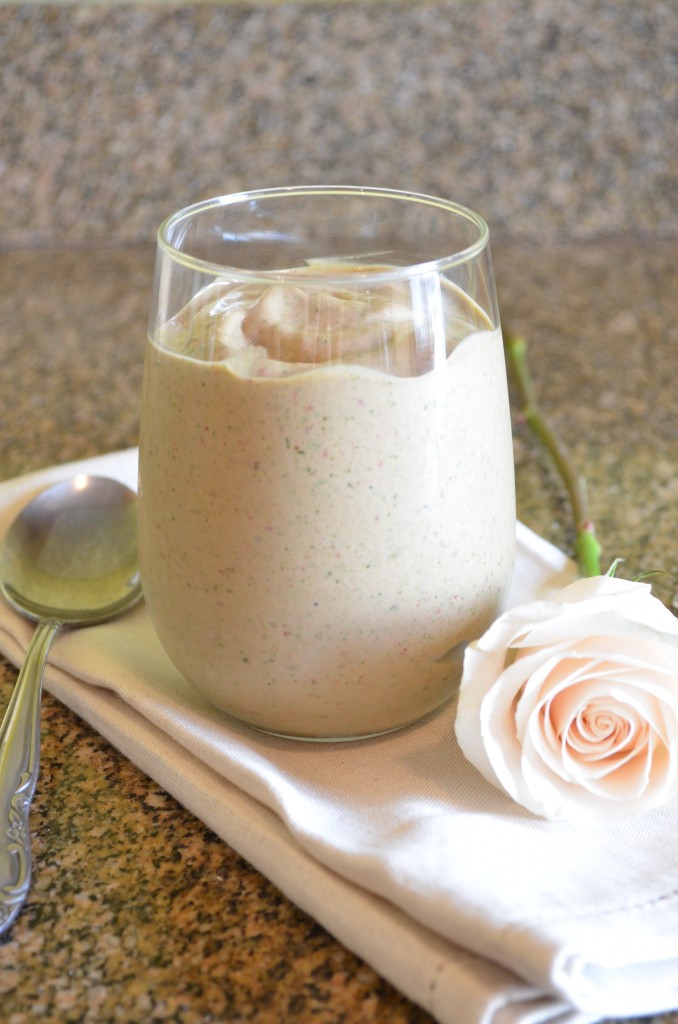 If you look at the ingredient list below, you'll see an ingredient that looks a little out of place: apple cider vinegar. Weird, right? Well, I took Faith's advice recently and added just a tiny bit of apple cider vinegar to my smoothie. And it totally made it more flavorful! So, odd though it may seem, definitely don't skip the vinegar.
I like my smoothies so thick that they have to be eaten with a spoon. If you prefer a more slurpable smoothie, you could sub the Greek yogurt with more almond milk or just add another half cup of almond milk or water.
Enjoy this garbage-colored, I mean, green smoothie!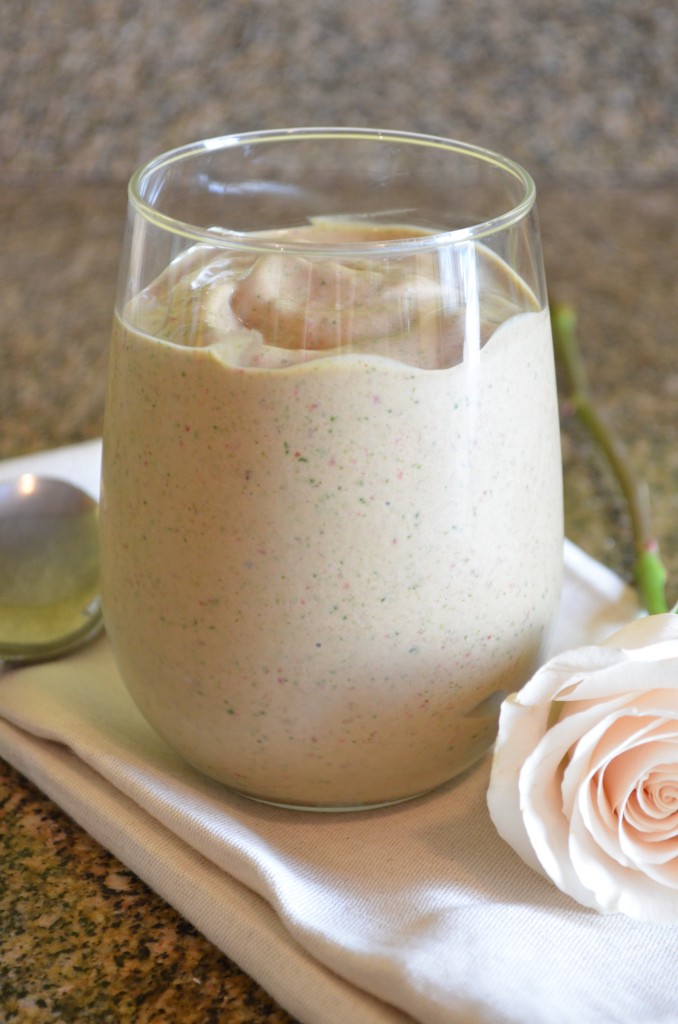 Strawberry Spinach SunButter Smoothie
Ingredients
1 frozen banana, sliced
1 cup frozen strawberries
1 large handful spinach leaves
2 Tbsp SunButter
1/2 cup Greek yogurt (I use Fage 0%)
1/2 cup plain unsweetened almond milk
1 Tbsp maple syrup
1/2 Tbsp ground flax seed
1 tsp apple cider vinegar
1/4 tsp cinnamon
Instructions
Add all ingredients to blender or food processor and blend until smooth, scraping down sides and breaking apart chunks of fruit as necessary. Pour into a glass or bowl and enjoy!