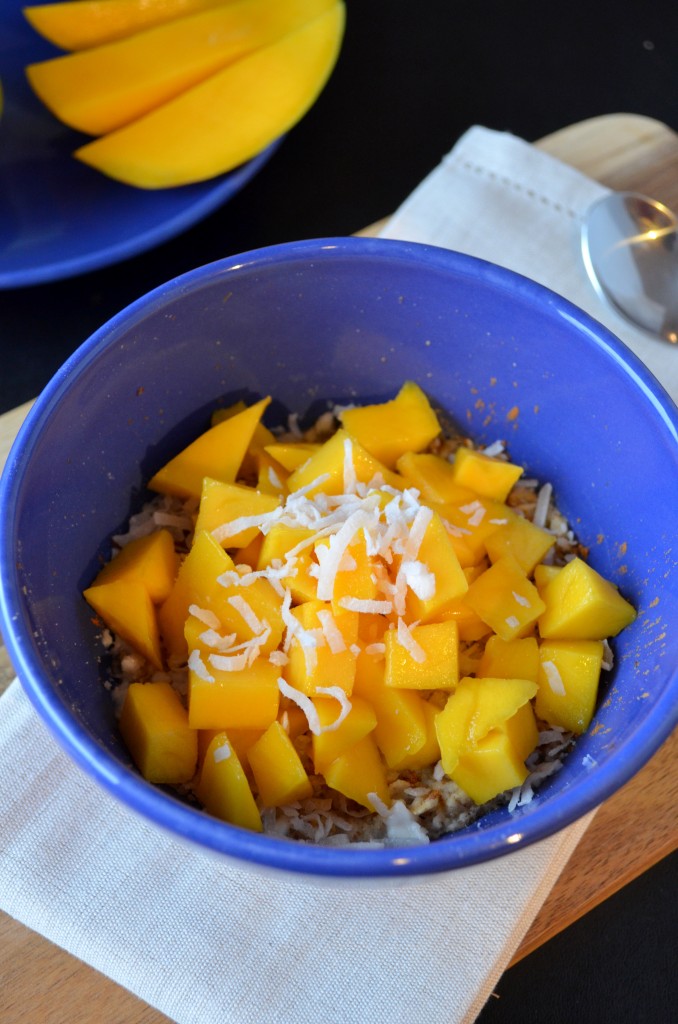 Good morning! I know on Friday I laid out my grand plans for a big weekend of cooking. And it happened! But I just can't get back to the regularly scheduled program until I stop everything and tell you about this oatmeal.
I'm going through a bit of a coconut phase. I blame the rest of the blog world, which is also in love with coconut.
In the last few weeks alone, I've posted lentil, banana bread, and salad recipes containing coconut. What I didn't tell you is that I've been starting every morning with coconut, too!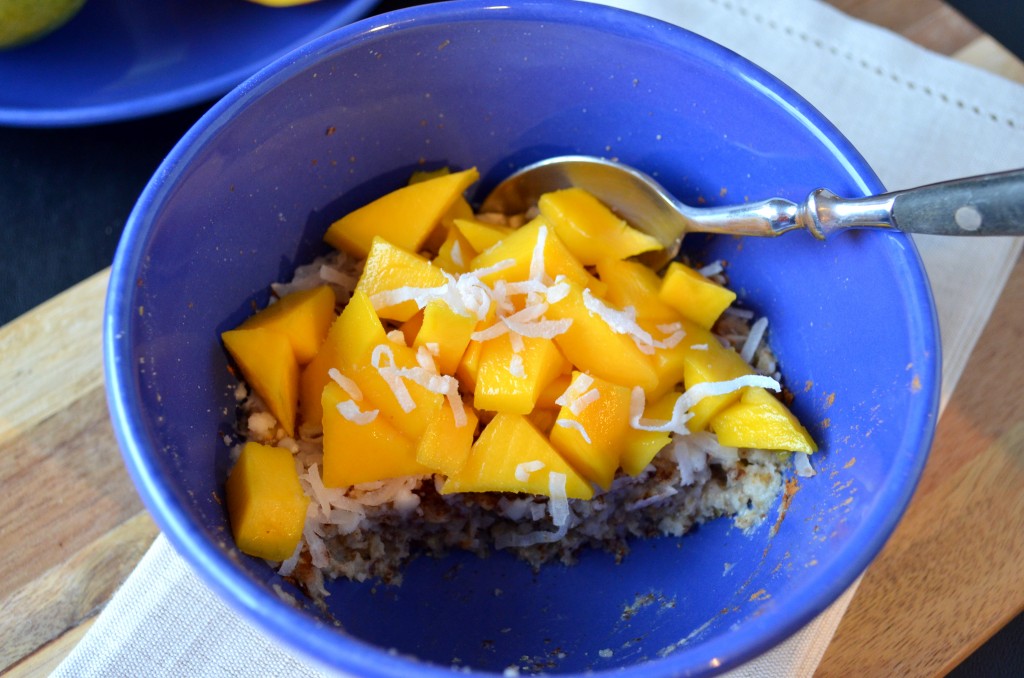 I'm always thinking about posting my breakfasts here, but let's face it… they're not too exciting. Oatmeal in the winter, Cheerios in the summer, with the occasional quinoa thrown in.
In the winter months, I go through phases with my oatmeal toppings (like everyone), and I always end up craving them so much. Some favorites lately: Frozen berries and brown sugar; peanut butter, banana, and chocolate chips; and now, coconut butter and mango. And even if it is just oatmeal, let me tell you that I think this coconut + mango combination is blog-worthy.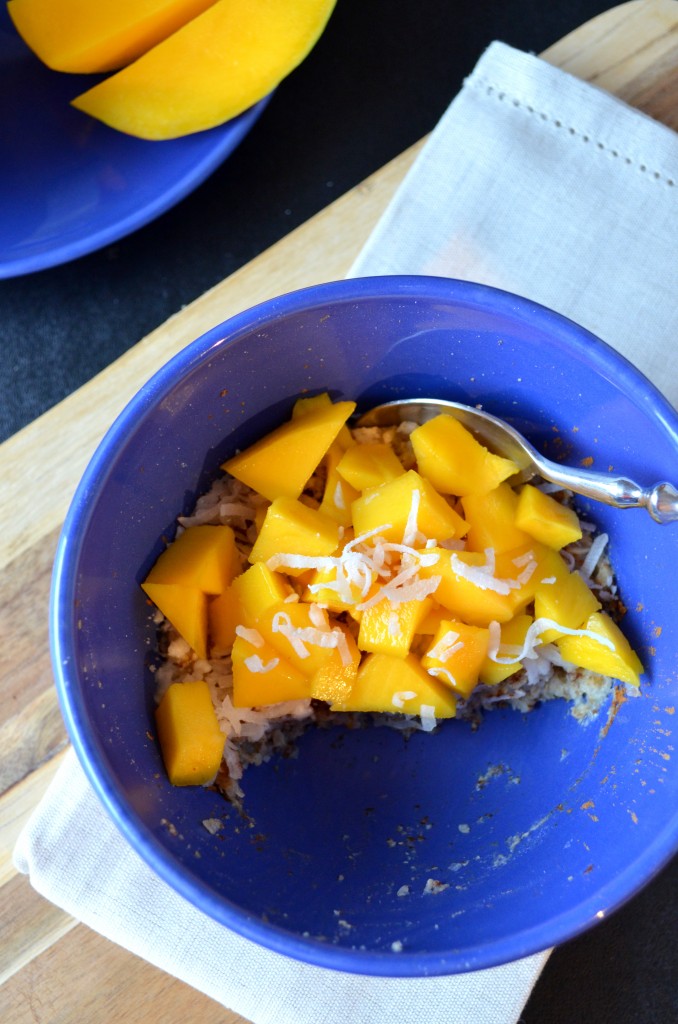 Have you tried coconut butter yet? I just bought my first jar a few weeks ago and am loving it. Rather than just extracting the oil from the coconut, coconut butter is the entire flesh of the coconut, ground up. It's very rich and has amazing coconut flavor. This oatmeal is my favorite use for it, but it's also amazing spread on toast, and I'm excited to find more ways to use it, too. Whatever you do, let it melt before you eat it. YUM.
I'll be honest: coconut butter breaks the bank a little. Artisana, the brand I bought, is $11.99 for a 16-oz jar. Yikes – that's more than Justin's almond butter! I did just see a 15-oz. Maranatha jar for $7.99 at the grocery store, so I'll probably try that out next time. The good news is that a little goes a long way. In addition to being rich, it's pretty brittle, so I usually microwave the whole jar for 15-30 seconds before scraping any out. Having to scrape it out, rather than being able to dip in and come out with a big ol' scoop, stretches that jar quite a bit. If you like using coconut oil in cooking or baking, I definitely recommend trying out a jar of coconut butter.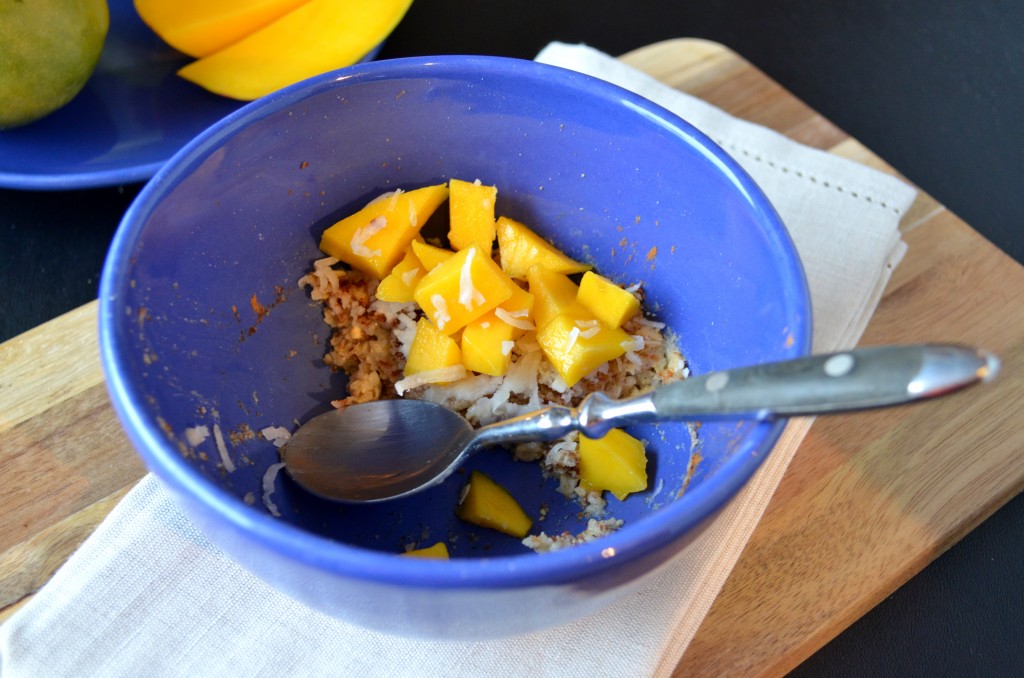 It's still very much wintertime in Utah, and when I wake up on a cold and dark morning, this is my new favorite way of denying reality for 5 more minutes. Now it's obviously not really a "recipe" – you can make your oatmeal any way you'd like or even use these toppings on any other breakfast cereal. No matter how many times I eat this combo, though, it just feels so luxurious! One more way to trick myself into getting through the winter (and the workweek).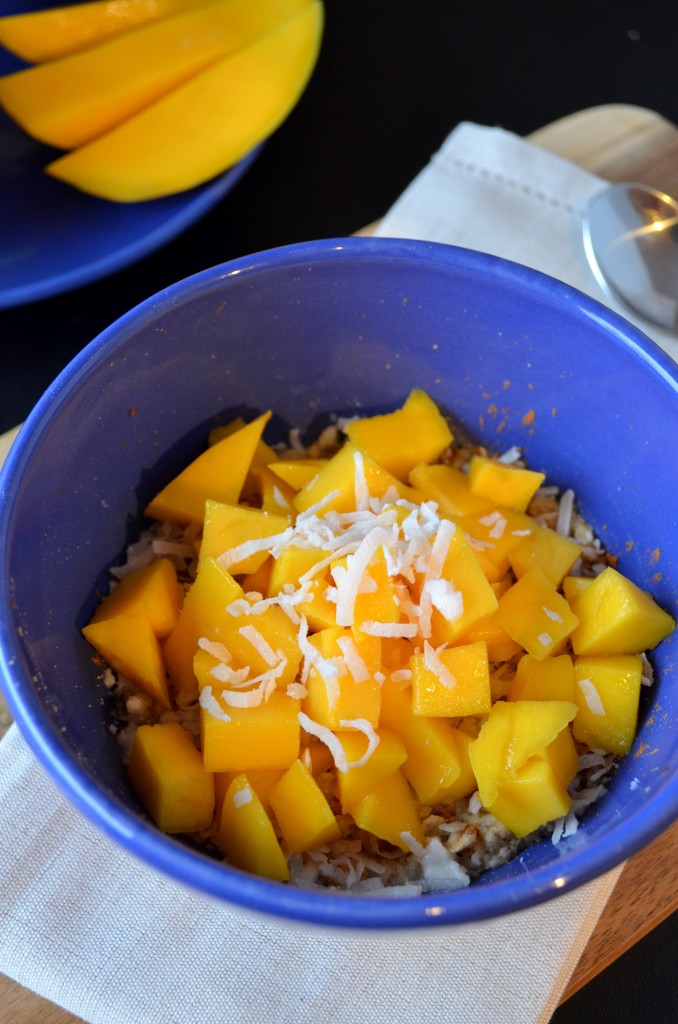 Tropical Oatmeal
Ingredients
1/4 cup old-fashioned rolled oats
3/4 Tbsp ground flax seeds
1/2 cup cold water
sprinkle of cinnamon
1 Tbsp coconut butter
1 Tbsp sweetened shredded coconut
1/2 mango, peeled and chopped (or substitute 1/2 orange or 1/2 cup of fresh chopped pineapple)
Instructions
Combine oats and flax in a microwave-safe bowl. Add water, stir to combine, and microwave on high for 3 minutes.
Remove from microwave (careful, the bowl might be hot!), sprinkle with cinnamon, and top with remaining ingredients. Wait a minute or two for coconut butter to melt, then dig in!