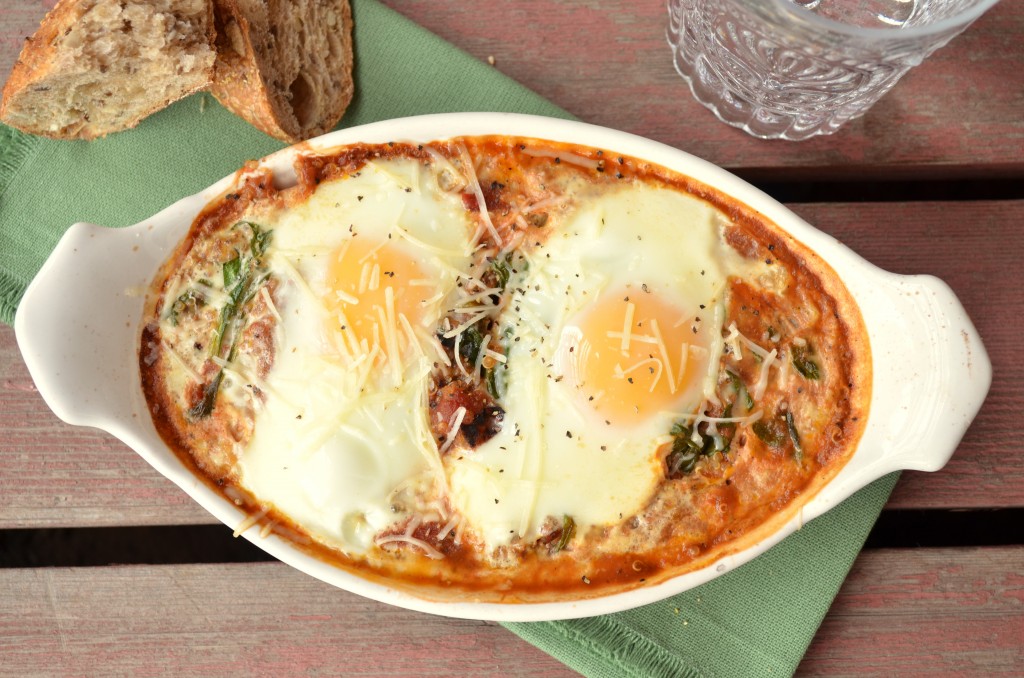 It's been a long week in these parts. Monday was not the best day, obviously, and that set a heavy tone for the week. I also started off the week already excited for to our trip down to Moab today. And waking up on Monday morning looking forward to the weekend is NOT a way to have your week pass by quickly!
Thank goodness Friday is finally here! My hiking shoes are packed, my gas tank is full, and Nate and I are psyched to drive down to Moab after work/school this afternoon. The one slight issue: my enthusiasm for planning is trumped only by my enthusiasm for grocery shopping. Also, I tend to think that I can cook 5 or 6 dinners in a week. Wishful thinking. I cooked twice this week? But as always, I got a little overzealous in the produce section last Sunday, and forgot that I don't have the weekend to cook up any odds and ends. Goodbye asparagus, avocado, and bell peppers. Good thing you aren't like the three most expensive things I could have purchased.
Anyone want to come over and clean out my fridge? I've got some wilted asparagus for you.
I won't be in the kitchen this weekend, but should you be inspired to whip up a tasty brunch, lunch, or dinner, may I suggest these baked eggs: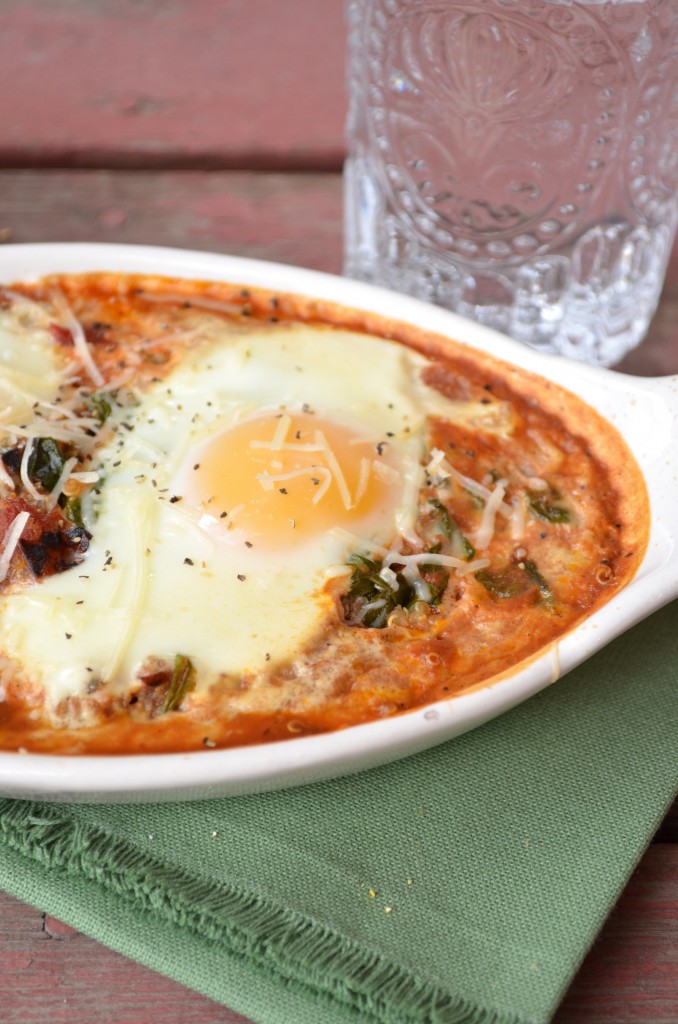 We don't often have eggs for breakfast, since I will pick sweet over savory any day, but I did make these for lunch recently. I think they'd even make a great dinner (I mean, they have spinach!), especially if you're in the mood for a breakfast-for-dinner-ish type thing.
My only dilemma with these eggs is that I can't get into the runny yolk thing that the rest of the food blog world is crazy about. I'm sorry. I've tried, I really have… but I just don't like egg yolks, especially runny. If you do, sweet. But I think I will make these with egg whites next time.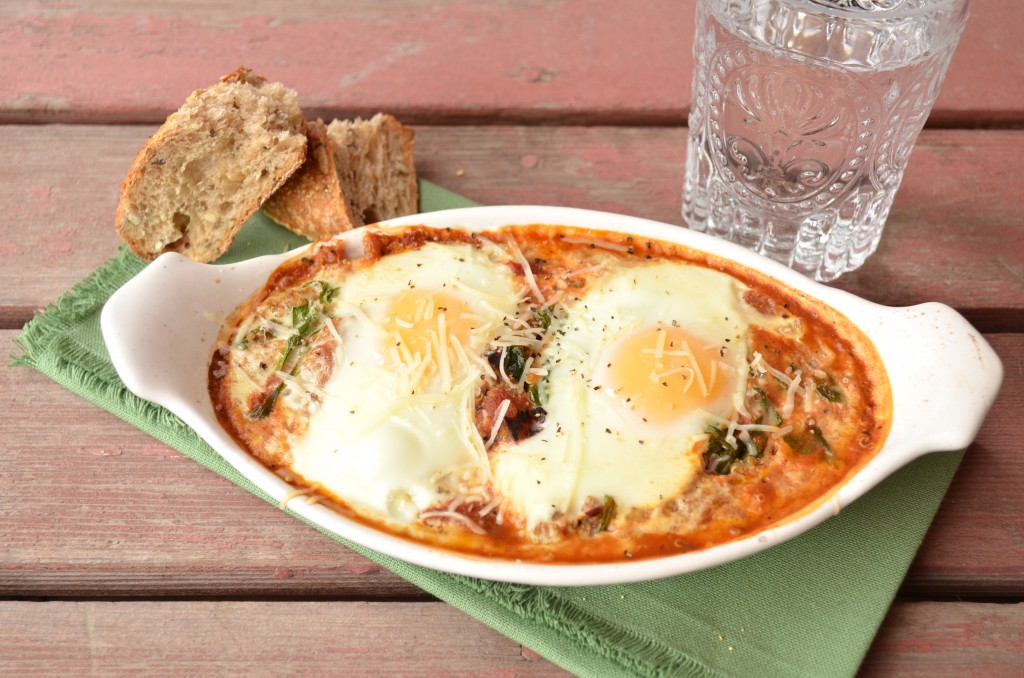 I made these specifically to use up a can of fire-roasted tomatoes that was burning a hole in my cabinet… or something. I adapted my favorite charred pepper sauce to use here by leaving out the pepper (didn't have one. also too lazy.) and using the fire-roasted tomatoes. Then I threw in some quinoa and spinach, inspired by Serena's blog, which makes these nice and healthy and filling. Yum. Just the perfect thing for the weekend.
Enjoy! I'll be back next week, hopefully with some pretty pictures of the red rock for you. And if not… I have back-ups. With chocolate.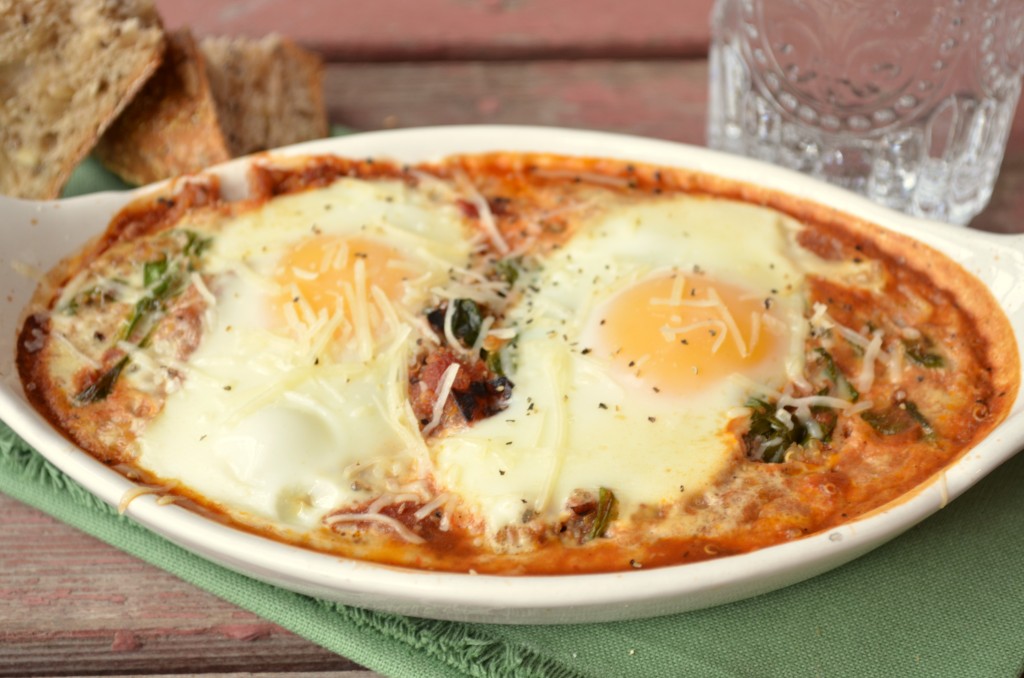 Baked Eggs with Tomato Sauce, Spinach & Quinoa
Ingredients
For the tomato sauce:
14-oz can fire-roasted tomatoes
juice of 1/2 lemon
1 Tbsp Worcestershire sauce
1 Tbsp olive oil
1/2 Tbsp balsamic vinegar
1/2 Tbsp molasses
1/2 tsp prepared mustard
1/4 tsp ground ginger
1/4 tsp ground black pepper
1/8 tsp onion powder
1/8 tsp allspice
Everything else:
3/4 cup cooked quinoa
2 packed cups spinach leaves
6 eggs
sprinkle of parmesan cheese
Instructions
Preheat oven to 375.
Combine all sauce ingredients in a medium saucepan. Simmer uncovered over low heat for 15-20 minutes.
Add spinach to sauce. (You may have to do this in a few batches if your pan is small.) Continue simmering until spinach is cooked down and bright green, just a few minutes. Remove from heat and stir in cooked quinoa.
Spoon the sauce mixture into three oven-safe ramekins. Carefully crack two eggs into each ramekin, keeping the yolks intact.
Bake until egg whites are set, about 15 minutes. Remember that the eggs will continue cooking a bit once removed from the oven.
Remove from oven and sprinkle with parmesan cheese, salt and pepper to taste. Serve hot!
Notes
Adapted from
Domesticate ME!
[Edit: Note that Worcestershire sauce is not vegetarian. For a veg version, sub soy sauce or use vegetarian Worcestershire sauce.]