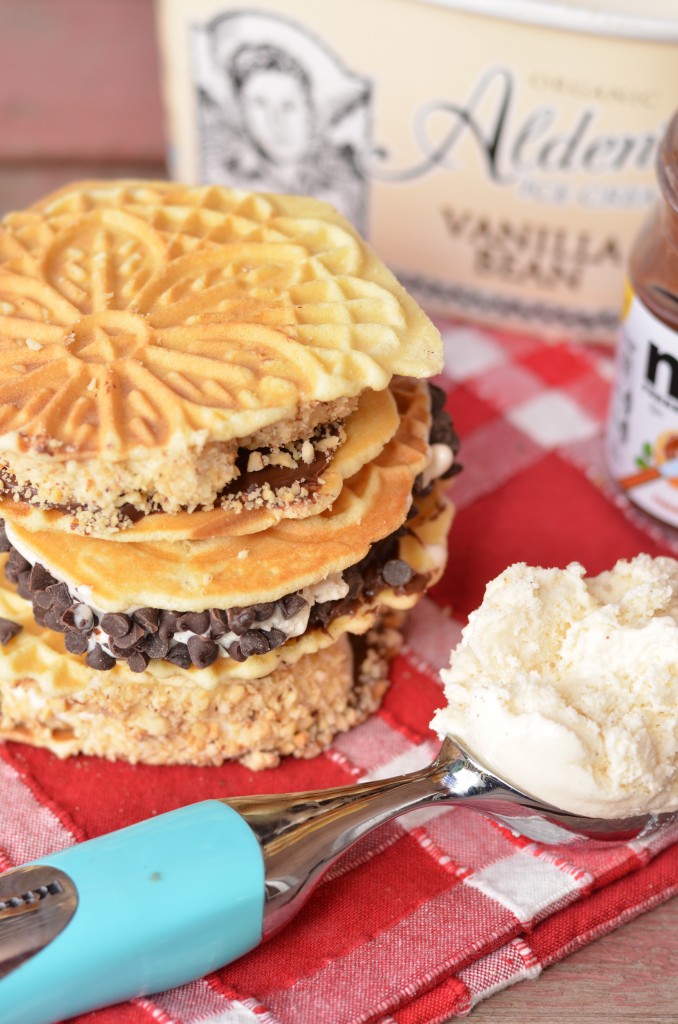 Do you know what pizzelle are?
Even harder question: Do you know how to pronounce "pizzelle"?
I thought I did… until the woman at the bakery where I bought these made it rhyme with "gazelle." Pazelle. Huh. Or maybe she was rhyming it with "Gisele"? I'm not sure, but it really threw me for a loop. In my puzzling over the pronunciation, I hadn't even considered that option. Some googling put me back on track, though, and I think I can now confidently say that an acceptable Americanized pronunciation is "Pete's ellie." And yes, all we're going for is an acceptable Americanized pronunciation, so that you don't stumble over the word, but can also use it in a sentence without pretentiously faking an Italian accent.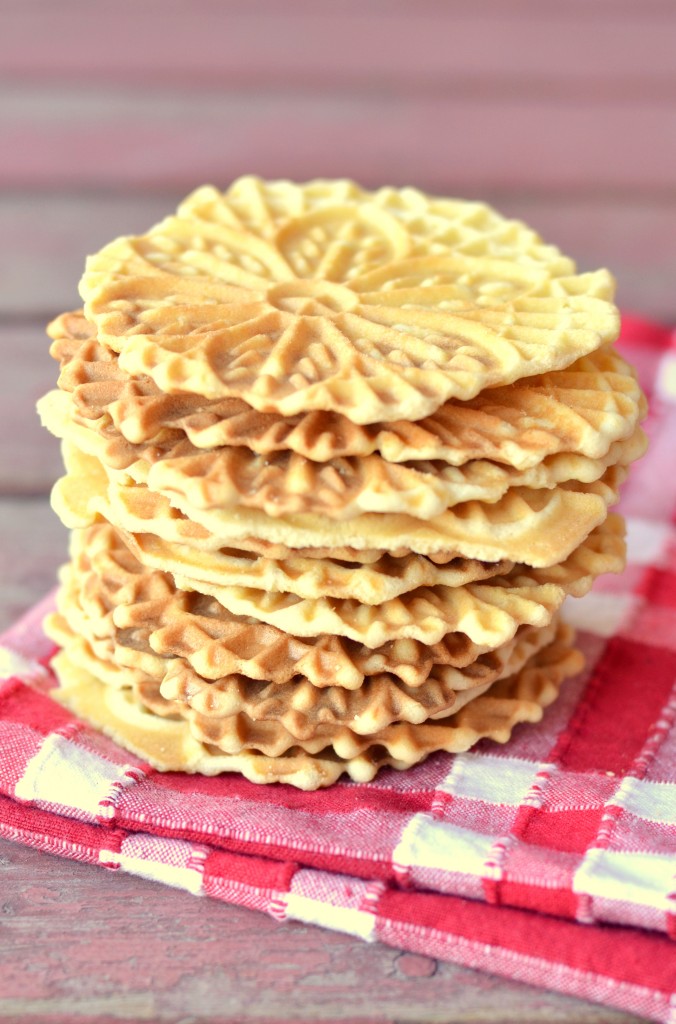 Anyway, let's get back to the first question. What are the darn things? Well, they're Italian cookies that look like thin waffles. They're sweet, usually crunchy, and sometimes dusted with powdered sugar. The ones I bought were almond-flavored, but they are also commonly flavored with anise or citrus.
Pizzelle always remind me of Mike's Pastry in Boston's North End, one of those places that is a total tourist trap but STILL SO GOOD. I've never bought pizzelle there, actually – I go for the chocolate cream cannoli 100% of the time – but there is always a long line there that winds right past a case stacked with pizzelle. I have waited in many a line at Mike's Pastry, and so I associate pizzelle with it, without ever having eaten them there. (Sigh, how did I end up living 2,300 miles away from that place?! Take me baaaack.)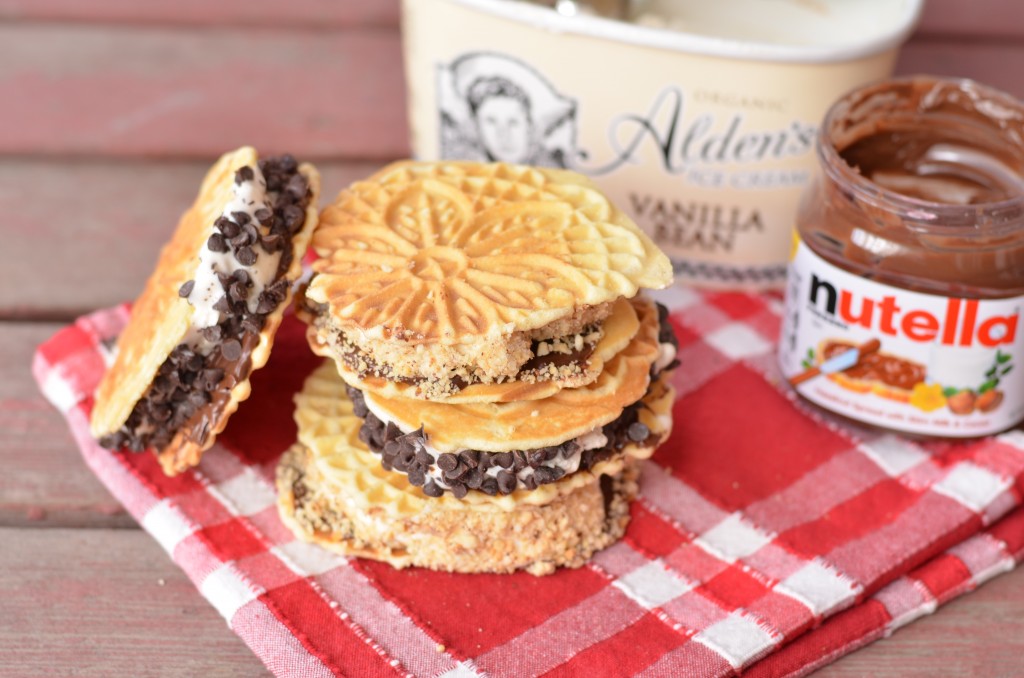 But I'll be honest: Most Italian baked goods are too dry for me. Hence choosing the one that is stuffed with chocolate pastry cream. So, pizzelle? No thanks, I'll wait in line for the cannoli.
Um, that changes when Nutella enters the picture. And ice cream. And chopped hazelnuts and chocolate chips.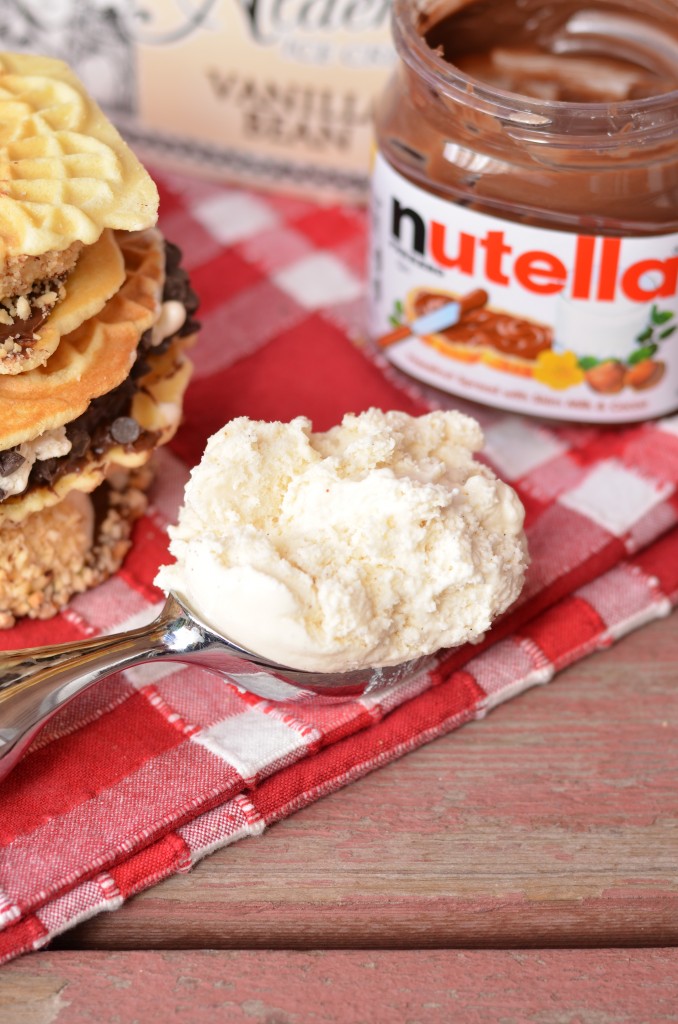 Now that I think about it, I kind of made these pizzelle into trashed-up cannoli. Typical.
Typical but AMAZING. It's like your favorite childhood ice cream sandwich grew up and married an Italian, and these are their babies. Currently five of their babies are sitting in my freezer taunting me every time I make a smoothie. Now we're talking about eating babies… let's take a step back from that analogy.
We'll just say: You like Nutella. You like ice cream. You like cookies. Put them together and… you'll like it.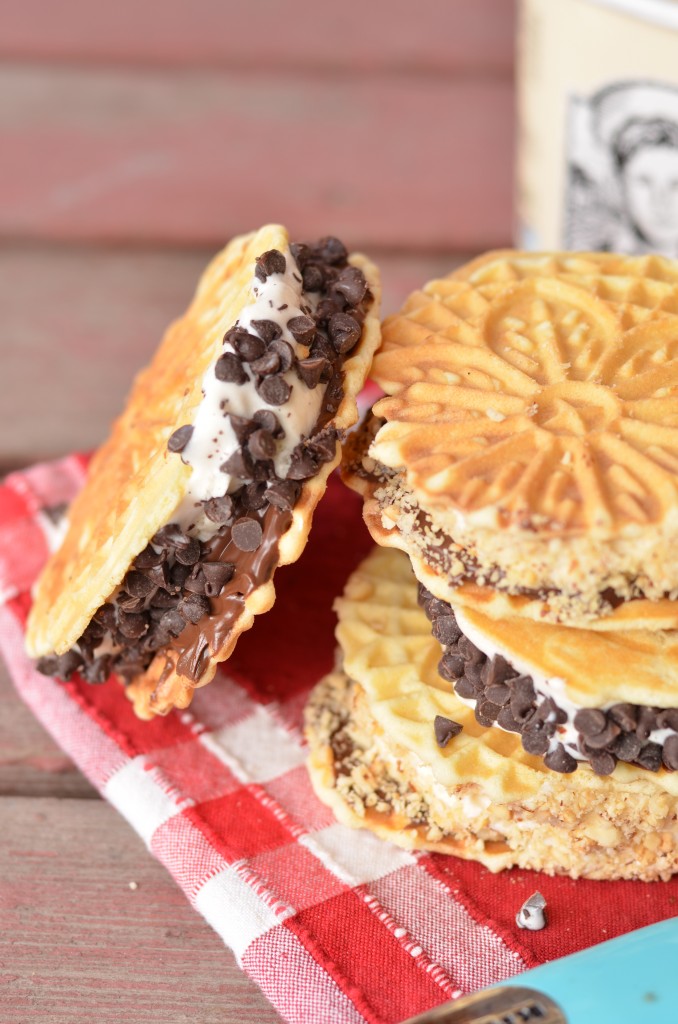 I'm not going to give a pizzelle recipe here, because you would need a pizzelle iron for that! But you should be able to buy them at any Italian bakery, and I've even seen them in Whole Foods. Of course, you can make these sandwiches with any cookie, but I think they're especially delicious with the thin and crunchy pizzelle. The sandwiches can be a little tricky to make because pizzelle break somewhat easily, but after the first one or so, you'll have it down.
Pizzelle, gazelle, Gisele. However you pronounce these, I hope you enjoy them!
Moab pictures coming up later in the week :)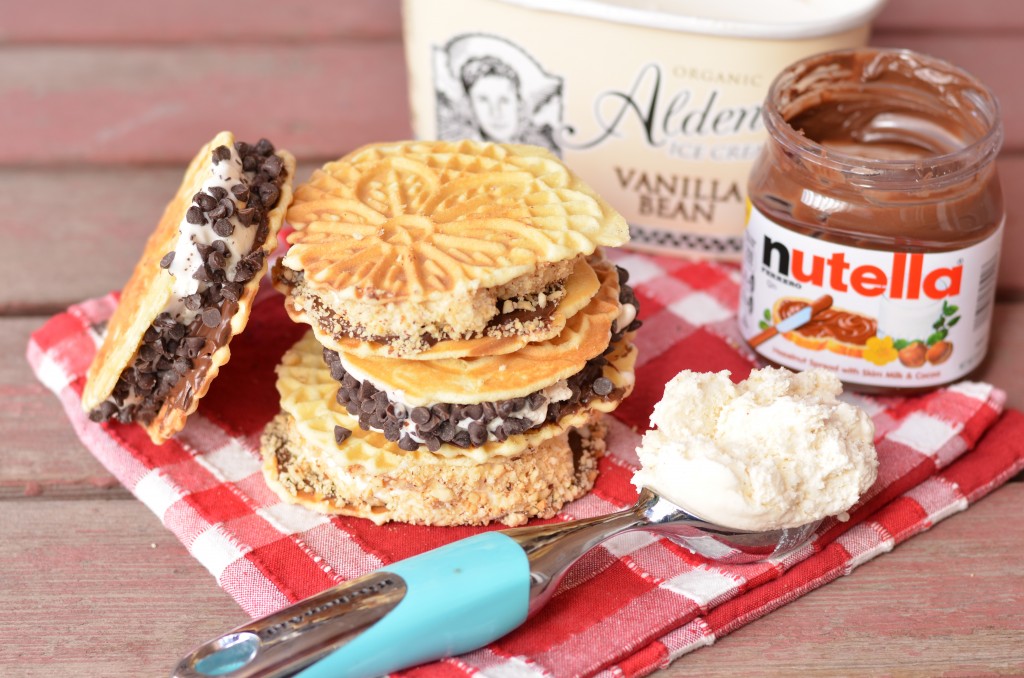 Nutella Pizzelle Ice Cream Sandwiches
Ingredients
pizzelle cookies (buy a few more than you need)
Nutella
vanilla ice cream
chopped toasted hazelnuts or mini chocolate chips for rolling
Instructions
Set up your work area with the pizzelle, ice cream, Nutella, and a plate of the hazelnuts or chocolate chips. It helps to have the ice cream softened a bit, but not runny. If it's straight out of the freezer, I recommend microwaving for 10-20 seconds. I also like to place a plate in the freezer for moving the sandwiches to as they're made.
Spread Nutella on one pizzella. Place a scoop or two of ice cream in the center of a second pizzella. Place the Nutella-covered pizzella, Nutella side down, on top of the ice cream. Gently press down in the center of the pizzella, until ice cream reaches the sides of the cookies. Roll the sides in nuts/chocolate chips, and press them into the ice cream if necessary. Place in freezer immediately to harden up. Once hardened, cover in plastic wrap and store in the freezer. Thaw for 5-10 minutes before serving.
Enjoy!