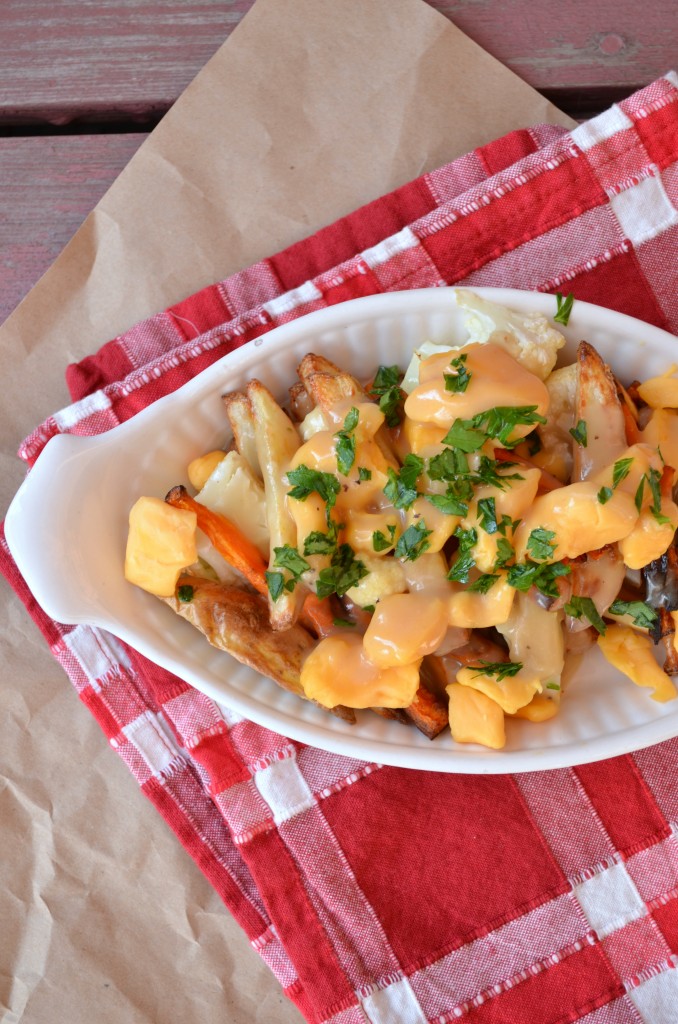 Can I convince you to turn on your oven just a few more times before it gets too warm?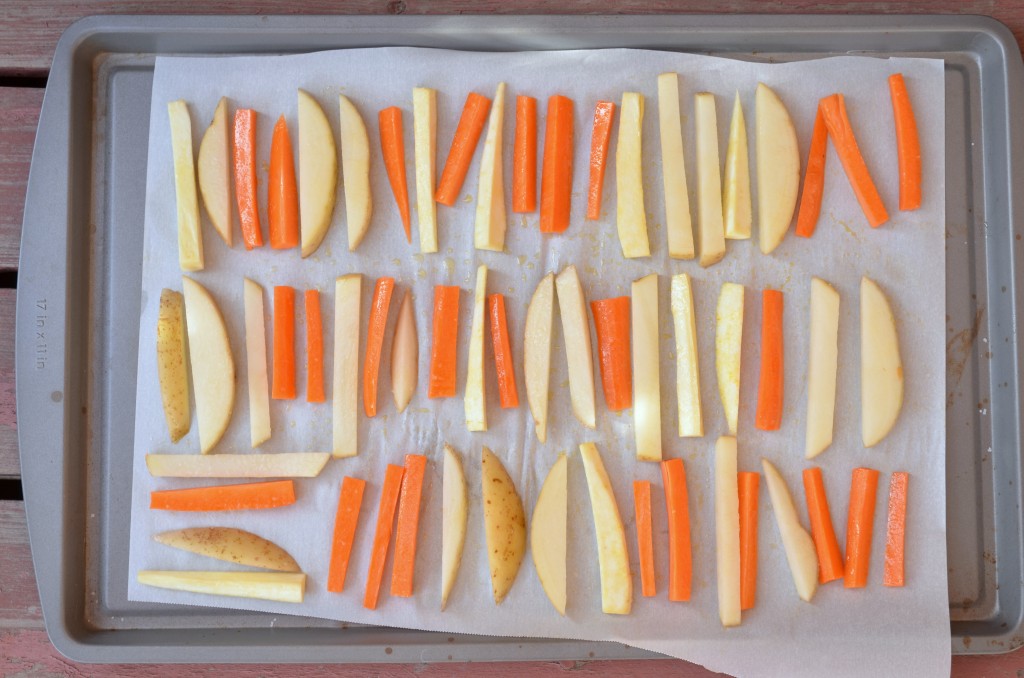 If you've ever had poutine, I don't think I'll have to try too hard to convince you. If all you have are the visuals, on the other hand, I probably have my work cut out for me. (Do you remember the Modern Family clip where Mitch and Cam serve poutine and Jay says "Well it looks like vomit, and I'm not poutine it in my mouth."? So grumpy… so funny.)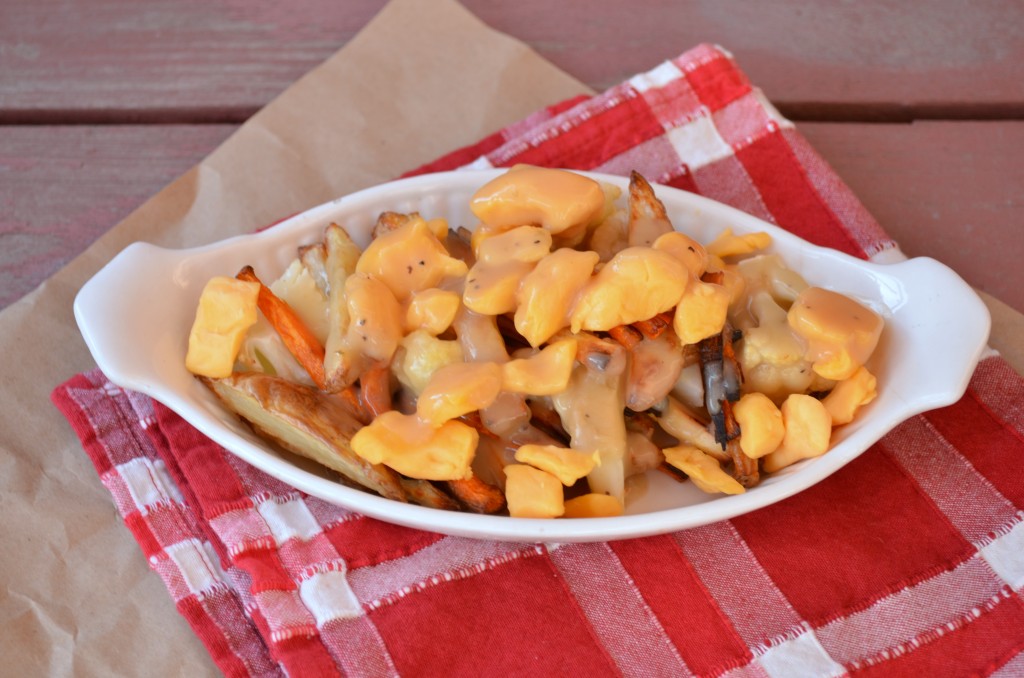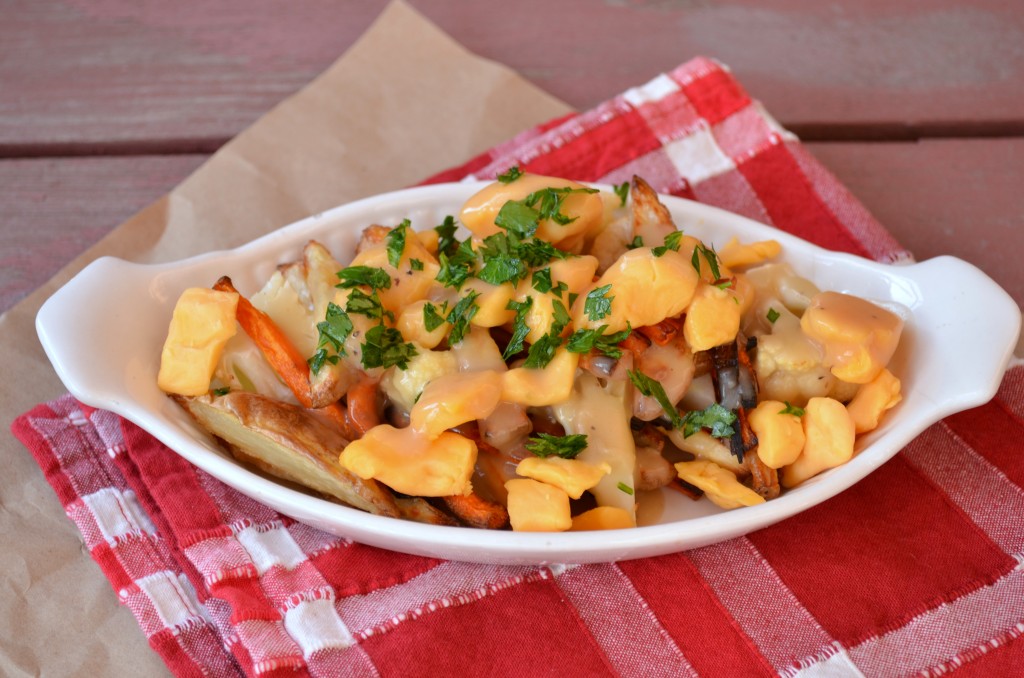 Yes, poutine has a reputation for looking rather unappetizing. But didn't your mama ever tell you not to judge a book by its cover? Potatoes, cheese curds, and gravy: Let's think about those three ingredients, and how unbelievably hard it would be to go wrong with them. They make the ideal comfort food.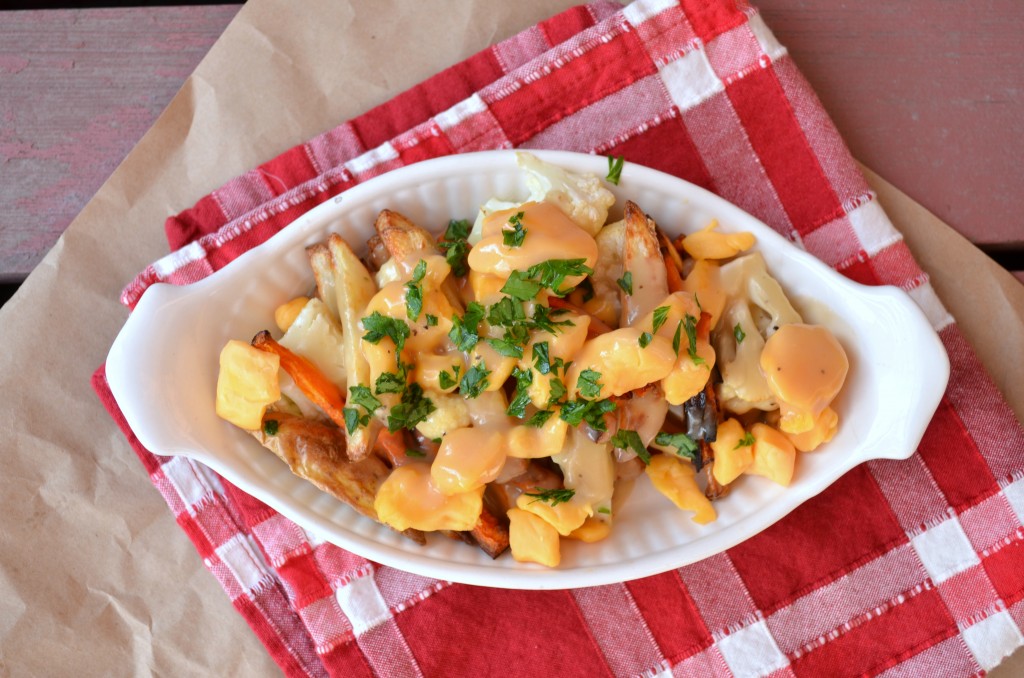 I first had this comforting Canadian dish a few years ago in Washington D.C. while visiting my friend Taryn. I had never even heard of poutine before, yet I swear it was on the menu of every restaurant and bar we went to that weekend. I'm not sure why, but D.C. seems to be the poutine capitol of the U.S…. in addition to being the actual capitol of the U.S. Hmmm. Needless to say, we ordered it several times over the course of the weekend.
Did I mention that it goes great with beer? Taryn and I met while studying abroad together in Munich, so when we get together (which is not often enough these days!) we like to drink a few beers for old time's sake.
That weekend was around this same time of year, which I have to say is the perfect poutine-eating time. The weather is fluctuating between summer and winter; one day you break out the sandals and the next day you have to turn the heat back on. On those chillier April days, I recommend cranking up the oven and making this healthier, vegetarian version of Canadian poutine.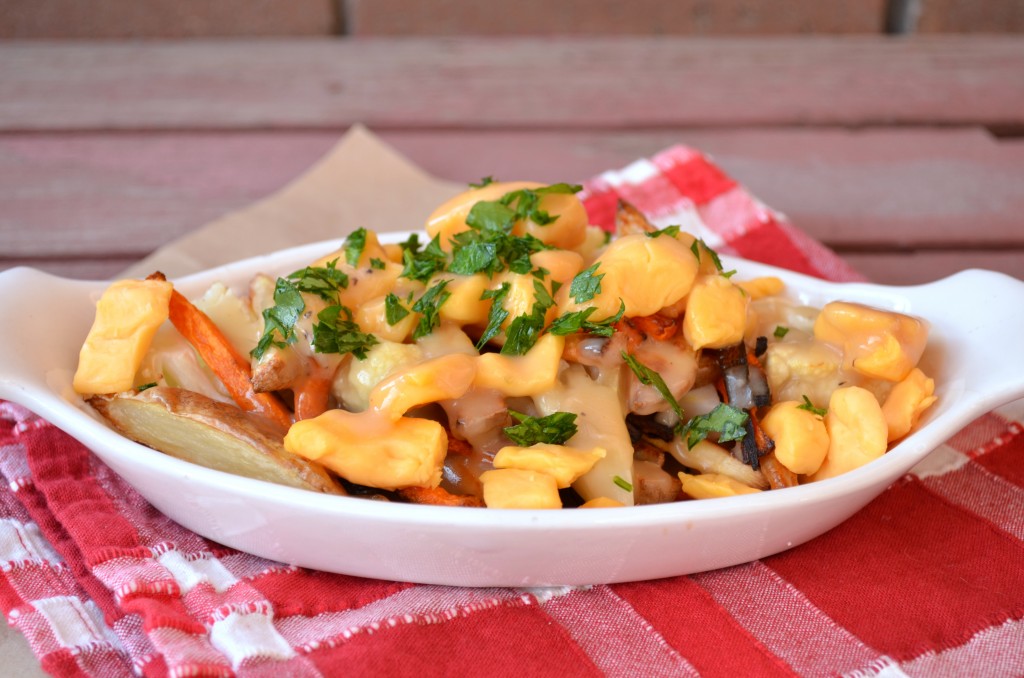 Roasted Vegetable Poutine
A healthier version of the indulgent French-Canadian specialty.
Ingredients
For the roasted vegetables:
2 large carrots, peeled and cut into matchsticks
1 parsnip, peeled and cut into matchsticks
1 Yukon gold potato, scrubbed and cut into matchsticks
1/4 head cauliflower, chopped into bite-sized pieces
1/2 Tbsp olive oil
1/4 tsp salt
For the gravy:
2 Tbsp butter
2 Tbsp all-purpose flour
1 1/2 cups vegetable stock
sprinkle of dried oregano
1 tsp adobo sauce from a can of chipotle chilies in adobo (I omitted, but would recommend using)
salt and pepper to taste
To top:
1/2 cup cheese curds (or cubed cheddar cheese)
chopped fresh parsley
Instructions
Preheat oven to 450. Toss vegetables in olive oil and sprinkle with salt. Spread on a baking sheet or two lined with parchment paper. To ensure even roasting, make sure that they aren't touching. Roast for 20-25 minutes or until crispy, flipping once halfway through.
Heat butter in a small pan over medium heat. Whisk in flour and allow to cook for 1-2 minutes, bubbling and turning a golden color. Whisk in a tablespoon or two of vegetable stock at a time until you have a thick liquid. Pour in the rest of the stock and bring to a simmer. Simmer uncovered for 10-15 minutes, until thick and gravy-like. Add oregano, adobo sauce, and salt and pepper to taste.
When vegetables are done, remove from oven and place in a serving dish. Top with cheese curds and pour gravy over the top. (You may not use all the gravy.) Sprinkle with chopped parsley and serve immediately.
Dig in. I recommend a fork!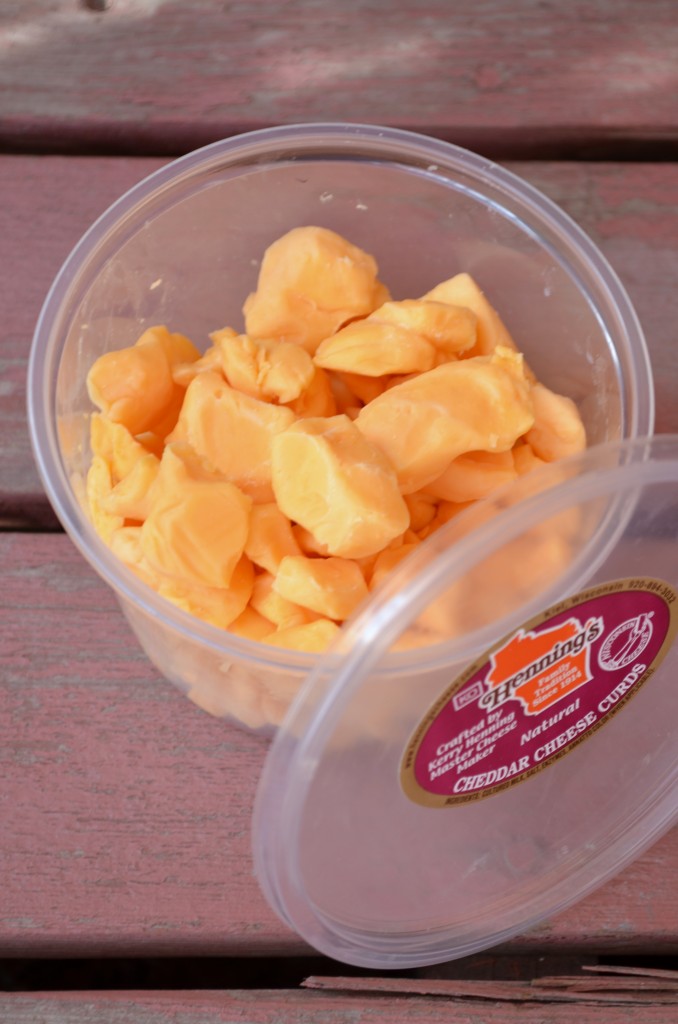 P.S. And then you'll have some leftover cheese curds… which is never a bad thing.