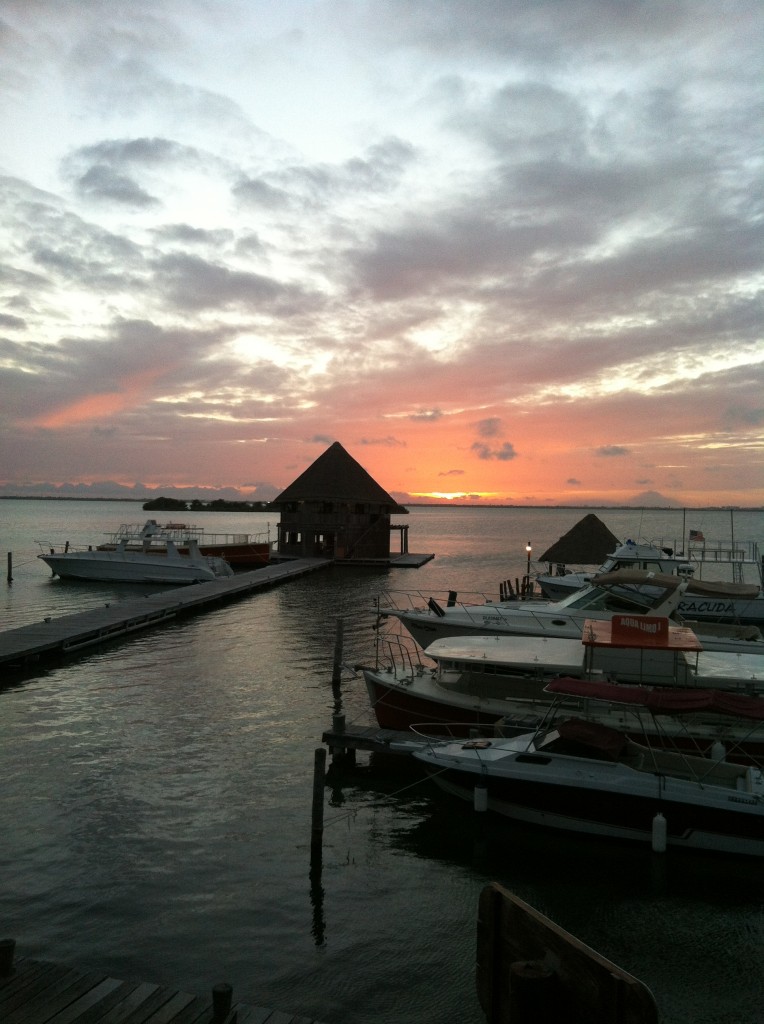 I've bragged a million times over the past few weeks that Nate and I were going on a trip to Mexico this past weekend. I guess that tends to happen when I'm looking forward to something! In any case, we got home Monday night, so I thought I'd do a little trip recap for you.
You might remember me mentioning a while ago that I had been nominated for employee of the year at work. Well, I didn't win. (But that's OK – I definitely did not expect to!) Even so, all the nominees got to go on this group trip to Cancun and bring their significant other, paid for by my company.
It was my first time to Mexico. We were pretty excited!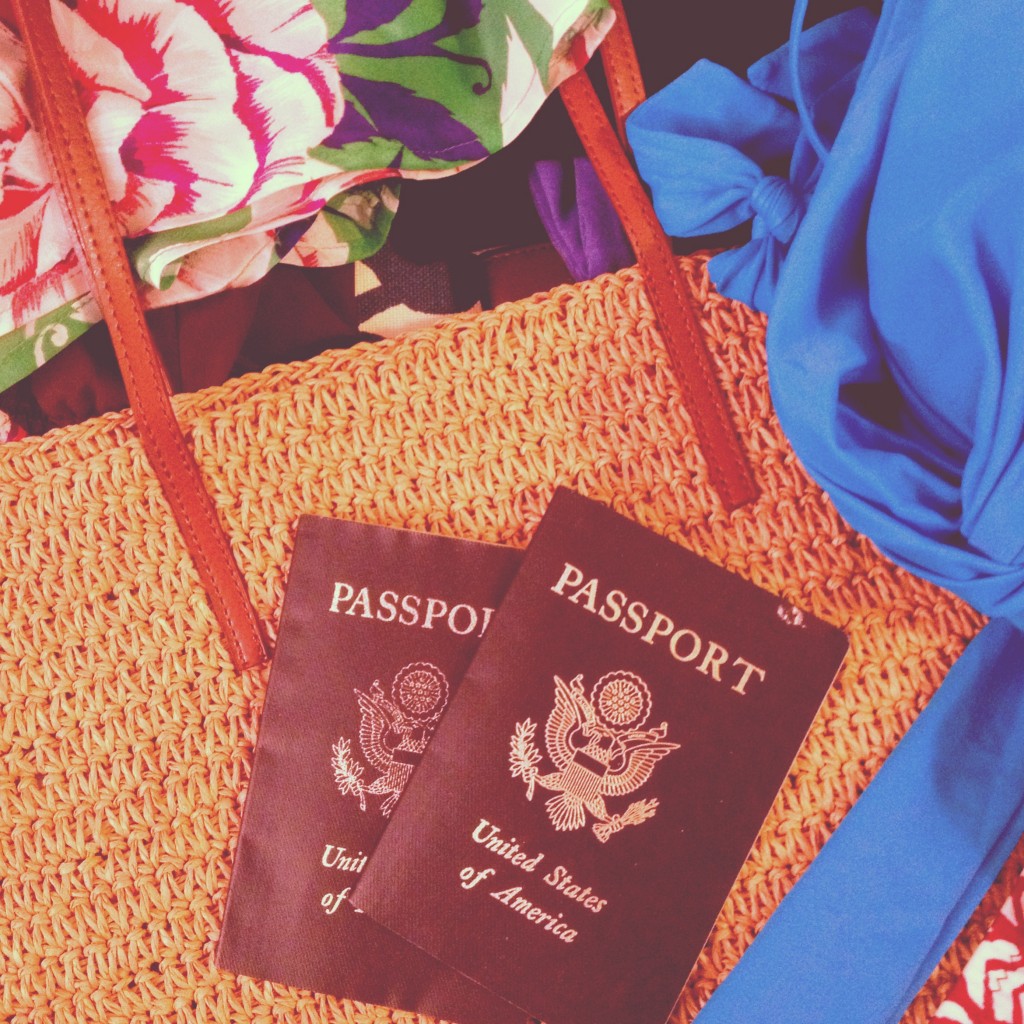 We stayed at the Hard Rock Cancun, which is an all-inclusive resort on the beach there. I don't have anything to compare it to, never having been anywhere similar before, but it was pretty nice. They had a pool with swim-up bars, a beach, a few restaurants, etc.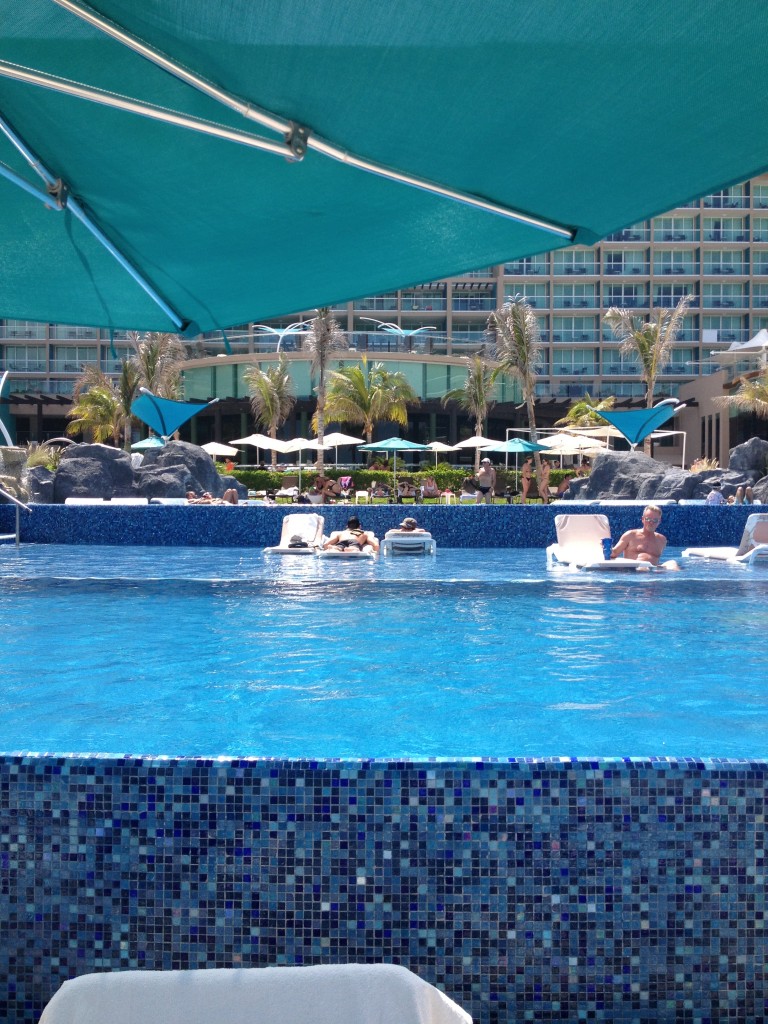 Picture Vegas… on the beach.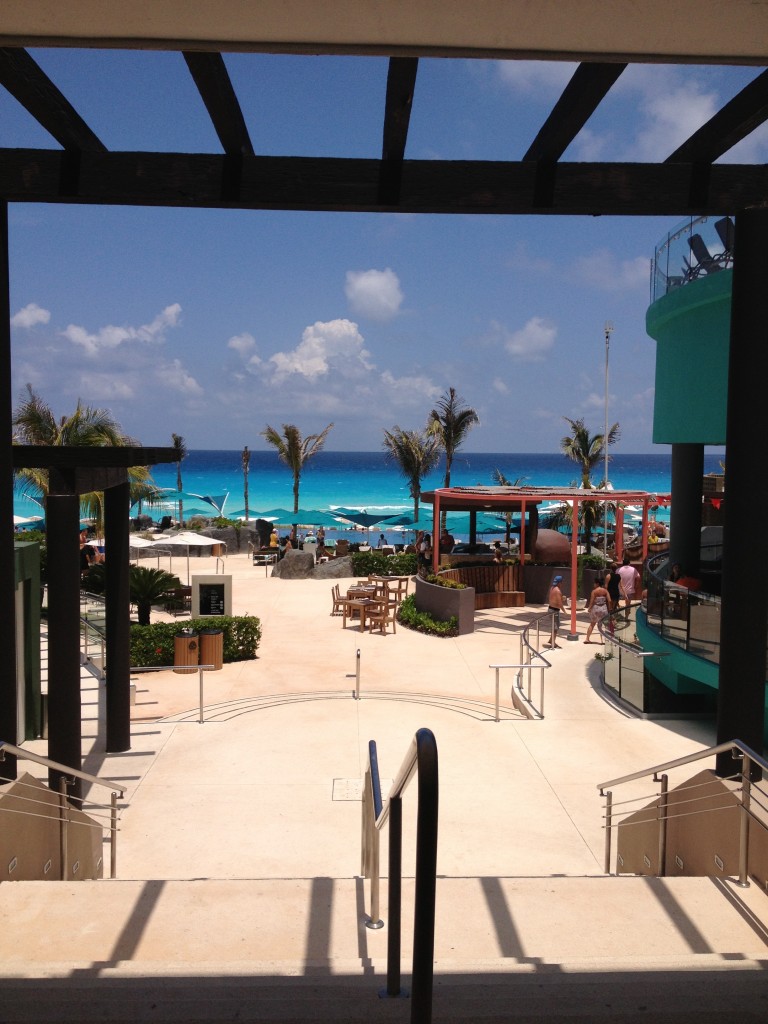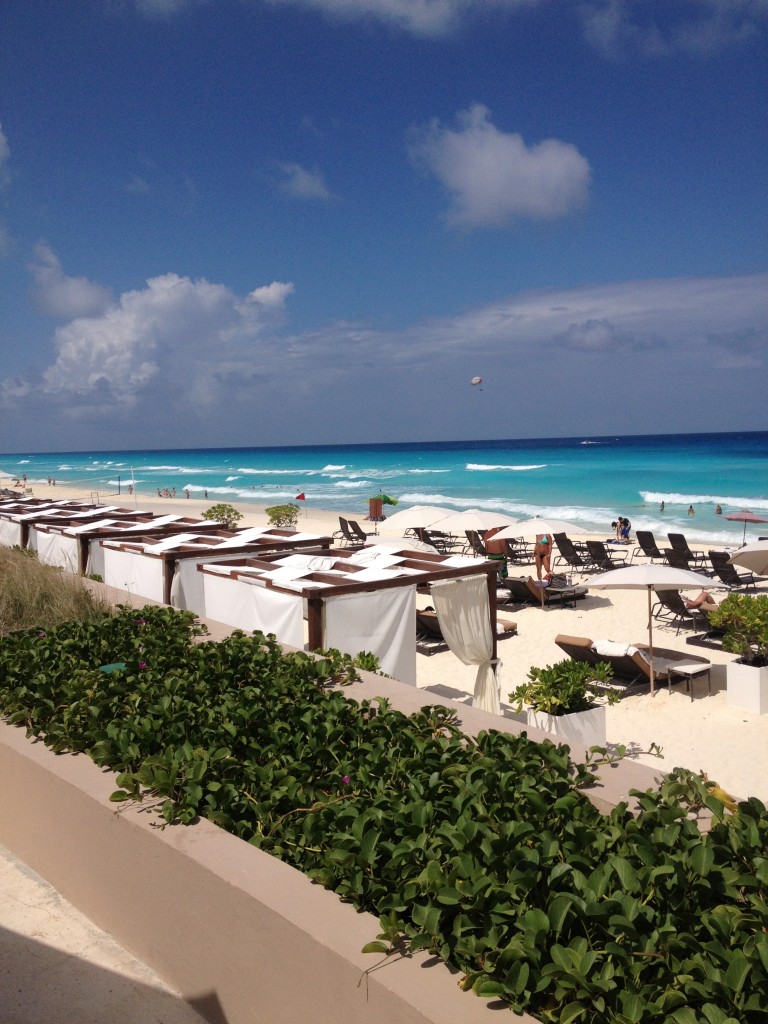 And really, really, unbelievably humid. Seriously, you should have seen my hair the entire time we were there! If you've ever been to Cancun in May, you know what I'm talking about.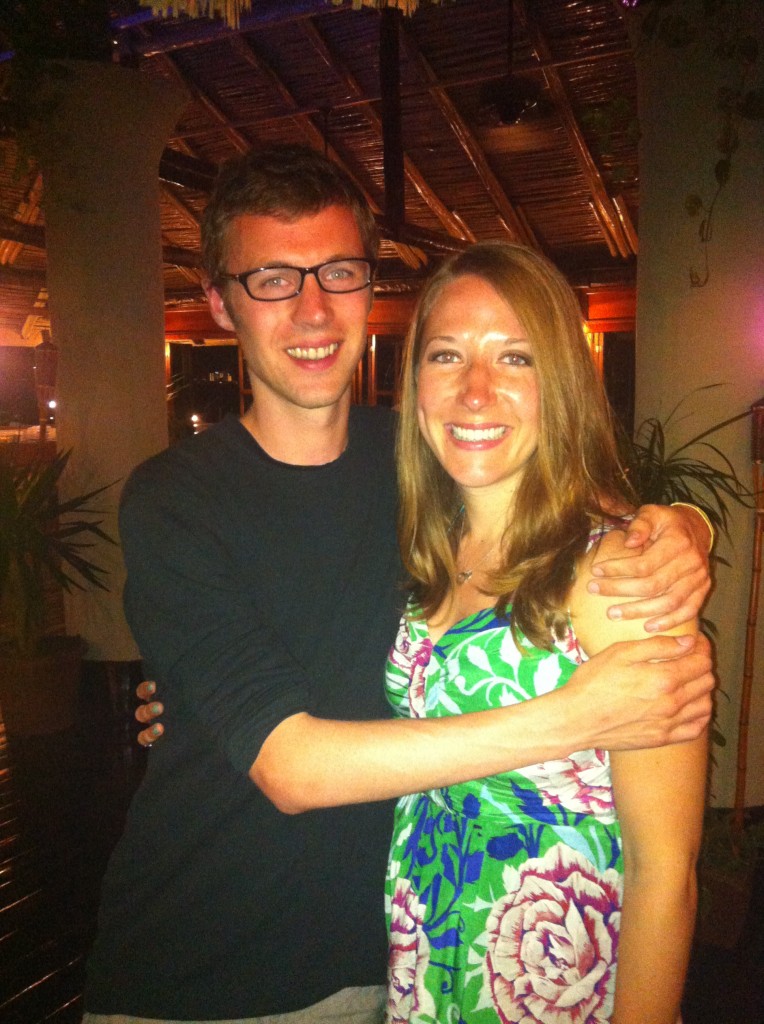 We spent most days laying outside by the pool or on the beach – Nate studying for boards in the shade: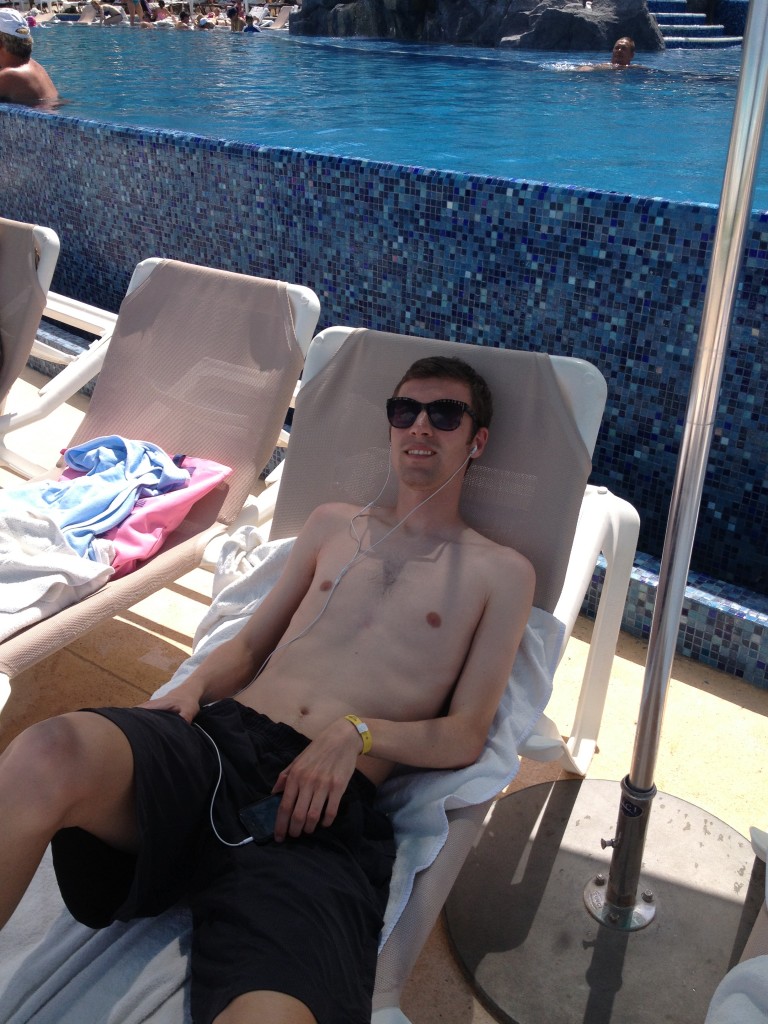 And me reading my Kindle in the sun: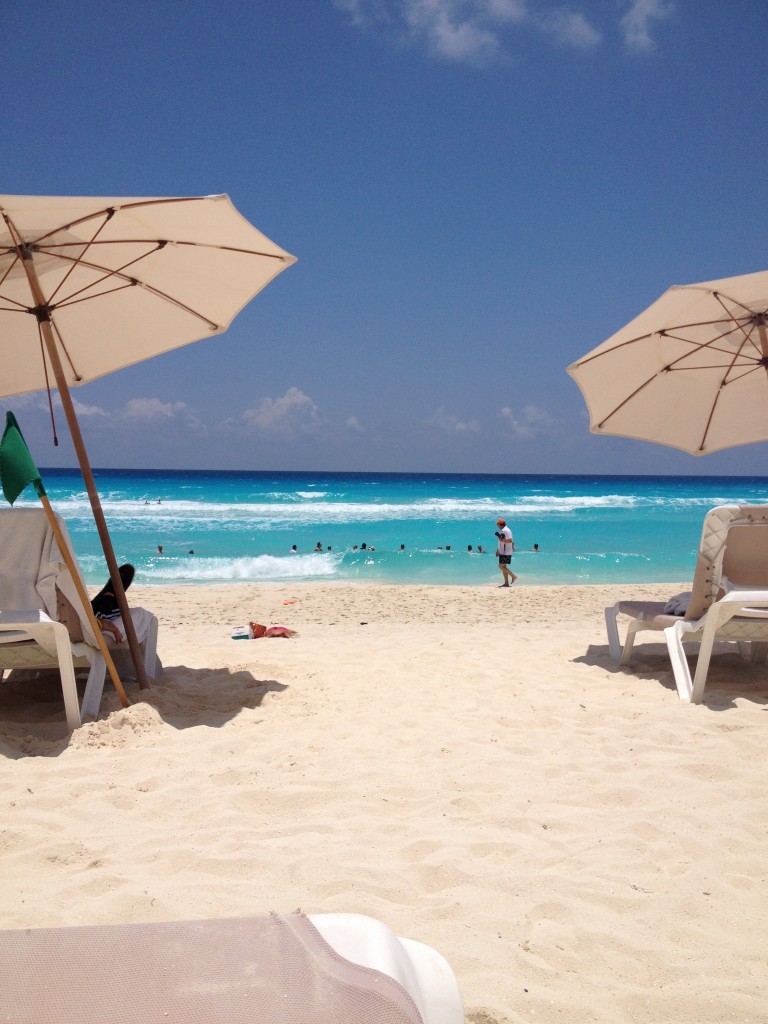 Well, that was the first day. Then I got a liiiittle sunburned, and moved into the shade after that. The sun was so hot that I should have stayed under the umbrella to begin with, but that's a lesson I have to re-learn at the start of every. single. summer.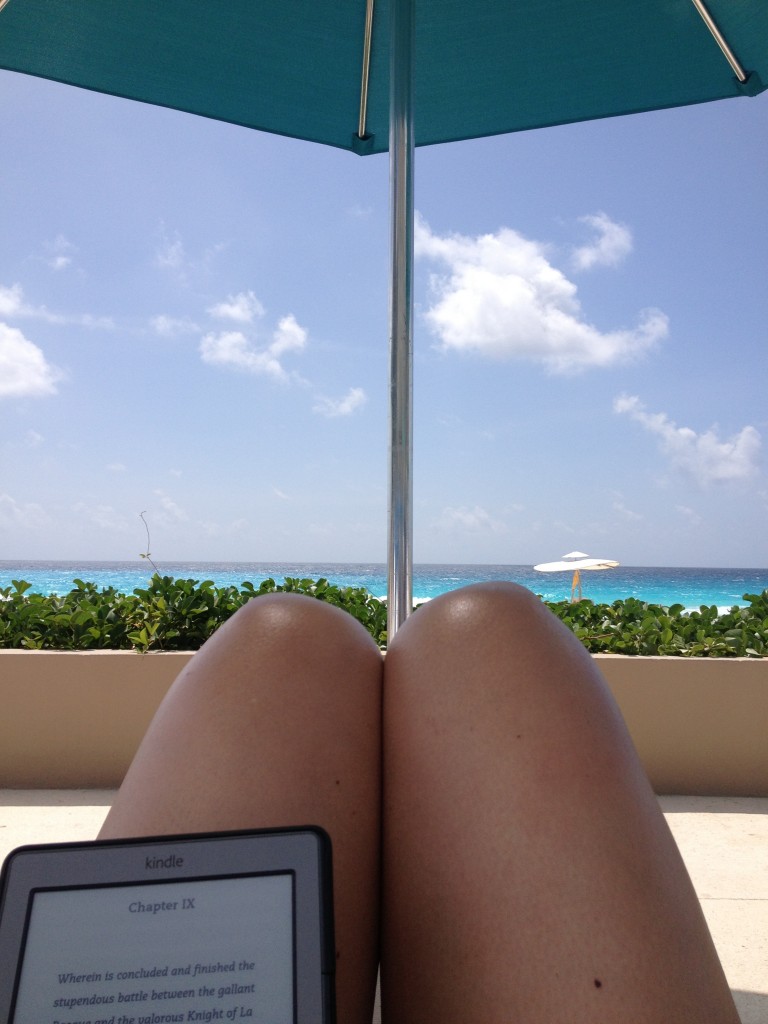 We spent one morning jet skiing and snorkeling – or "jet skeeting" and "snarkeling" as Marco, who worked at our hotel, kept calling them. Hah! It was my first time doing both. I was pretty happy once I realized that Nate could drive the jet ski and I could ride behind him, because the water was really choppy. Also, I'm a huge wimp. I'm not sure I could have done it myself! He had a blast speeding over the open water while I clung to him with arms and legs and tried not to ruin his fun. I wish I could have brought my phone to take pictures… I'm pretty sure I would have had a look of pure terror in any action shot!
"Snarkeling" was fun; I mostly just tried to get used to the mask and not get touched by any fish, hah. I managed to swallow zero water, so I count that as a success! Did I mention that water sports are not my thing?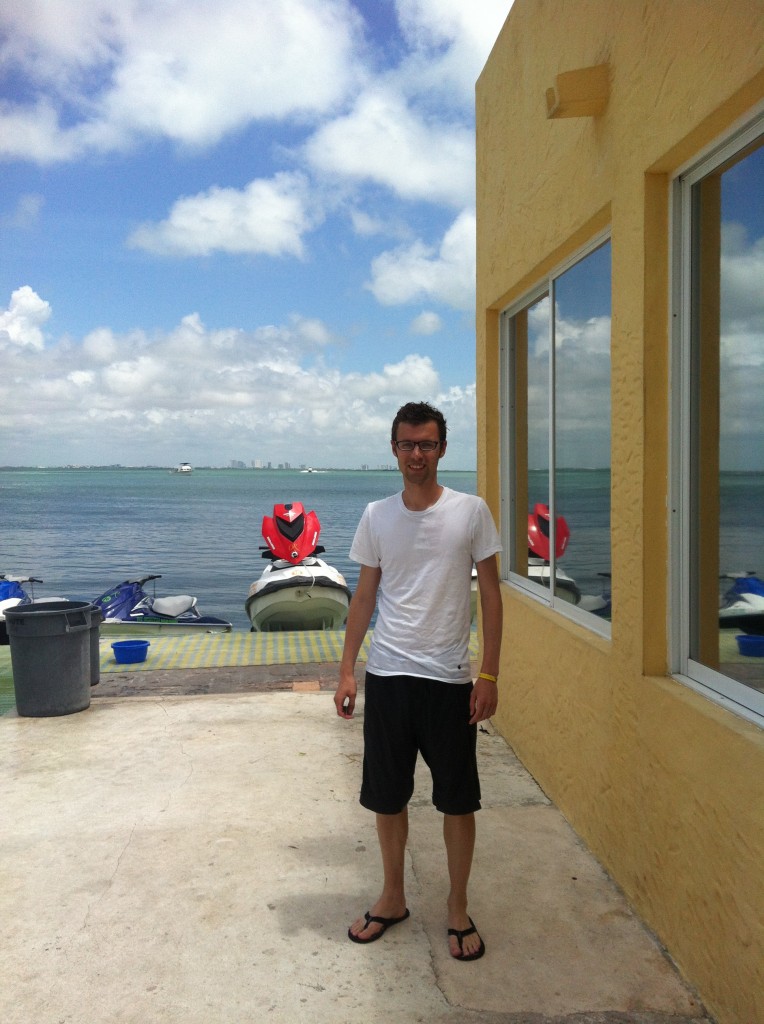 Other than lying in the sun and our little "jet skeeting" adventure, we did a lot of eating and drinking! Well, a lot of eating, and moderate amounts of drinking. Probably more than half of the people we were there with were LDS (Mormon), so our group was definitely not there to party. That was fine by me – I'm not a huge partier and I'm notoriously sleepy, so early nights are ideal! We did enjoy a few good bottles of wine, though.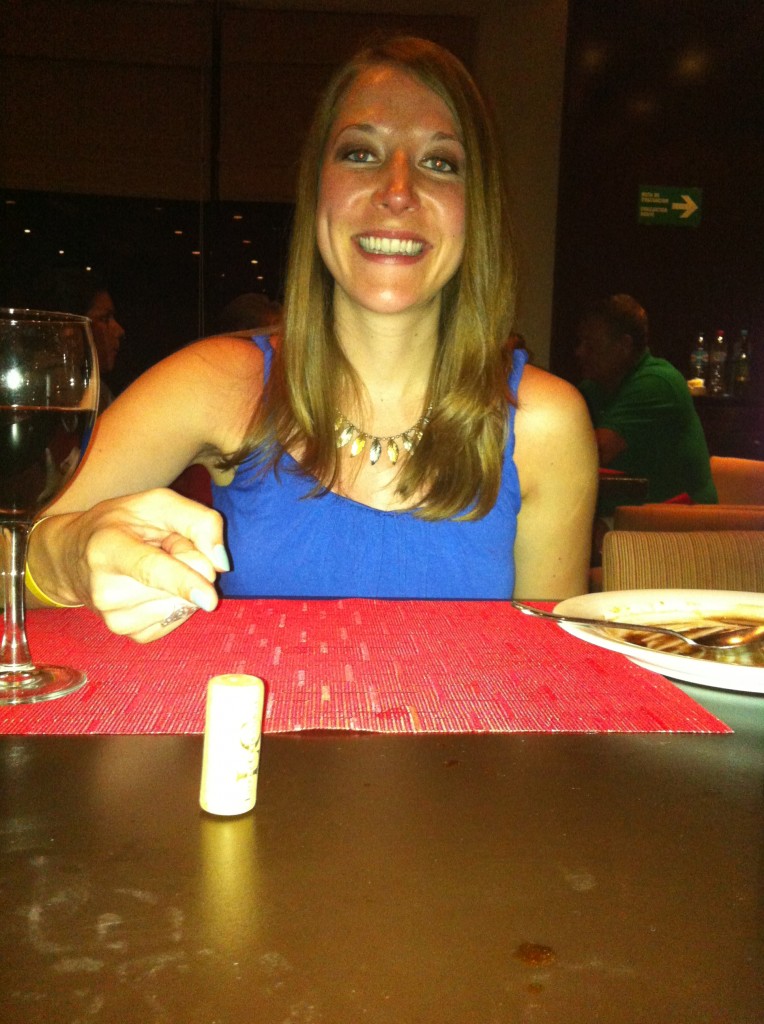 At one restaurant we tried four dessert wines. Yum! I never really consider myself a big fan of dessert wines, but I'm pleasantly surprised almost every time I drink one. I wish I'd thought to take a picture of any of the bottles… there was a white with notes of honey that I particularly liked.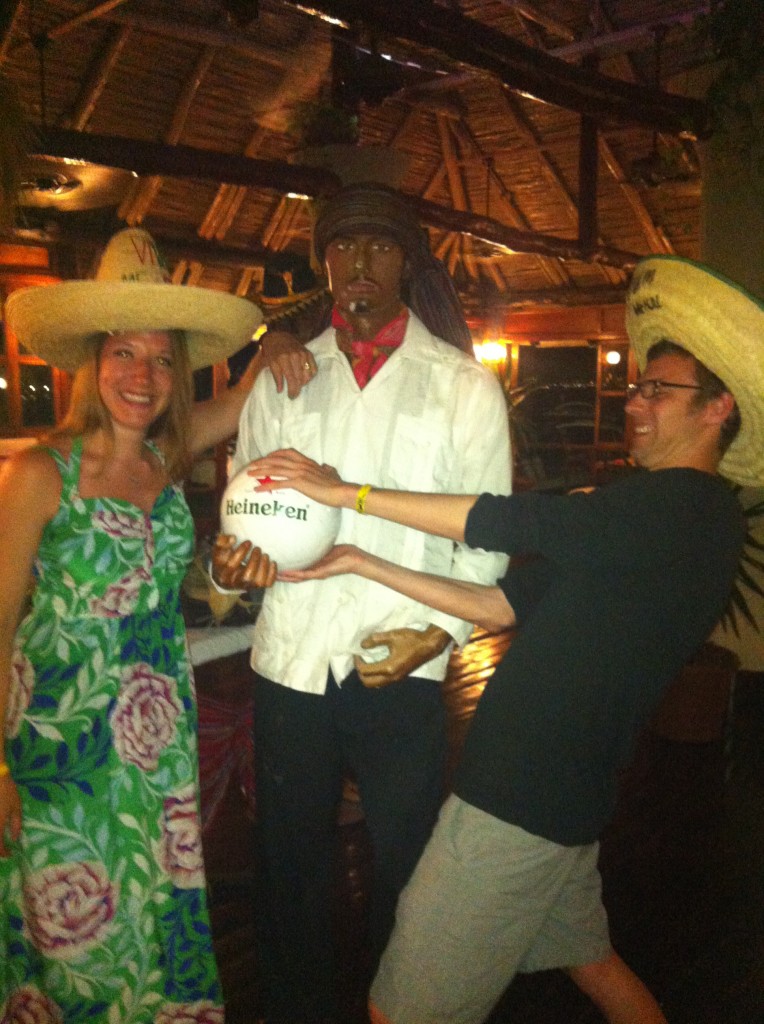 As far as food, we left the resort for dinner with the group two nights, once to a seafood restaurant and once to a Mexican place. The seafood place was really good. We had some extremely fresh clams there – they opened them at the table for us, and when we squeezed lime juice on them, they moved! I squeezed some extra lime juice on mine just to be sure… eek! Also, Nate ate some crispy, seasoned crickets at the Mexican place. I refused!!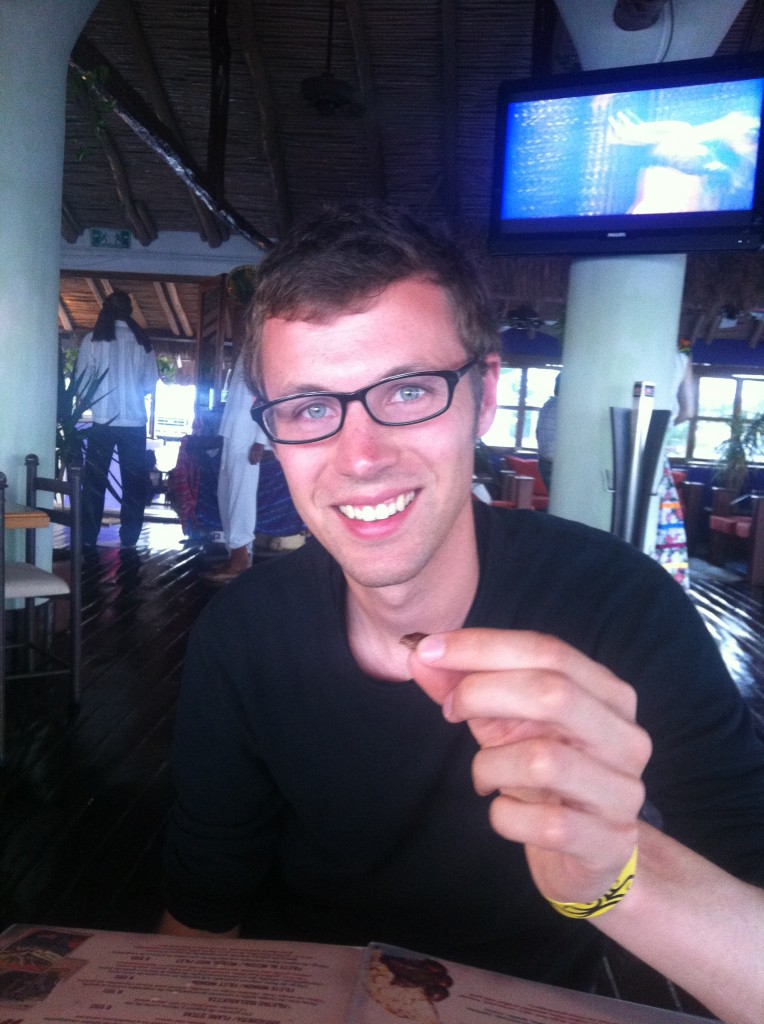 We ate lunch and dinner every day at the resort. They had really good fresh fruit, and also a pretty extensive salad bar. It was surprisingly easy to avoid meat… although it was also surprisingly easy to eat chocolate ice cream with lunch every day. Yummm.
After three full days of lounging and swimming (during which time NONE of our clothes dried), we made our way back to Salt Lake on Monday afternoon. We almost ended up spending an extra night in the Houston airport when we were quite crunched for time going through immigration and customs, but we made it back in one piece. Aaaand I still haven't unpacked my suitcase. Can you say mold? Dreading it.
So, Cancun: quite the experience. A huge thanks to work for sending us! This trip definitely nudged the travel bug in me, and made me want to explore other parts of Mexico. Whenever there was a lull in the conversation, I made Nate tell me when and where our next international trip is going to be. (The jury's still out on that one.) And it also made me want to learn some Spanish! An immersion program somewhere in South America doesn't sound half bad…