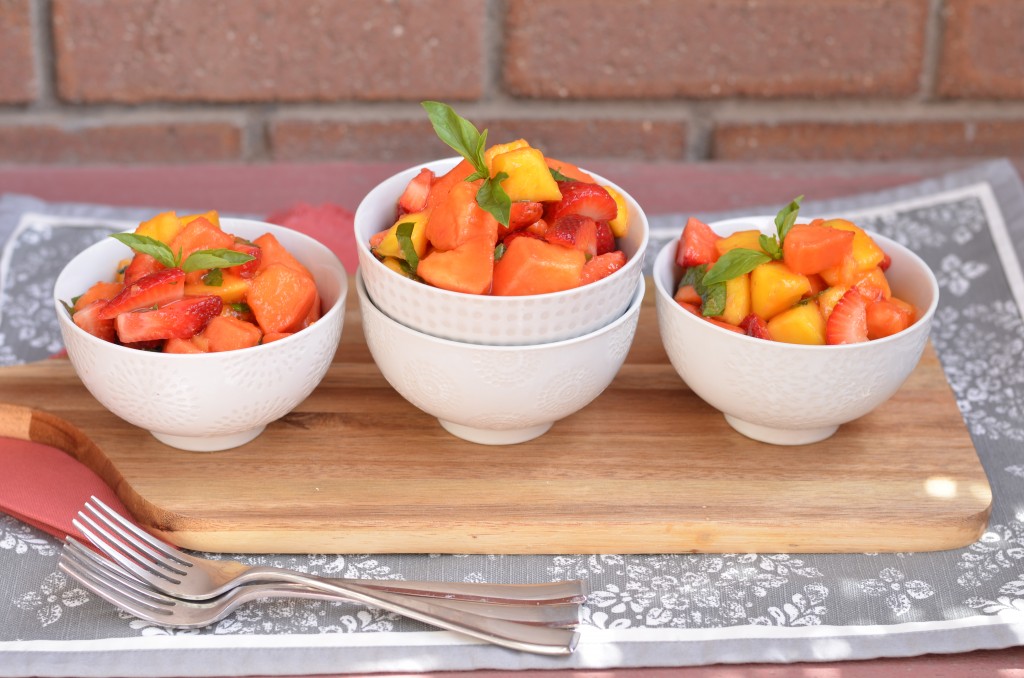 Happy May!
I think this fruit salad is the perfect way to start off such a glorious month.
Fruit salad just screams "summer barbecue" to me. It doesn't make an appearance unless you have warm weather, a grill, and enough friends present to make a dent in a huge bowl of fruit. Yep, it doesn't get much better the kind of occasion that features fruit salad.
But I'm not a fan of what I've come to think of as the typical fruit salad: pineapple, melon, and grapes. Maybe I've eaten too many continental breakfasts, but that just does not appeal to me. It always seems to sit out too long, the pineapple is all sour and hard, and does anyone actually like the melon in that salad? If so, the world – or at least hotel breakfast buffets – needs more people like you. And fewer people like me, who pick out all the grapes for themselves.
So instead, I created this Thai-inspired fruit salad featuring my favorite spring and summer flavors. No melon required.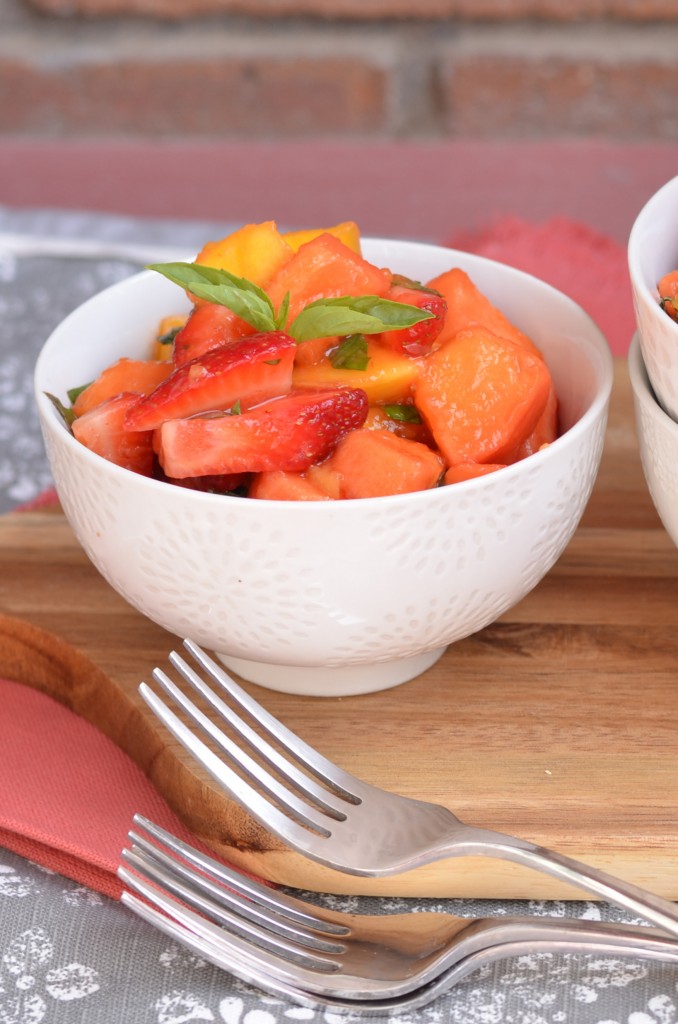 Just so we're clear on the meaning of the phrase "Thai-inspired": it translates to "white girl Thai."
It means I started out with something Thai (papaya)… and then added in some stuff that's not so Thai (strawberries). It means the flavors are Thai to me, but would almost certainly taste American to anyone from Thailand. Clearly we're not going for authentic, here. But we are going for tasty! And summery, and colorful.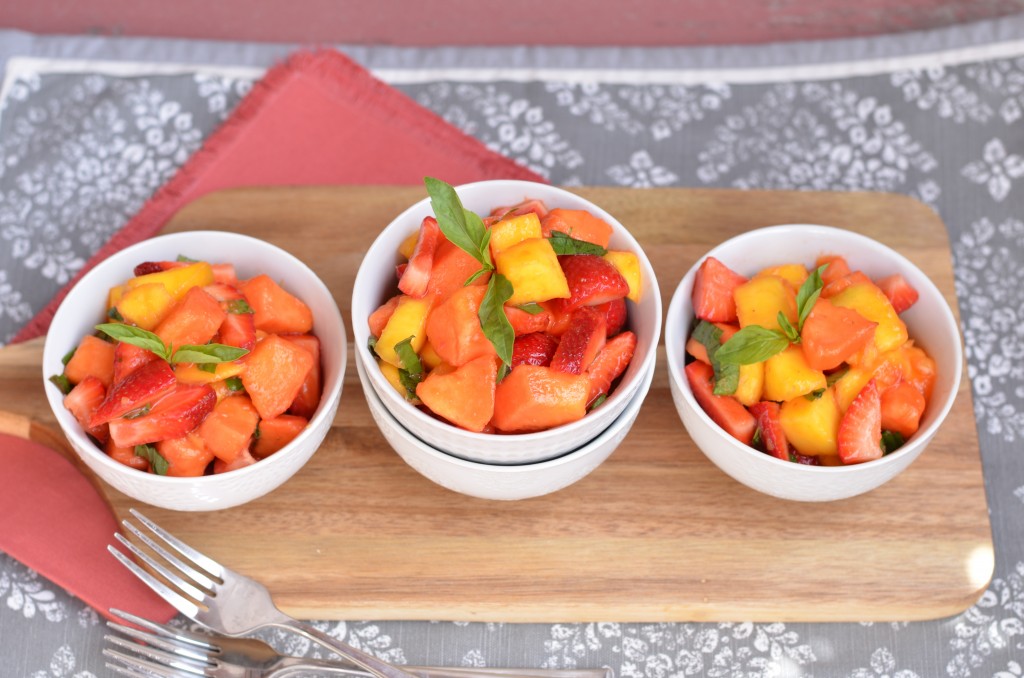 This fruit salad was actually inspired by my first-ever papaya purchase. Step 1: Buy a papaya. Step 2: …??? I had no idea what to do with it, but the thing was massive! It was also perfectly ripe (which was all luck, since I have no clue how to choose a papaya), and I couldn't get over how gorgeous it was! Soooo I had a little photo shoot with it.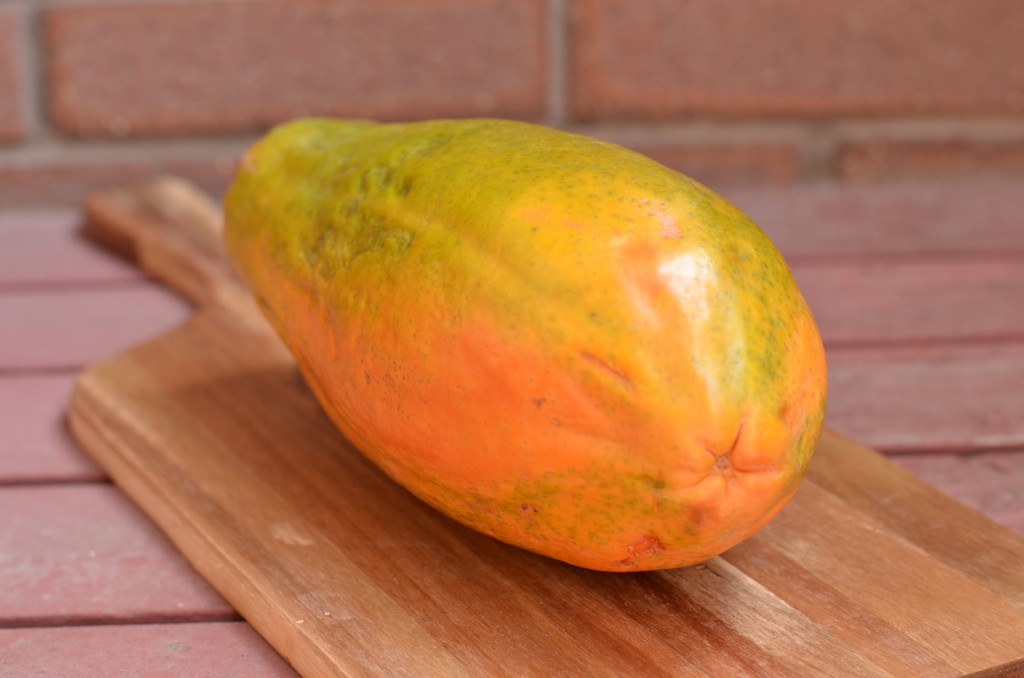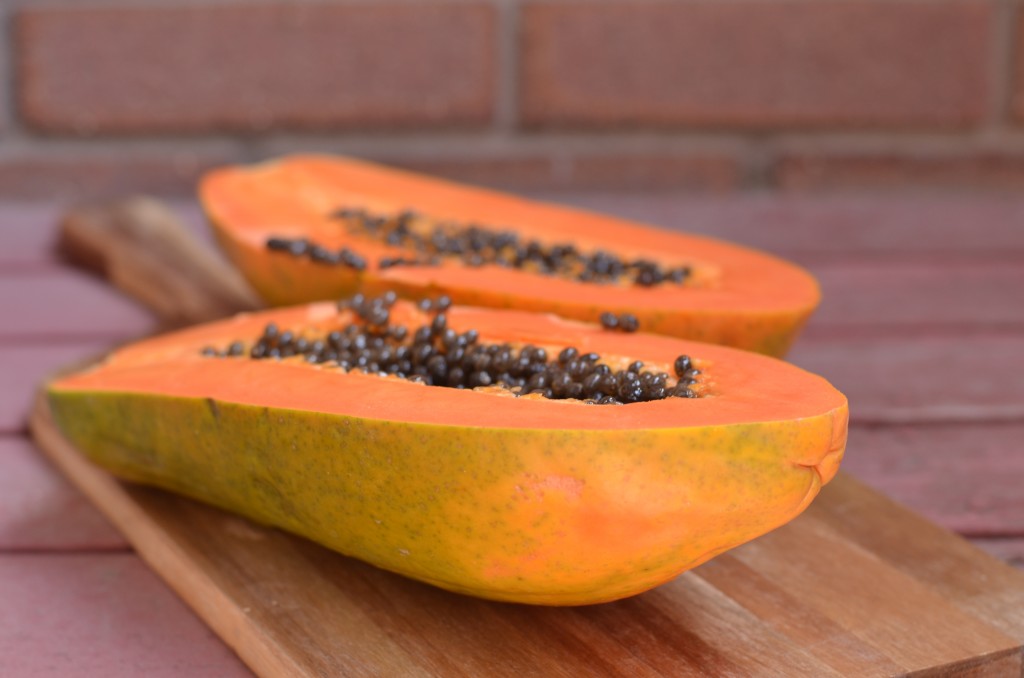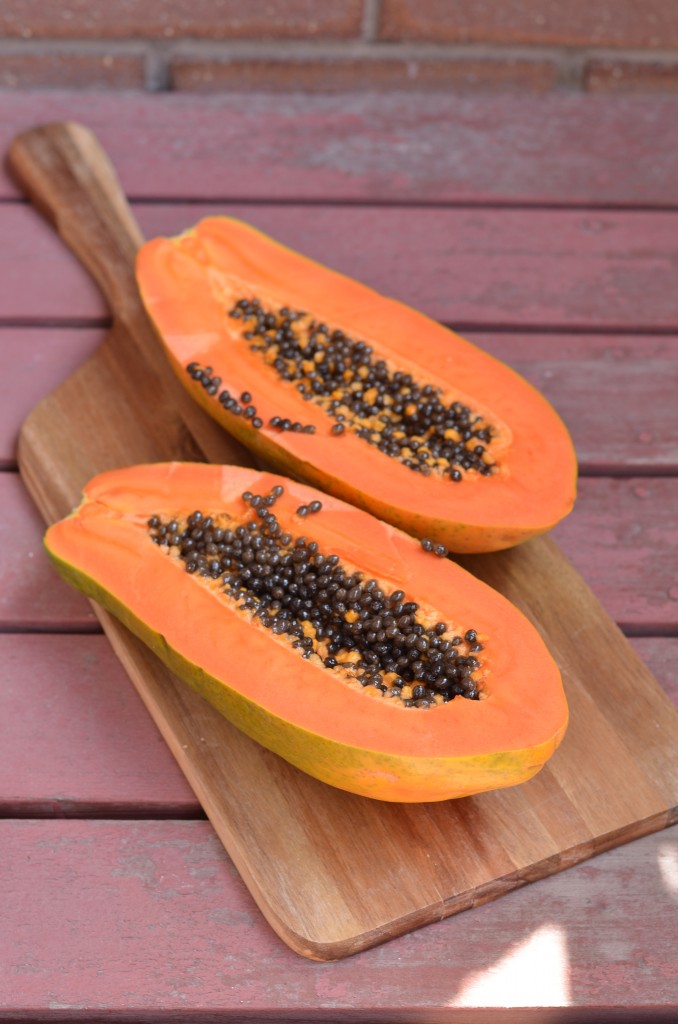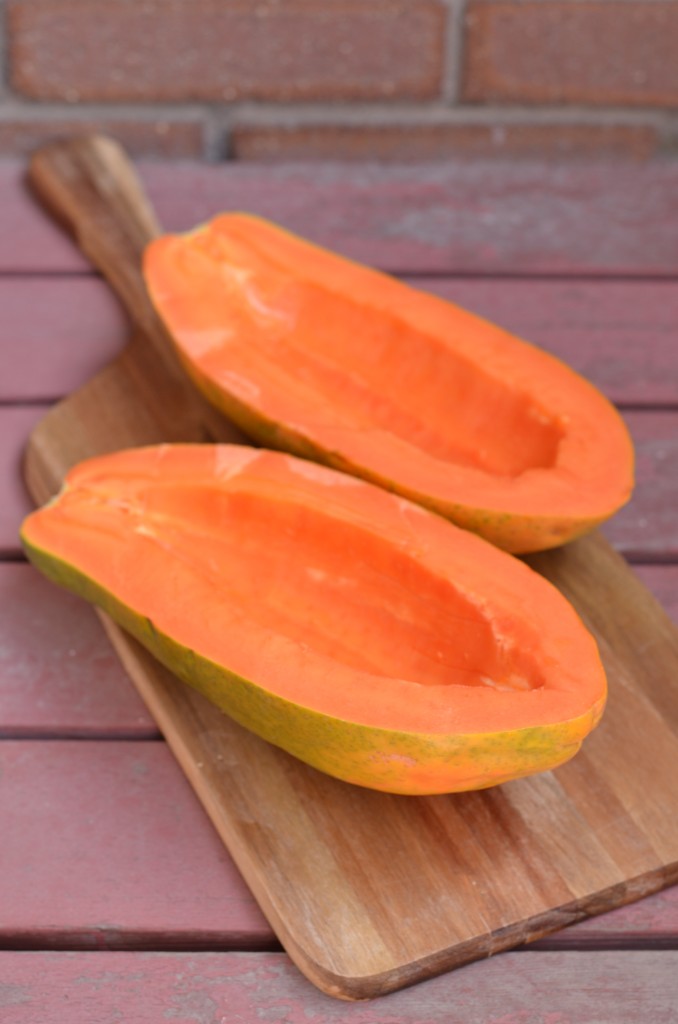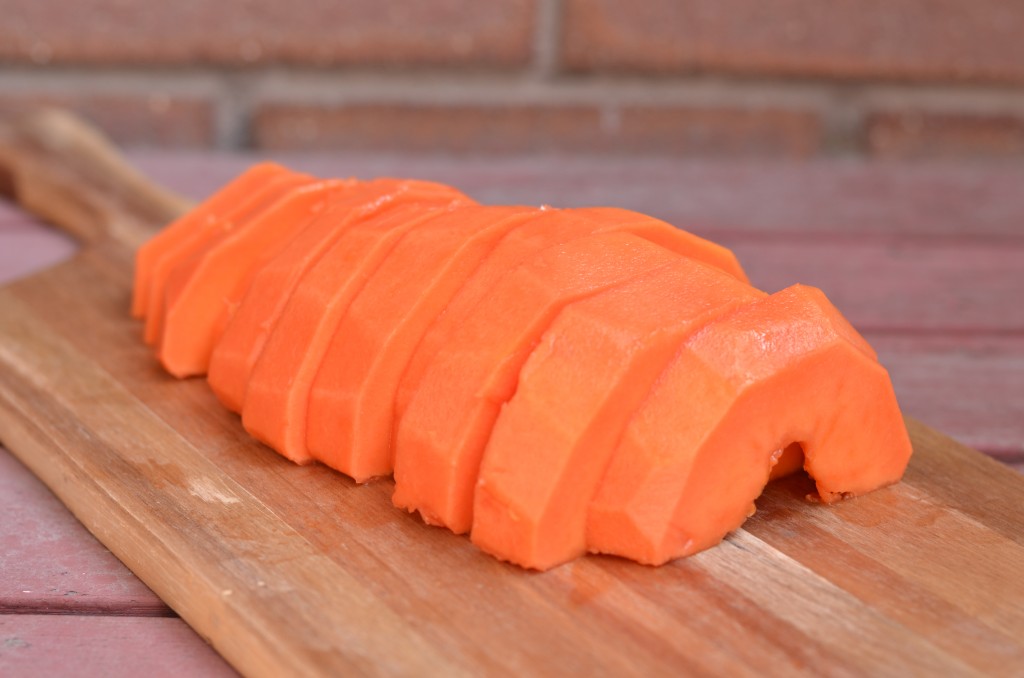 So pretty.
Then I chopped it up and made it get cozy with some mangoes and strawberries. Deeeelicious.
I ate this fruit salad for a snack on the day that I made it, and I've been enjoying it for breakfast alongside a scoop of Greek yogurt with honey for the past few days. It definitely looks prettiest right after it's made, but I can vouch for it being quite edible after 48 hours in the fridge.
So you know I always like to provide some explanation of the ingredients, techniques, etc. in a recipe if there's something that needs to be pointed out. And there's definitely an ingredient in this one that might seem strange: Salt!
I guarantee that if you make this fruit salad without the salt, you'll think "hmm, it's pretty good… but it could use a little something extra." That something is the salt! It does seem weird, but it really brings out the flavors of the fruit and lime in this salad. It won't taste salty (if it does, you've gone too far!), but it will accentuate the other flavors. Plus, salt and lime just go together  – why don't you add some tequila in there, too, while you're at it? Kidding. But it's really the salt that completes this salad.
I think that's all the explanation required! Go make this glorious summertime salad. I hope it's warming up where you are!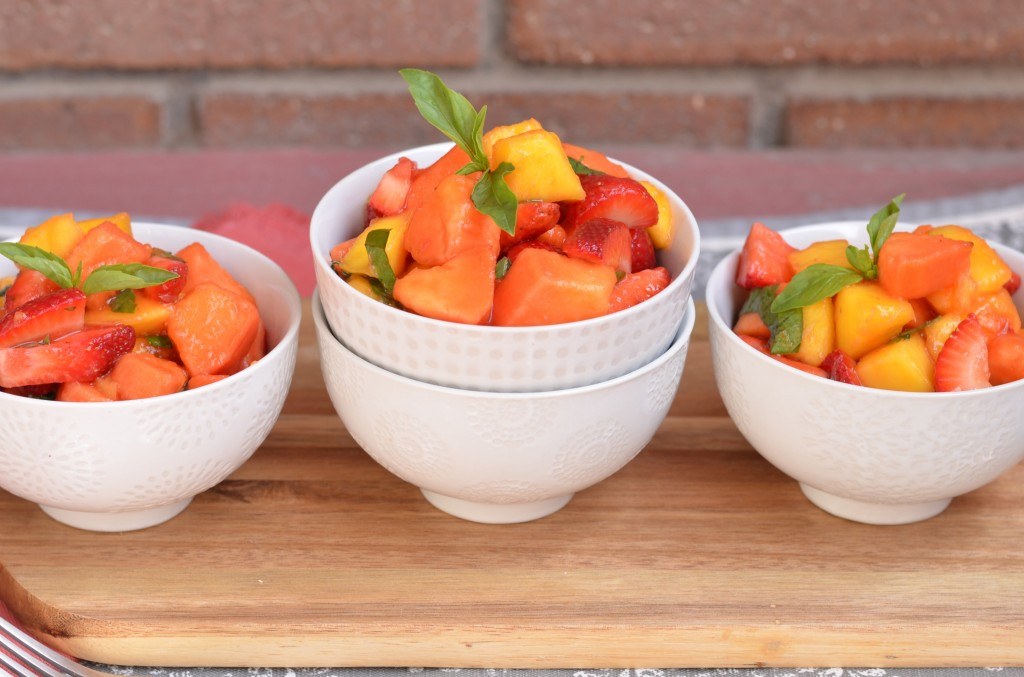 Thai-Inspired Fruit Salad with Lime and Thai Basil
Ingredients
3 cups peeled and chopped papaya (1/2 of a huge papaya)
2 mangoes, peeled and chopped (about 2 1/2 cups)
2-3 cups sliced strawberries
juice of 2 limes
1/4 cup packed Thai basil (or regular basil), sliced into thin ribbons
1/4 to 1/2 tsp kosher salt
Instructions
Combine all ingredients except for salt in a large bowl. Sprinkle with 1/4 tsp salt and stir. Taste and add another 1/4 tsp salt if flavors are not yet pronounced.
Salad is best immediately, but will also keep for 2-3 days in the fridge.