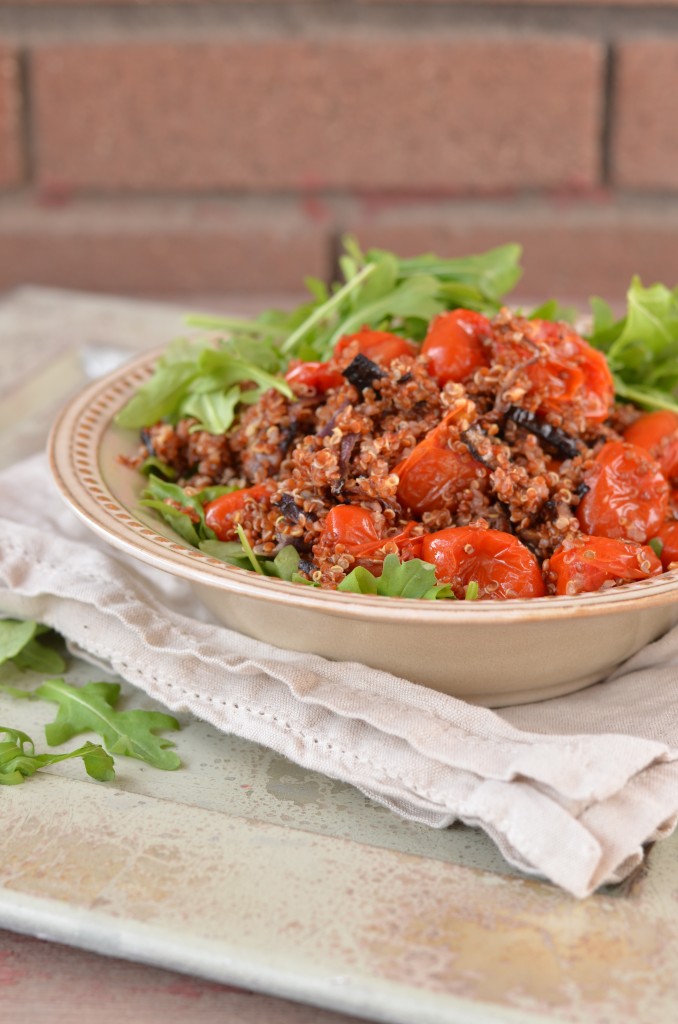 Hello, beautiful.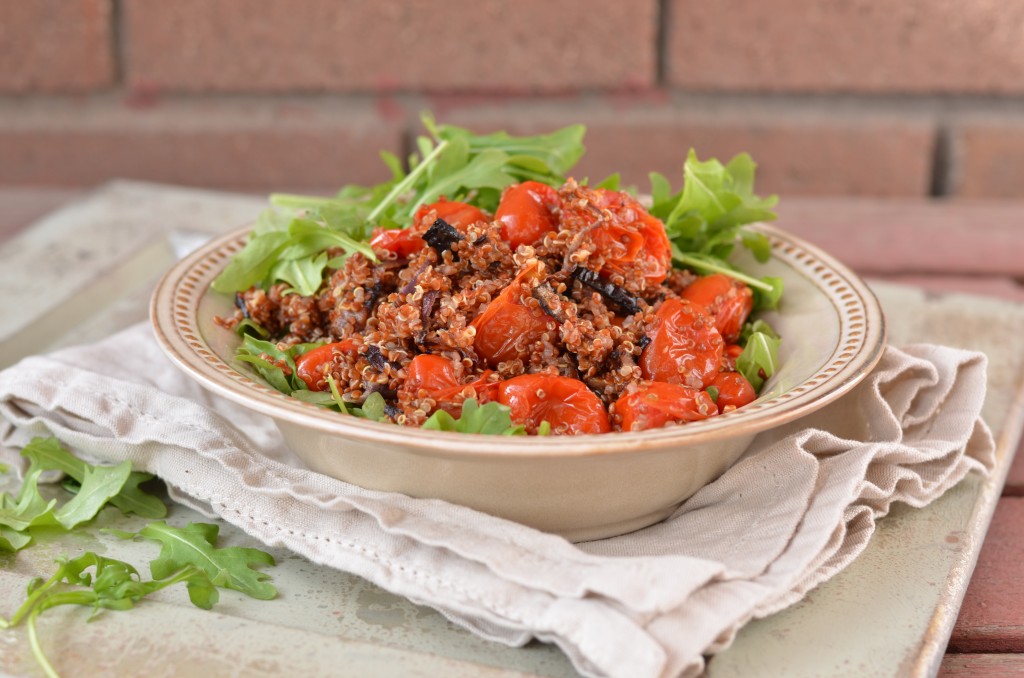 You should know that I've been wanting to post about this salad for a looong time. Ever since I started this blog, in fact. It's a copycat of my favorite salad at (probably) my favorite restaurant in Salt Lake, Caffe Niche. But every time I've made it, it hasn't quite lived up to the restaurant version, and I had to get it juuust right. But I think I finally did!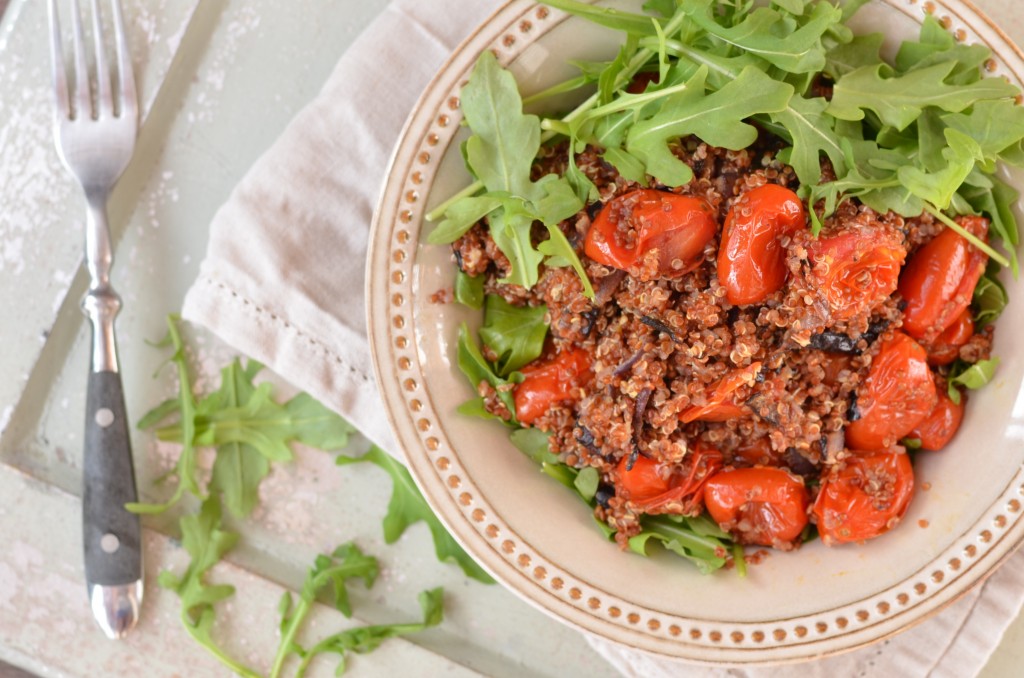 Warm red quinoa, roasted tomatoes and onions, and lemon dressing served over a bed of arugula. It is just as good as it sounds – the nutty flavor of the quinoa, the sweetness of the roasted vegetables, and the bite of the lemon and arugula all combine to make my perfect salad.
The restaurant serves this in full or half portions. I always get the full salad, telling myself I'll take the other half home. It hasn't happened once! I'm a goner as soon as I take the first bite.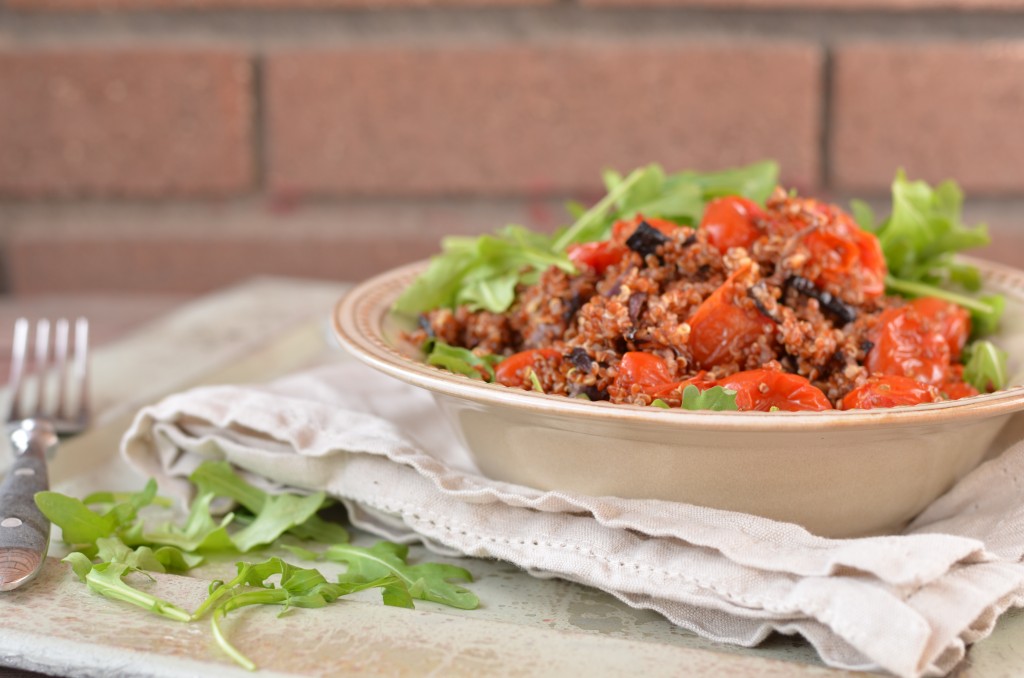 This is the kind of salad that you order for lunch on a sunny restaurant patio on a warm spring day. Preferably with a glass of red wine! It's satisfying but still light, and although I love the salad warm, the leftovers (if you manage to save any!) are excellent cold.
Can I cram any more pictures in here to convince you to make this salad ASAP? Well, maybe just a few.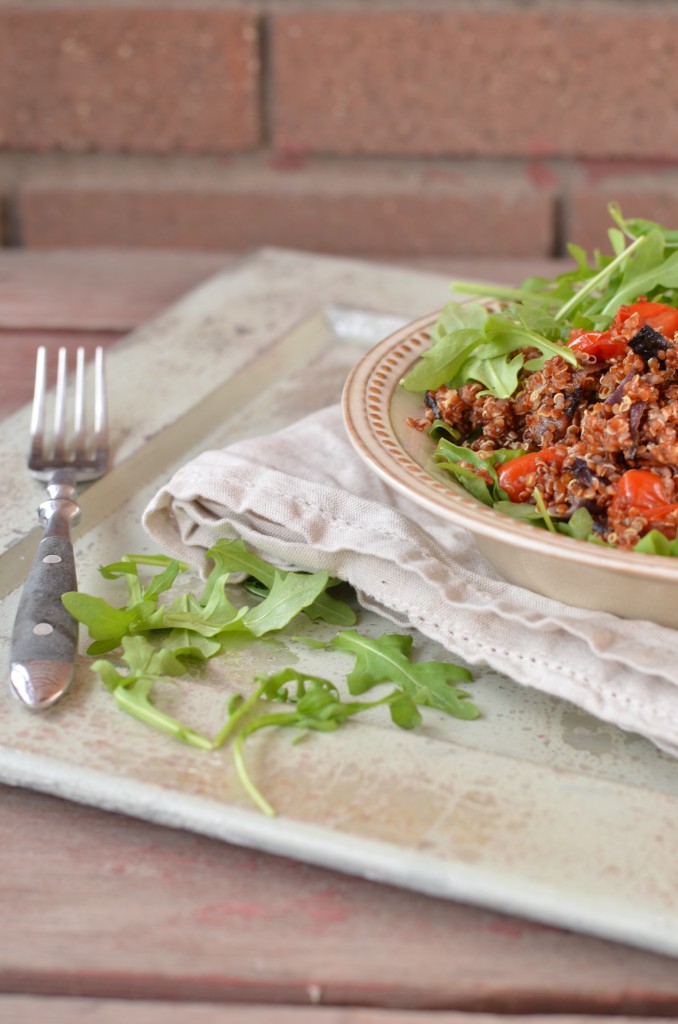 In the restaurant version, the onions are caramelized, rather than roasted. But let's get real – ain't nobody got time for that! Man I hate caramelizing onions – it always feels like a project. So I just tossed 'em in the oven with the tomatoes, which cut down on the cooking time (and dishes!), and still gives them a great sweet flavor.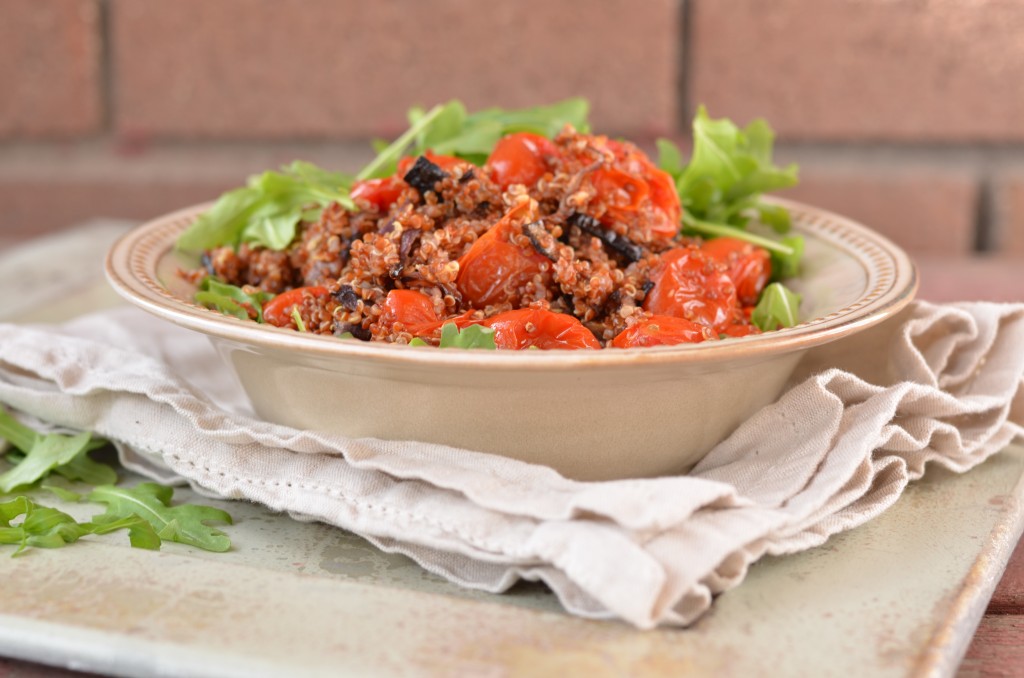 Also, I think I about quadrupled the amount of tomatoes from the restaurant version. I don't want them hiding in there, you know? I love that my take on the salad is just bursting with juicy roasted tomatoes.
I highly recommend putting this on your summer menu!
Have a good weekend, and happy Cinco de Mayo! No Mexican recipes from me this Cinco de Mayo, unfortunately… maybe I'll get my act together for that next week :)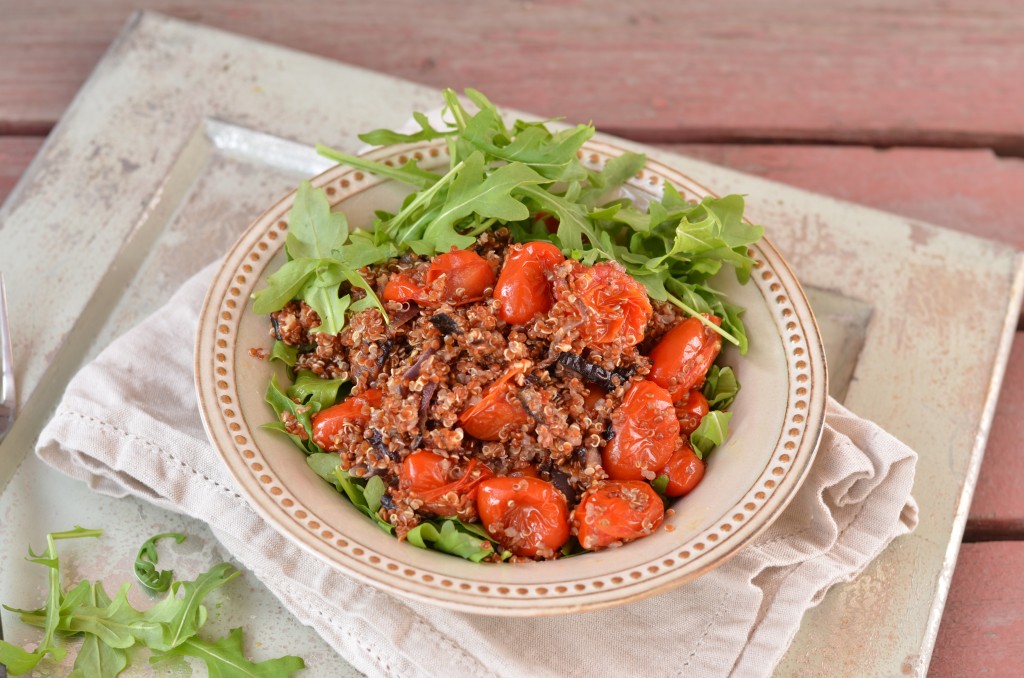 Warm Quinoa and Arugula Salad with Lemon Dressing
Ingredients
For the salad:
1 red onion, thinly sliced
2 tsp olive oil, divided
salt and pepper
2 pints grape or cherry tomatoes
1 cup dry red quinoa
arugula
For the dressing:
1/2 cup fresh lemon juice (from 2-3 lemons)
1/4 cup olive oil
1 tsp prepared mustard
1 tsp honey
2 cloves garlic
sprinkle of black pepper
Instructions
Preheat oven to 425. Separate onions into individual strips after slicing. Toss onions and tomatoes with olive oil, sprinkle with salt and pepper, and spread on a baking sheet. Roast until onions are beginning to get crispy and tomatoes have burst and are juicy, 15-20 minutes.
In the meantime, add quinoa to a pot with 1 1/2 cups water. Bring to a boil and simmer until tender, about 12-15 minutes. Drain excess water.
While quinoa and vegetables are cooking, prepare the dressing by blending all ingredients together.
Once quinoa and vegetables are ready, stir them together with half of the dressing. Serve on a bed of arugula with extra dressing alongside. You may have leftover dressing.
Enjoy!