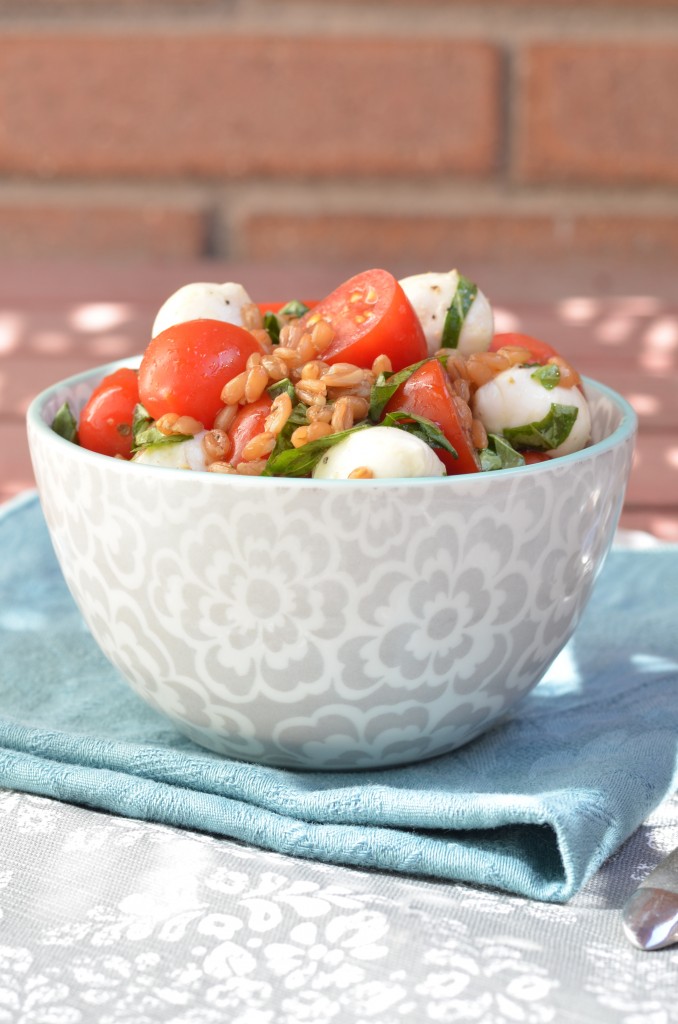 Caprese salad is one of my summertime favorites. I love how the fresh flavors somehow make red, white and green seem not at all Christmas-y!
I usually make a layered version, with big slices of vine-ripened tomatoes and fresh mozzarella sprinkled with sliced basil leaves, salt and pepper, and drizzled with olive oil. But I also have a soft spot for mini things (I think this is hard-wired into females of all species?), and little baby balls of mozzarella are no exception. So this time I decided to make a mini caprese, focusing on the awesome textures.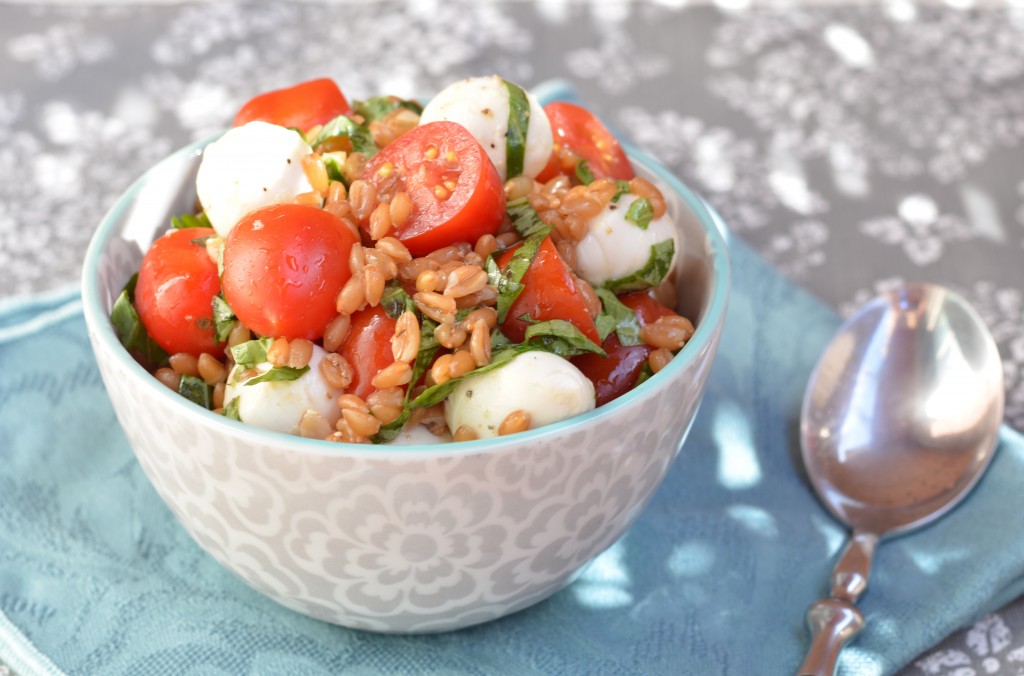 Grape tomatoes were an obvious choice – one of my favorite salad ingredients of all time. I love the way they pop when you bite into them! It totally makes my day when they're back in season and I can pick up a delicious-looking pint for $1.99, rather than $3.99 for some shriveled and bruised ones. Out-of-season tomatoes are just so sad.
I also changed this caprese salad up by adding a grain, specifically spelt. I love spelt for its chewy texture, and it makes any dish heartier. Along with the  juicy tomatoes and smooth fresh mozzarella, it really contributes to the great texture combo in this salad.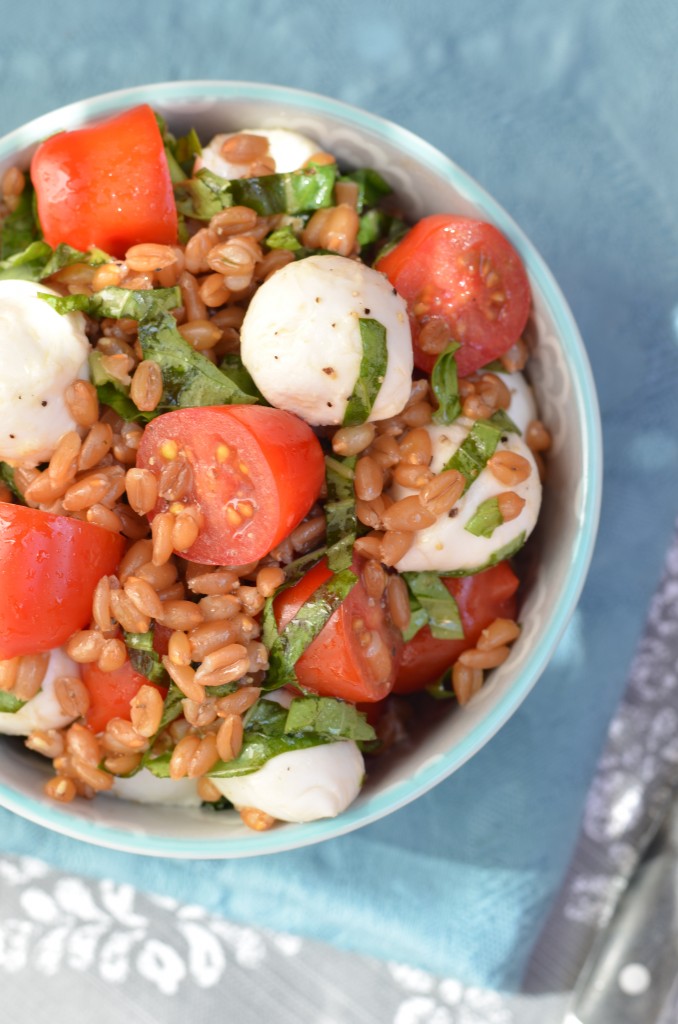 This makes a great side dish for a summer dinner, or by itself in larger portions for lunch. I plan on eating it all summer long!
On a slightly different note, this weekend I accomplished a task I'd been meaning to get to for a long time: adding a Recipes page to this site! A link to it is in the main navigation bar at the top of the page. It's nothing fancy, but it's functional – a categorized list of my past recipes. Hopefully this will make it easier to navigate the archives and plan out a few meals! Let me know if you happen upon any links that are broken or point to the wrong place, and I'll get them fixed ASAP.
Enjoy your Monday!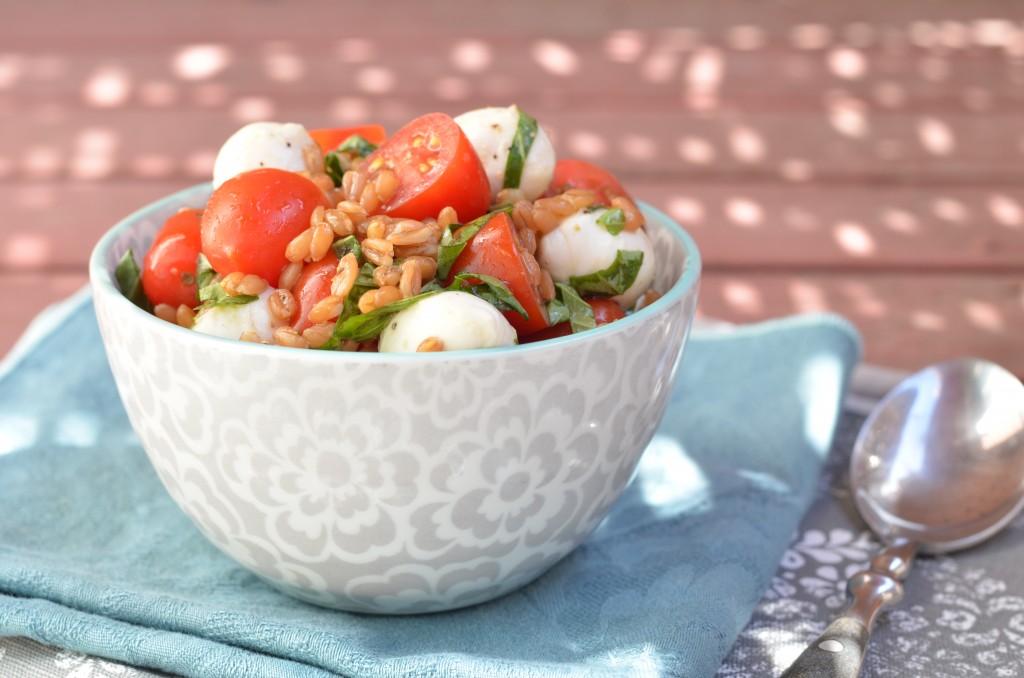 Caprese Grain Salad with Spelt
Juicy tomatoes, smooth fresh mozzarella and chewy spelt lend an awesome texture to this mini caprese salad.
Yields:
4 servings as a side
Ingredients
scant 1 cup dry spelt berries, rinsed
1 pint (2 cups) cherry or grape tomatoes
1 8-oz container fresh mozzarella balls, drained (about 1 1/2 cups)
3/4 cup thinly sliced basil leaves
2 Tbsp olive oil
1/4 tsp kosher salt
1/4 tsp ground black pepper
Instructions
In a small pot, bring spelt berries to a boil with 2 cups water. Reduce heat and simmer until tender and chewy, about 55 minutes. Drain any remaining water and cool to room temperature. (This can be done ahead of time.)
Slice tomatoes in half. Add to a bowl with the cooked and cooled spelt, mozzarella balls, and sliced basil. Drizzle with olive oil and sprinkle with salt and pepper. Stir to combine. Taste and add additional salt and pepper to taste.
Serve immediately. Enjoy!