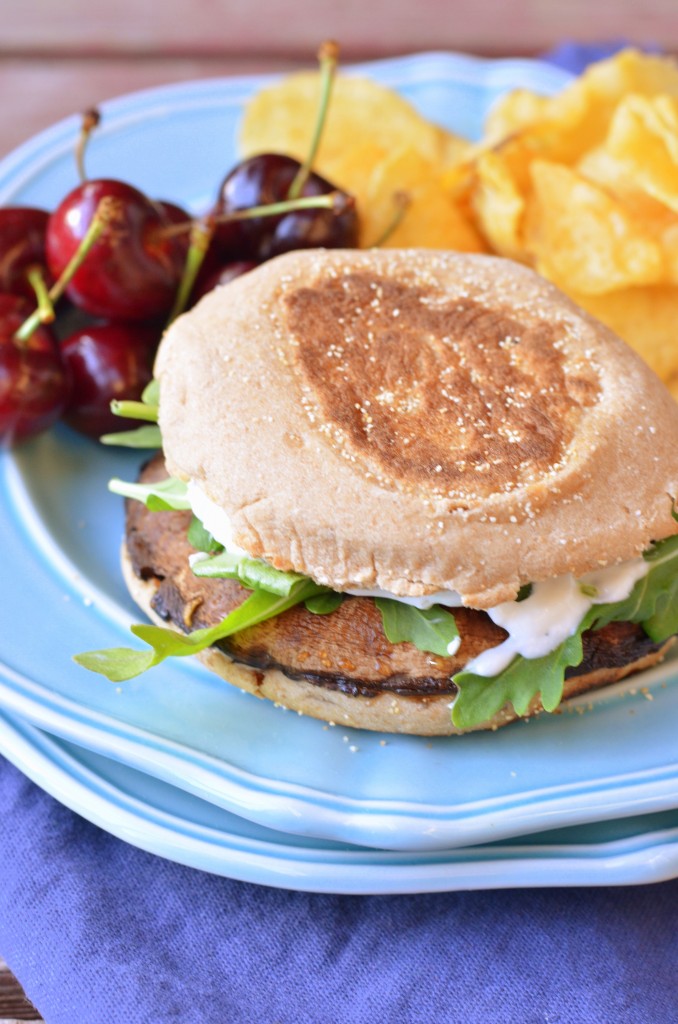 Have you ever had a portobello burger before? Probably.
But have you ever had a cayenne portobello burger with herbed goat cheese?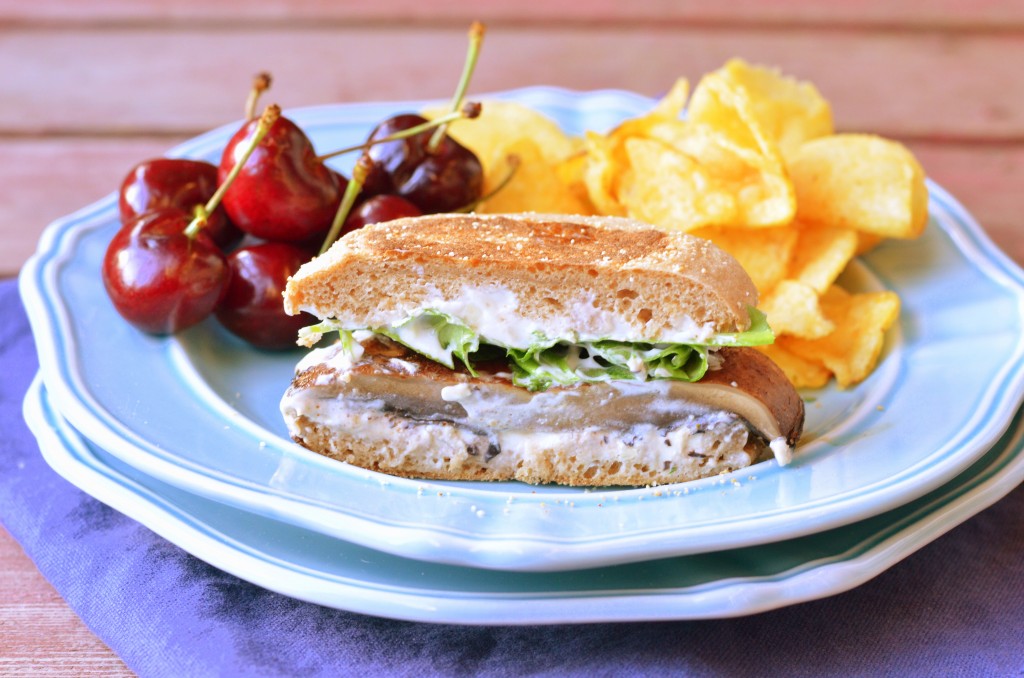 Ohhh my goodness. There's really nothing like it.
I have a lot of firsthand experience with portobello burgers and sandwiches that are pretty "meh." Ordering one at a restaurant really seems to be a toss-up: it's either mind-blowingly delicious or flavorless and underwhelming. Well, I have the antidote to flavorless and underwhelming: cayenne + goat cheese.
Not too much of either (although I think we could debate the assumption that such a thing as too much goat cheese is possible) – just enough for a spicy, tangy, melt-in-your-mouth amazing portobello burger. Pair that with fragrant thyme and peppery arugula, and you just might have the best burger ever.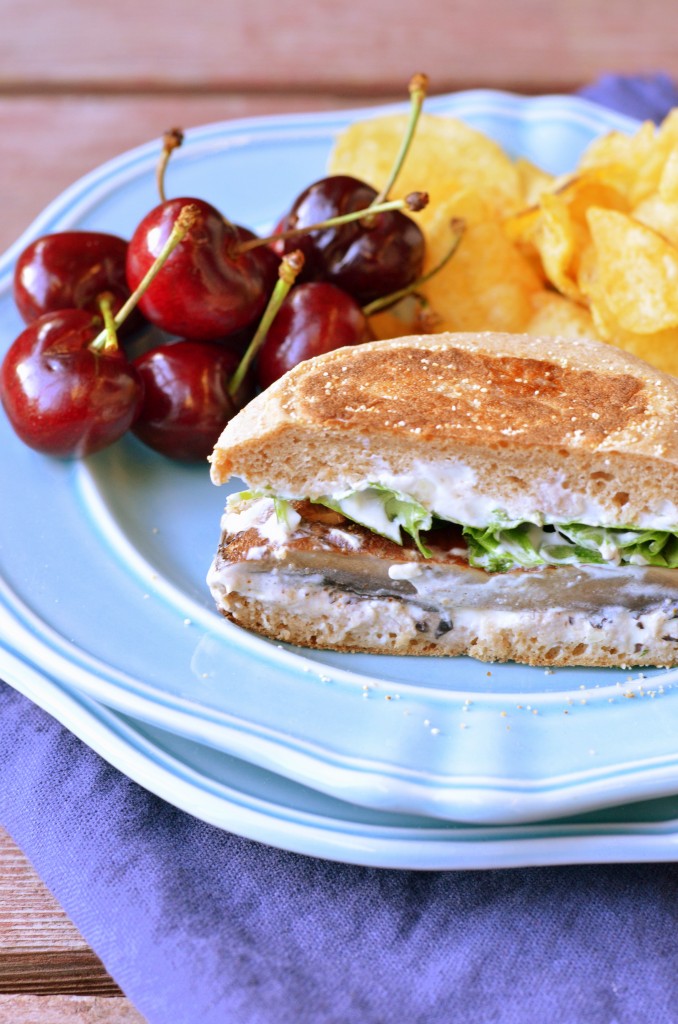 Oh yeah, on an English muffin bun! That has somehow become my favorite way to eat a burger. Make sure to try it if you never have!
If goat cheese isn't your thing, I don't understand. BUT you can leave it out, and the same goes for the arugula. The yogurt sauce and cayenne are flavorful enough to still satisfy.
You can make these on the grill, but as I've mentioned before on here, I don't own one. Don't judge! I may cave and buy a small one this summer, but first I really want to figure out whether we're staying in our current apartment next year or not. In the meantime, they are delicious in the oven. Either works!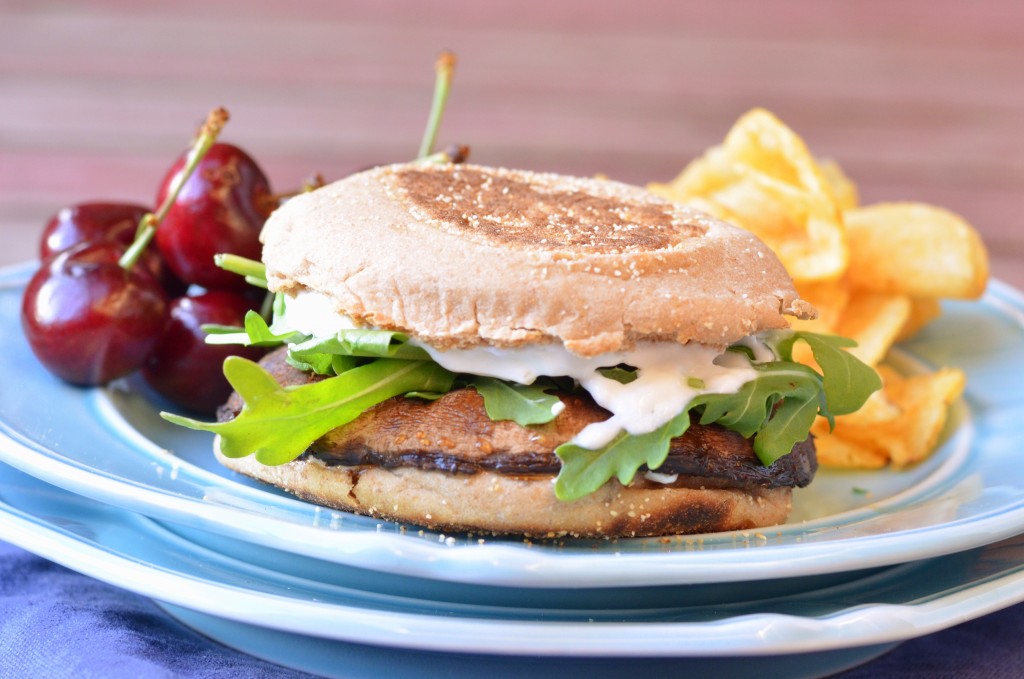 Cayenne Portobello Burgers with Herbed Goat Cheese Spread
Ingredients
For the mushrooms:
4 medium-size portobello mushrooms (try not to get huge ones!)
1 Tbsp olive oil
2 tsp balsamic vinegar
1/2 tsp cayenne pepper (reduce to 1/4 tsp for less of a kick)
sprinkle of ground black pepper
For the herbed goat cheese spread:
3/4 cup Greek yogurt
1/4 cup crumbled goat cheese
2 small cloves garlic, minced
1 Tbsp thyme leaves
For serving:
4 English muffins
arugula
Instructions
Preheat oven to 425. (Alternatively, these can be made on a medium-hot grill.) Remove portobello stems and wipe the tops clean with a damp paper towel.
In a small bowl, mix together the olive oil, balsamic vinegar, and cayenne. Brush both sides of the portobellos, especially the gill side, with this marinade. Place portobellos gill side up in a glass baking dish. Sprinkle with pepper.
Roast for 15-20 minutes, until portobellos are soft and juicy.
While mushrooms are roasting, mix together all ingredients in the herbed goat cheese spread. Toast the English muffins.
Remove portobellos from oven. Spread both halves of each English muffin with the goat cheese spread, place portobello on top, and finish with a small handful of arugula before pressing the top of the English muffin on.
Enjoy!