The Laughing Cow® provided me with the product featured in this post. However, all thoughts and opinions are entirely my own and do not necessarily reflect those of the brand.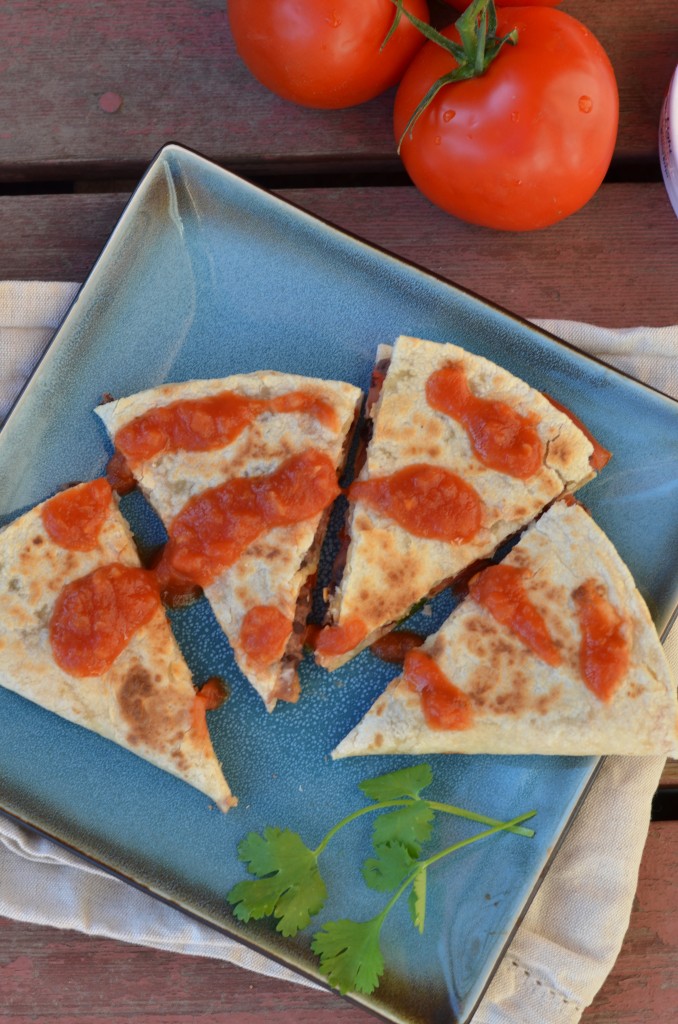 I am loving the quesadilla thing recently.
Hot, crispy, cheesy, and bursting with flavor.
And how could you not love an easy meal that takes 10 minutes to get to your plate?
That's right, you couldn't.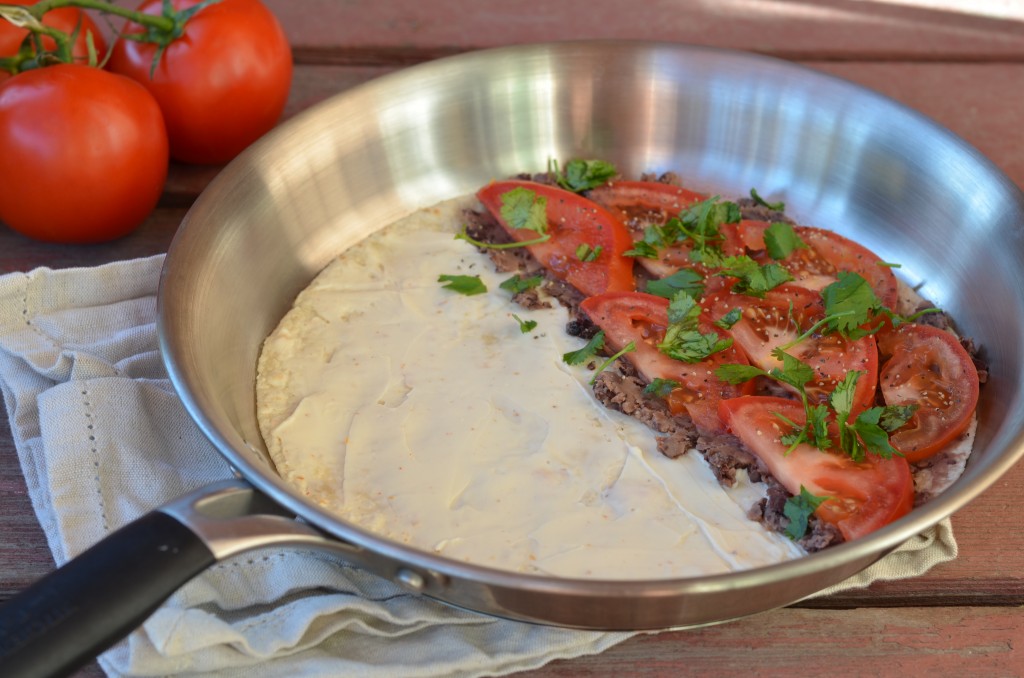 Sometimes I want a quesadilla loaded down with nothing but cheese. But often, especially this time of year, I'd rather prepare something with light, fresh flavors instead of such heavy ones. 
So I was very pleased when the lovely folks at The Laughing Cow offered to send me a few of their cheeses to try out. Yum! Just the thing I had in mind. One wedge was perfect for holding a quesadilla together, making it creamy and delicious, but still qualifying it as a light dinner.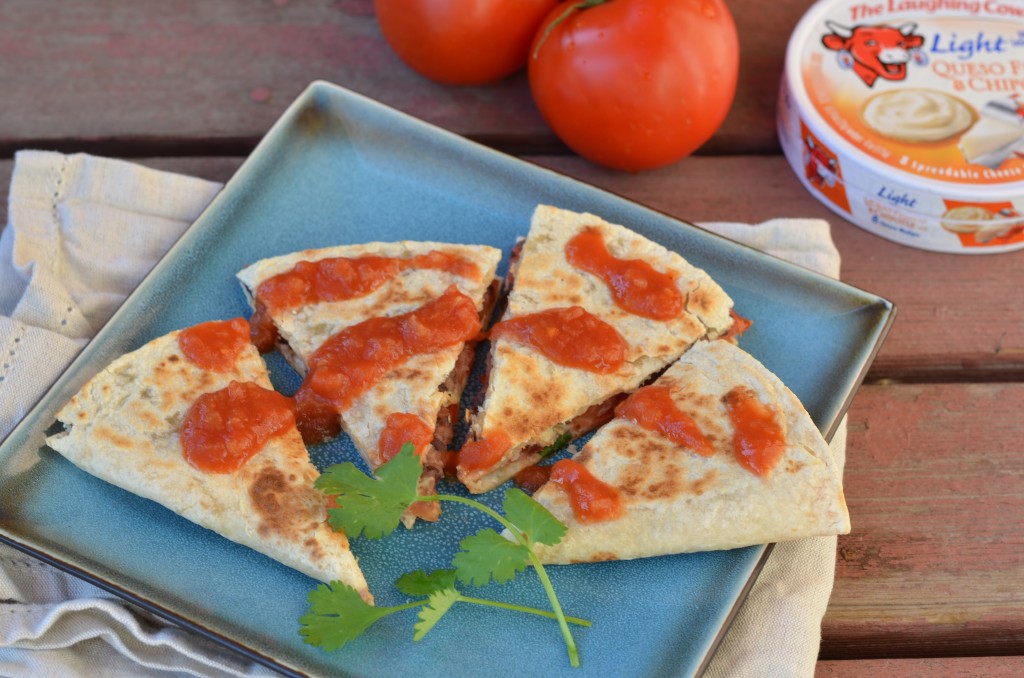 I've been experimenting with several different quesadilla combinations using Laughing Cow spreads. I have yet to go wrong, but I think this one is my favorite! I chose the queso fresco and chipotle spread because I wanted the Southwestern flavors, but it would also be delicious with the regular Swiss spread. The cheese itself is not too spicy, don't worry – although you certainly can add some extra chipotle heat, like I did.
I've eaten this quesadilla for both breakfast and dinner – the type of meal you know I've been loving lately. Perfect with a spread of salsa and sprinkle of some extra cilantro.
Thanks to the Laughing Cow for generously providing the cheese and inspiration for this quesadilla.
Now get on it. This is yours in 10 minutes!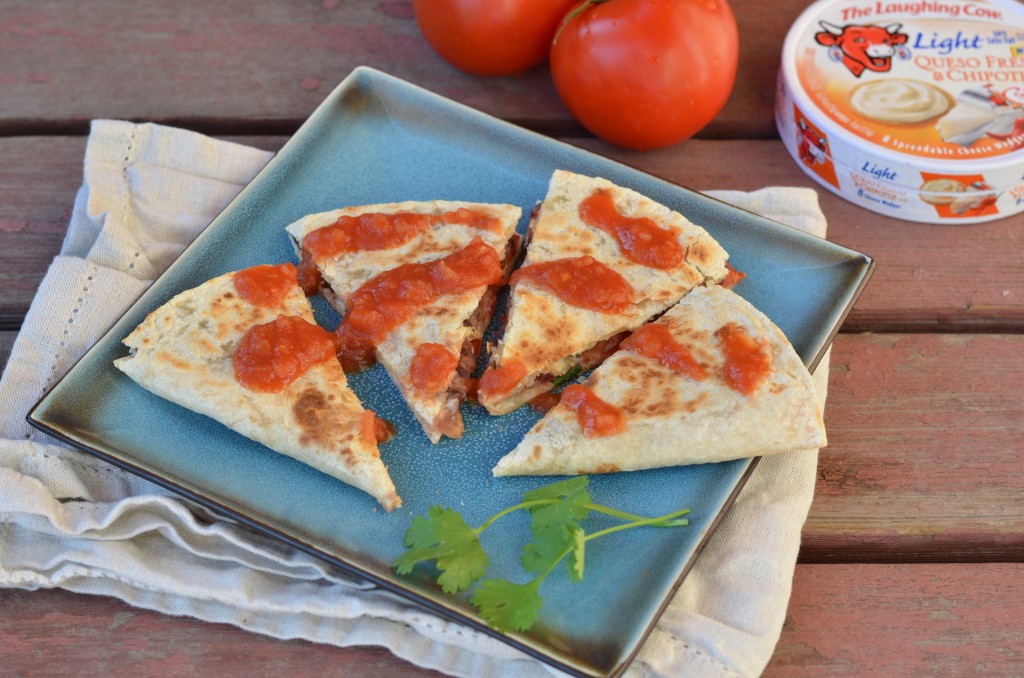 Chipotle Black Bean and Tomato Quesadilla
Yields:
2 single-serving quesadillas
Ingredients
2 medium-sized tortillas
2 wedges Laughing Cow queso fresco & chipotle spread
1/2 cup cooked black beans
1 tsp adobo sauce (from a can of chipotle chilies in adobo), optional
1-2 vine-ripened tomatoes, halved and thinly sliced
small handful of cilantro, torn
sprinkle of black pepper
salsa to serve
extra cilantro to serve
Instructions
Spread one wedge of Laughing Cow spread on half of each tortilla.
In a bowl, mash together the black beans and adobo sauce. Divide the mixture equally between the remaining halves of the two tortillas.
Arrange the tomato slices in a layer on top of the bean mixture. Top with the cilantro and a sprinkle of black pepper. Fold the cheesy half of each tortilla down over the bean-and-tomato half.
Preheat a pan or skillet over medium-high heat. Once hot, add the quesadillas (one at a time, depending on how much room you have). Cook until golden brown on one side, about 2 minutes, then flip carefully and cook until the second side is golden brown.
Slice into wedges and serve immediately. Top with salsa and extra cilantro.