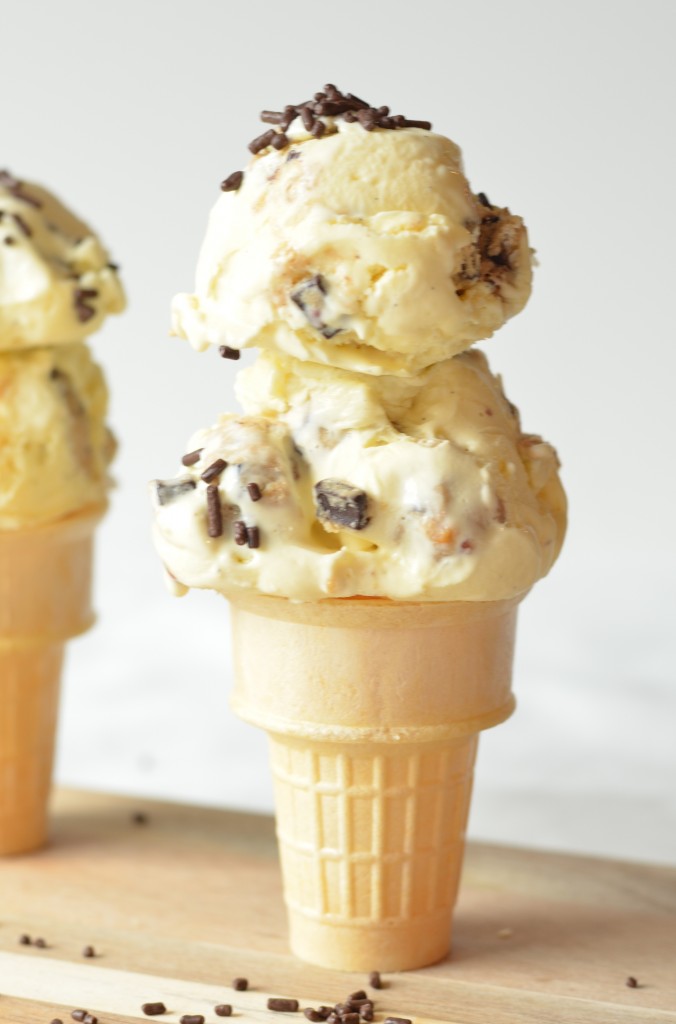 If you give a mouse a cookie, he's going to ask for a glass of milk.
And if you give a mouse Chunky Lola cookie dough, he just might ask for vanilla bean ice cream.
Or something like that.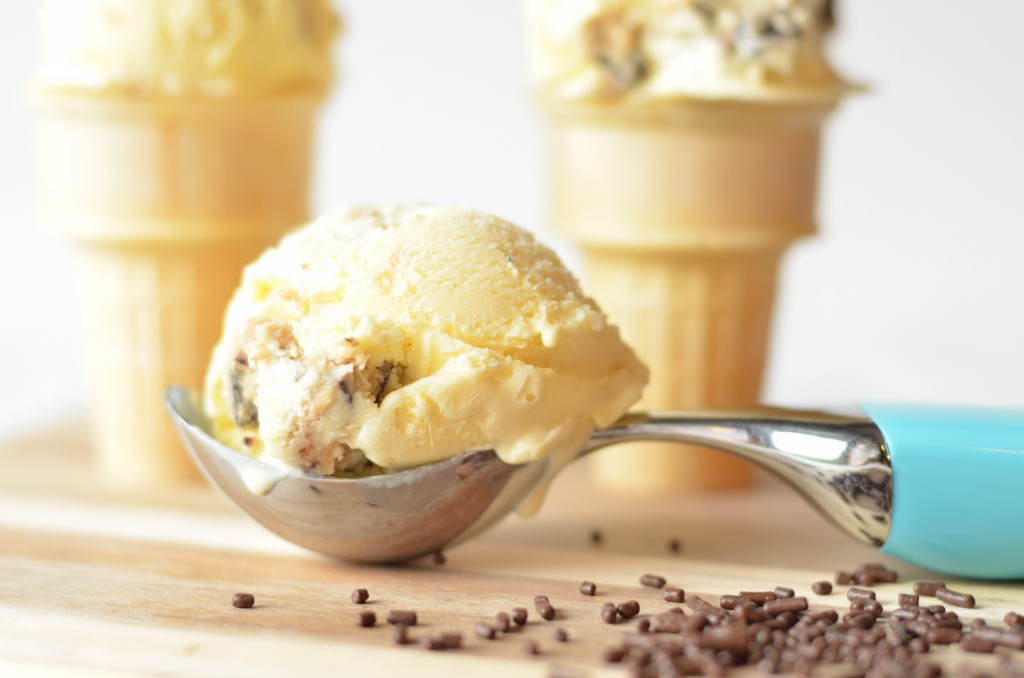 If you've spent any time with me (in real life), I've probably fed you some cookies called Chunky Lolas. And now, even if you and I have never had the chance to hang out outside of blog-land, I'd like to do the same to you.
Chunky Lolas are my favorite cookies of all time. They are an everything-but-the-kitchen sink type of cookie – basically a chocolate chip cookie on steroids that will ruin the plain ol' chocolate chip kind for you forever. They hail from the Flour cookbook, but they've become my signature cookie because I've never met someone who didn't like them. And the cookie dough, especially, is out of this world.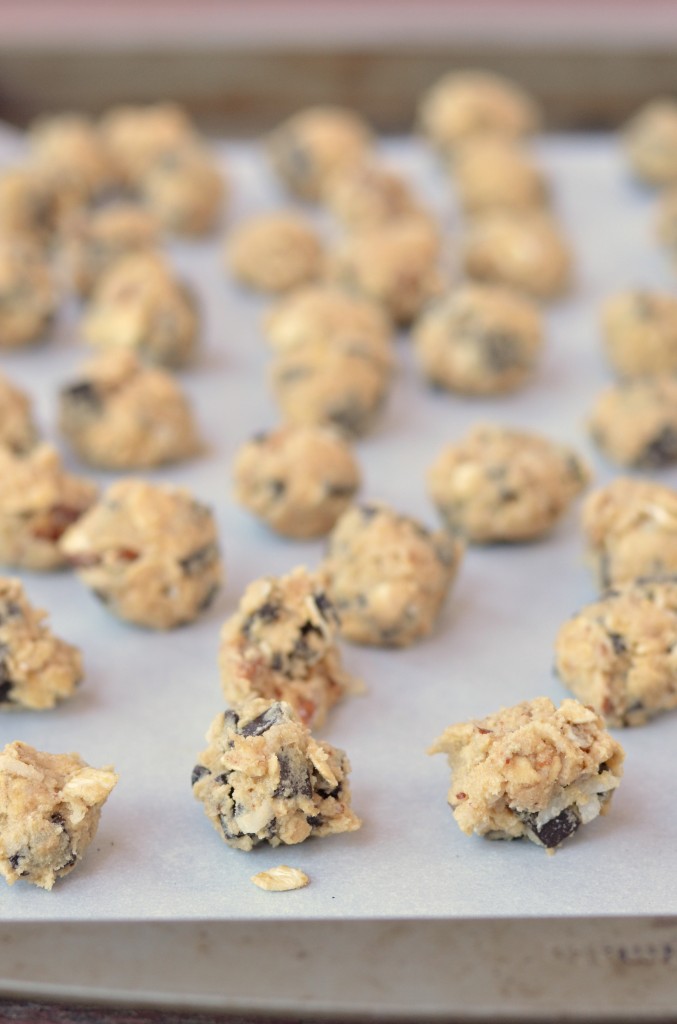 To back up a bit, ice cream Fridays are now a real thing on this blog. Every Friday for as long as I have the stamina (maybe the rest of the summer; we'll see!), I'll post a new ice cream recipe for you. First came honey thyme, and this Chunky Lola cookie dough is the second installment. I guarantee that some of them will be weird foodie flavors – honey thyme definitely falls in that category, as does next week's flavor – but some of them have to be good old American summertime classics, which is why we have cookie dough today.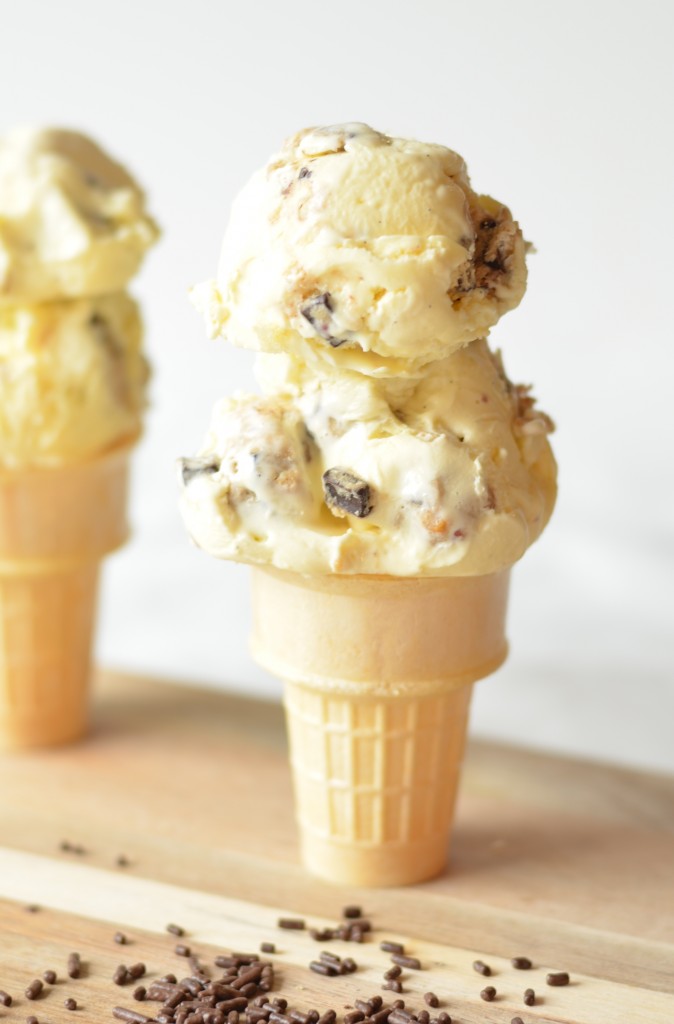 And as we all know, the classics always come out on top. This is definitely the best chocolate chip cookie dough ice cream I've ever had, far and away the best ice cream I've made… and bordering on the best ice cream I've ever eaten?! (…Hesitation – because I really like ice cream.) I'm salivating as I type this, and I can't even wait for a whole summer of ice cream concoctions like this. Eek!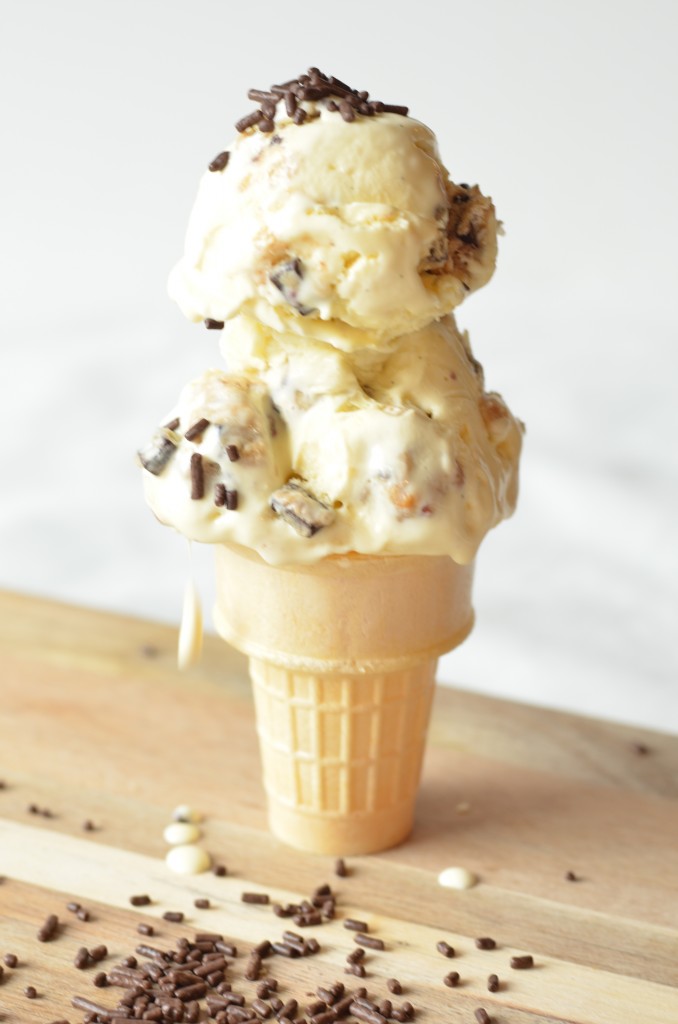 So, this ice cream. It is the ultimate vanilla ice cream (seriously), studded with the best cookie dough you've ever had. The vanilla is so good that you might have a moment's hesitation about polluting it with the chocolate chunks, pecans, oats, and coconut that Chunky Lolas entail. But don't be ridiculous: Chunky Lolas make everything better. Just do it.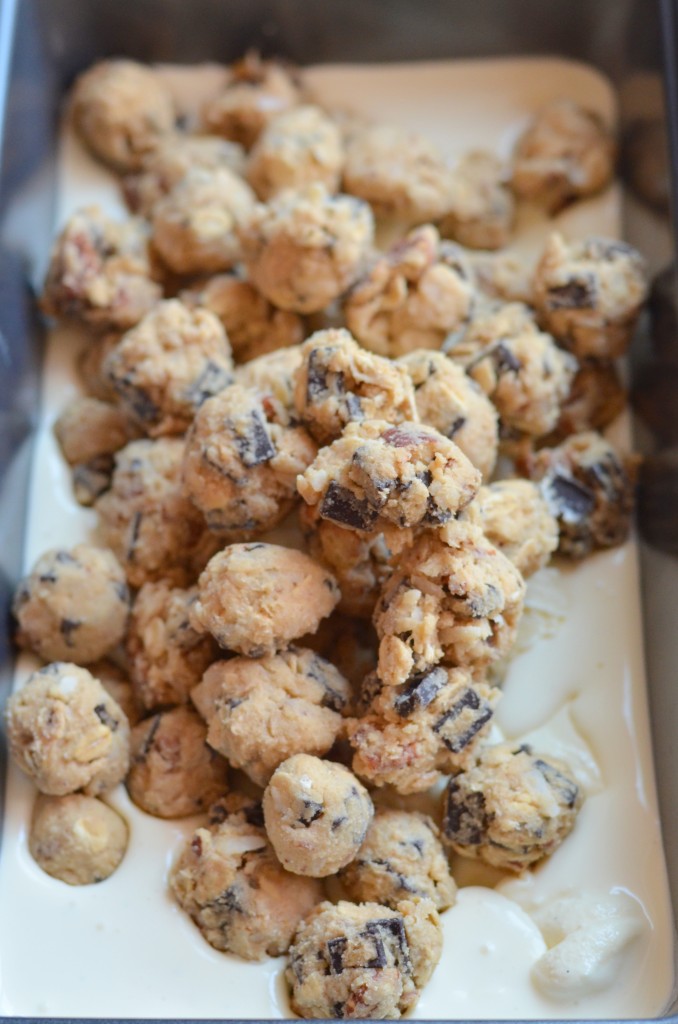 The great part about the cookie dough in this recipe is that it's eggless, meaning that it won't be a problem when you your kids eat half of it while while rolling it into the little bits you need for the ice cream. Look Ma, no salmonella! And rest assured that even with the cookie dough decimated during the rolling step, there will still be enough left to get huge cookie dough chunks in every bite of ice cream. That part of the recipe has been, um, rigorously tested.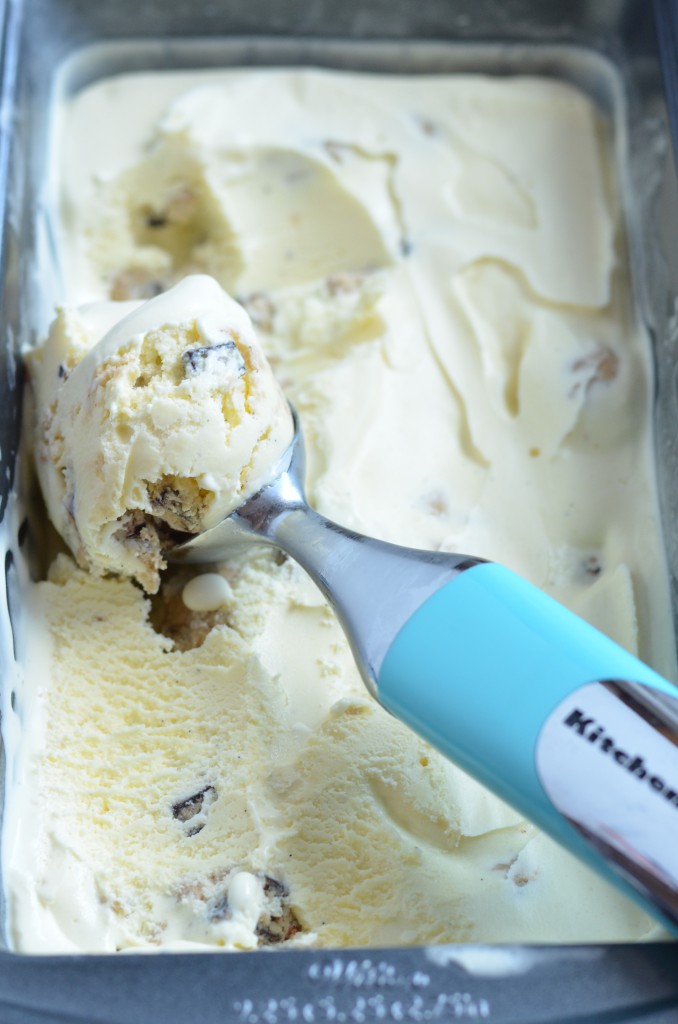 Because you're taking the extra step of making cookie dough, this ice cream takes a little longer to prepare than some others. IT'S WORTH IT. If you're feeling generous, it would be the perfect thing to serve on the Fourth of July. But a word of warning: be careful to whom you serve it. You better like those people. If you give a mouse a cookie, you know? Nate and I, for example, have been together four years now, and I'm fairly sure he's just been waiting for the next batch of Chunky Lolas for at least two of those. (Thank goodness for that recipe!) So serve wisely!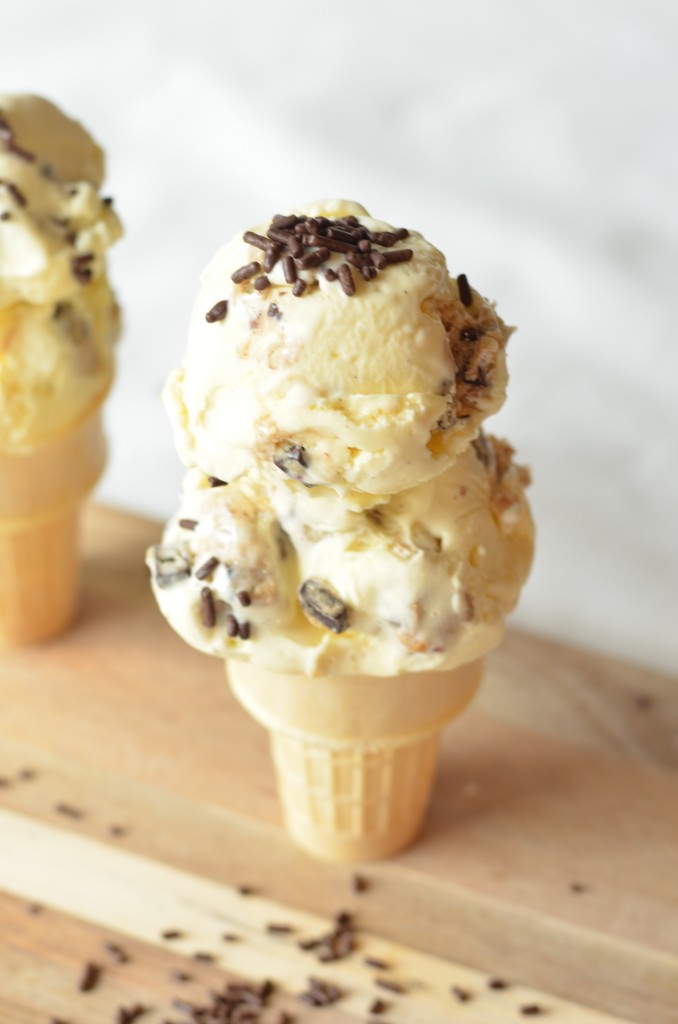 Chunky Lola Cookie Dough Ice Cream
The best cookie dough ice cream you'll ever have: vanilla ice cream studded with chocolate chip, oat, pecan and coconut cookie dough. Eggless cookie dough means this is safe for kids.
Ingredients
For the vanilla ice cream:
1 cup whole milk
3/4 cup sugar
2 cups heavy cream, divided
pinch of salt
1 vanilla bean
6 egg yolks
3/4 tsp vanilla extract
For the cookie dough bits:
7 Tbsp unsalted butter, at room temp
1/3 cup sugar
1/3 cup packed brown sugar
2 Tbsp milk
1/2 tsp vanilla extract
1/2 cup + 2 Tbsp all-purpose flour
1/3 cup rolled oats
1/4 tsp kosher salt
1 cup mini dark chocolate chunks or mini chocolate chips
1/2 cup heaping pecan halves, toasted and chopped
1/2 cup sweetened shredded coconut
Instructions
First, make the vanilla ice cream. In a medium saucepan, warm the milk, sugar, 1 cup of cream, and salt over low heat. Stir until sugar is dissolved. Split the vanilla bean down the middle and scrape the seeds out. Add the seeds and the vanilla bean to the cream mixture. Remove from heat, cover, and let sit for 30 minutes.
In a medium bowl, whisk the egg yolks together. Slowly pour about 1/2 a cup of the warm cream into the egg yolks, stirring constantly. Pour in the rest of the cream mixture, and then pour the mixture back into the saucepan (including the vanilla bean).
Place saucepan over medium-low heat and stir constantly with a wooden spoon until the mixture reaches 175 degrees. It should be thick enough to coat the back of the spoon and hold a line when you draw your finger across it. Remove from heat and strain into a medium-sized bowl. Add the vanilla bean to the bowl and stir in the remaining cup of cream and the vanilla extract. Optionally, make an ice bath by placing a few handfuls of ice cubes and a splash of cold water in a large bowl and placing the bowl with the custard inside of it. (Otherwise, you can simply cool it in the bowl.) Once cooled to room temperature, place in the fridge until completely chilled, up to overnight.
While the custard is chilling, make the Chunky Lola cookie dough. With an electric mixer, cream together the butter and both sugars until light and fluffy. Beat in the milk and vanilla extract.
In a separate bowl, stir together the flour, oats, and salt. Add the chocolate, pecan, and coconut and stir to combine. Add to the wet ingredients and stir until thoroughly combined.
Cover a baking sheet with parchment paper. Roll the cookie dough into small balls, about 1/2 tsp each, and place on the baking sheet. Freeze for at least 30 minutes, or while ice cream is churning.
When ready to churn the ice cream, remove the vanilla bean. Churn in an ice cream maker according to the manufacturer's instructions.
Scrape ice cream into a container. Pour the cookie dough bits in and mix until evenly incorporated. Cover and freeze for at least 2 hours before serving.
Enjoy!