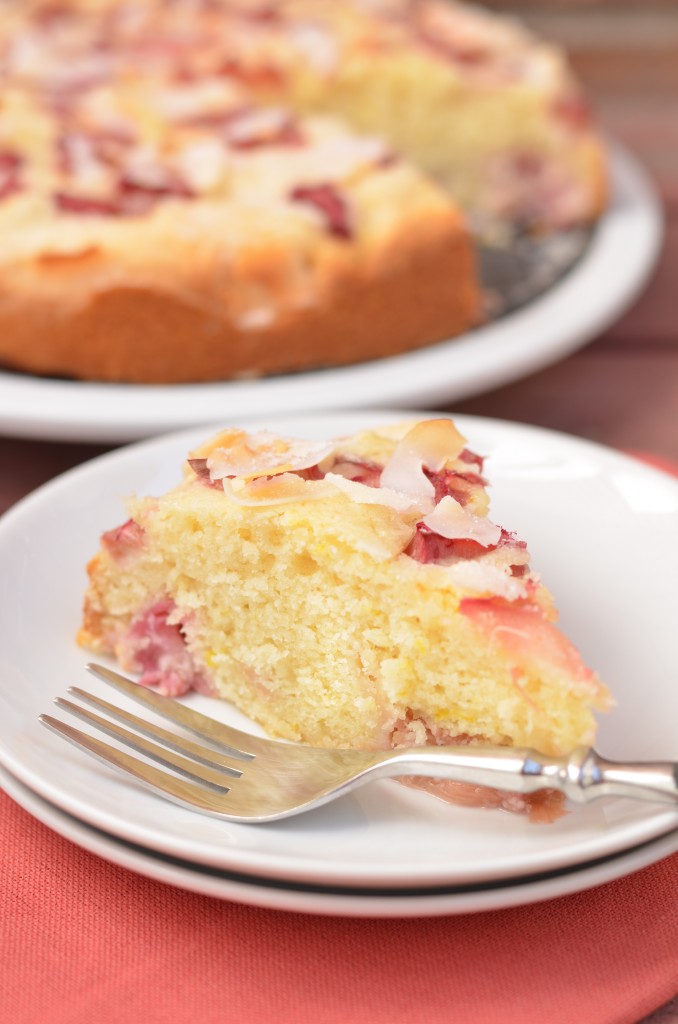 I couldn't let the season go by without posting some rhubarb recipe. It's no secret that I love colorful foods, and rhubarb is right up there with the prettiest of 'em.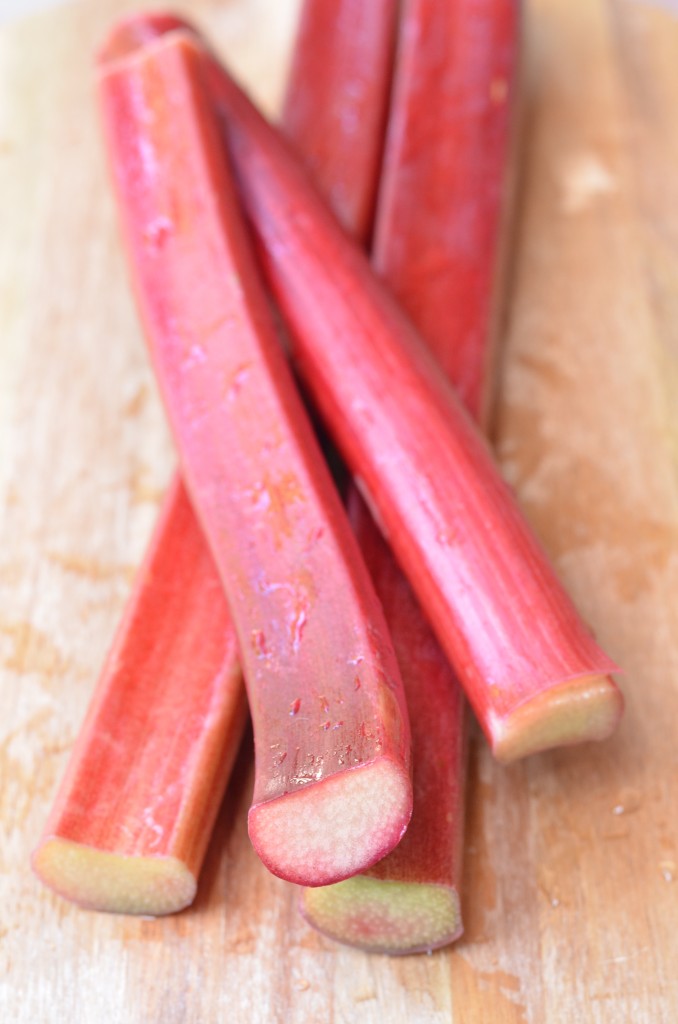 I hope rhubarb is still in season where you are! That way you can make this yummy cake.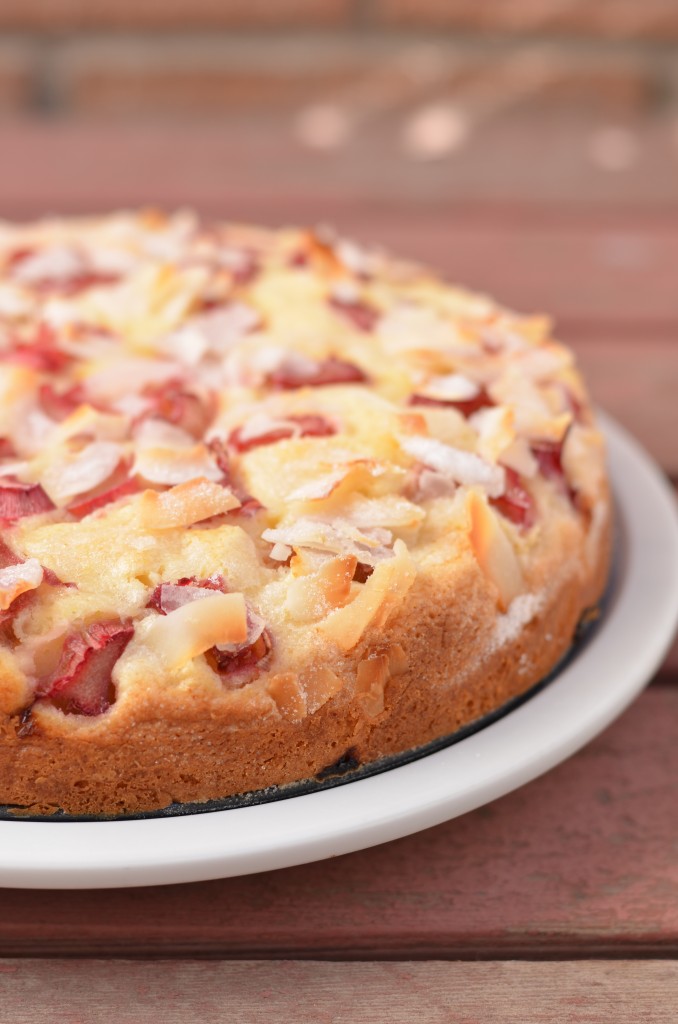 Now I wasn't raised on rhubarb; I don't recall my mother ever making a strawberry rhubarb pie. In fact, I think last year was the first time I'd ever had rhubarb! It cracked me up when I first tasted it – looks like red celery, tastes like sour apples. What a funny little stalk!
I have a lot more experimenting to do with rhubarb, but let's focus in on this particular experiment: coconut rhubarb cake.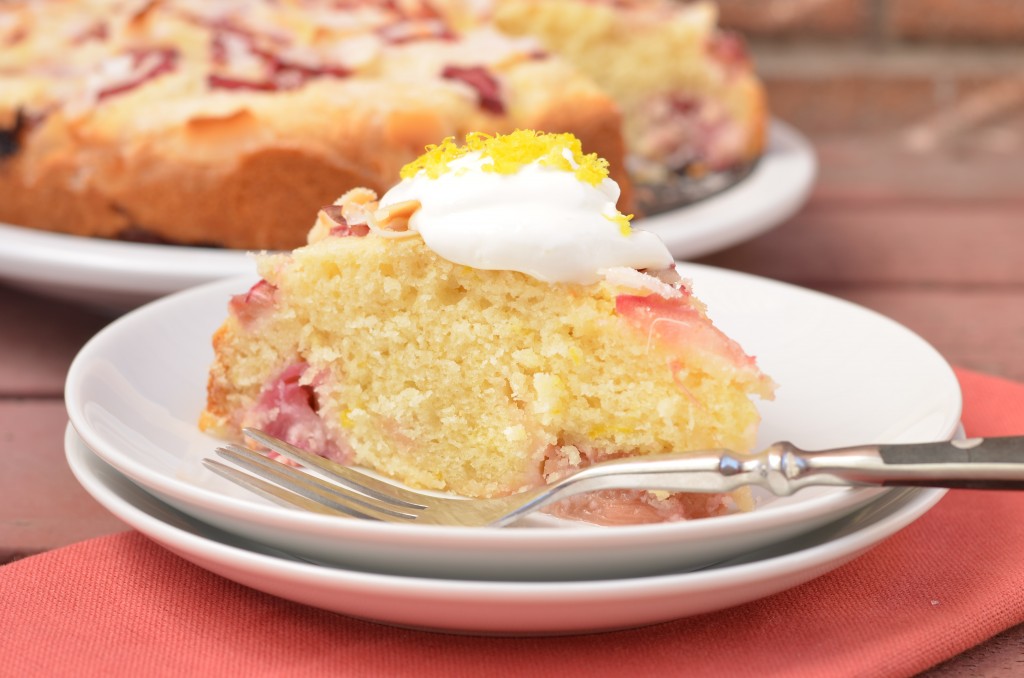 This is a simple, sweet cake that is jazzed up with rhubarb, orange zest, and coconut. Coconut + rhubarb might be an unusual combination, but I love the way the sweetness of the cake and coconut contrast with the tang of the rhubarb. There is also some sugar sprinkled over the top to add a little caramelized crunch to the coconut flakes. Mmm a perfect little cake!
I did experiment with a yogurt cake as the base for this. I didn't like how heavy it was, because this is a spring cake, after all. However, the pictures of that yogurt cake turned out so pretty that I just have to show you one: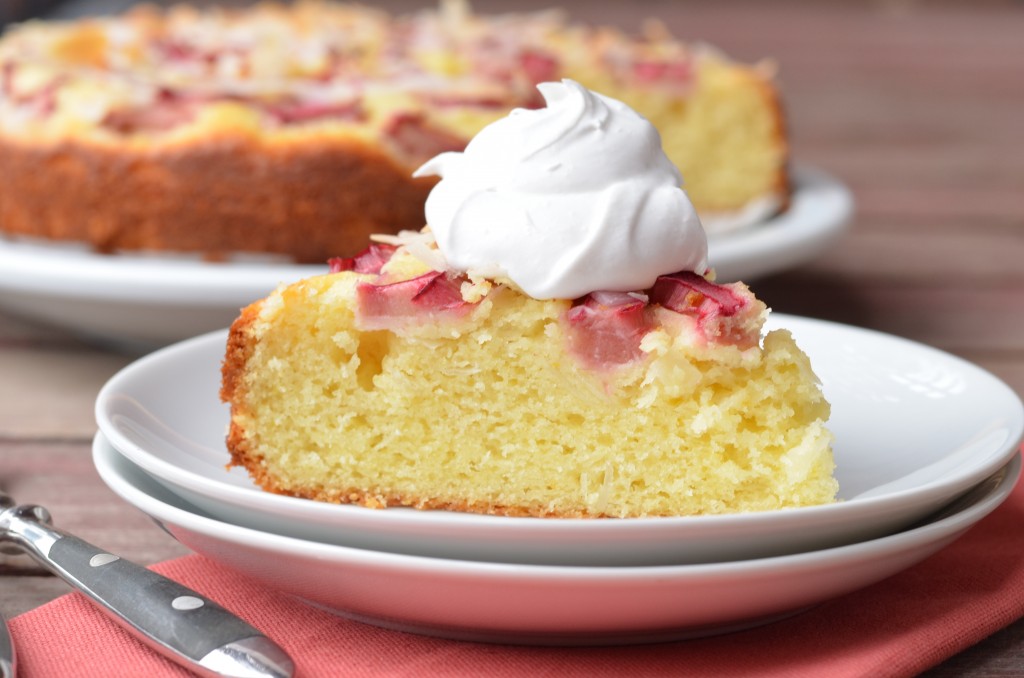 I am just in love with that swirl of whipped cream on top! It's actually coconut cream – my first time whipping it. Well, as it turns out, I don't really care for whipped coconut cream. So on the final version, we have just regular whipped cream. A little slouchier, but in my opinion, much more delicious.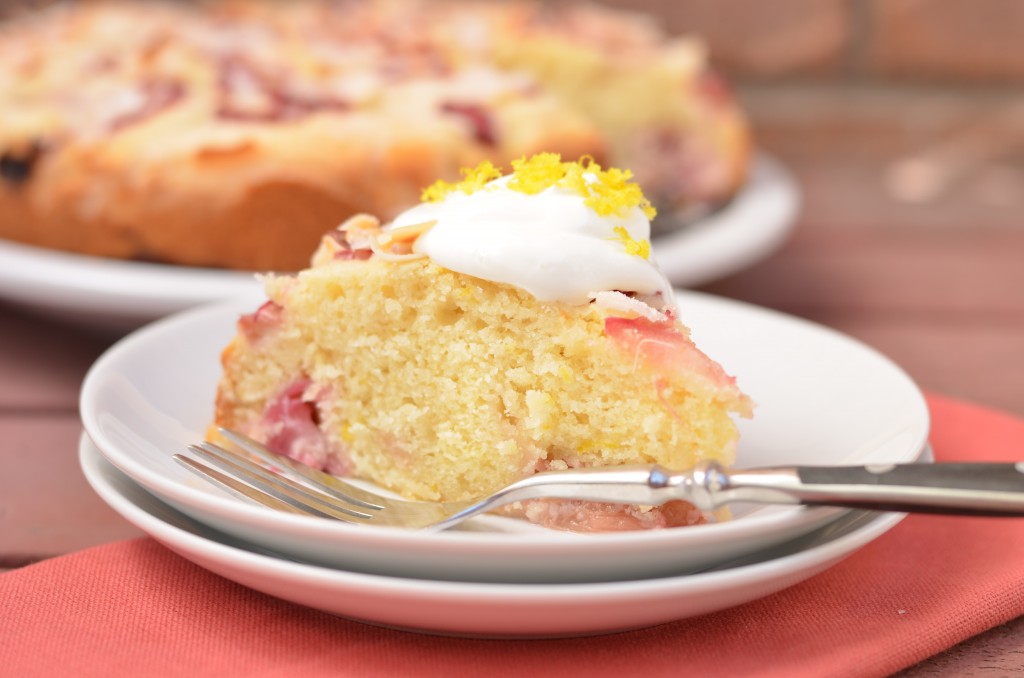 I think you can tell from these pictures that the texture of the second cake is muuuuch better. Light and fluffy! Nothing against yogurt cakes, but they are definitely supposed to be baked in a loaf pan and not dressed up like a spring cake.
Now there's something about this cake that I'm a bit on the fence about: the placement of the big chunks of rhubarb. My first cake didn't have enough rhubarb flavor, so I decided to add big chunks of it on the bottom of this cake. I love the way the small pieces of rhubarb look with the coconut on top of the cake, so I didn't want to change that. But I think you can see that the big chunks of rhubarb just kind of sit on the bottom of the cake. If you want to experiment placing them somewhere else, you can – maybe mixed into the batter, or maybe cut all 3 cups of rhubarb into large chunks and keep them on top of the cake. No wrong way to do it, I don't think!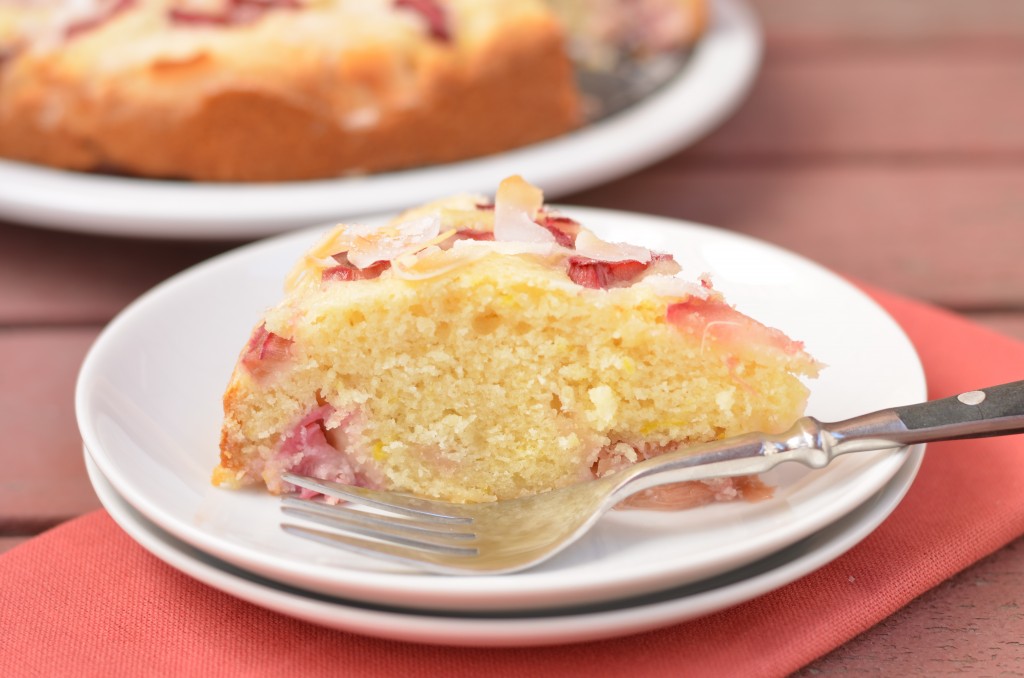 So that's my unusual combination for you: rhubarb + coconut. What are your favorite rhubarb dishes (other than strawberry rhubarb pie, of course)? I'm looking to do a bit more experimenting while rhubarb is still available! Aaaand if you're lucky, I might be keeping a savory rhubarb-centric dish to show you soon.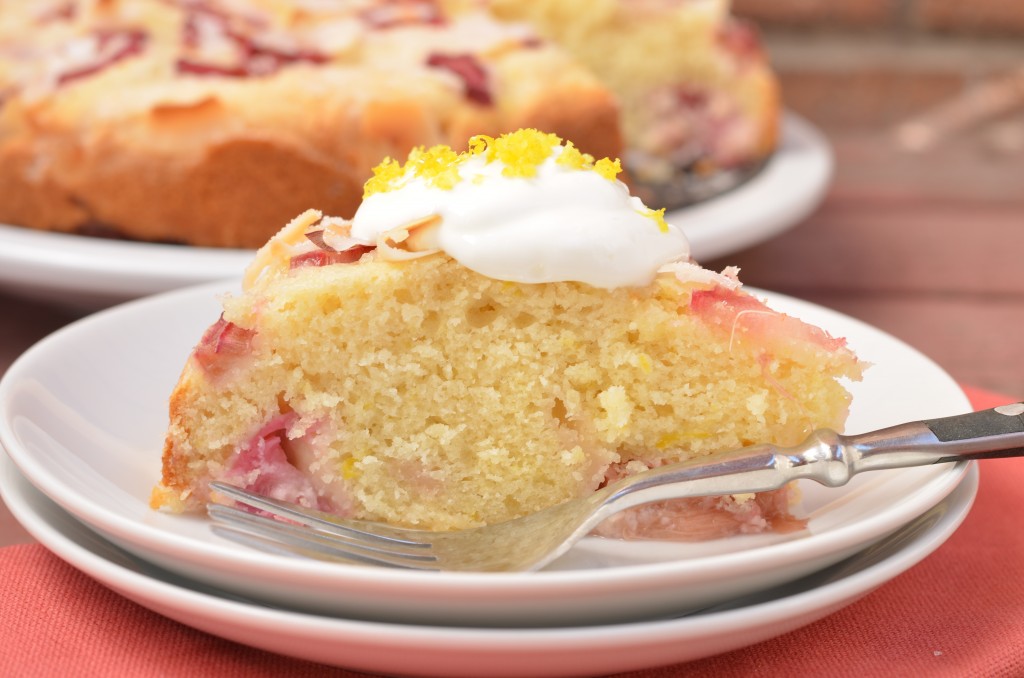 Coconut Rhubarb Cake
Yields:
1 cake for 8-12 people
Ingredients
2 cups flour
1 1/2 tsp baking powder
1/2 tsp kosher salt
1 cup + 2 Tbsp sugar
1 egg
3/4 cup milk
1 tsp vanilla extract
2 tsp orange zest
1/2 cup coconut oil, melted
3 cups chopped rhubarb (1 to 2-inch chunks)
1 cup chopped rhubarb (1/4-inch slices)
handful unsweetened flaked coconut
Instructions
Preheat oven to 350. Coat a spring-form pan with baking spray and dust with flour.
In a medium-size bowl, sift together flour, baking powder, and salt.
In a large bowl, combine 1 cup of sugar, egg, milk, vanilla, and orange zest. Gradually add in the flour mixture, stirring until combined. Add the melted coconut oil and mix until thoroughly incorporated.
Arrange large chunks of rhubarb on the bottom of the pan. (Alternately, these can be mixed into the batter or arranged on top; your choice.) Spread the cake batter over the rhubarb. Sprinkle small rhubarb slices and flaked coconut over the top. Dust with remaining 2 Tbsp sugar.
Bake until a toothpick inserted in the center comes out with moist crumbs, 35-45 minutes. Let cool completely in the pan on a wire rack.
Slice and serve with fresh whipped cream.