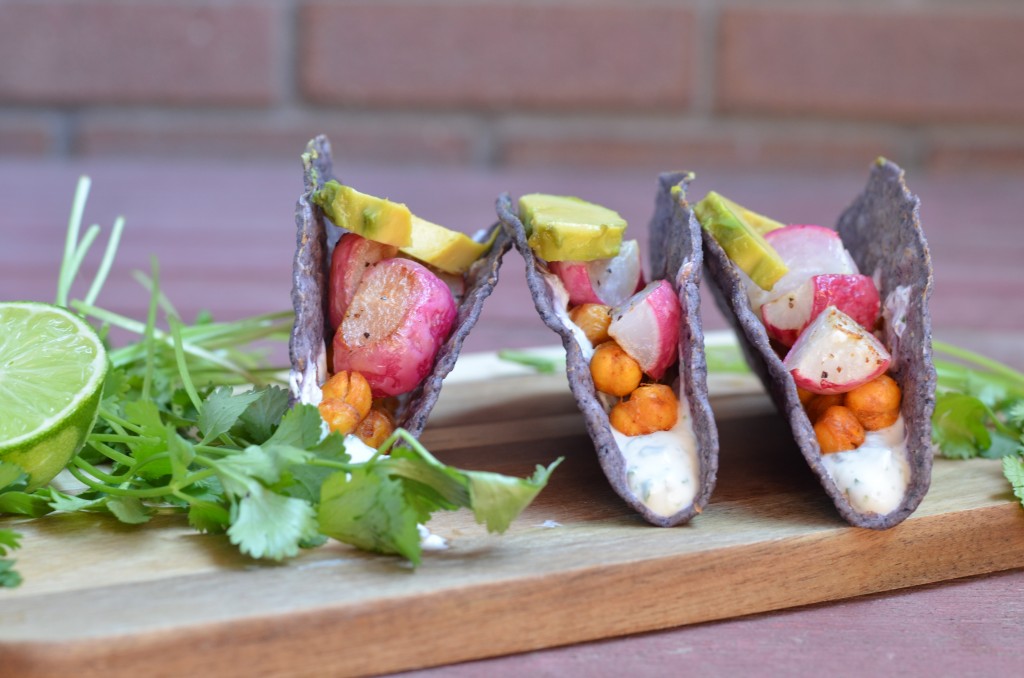 You may know that I like to roast things and put them in tacos. But did you know that you can roast radishes?
Beautiful red radishes are just overflowing the shelves at my supermarket, and I can't resist picking some up whenever I walk by.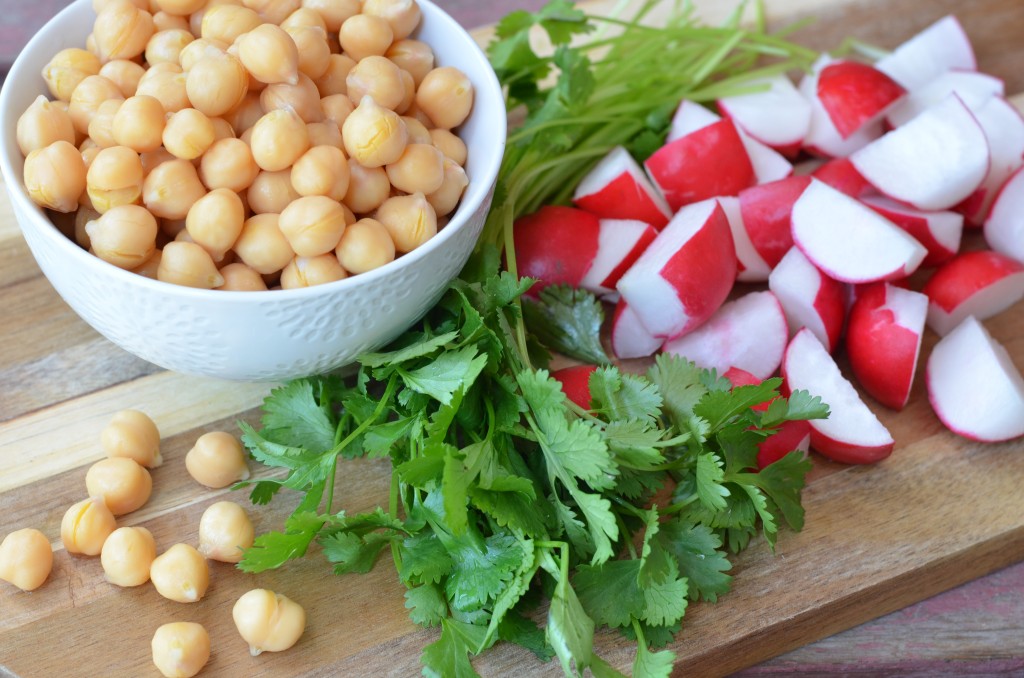 I always buy the organic ones – I find them much more flavorful than conventionally grown. (I am usually lured by the low prices of conventional produce, so I only buy organic when it's cheaper or when I can really taste the difference. Radishes are a prime example!)
I love peppery raw radishes in salads, but I also love their mellowed-out taste when roasted. They lose most of the bite that turns so many people off from them, and instead are sweet and tender with a softer crunch. Try them out on the radish-hater in your life (ahem, Nate); I bet you'll be pleasantly surprised. I mean, who could resist this little taco rainbow?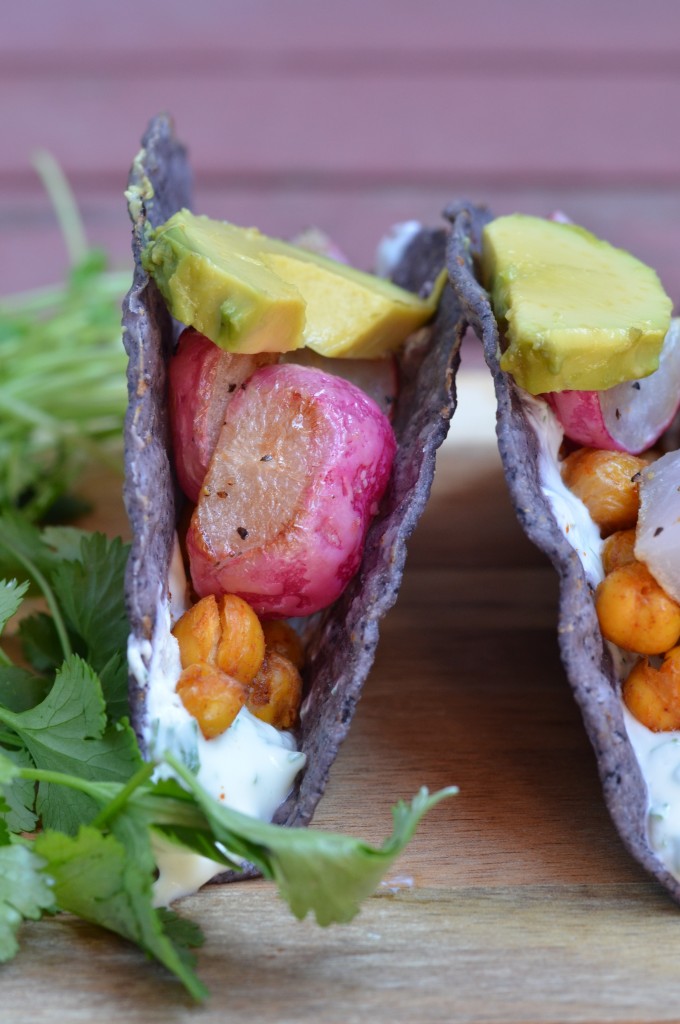 Roasted radishes are the perfect addition to the chickpeas in these tacos. Especially with the hard shells, they are crispy and crunchy, yet still juicy. Some cilantro-lime yogurt adds a little zing, making them taste very fresh, indeed.
To make these completely vegan, simply substitute avocado for the Greek yogurt. Some sort of sauce to hold the chickpeas in place and add moisture is necessary, but it doesn't have to be yogurt if you're dairy-free.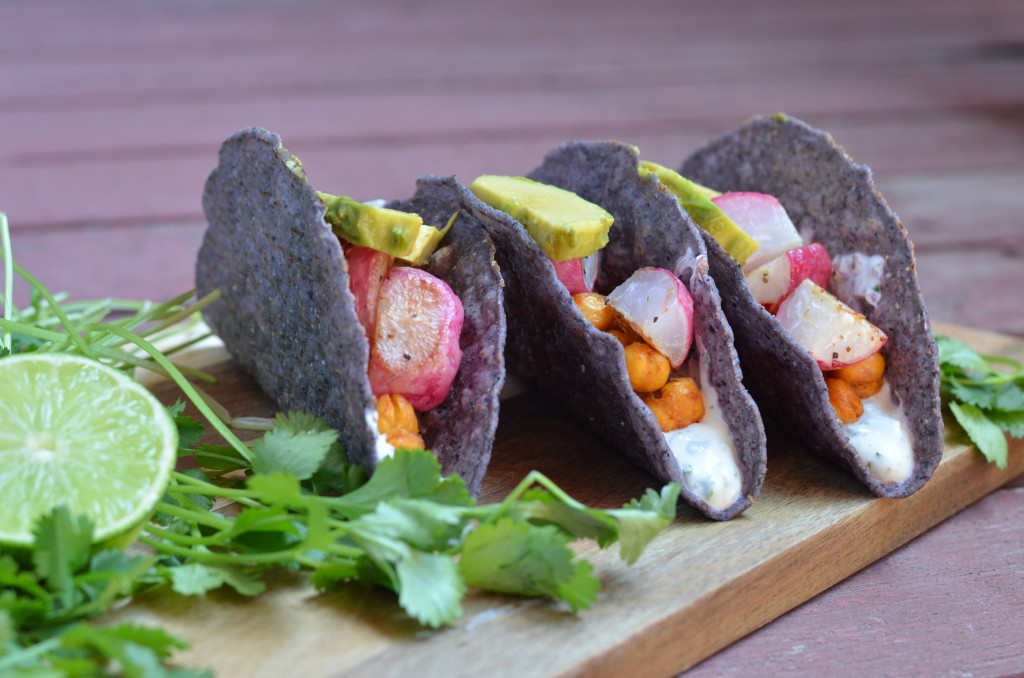 This recipe can be scaled up or down very easily, depending on how many you're feeding. Roasted radishes and chickpeas are not the best leftover, though, so I recommend only making enough to eat in one sitting.
In other news, I am flying out to North Carolina today to spend the weekend with my sisters! They both live there, less than 90 minutes away from each other, and I often wonder why I'm all the way out here across the country. I haven't seen them in months… it is always too long. Who knew adult life would be like that? I'm very much looking forward to some quality sister time.
I hope you have a great and summery weekend, and most importantly, that it involves tacos!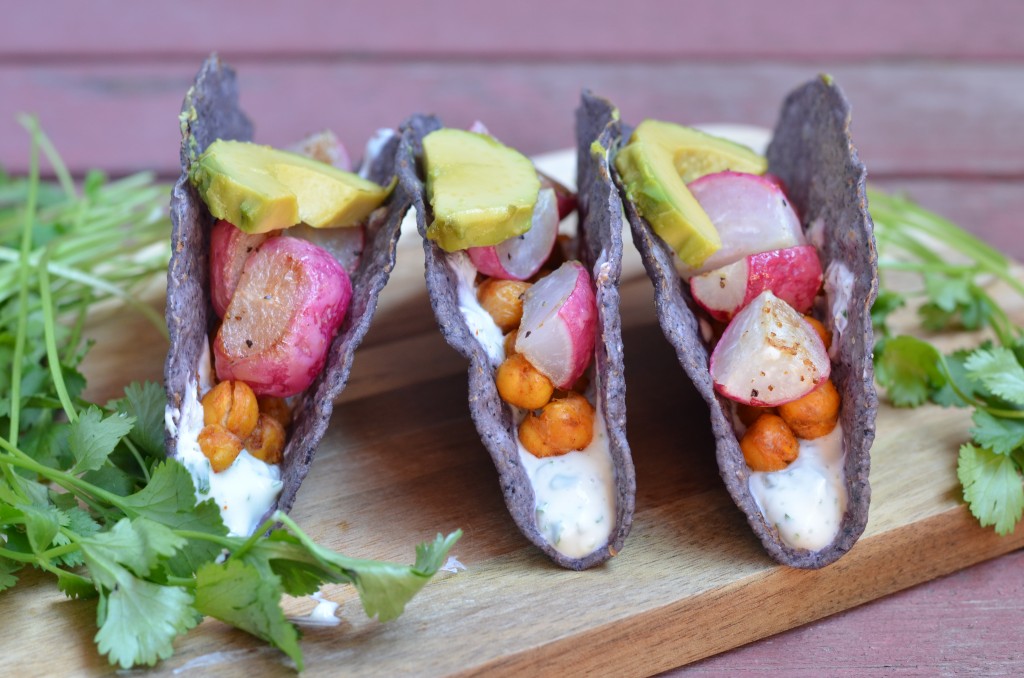 Crispy Crunchy Roasted Radish and Chickpea Tacos
Yields:
4-5 small tacos (enough for 2 people)
Ingredients
For the roasted radishes and chickpeas:
2/3 cup cooked chickpeas, drained and rinsed if canned
1 heaping cup radishes, trimmed and halved or quartered depending on size (preferably organic)
1 tsp olive oil, divided
1/2 tsp cumin
1/4 tsp paprika
sprinkle of salt and pepper
For the cilantro-lime yogurt:
1/2 cup Greek yogurt (I use Fage 0%)
juice and zest of 1/2 a lime
2 packed Tbsp chopped cilantro
For serving:
4-5 crispy taco shells
1/2 avocado, sliced
Instructions
Preheat oven to 450. Toss chickpeas with 1/2 tsp olive oil, cumin, and paprika. Spread on half of a baking sheet.
Toss radishes with remaining 1/2 tsp olive oil and sprinkle of salt and pepper. Spread on the other half of the baking sheet. Roast for 12-15 minutes, stirring once halfway through. Chickpeas should be crunchy and radishes should be somewhat browned but not mushy. Remove from oven.
In the meantime, prepare the cilantro-lime yogurt by blending or whisking all ingredients together.
Once radishes and chickpeas are roasted, serve immediately. Layer taco shells with yogurt, chickpeas, radishes, and sliced avocado. Enjoy!