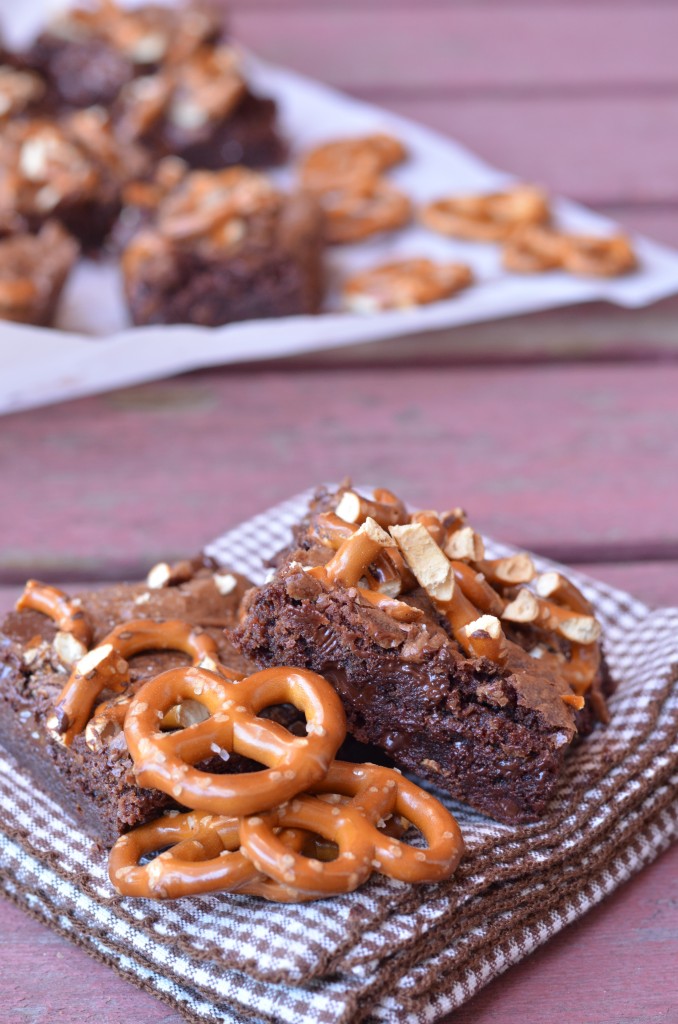 Call me crazy, but even with all the fresh summer produce jumping off the shelves, this is the combination I'm obsessed with right now.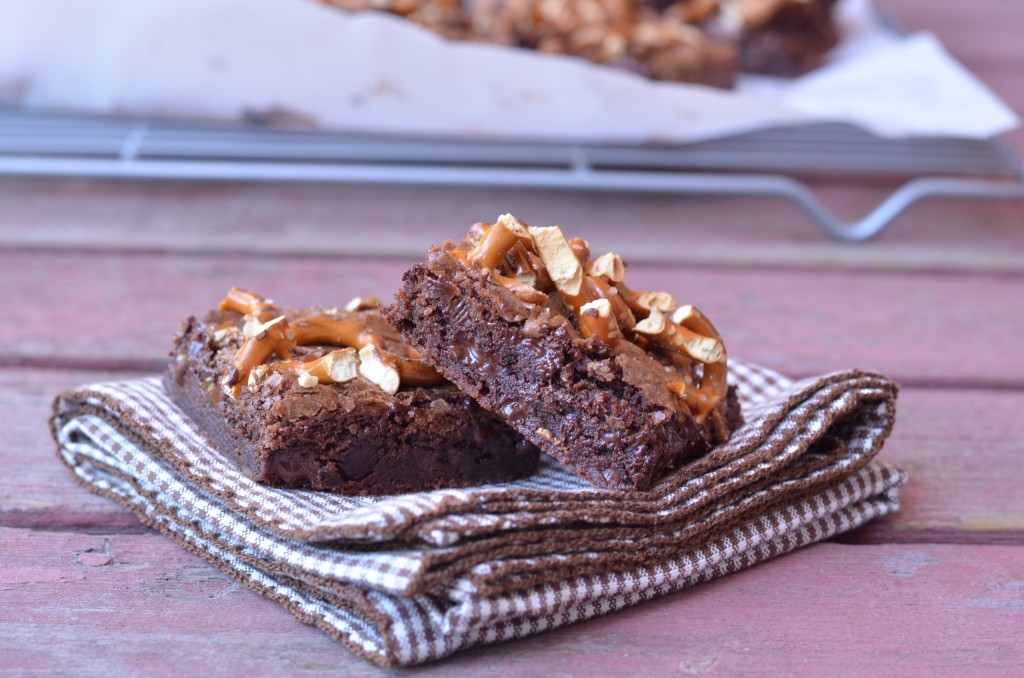 Chocolate and pretzels.
I've been craving pretzels with everything recently. Hummus, cheese, chocolate. (All the major food groups right there.) And just to prove that I am taking very seriously the tragic lack of brownies (my favorite food) on this site, I decided to bake some pretzels into a batch of them for you.
For you, for me… let's not split hairs about who is benefiting from this recipe.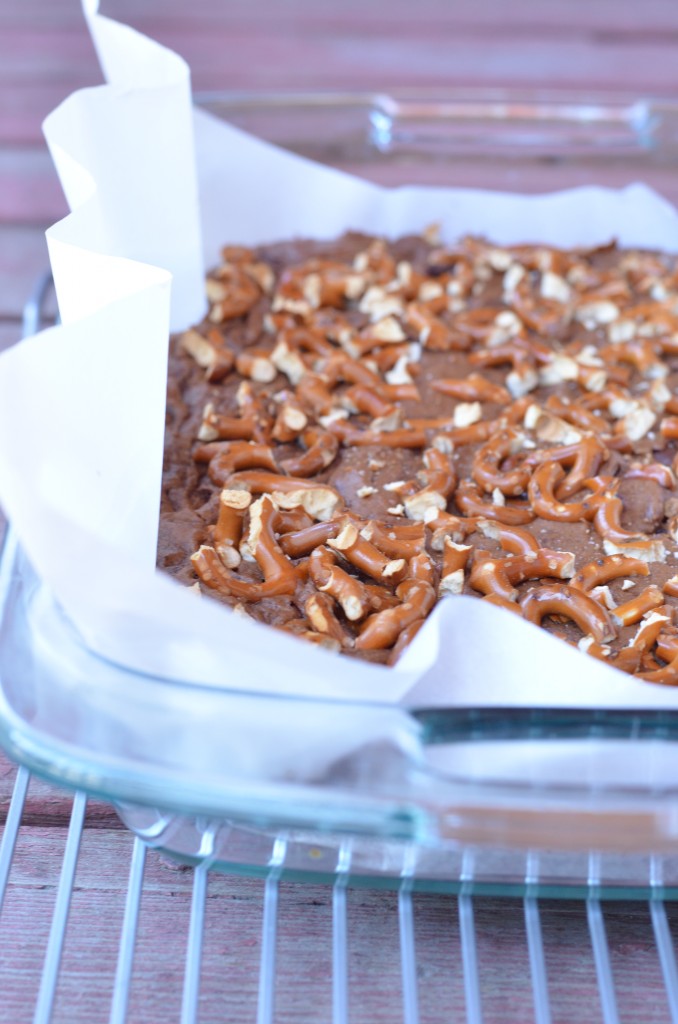 Definitely not Nate, because he's been out of town for the past week. And with the apartment all to myself, clearly my priorities have been:
– Stealing the good pillow
– Watching The Bachelorette
– And eating brownies.
Girly things.
Girly things that it turns out should not be combined, because I was mid-chocolaty-chew during the Bachelorette season premier when Desiree began rollerblading down the boardwalk in her bathing suit, showing off her hot bod. New low point.
Despite that, I could not be more excited to share these brownies with you. I wish I could hand you one through the screen right now!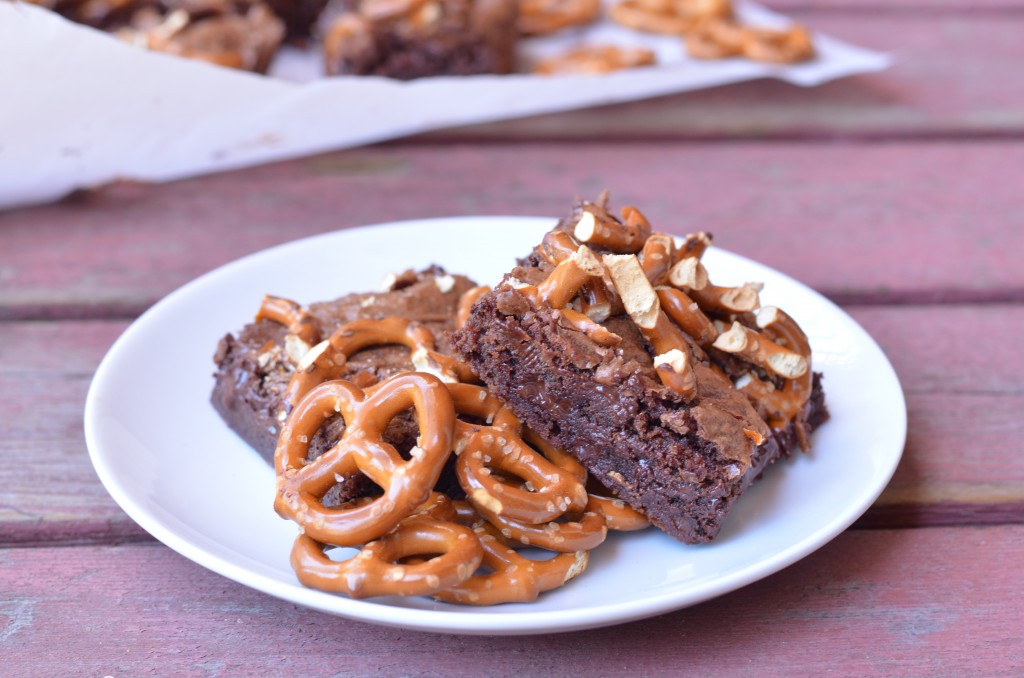 These are hands-down the most outrageous brownies I've ever made (and that is saying something). Outrageous as in dense, fudgy, intentionally underbaked perfection. More gooey chocolate than you ever thought could be crammed into a batch of anything. And a salty pretzel crunch with every bite. Brownie heaven for chocolate and pretzel lovers alike.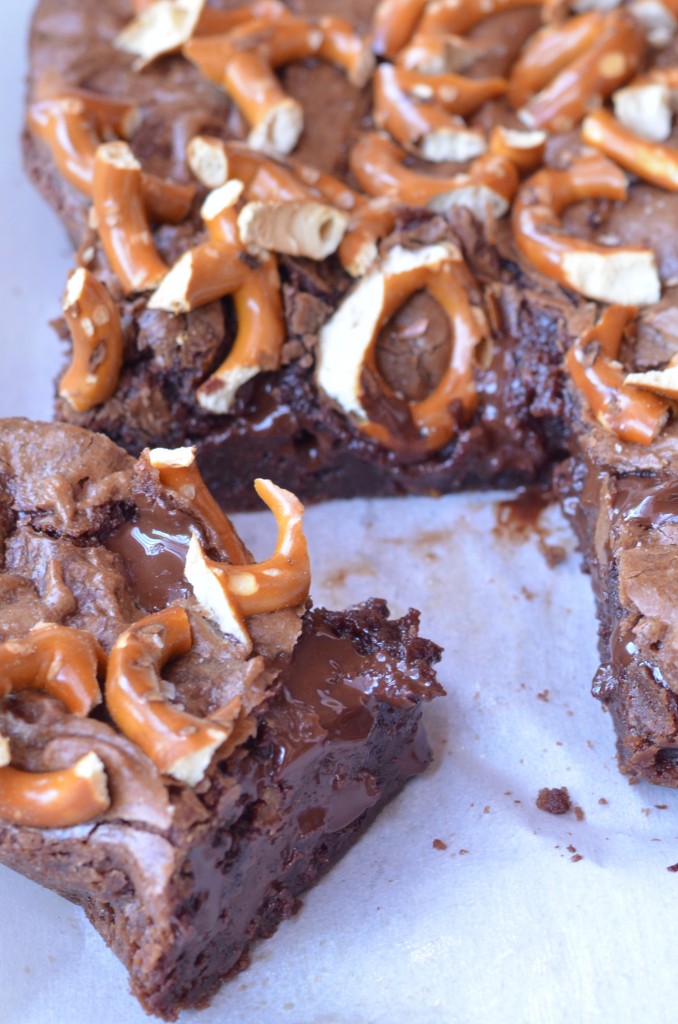 If you love the salty/sweet thing, I really can't talk these brownies up enough. Heaven I tell you!
Oh, and the brownie batter? You already have the bag of pretzels out… they are just begging to be dipped in that batter. Make sure you get some chocolate chips in there. So addictively delicious.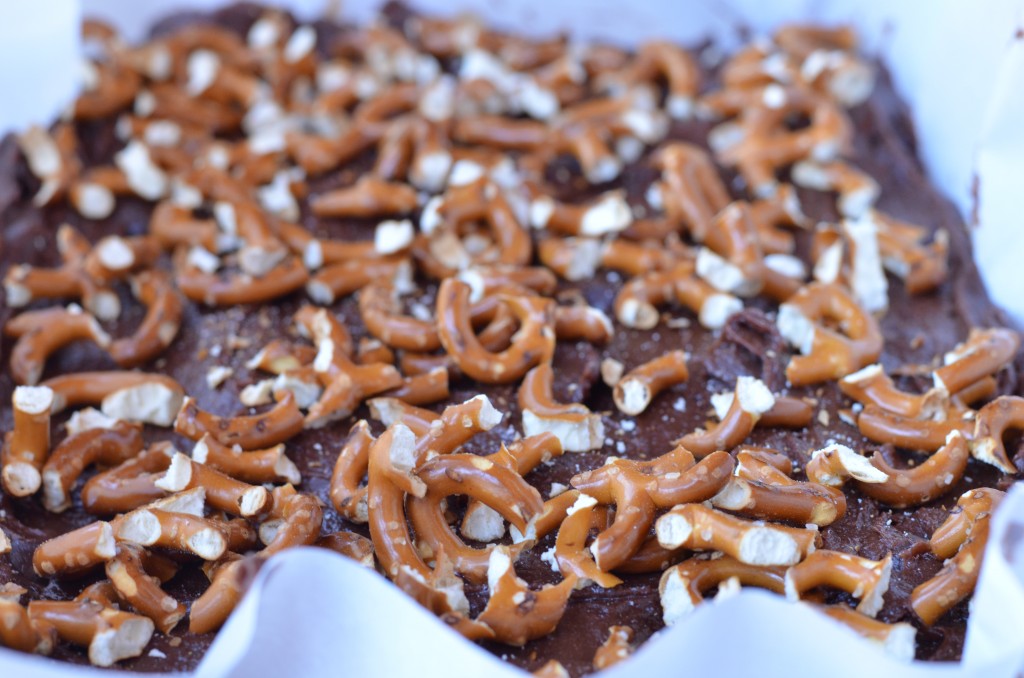 A few tips to make sure your brownies end up as outrageous as possible:
– I recommend a 9×13-inch baking dish, although you can definitely use a 9×9 square if that's all you have. Just keep in mind that the baking time will be a bit (10-ish minutes?) longer with the smaller dish, and you will get the edges more well-down in order to get the center to your desired done-ness. A deeper pan can get a bit messy if you're going to intentionally underbake these as I'm recommending. Also, you can fit more pretzels on top if you use the larger dish!
– If at any point your pretzels look like they're going to burn, you can tent the top with foil and continue baking. If the top of your oven tends to run hot, keep an eye on them.
– I do not recommend baking any pretzels into the brownies. They will get soggy.
– Also, the sooner you eat the brownies, the crunchier the pretzels on top will be. Just something to keep in mind.
– If your brownies are too underbaked to cut neatly when cooled, refrigerate them for an hour or so. They can be cut cold and then brought back up to room temperature before eating.
Now get to it!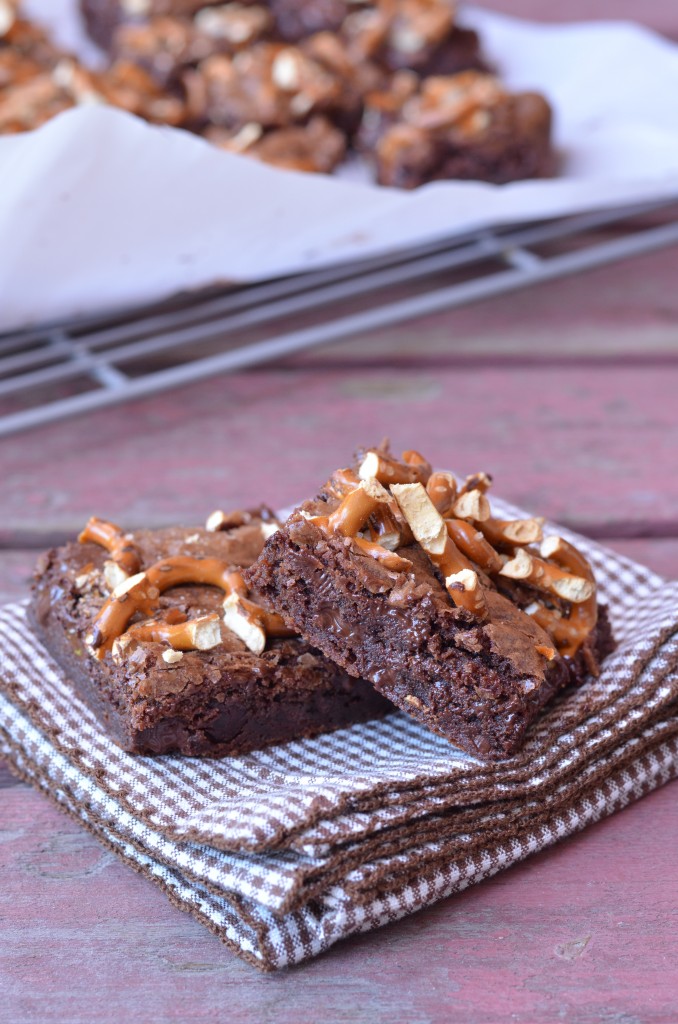 Outrageously Fudgy Pretzel Brownies
These are hands-down the most outrageously chocolaty brownies I've ever made (and that is saying something). Dense, fudgy, intentionally underbaked perfection with a salty pretzel crunch in every bite. Brownie heaven for chocolate and pretzel lovers alike!
Ingredients
2 oz unsweetened baking chocolate
3/4 cup unsalted butter (1 1/2 sticks)
2 cups sugar
3 eggs
1 1/2 tsp vanilla
1 cup flour
1/4 cup + 2 Tbsp cocoa powder
1/2 tsp kosher salt
2 cups dark chocolate chips (I used Ghriradelli 60%)
1 cup broken pretzel pieces
Instructions
Preheat oven to 350. Place a rack in the center of your oven, or slightly below if the top of your oven gets very hot. Drape parchment paper over a 9x13-inch baking dish and coat with baking spray.
In a large heat-proof bowl, microwave the baking chocolate and butter in 30 second increments until melted, stirring as necessary.
Remove from microwave and stir in the sugar. Once thoroughly combined, stir in the eggs and vanilla. Mix in the flour, cocoa powder, and salt, followed by the chocolate chips.
At this point, it is optional to dip a couple pretzels in the brownie batter. I say "optional" because of the whole raw egg thing. But really, if you're OK with that, just do it. It's part of the recipe!
Spread the batter into the baking dish. Top with pretzel pieces and gently press them down onto the batter. Bake for 35 minutes (for gooey underbaked brownies) or until they reach your desired done-ness.
Cool completely in dish on a wire rack. Remove from dish using the parchment paper, cut into squares, and serve.