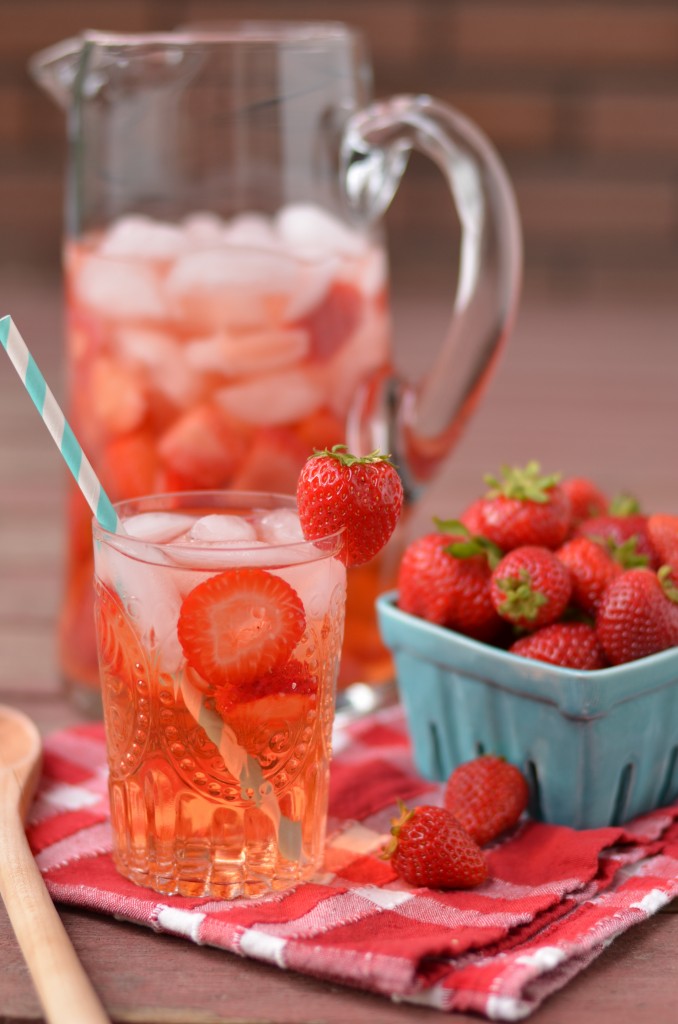 Yes, yes, a recipe for water. But one that I promise is worth your while.
Despite using no fruits or vegetables in Monday's recipe, I really have been enjoying summer produce. Strawberries are right up there with brownies on my list of favorite foods, actually.
And also up there on my list of most beautiful foods. Please excuse the dozens and dozens of photos that I am cramming into this post… I just can't help myself.
So, strawberry spa water. I first learned about it during a fitness bootcamp at the Canyons Resort a few years ago. Some co-workers and I were getting our butts kicked by a crazy woman named Helen, who to date is still one of the fittest and also most enthusiastic people I've ever met. (I guess that's how you get to be a fitness instructor.) She warned us, "You'll be thinking of me this weekend!" And it was true… as I had to use my arms to lower myself down into every chair I wanted to sit in, I definitely thought of Helen… and cursed her name.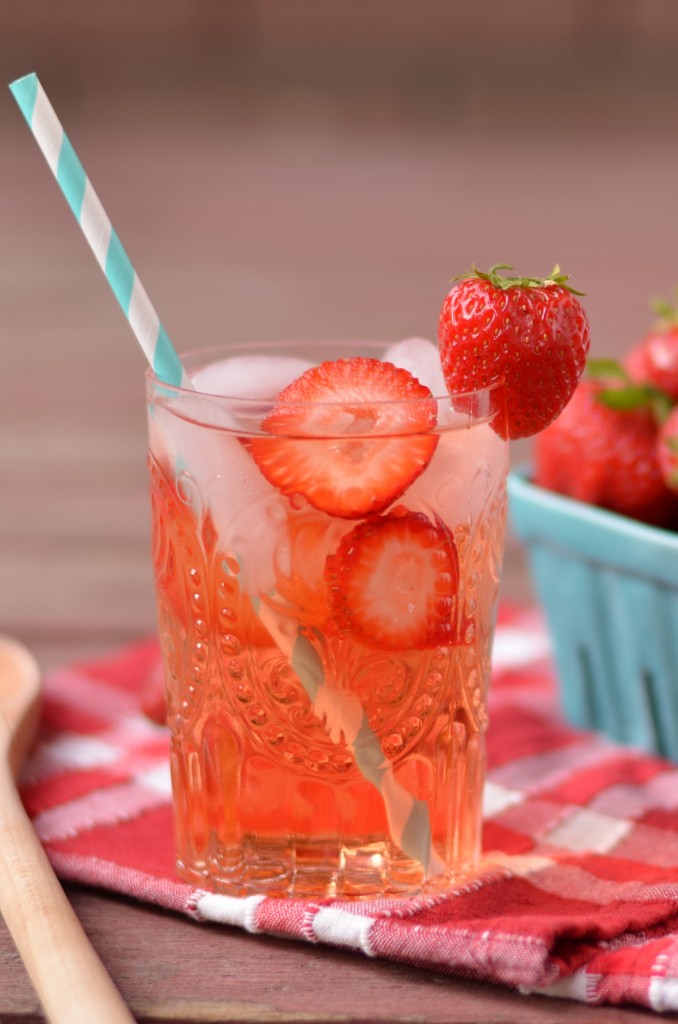 As a side note, there are only a few times in recent memory that my quads have been that sore. Besides Helen's bootcamp, the others have been 1) after my half marathon last fall and 2) the past few days. That 5 miles of downhill on Saturday absolutely tore up my quads, as I knew it would. I was walking veeeery stiffly and Sunday and Monday, and going down stairs has been a struggle! And that whole lowering myself down into the chair thing… embarrassing.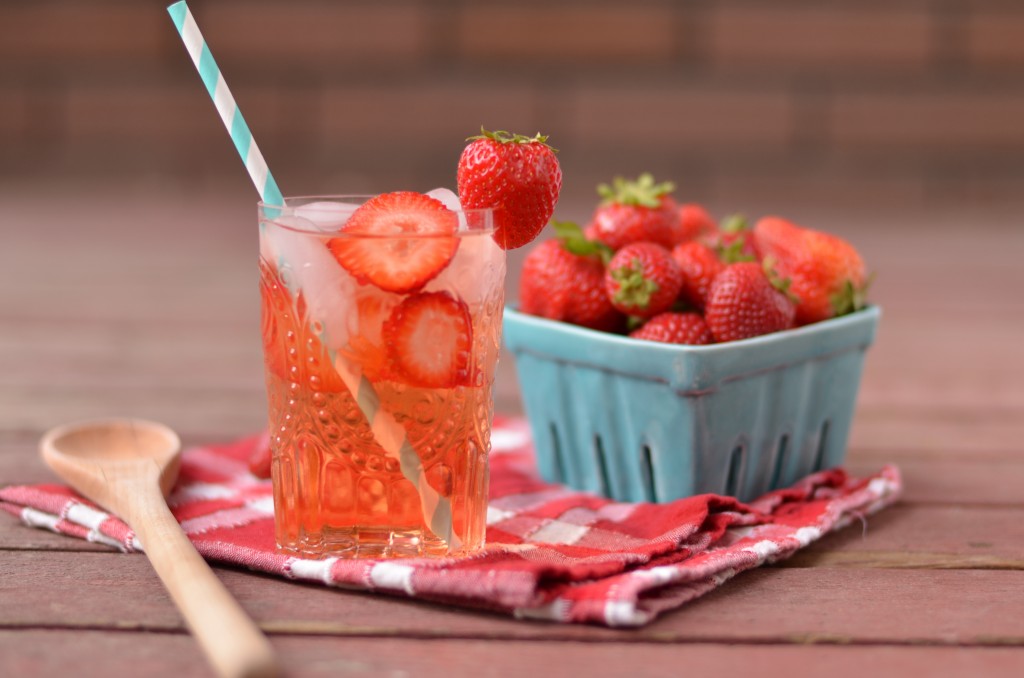 But back to bootcamp: When we weren't having words of encouragement shouted at us as we sweated through Helen's circuit workout, we were allowed to relax in the Canyons spa. One of the things they provided was a big pitcher of ice water and strawberries. Like squeezing lemon into your water, only with berries! I remember thinking how luxurious it felt to drink, because at home I could never bring myself to use up a whole container of strawberries on some water.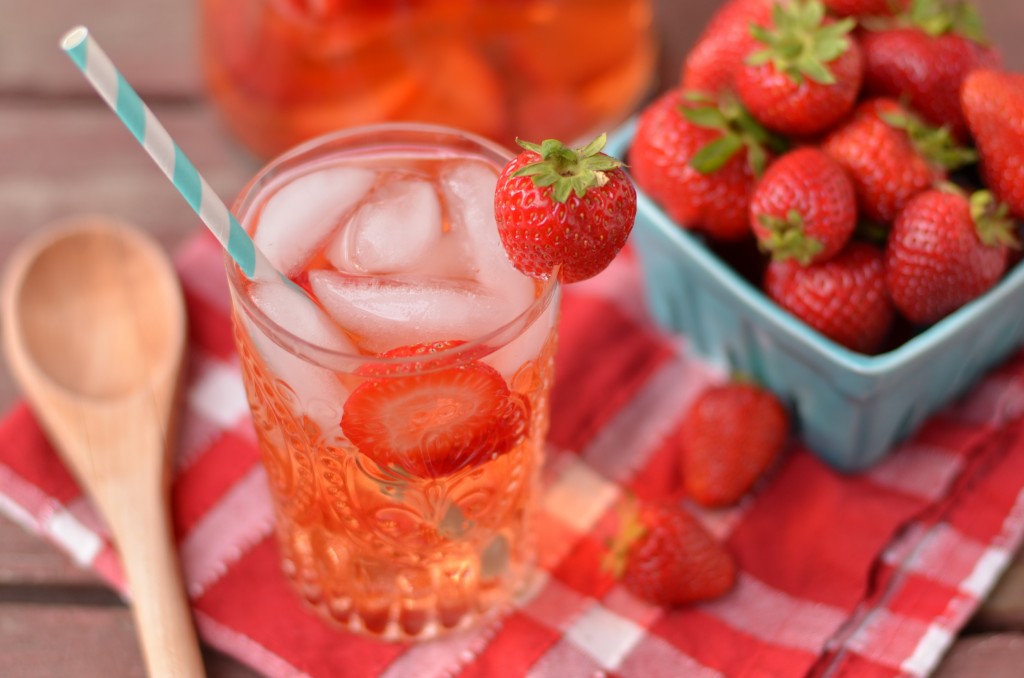 Then last week, strawberries went on sale for $0.99. And I thought, hmmm, maybe I actually could do that.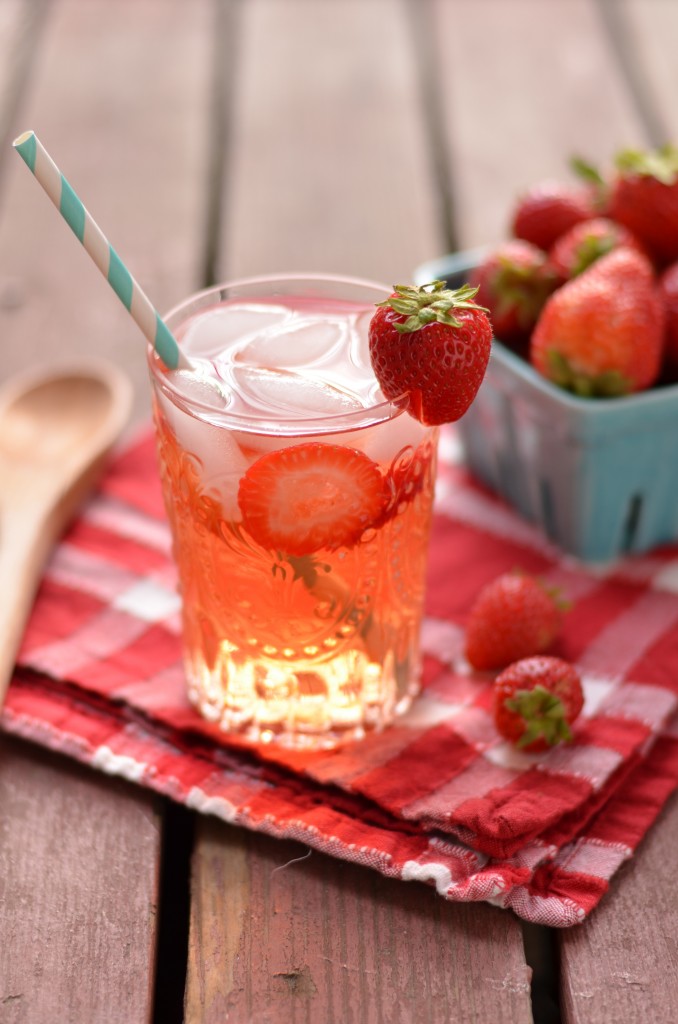 That's one of my favorite things about all berries – that when they're cheapest is also when they're best. I can't think of too many other things in life with such a convenient supply curve.
Speaking of which, I purchased the "berry lovers' add-on" for our CSA this summer, and am eagerly awaiting our first basket. (The growing season in Utah is pretty late, so our CSA doesn't begin til early July.) This is my first time doing a CSA, so I don't really know what to expect… but I do think you will see a lot of frantic attempts around here to use up produce during the months of July to September! Although Nate and I are such berry monsters that I can't really imagine a scenario where we have too many berries on our hands. I am daring our CSA to prove me wrong!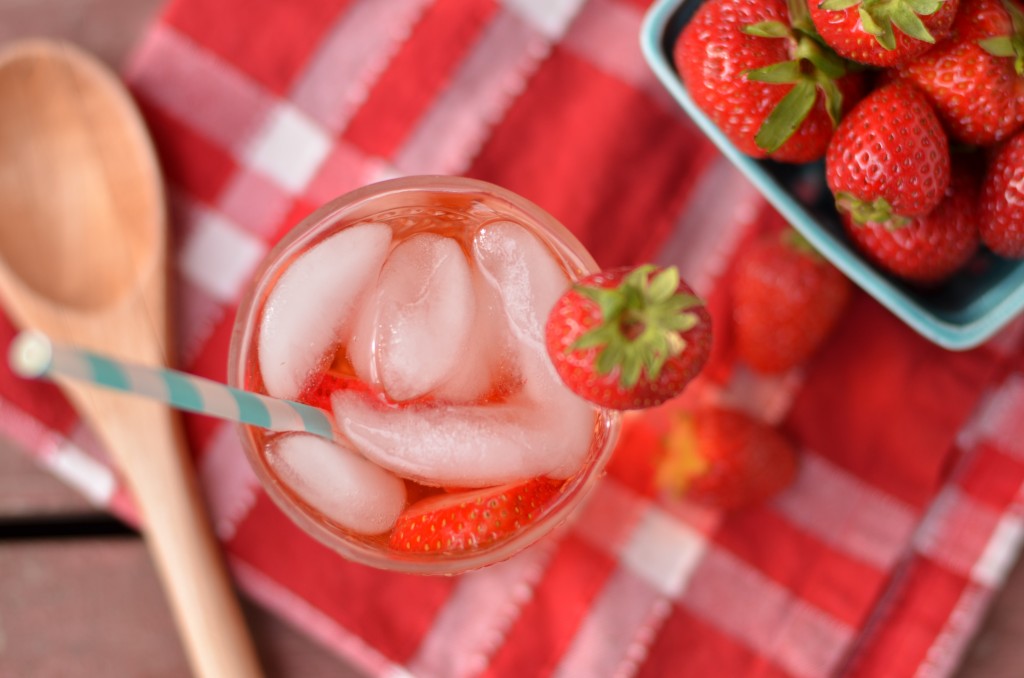 Anyway, back to this water. It's quite easy to make (as you might expect, given that it's a recipe for water). Simply cut up some berries, add water, and refrigerate for at least 6 hours. Then add ice and enjoy!
As far as timing, I recommend refrigerating the water and strawberries for between 6 and 24 hours. The batch you see here was in my fridge for more than 48 hours, which is why the water is so bright pink (and also why the strawberries in the pitcher are so waterlogged). I wish I could say that I did that on purpose for the beautiful color, but the reality is that we had torrential downpours for two days straight and I couldn't take a decent picture to save my life. I learned that waterlogged strawberries don't look very appetizing, so I recommend 24 hours max. The color will be a little less pronounced, but it will still look pretty!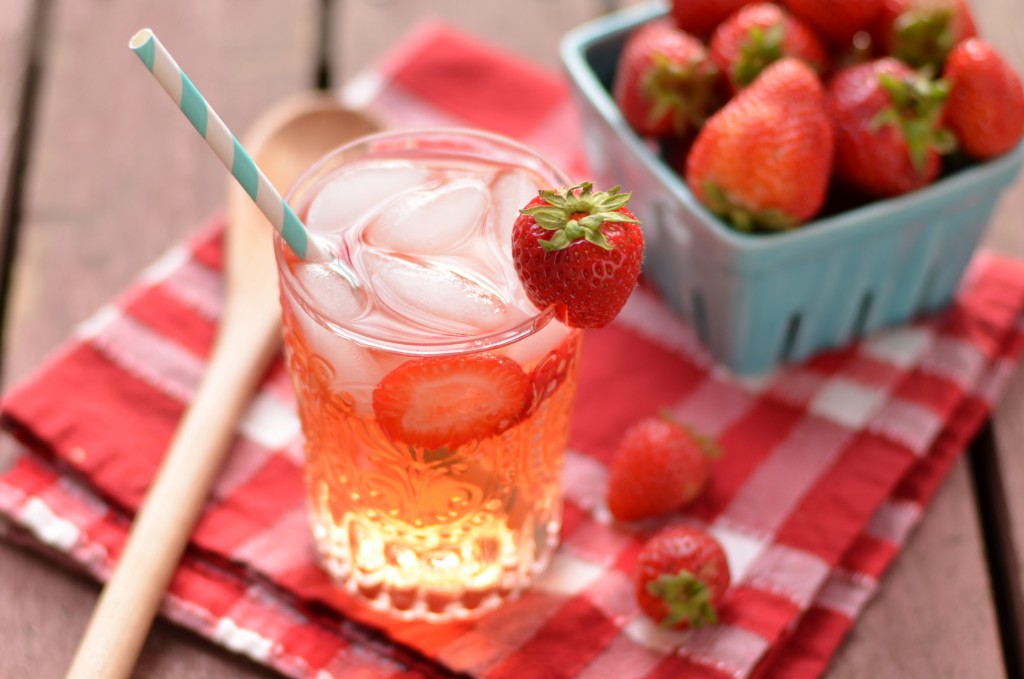 And as a bonus, eating the strawberry slices out of your glass is encouraged.
Don't expect this to taste like lemonade or a cocktail, though. It's not sweet at all. Think the strawberry equivalent of adding a splash of lemon to your water, like I mentioned above. Light, refreshing, and chock full of antioxidants.
This would be great to serve at a brunch or baby shower, or simply to keep a pitcher of in the fridge when strawberries are on sale.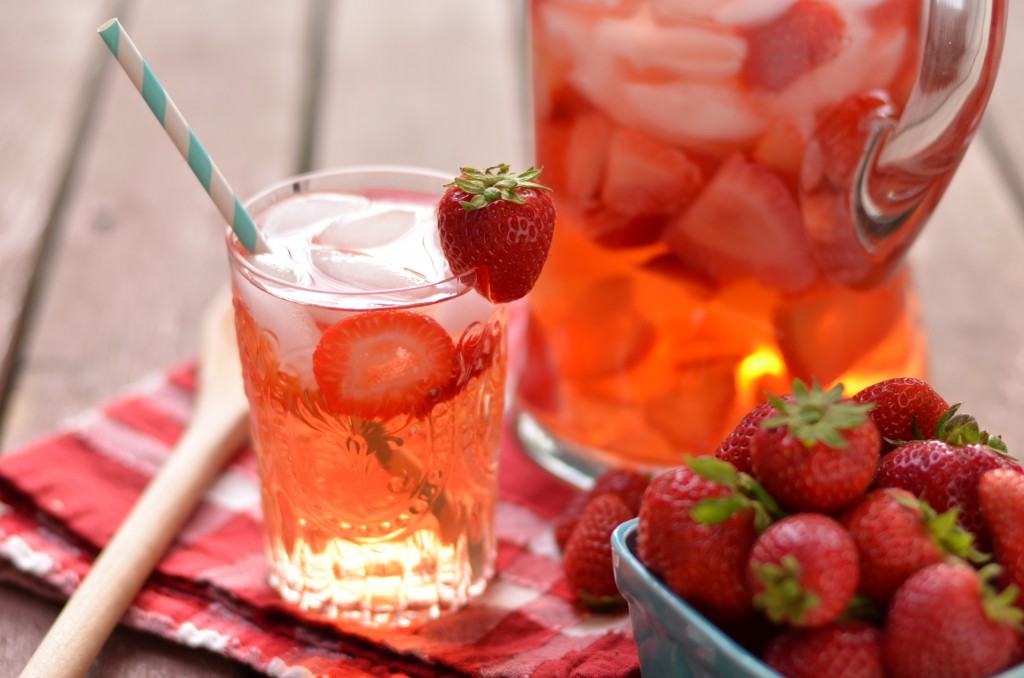 Well, now that I've shown you more pictures of strawberries and water than you thought was humanly possible, you should go make this yourself. Just $0.99 of berries will make you feel like you're relaxing in your own home spa… butt-kicking bootcamp workout completely optional.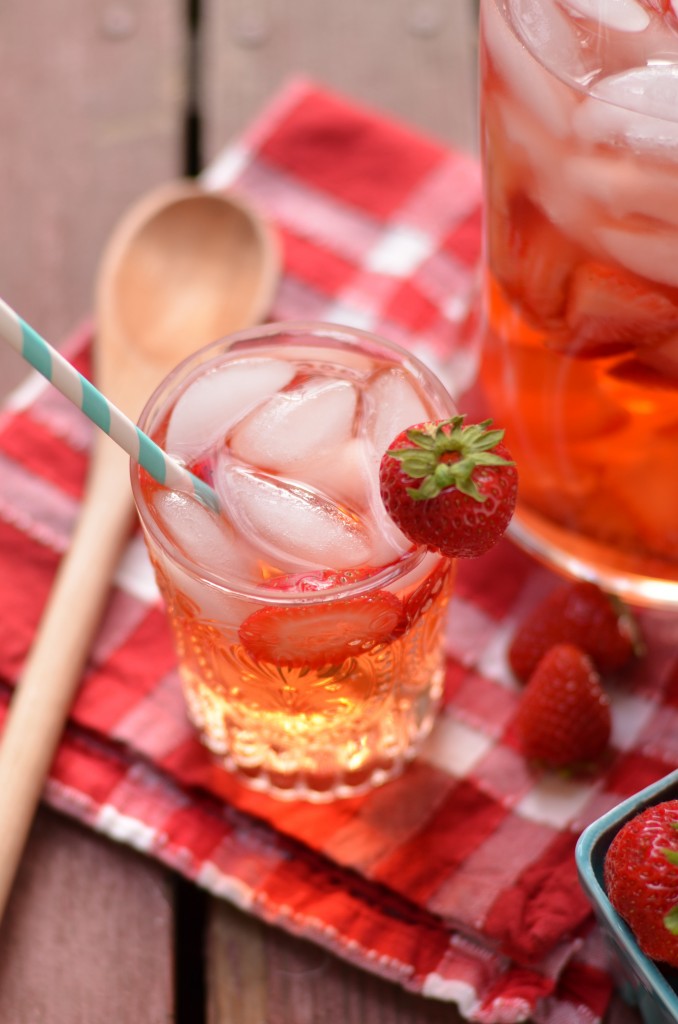 Strawberry Spa Water
This summertime drink feels so luxurious and refreshing, you'll think you're in your own home spa. It's perfect for brunches or baby showers, or just to get some extra antioxidants. Whip up a pitcher when strawberries go on sale!
Ingredients
1 lb strawberries, hulled and sliced
1 pitcher filtered water
ice
Instructions
Add strawberries and water to pitcher. Cover and refrigerate for at least 6 hours or up to overnight.
Add ice just before serving. Enjoy!