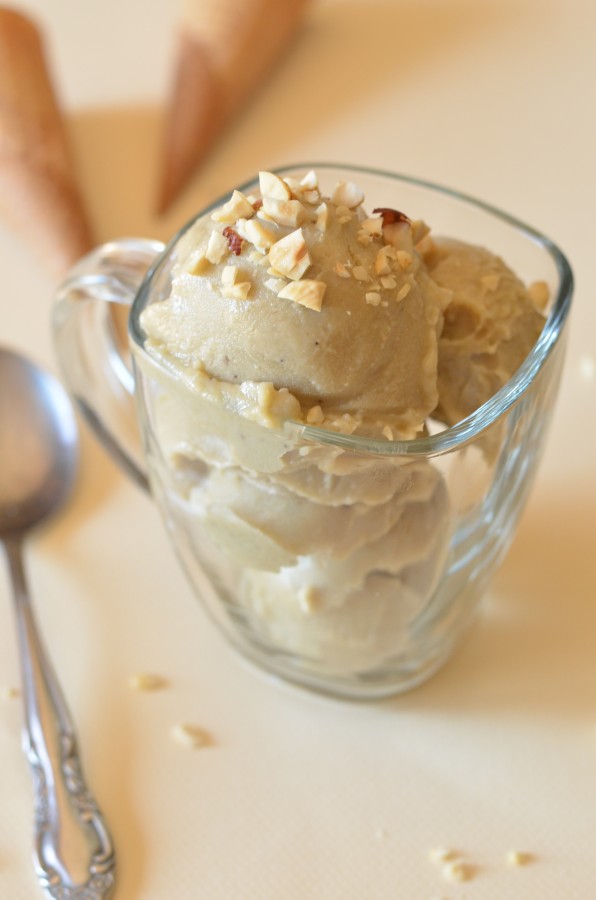 I have another dairy-free ice cream for you. And – hallelujah – it doesn't require an ice cream maker.
Have you ever made banana ice cream? If not, it's like magic – you slice up a frozen banana, throw it in the blender or food processor, add some nut butter and cocoa powder if you want, and a minute later you have a sweet frozen treat that you won't believe is just a banana. The first time I tried it, I was vegan and missing ice cream terribly. I was so excited that I called my mom and babbled to her about it for minutes before realizing that it was past 11 pm her time, and I had definitely just woken her up from a deep sleep. Oops. Banana ice cream is just that exciting.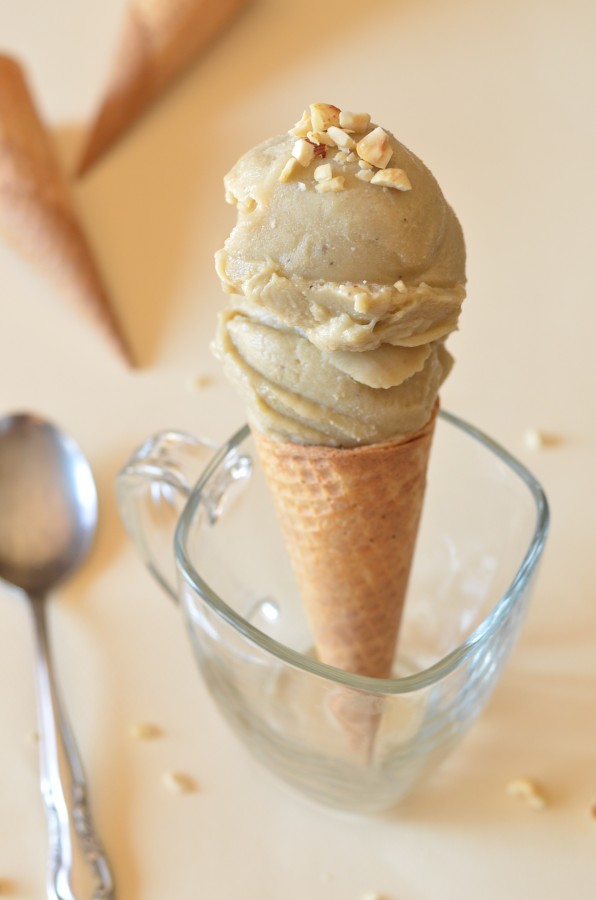 Well, this is taking banana ice cream to the next level by caramelizing the bananas before pureeing them, and then freezing the mixture. The result is a wonderfully indulgent-tasting frozen treat that, once again, is just a banana. Well, OK, this time the banana has coconut oil and honey added to it (or maple syrup if you'd like to make it totally vegan). But it is blissfully lacking any cream, eggs, or refined sugar… and forget all the stirring, straining, and tempering. Just a few simple ingredients, and no fancy equipment except a blender (and even the cheapest blender will work here – I would know).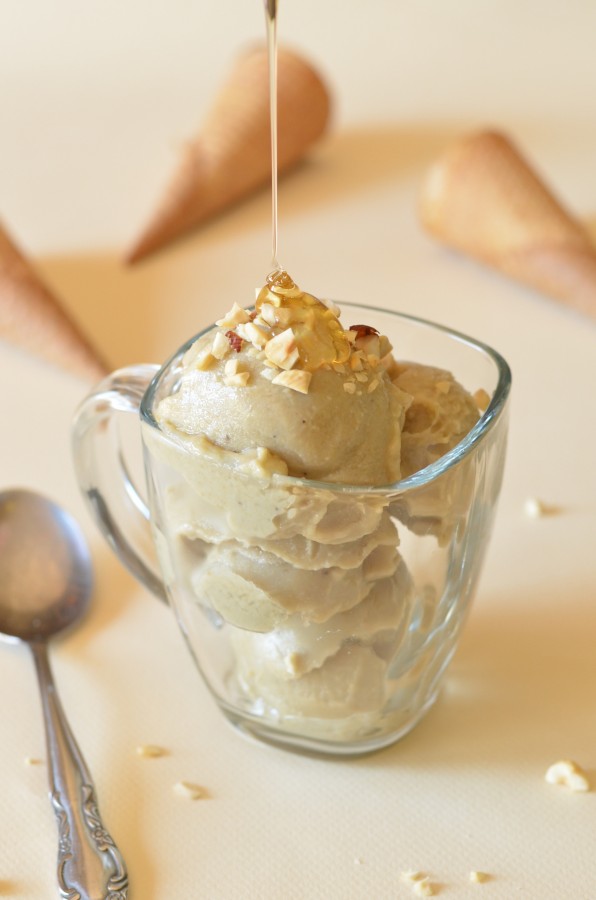 Don't worry, there will be plenty of cream, eggs, and choooocolate next Friday. But this Friday, we are dairy free and loving it!
The best way I can describe this caramelized banana ice cream is that it's banana bread in ice cream form. Not surprising, I guess, considering that they're both made out of ripe bananas. Like banana bread, it's dense and sweet, and it has that caramelized banana flavor you'll definitely associate with the baked good. You can tell right away that it's banana-based, but that won't detract from your enjoyment of it. It tastes crazy good on a sugar cone, and I loved sprinkling some chopped hazelnuts or walnuts on top, as well.
Have a great weekend everyone! I'm heading back to the East Coast tonight for a week of celebrating and relaxing with family and friends. A bachelorette party and then a week on the beach – I could.not.be. more excited. I've earned my vacation by lining up some great recipes for you while I'm away. And truthfully, I'm almost bummed I won't have reliable internet access, because they are some of my favorite recipes and pictures ever to stumble onto this blog. But I can't really complain about a week of lying in the sun with no electronic devices. Just forgive me for not approving/responding to comments and such! In return, I promise to come back with plenty of beachy recipe inspiration (read: pastries and fudge) in August.
Happy Friday!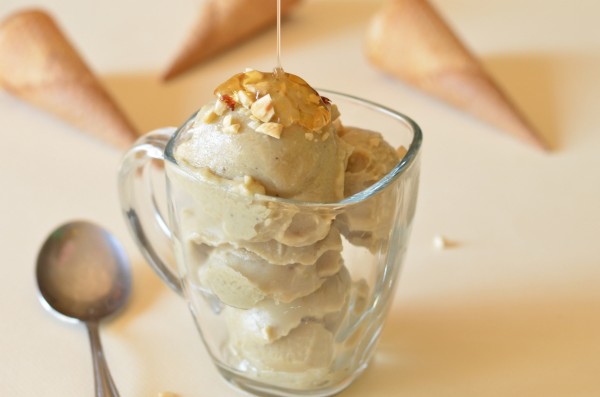 Caramelized Banana Ice Cream
This dairy-free banana ice cream has just 5 simple ingredients. Caramelizing the bananas before freezing them adds complexity and sweetness.
Ingredients
8 very ripe bananas, peeled and sliced
1/4 cup coconut oil
6 Tbsp honey (use maple syrup to make vegan)
1/4 tsp sea salt
1/4 tsp vanilla extract
Instructions
Preheat oven to 375. Toss bananas with coconut oil and honey. Spread in an even layer on a baking sheet and roast for 30 minutes.
Pour banana mixture into a blender or food processor. Add sea salt and vanilla and process until smooth.
Spread into a container, cover, and freeze until solid, at least 3 hours.
Serve and enjoy!