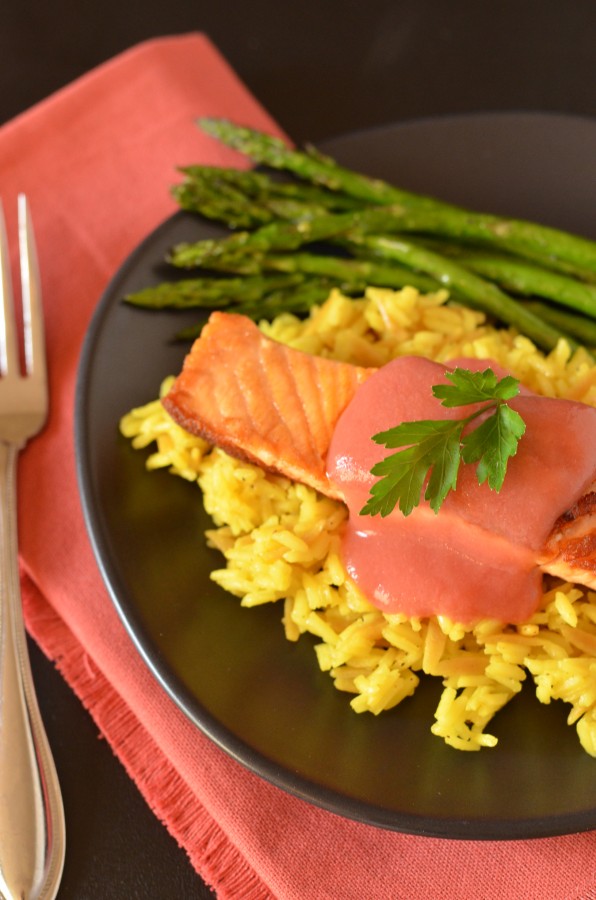 Good morning! We're getting a bit more of a carnivorous start to the week than you may be used to here.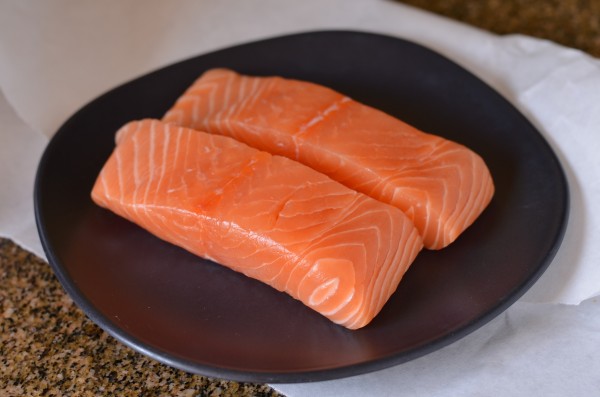 Yum.
P.S. Do you like my asparagus bouquet?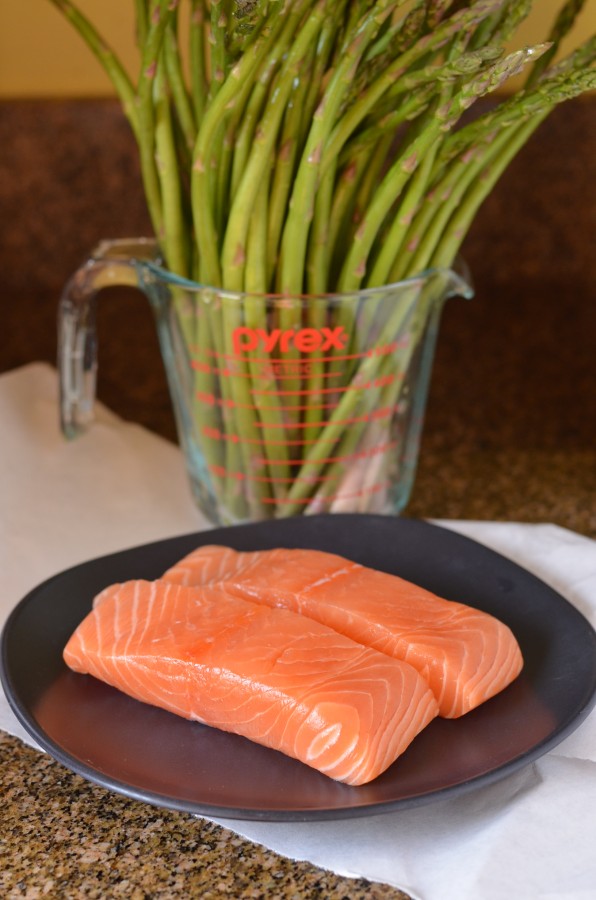 I've been eating a lot of salmon recently. Actually, the truth is that even when I went vegan, I had fish a few times, mostly in sushi because I juuust couldn't resist. I love salmon, and I especially love ordering it at restaurants, where it tends to be the healthiest thing on the menu. The vegetarian options aren't always the healthiest when you go to, say, a French or Italian restaurant. As much as I love some gnocchi in cream sauce, I can't pretend to choose that "for health reasons" when there is a beautiful piece of healthy fish on the menu.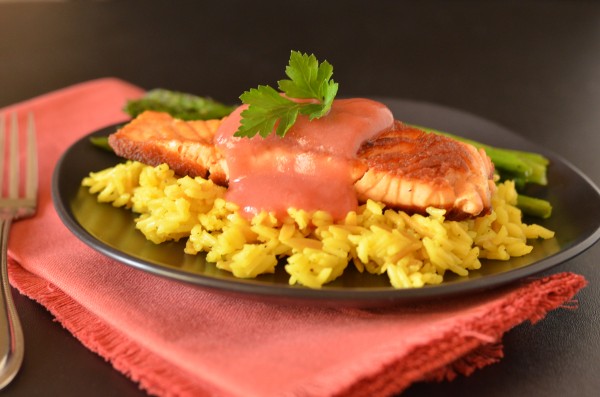 That's how I came to try salmon with rhubarb sauce at the inn where our friends Bill and Aspen got married in May. The menu was small and meat-heavy, so I chose fish (although I did steal a bite of Nate's lamb, mmmm. I love lamb!) The restaurant at the inn was so good; I would have loved to order every single thing on the menu. I think we did our share, though, ordering appetizers, main courses, and a dessert! I would show you a picture of that original salmon with rhubarb sauce… but romantic lighting, iPhone camera, and a plate of food – we all know how that story ends. I'd rather show you these photos instead.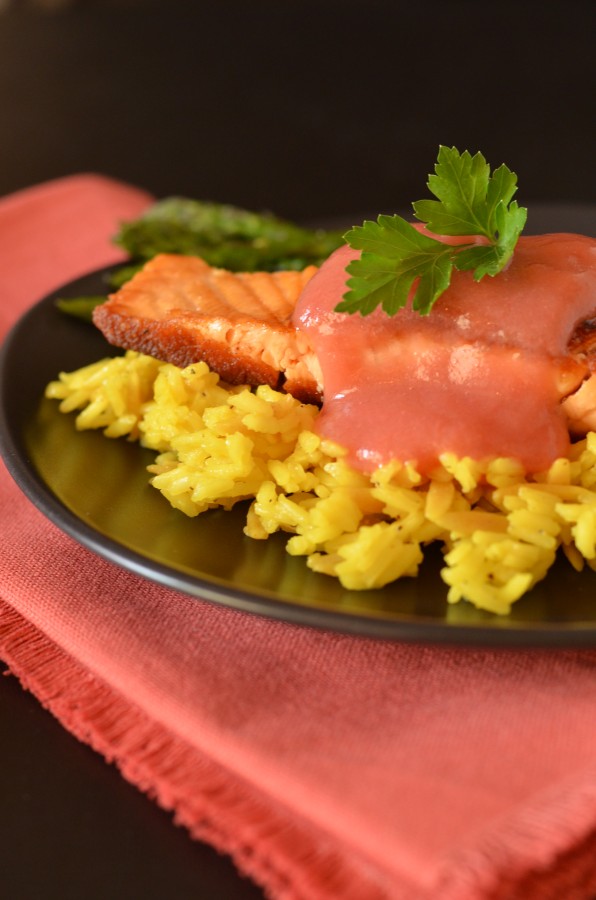 This fish was just so pretty that I couldn't stop photographing it. I finally had to pack the rest up and put it in the fridge so that I would stop taking pictures of it. But even that didn't work, because it looks gorgeous even in an old tupperware container.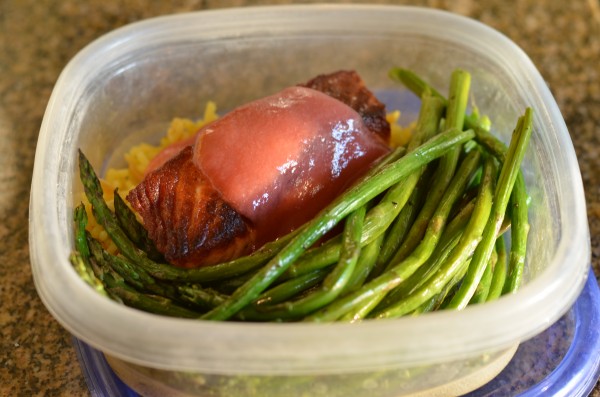 Lunch for the next day, yummm. That was inhaled at my desk in about .4 seconds. Mine… all mine.
Anyway, getting back to the recipe, I was pleasantly surprised at how easy it was to replicate at home. The rhubarb sauce has only three ingredients, and they are simmered together for 15 minutes before being spooned over crispy salmon fillets. I have now made this recipe four times, which might be a record for recipe repetition in the Coffee & Quinoa kitchen, since food blogging kind of demands trying out a new recipe each night.
Yep, this one's a keeper!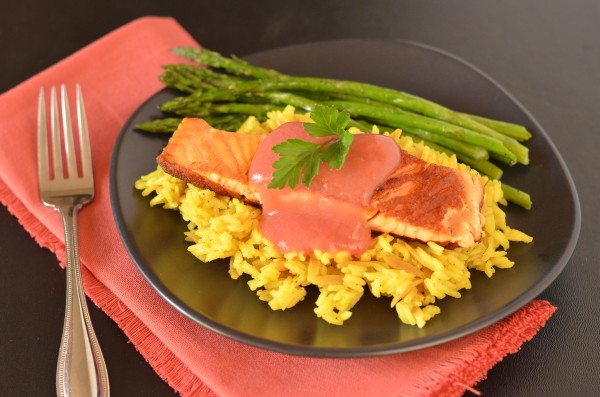 Use your favorite type of salmon here – which for me happens to be farmed Atlantic salmon. I can't help it; it's what I grew up with and it just tastes better to me. I've also tried this recipe with Sockeye and New Zealand salmon, and I have to say I preferred Atlantic salmon over both. That's just personal preference, although I would note that the butteriness of the New Zealand salmon didn't necessarily complement the rhubarb. Anyway, I'm sure you have much more sophisticated seafood tastes that I do.
Try out this salmon while rhubarb is still in season. It is by far my favorite recipe I've posted lately… even with all that ice cream I've been eating!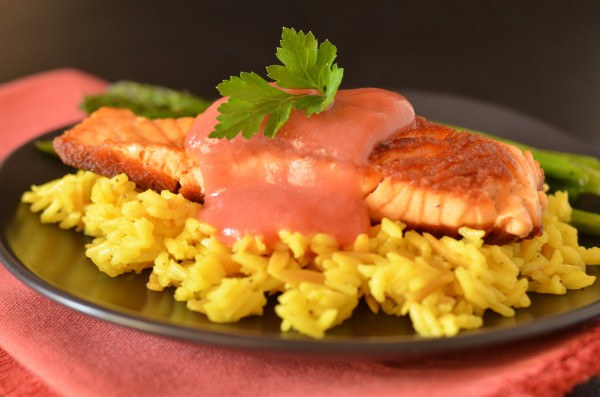 Crispy Pan-Seared Salmon with Rhubarb Sauce
Ingredients
For the rhubarb sauce:
1 lb rhubarb, chopped into 1/4-inch chunks
1/4 cup sugar
juice of 1/2 a lemon
For the pan-seared salmon:
4 salmon fillets (4-6 oz each)
1-2 tsp olive oil
salt and pepper
Instructions
In a small to medium pot, bring rhubarb and sugar to a simmer over medium/low heat. Simmer until rhubarb is falling apart and is the texture of apple sauce, about 15 minutes. Remove from heat and stir in the lemon juice. Puree with an immersion blender or by pouring into a regular blender. If using a regular blender, make sure there is room for the steam to escape! (Pureeing is optional; you can definitely leave the sauce chunky if you prefer.) Set aside.
Rinse salmon fillets and pat dry with paper towels. Sprinkle the tops with salt and pepper.
Heat oil in a large pan over medium heat. Make sure to let it get nice and hot so that the fish won't stick - the oil should be shimmering. Do NOT let the oil get too hot, though. If the oil is sizzling or smoking, remove from heat, reduce heat, and wait several minutes before adding the fish. (Hot oil splatters are no joke, guys! I recommend an apron and long sleeves.) Once the pan is the right temperature, use a pair of tongs place the salmon fillets top side down in the pan. Let cook without moving for 4-5 minutes, then sprinkle with salt and pepper, flip, and cook another 4-5 minutes. Salmon should be crispy on both sides and cooked all the way through.
Remove salmon from pan and let drain on paper towels for a minute or so. Serve and spoon rhubarb sauce over the top of the fillets.