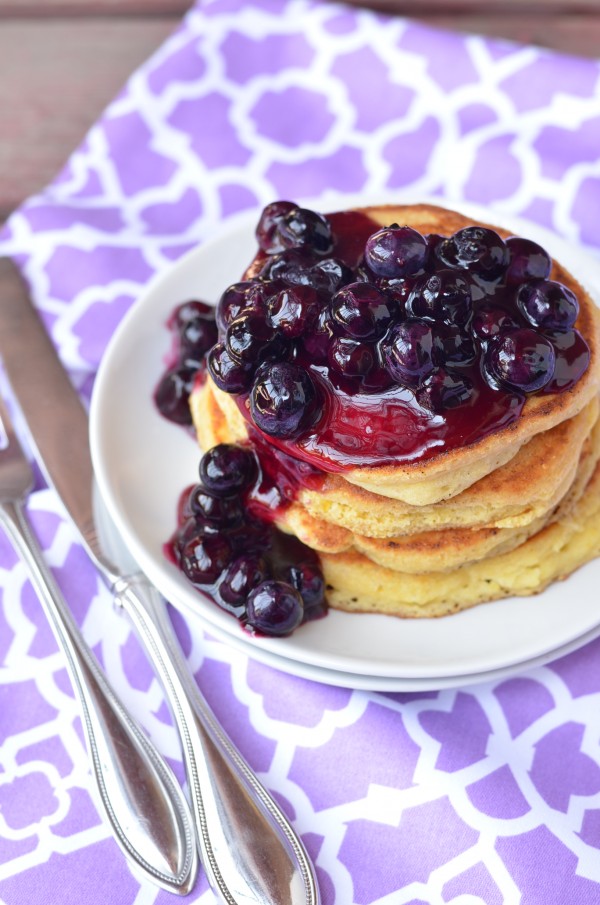 When was the last time you went berry picking?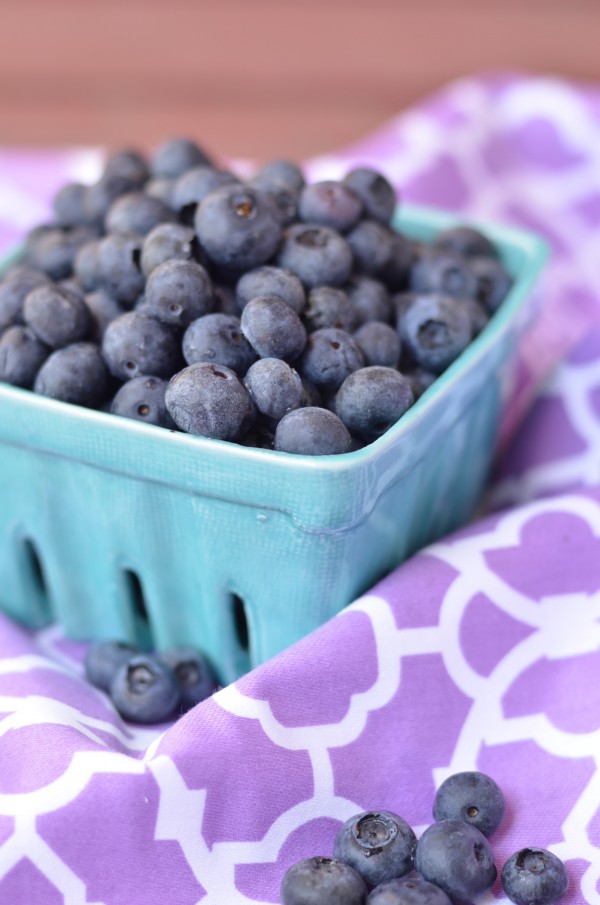 Mine was years ago, when my family came to visit me in Germany at the end of my semester abroad. It was late summer, and we were set on berry picking. We drove about an hour just to pick some raspberries. I probably have vivid memories of it mostly because it is well-documented – my dad likes to take lots of pictures when the family is all together.
Aaand this is reminding me of many funny things that happened during that visit – my sister falling off a folding bike (she didn't think it was too funny at the time), my dad whipping the cream to go on top of those berries by hand because he couldn't find an electric mixer, our crazy German relatives… good thing I am with my sisters this week, because we have some reminiscing to do.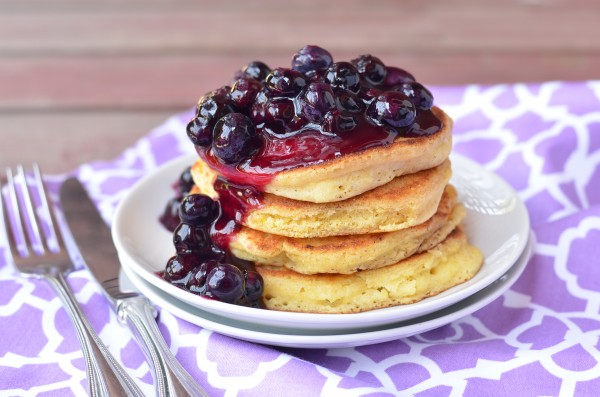 But that was raspberry picking, and this is a blueberry recipe. I haven't picked blueberries since childhood, in Michigan with my grandparents. Those are some good family memories, too.
Nowadays I am relegated to the supermarket or farm stand for my berries, since there are none to be picked by the public anywhere nearby. Not as memorable to get them that way, to be sure, but they're equally delicious. When I saw 2-pound boxes of blueberries for $5.99 last week, I did the spontaneous happy dance that bubbles up whenever I find delicious produce on sale in massive quantities. Do I want to buy a container of blueberries the size of my head? Do you even have to ask?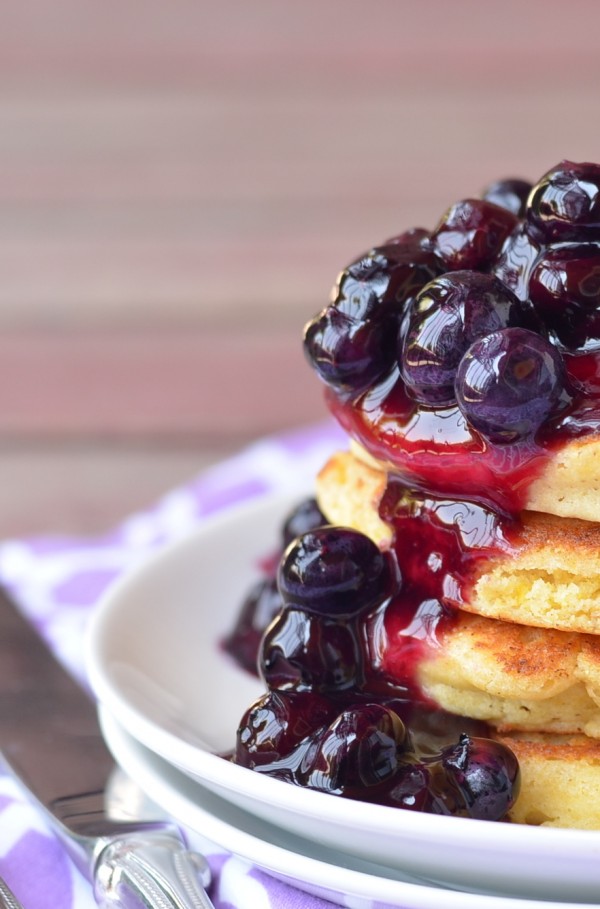 Those blueberries turned into this maple blueberry sauce, which topped these lemon cornmeal pancakes. I love the crunch of cornmeal in pancakes (I've made you some savory ones before!), and fresh lemon zest perfectly balances out the sweet blueberry sauce. An ideal breakfast for this weekend, should you find yourself in possession of a container of blueberries the size of your head.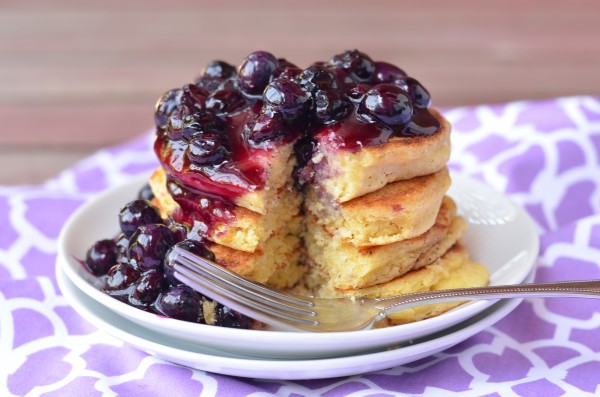 Lemon Cornmeal Pancakes with Blueberry Sauce
Yields:
6 medium-sized pancakes
Ingredients
For the pancakes:
1/2 cup all-purpose flour
1 cup cornmeal
1 1/2 Tbsp baking powder
2 Tbsp sugar
1/4 tsp kosher salt
zest of 1 lemon
1 cup + 2 Tbsp milk (I used whole milk)
1 egg
2 Tbsp butter, melted
extra butter for the pan
For the blueberry sauce:
3 cups blueberries, divided
juice of 1 lemon
1/3 cup water
1/3 cup maple syrup
2 Tbsp cornstarch mixed with 2 Tbsp water
1 tsp vanilla extract
Instructions
First, mix the pancake batter. Combine flour, cornmeal, baking powder, sugar, salt and lemon zest in a large bowl. In a different bowl, whisk together the milk and egg. Pour into the dry ingredients, and mix until just combined. Add the melted butter and mix again until just combined. The batter should be thicker than your average pancake batter, but feel free to add a few extra tablespoons of milk if it looks way too thick. Set aside while you make the blueberry sauce.
To make the blueberry sauce, add 2 cups blueberries, lemon juice, water, and maple syrup to a small saucepan. Bring to a simmer, stir in cornstarch mixture, and simmer until sauce is thickened, about 5 minutes. Remove from heat and stir in vanilla extract and remaining cup of blueberries.
Now it's time to make the pancakes! Heat a large pan, griddle, or skillet over medium heat (a bit on the low side of medium). Once hot, drop in a pat of butter and swirl it around to melt. Ladle a small scoop of the pancake mixture in (make several at once if you have room), and smooth the top. Cook without moving the pancake until the top starts to bubble. Once this happens, flip, and cook on the other side until browned, which will be much quicker than the first side. Remove, add another pat of butter, and repeat!
You can keep the finished pancakes in a single layer on a baking sheet in a 200 degree oven until ready to serve.
Top with blueberry sauce and enjoy!