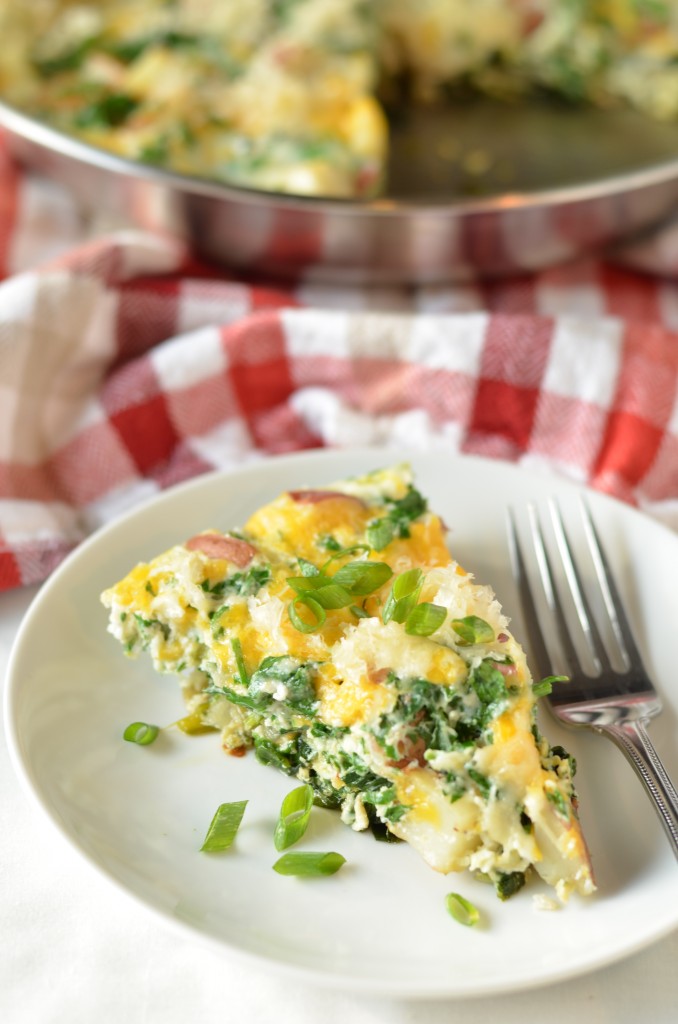 Since embarking on my ice cream journey, I'm become something of an egg white master. You see, every ice cream recipes involves egg yolks, and lots of 'em, but never the whites. So it's no surprise that I have tupperwares full of egg whites in my fridge, just waiting to be whipped up into something tasty. Breakfast burritos are my go-to egg-white-user-upper-recipe. But they don't contain nearly enough produce when you've also just received your very first heaping CSA box!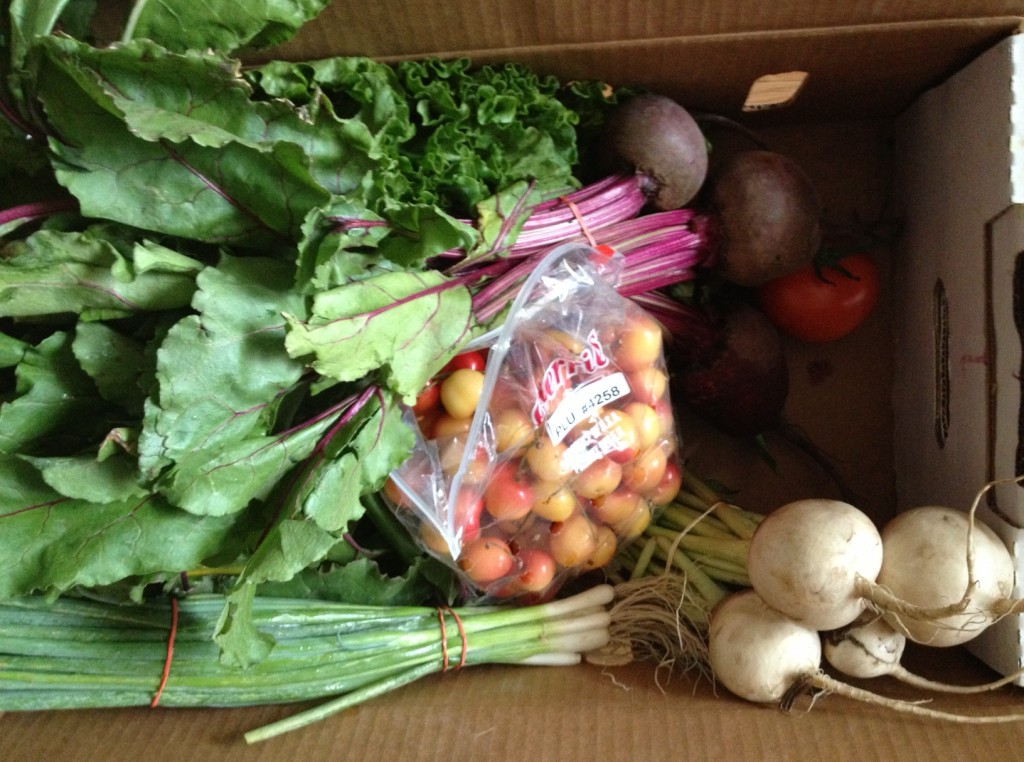 This past week was my first CSA delivery of the summer. I've never tried out a CSA before, so I was super excited to receive all this gorgeous fresh produce straight from a local farmer. In addition to the above picture, I also signed up for a box of berries every week (blackberries this week, mmmmmm) and a dozen eggs every other week.
As excited as I was for all these goodies, I was also slightly intimidated. What do you do with turnips? What do spring onions taste like? (Answer: really strong green onions!) How long is this chard going to last in the fridge? Should I eat these beet greens or toss them? And how am I going to eat all this stuff on my own while Nate is in Peru for the next week?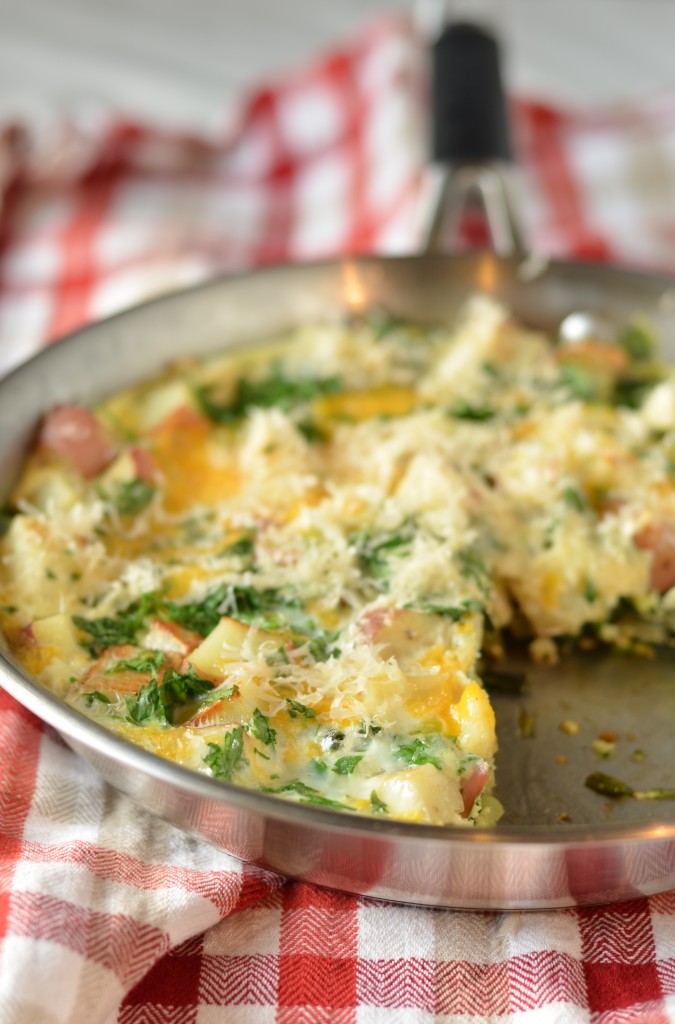 All that goes to say that I ended up cramming as many CSA veggies as I could into one dish: this frittata. Frittatas are great at that type of thing, and I've been employing their skills often recently to use up egg whites and clean out the fridge. This is my best creation yet, with tons of fresh flavor from the spring onions, chard, parsley, and lemon. It's heavy on the veggies, yet two types of cheese make it rich enough that nobody's complaining. This frittata reheats like a dream, and I've eaten some for lunch every day since I made it.
CSA box conquered! Except for those turnips…
In other news, guess what happens when you switch your blog to the Thesis theme with no knowledge of HTML? You stare blankly at the computer screen, watch a lot of YouTube videos, break your blog header, make 4 batches of popcorn while watching Julie & Julia… and eventually have a prettier site than you started out with. Things should be looking a little different around here than they did on Friday (and hopefully for the better!). This redesign is something I've wanted to do for a long time. It's still a work in progress, so you may notice things continuing to change around over the next couple days. Let me know if you come across anything that looks broken!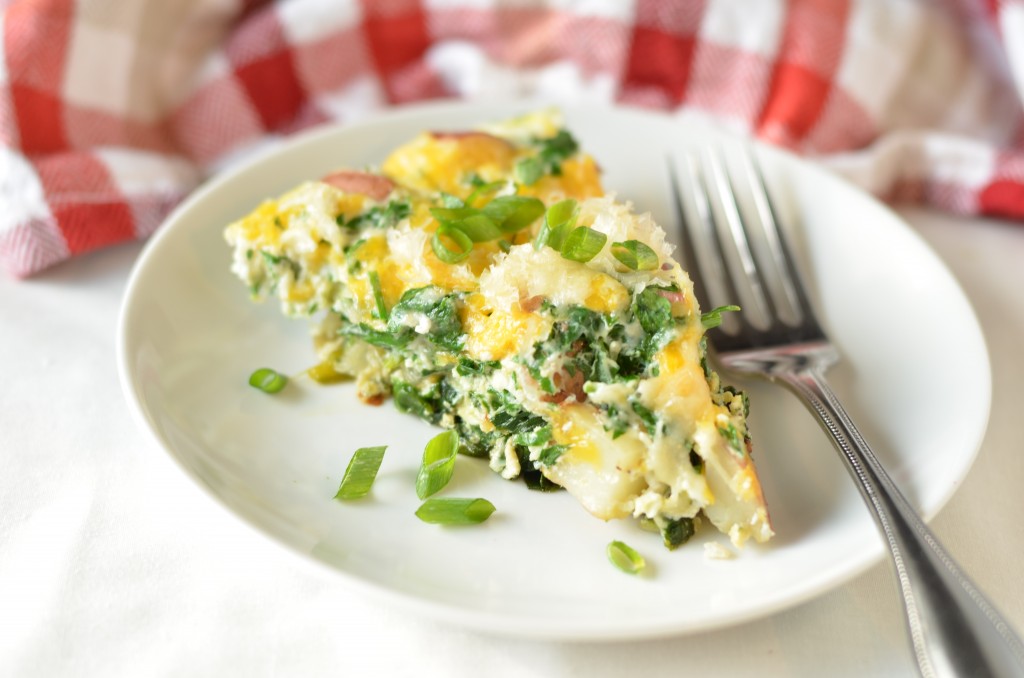 Lemony Rainbow Chard Egg White Frittata
This egg white frittata is bursting with flavor from lemon zest, rainbow chard, and lots of fresh herbs.
Ingredients
1 lb red potatoes, scrubbed and diced into 3/4-inch cubes
2 Tbsp + 1/2 tsp olive oil, divided
salt and pepper
1 bunch Swiss or rainbow chard
2 cloves garlic
1 cup chopped spring onions (can sub green onions) + extra for garnish
12 egg whites (1 1/2 cups)
2/3 cup grated extra sharp cheddar cheese
1 loose tsp lemon zest
1 cup roughly chopped flat leaf parsley
1/2 cup freshly grated parmesan
Instructions
Preheat oven to 400. Toss potatoes with 1/2 tsp olive oil and a sprinkle of salt and pepper. Spread on a baking sheet lined with parchment paper. Roast until barely tender and beginning to brown, about 20 minutes, stirring once.
While potatoes are roasting, prepare the chard by separating the leaves from the stems. Thoroughly rinse and dry leaves and roughly chop. Rinse stems and chop into 1/4-inch pieces. (If you have some very thin stems, you can chop these into longer pieces - about 1/2 an inch.) Set aside.
Whisk egg whites with cheddar cheese, lemon zest, and a pinch of salt and pepper. Be sure to break up any big clumps of lemon zest! Set aside.
When the potatoes are almost tender, heat a 10-inch skillet or heavy pan over medium heat. Add 2 Tbsp olive oil and once hot, add garlic and spring onions and saute until softened, 1-2 minutes. Add chard stems and saute until tender, 5-6 minutes, stirring occasionally. Add chard leaves and saute until reduced, about 2 minutes, covering the pan if necessary to let them steam.
Remove potatoes from oven, leaving oven at 400 degrees. Turn up your stovetop burner to high so that it will be very hot by the time you add the eggs. Spread the potatoes in an even layer on top of the chard saute. Top with parsley. Pour the egg white mixture over everything, distributing it evenly. Reduce heat to medium-low and cook until the edges are set, 6-8 minutes.
Move skillet to the oven and cook until the center is set, 3-4 minutes more. Remove from oven and sprinkle with parmesan cheese. Allow to cool for several minutes, then cut and serve directly from the skillet. Enjoy!