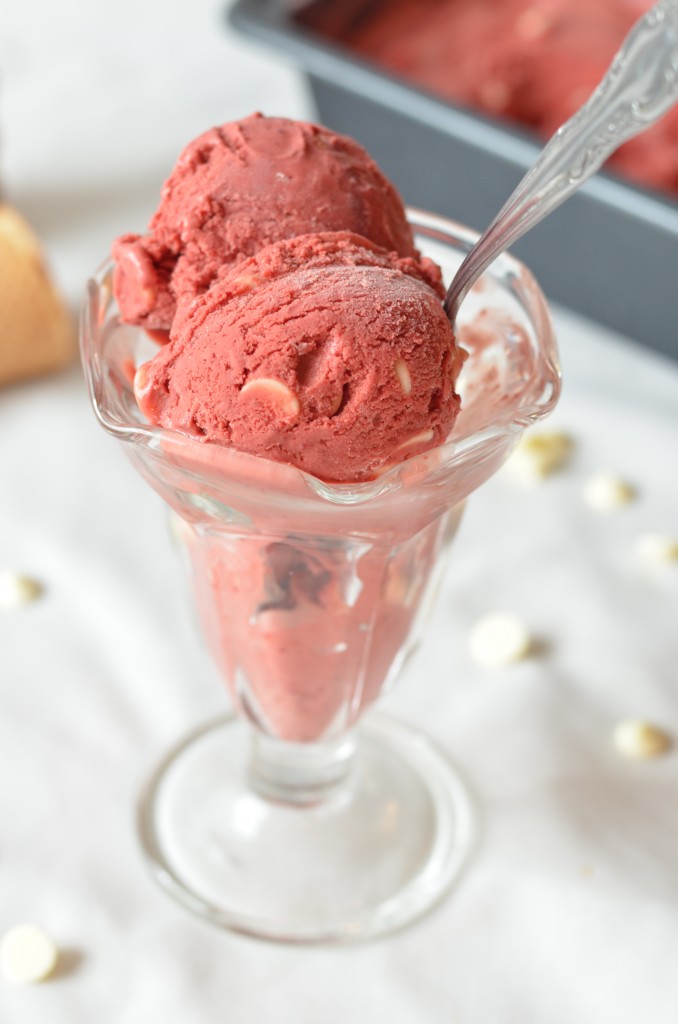 Beet lovers, this one's for you.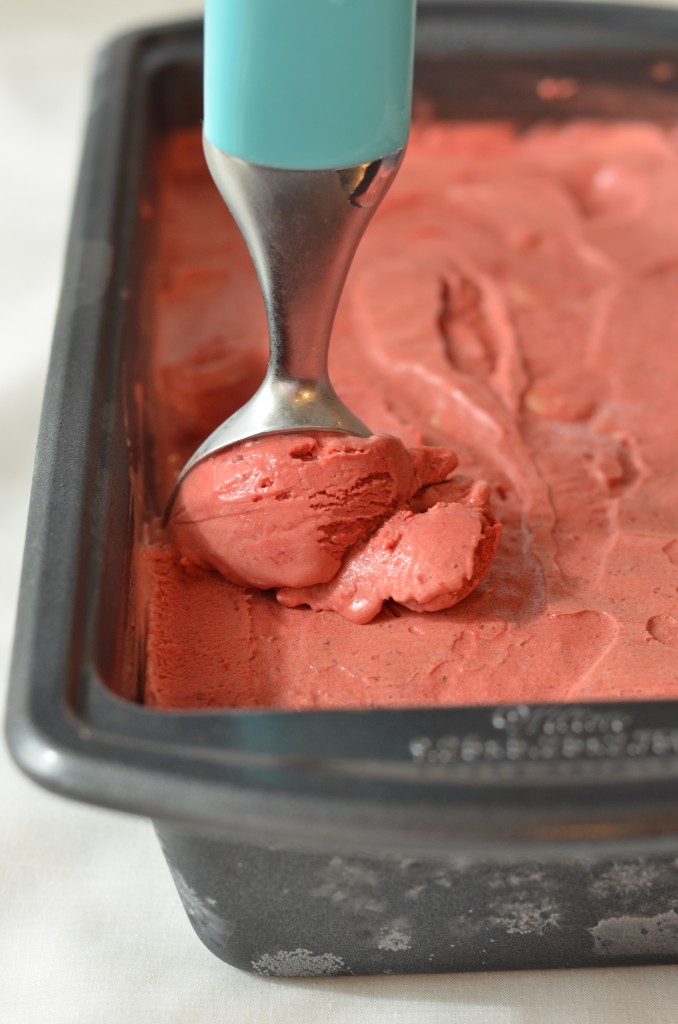 I would not necessarily consider myself a lover of beets. I adore beets in the right time and place (and have a slew of beet recipes on this site), but I also occasionally think they taste like dirt. Needless to say, I was a little wary of trying a beet ice cream. But once the idea suggested itself, I was too intrigued not to go through with it.
As I researched beet ice cream recipes, I found that the road was paved with mixed reactions: all the way from "rude essence of beet" to "damn tasty!" I decided to follow the recipe that was declared "damn tasty," and was quite pleased with the results. It tasted nothing like dirt, and miraculously, seemed to be exactly the right time and place for beets.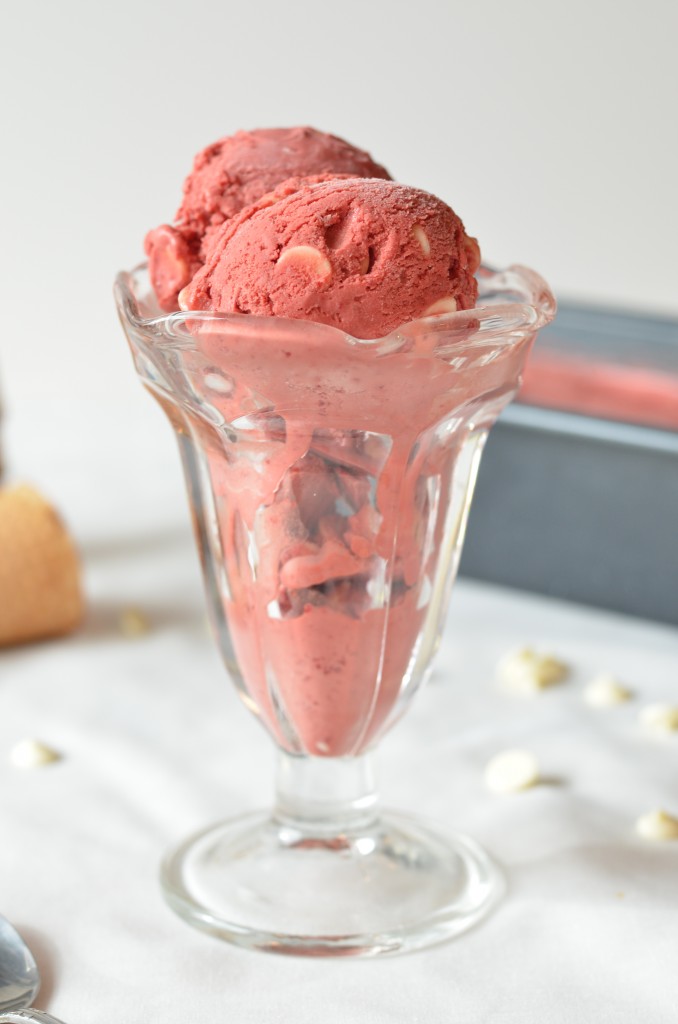 One of my favorite things about this ice cream is how the flavor changes with each bite:
First bite: Whoa, this tastes like beets!
Second bite: Oh, and it tastes like ice cream!
Your taste buds somehow recover from the shock of beet flavor after bite #1, and by the second bite, you can marvel at how well beets turn into ice cream, especially with the white chocolate. The combination is really awesome! And sure, it's not for everyone, but I for one can go back for seconds and thirds.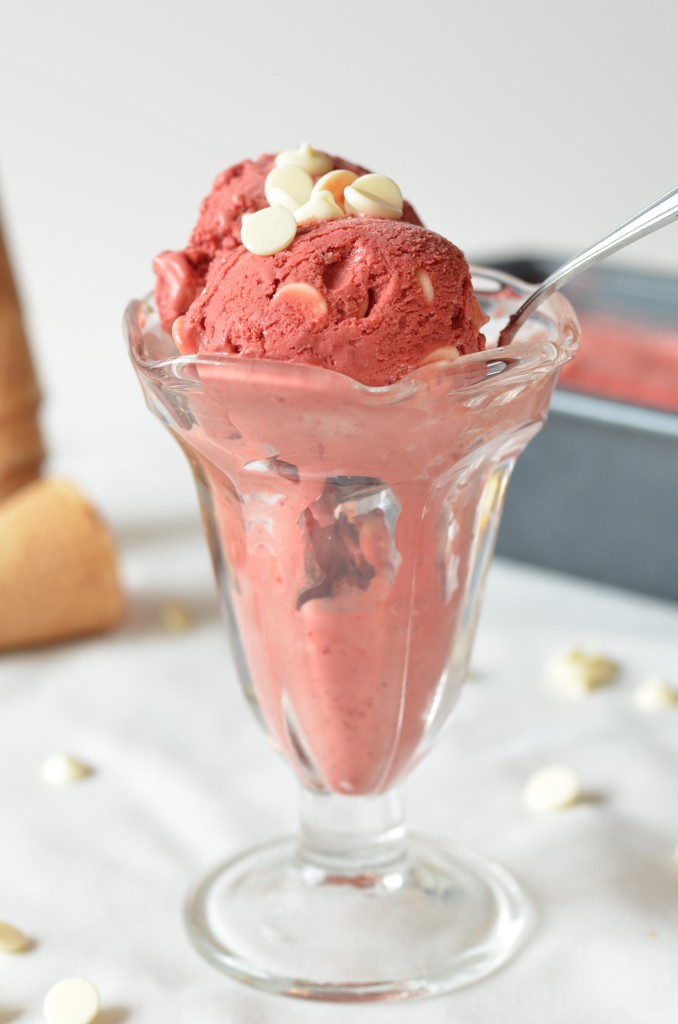 And we can't discuss this ice cream without noticing the gorgeous color. I just love that beet-red hue, and this ice cream might be my prettiest-ever beet creation.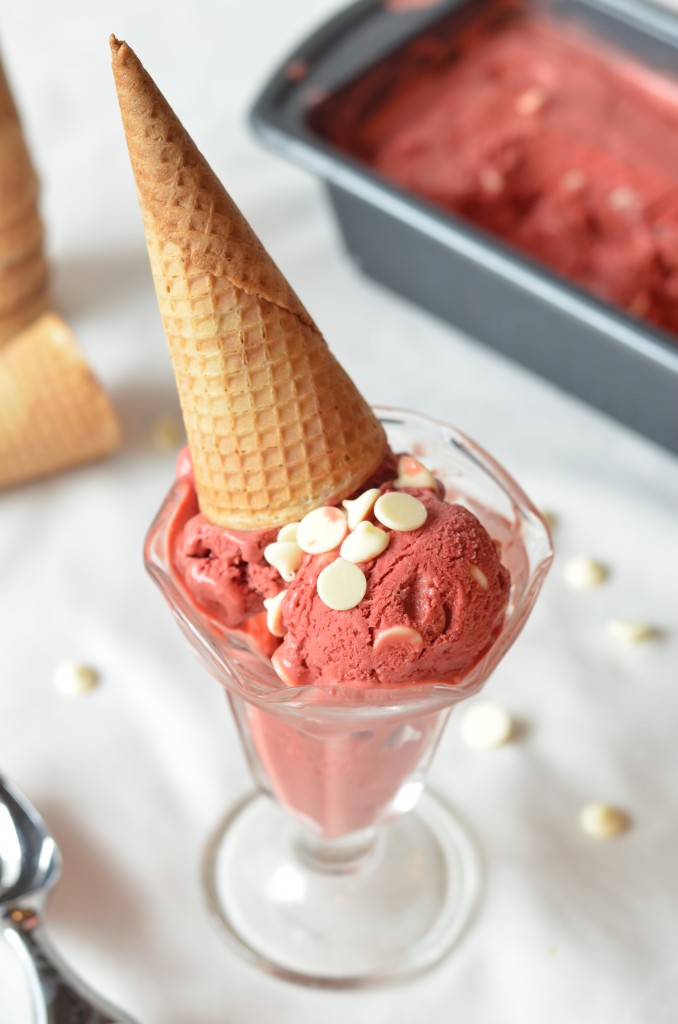 The color is what made me fall in love with this ice cream as I was making it. From infusing the cream with beets to adding a beet juice reduction to hardening in the fridge, the ice cream took on more on more of that vibrant hue. Actually, it ended up even brighter than you see here after another day or two in the freezer – more of a bright raspberry color. Come to think of it, raspberry flavor would go great with this ice cream! Maybe some other time :)
Beet lovers: this bright pink ice cream. Do it.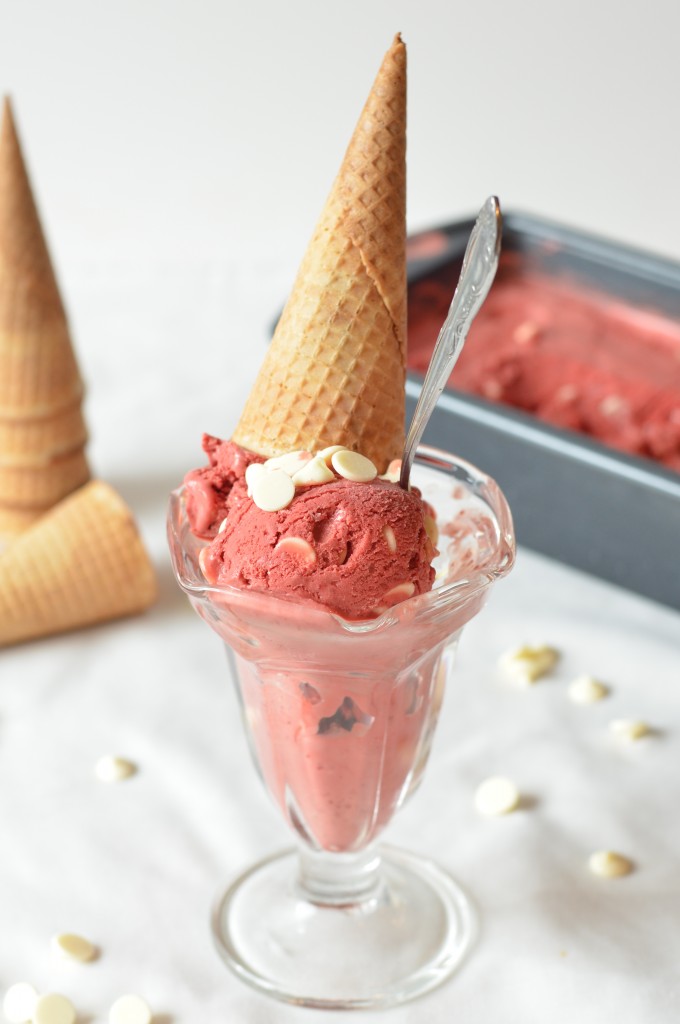 Red Beet and White Chocolate Chip Ice Cream
Bright pinkish-red beets and white chocolate chips combine for a beautiful and flavorful summer treat.
Ingredients
2 lbs red beets, peeled roughly chopped (about 4 small to medium beets)
2 cups heavy cream
2 cups whole milk
3/4 cup sugar
8 egg yolks
1 1/4 cup white chocolate chips
Instructions
Juice the beets in a juicer, reserving the pulp. If you don't have a juicer, puree them in a blender or food processor instead, adding just enough water to allow the beets to liquefy. (This is the method I used, adding about 3/4 cup water.) Strain and reserve the pulp. Simmer the beet juice over low heat in a small saucepan until reduced to about 1/4 cup. Pour the liquid into a small container, cover, and keep in the fridge until ready to churn the ice cream.
Add the reserved beet pulp to a larger saucepan along with the cream, milk, and half the sugar. Bring to a simmer, then remove from heat and allow to steep, covered, for about 30 minutes. Strain the cream mixture into a bowl; this time you can discard the beet pulp.
In a bowl, beat the egg yolks and remaining sugar until they have thickened slightly and lightened in color, about 1 minute. Whisking constantly, pour in about 1/2 cup of the cream mixture to temper the eggs. Pour in the rest of the cream mixture, then return the whole thing to the saucepan. Stirring constantly with a wooden spoon, heat the mixture over low heat until it reaches 175 degrees. This is the point at which the mixture will coat the back of the spoon and if you draw your finger across it, the line with hold.
Prepare an ice bath by placing a few handfuls of ice cubes and a splash of cold water in a large bowl and setting a slightly smaller bowl on top of it. Strain the custard into the smaller bowl and set aside to cool. Once it has reached room temperature, cover and refrigerate until thoroughly chilled, 6 hours or overnight.
Now we are ready to churn! Stir the reduced beet juice into the custard and churn in an ice cream machine according to the manufacturer's instructions. In the last 5 minutes of churning, pour in the white chocolate chips.
Spread in a container, cover, and freeze until hard, at least 2 hours.
Enjoy!