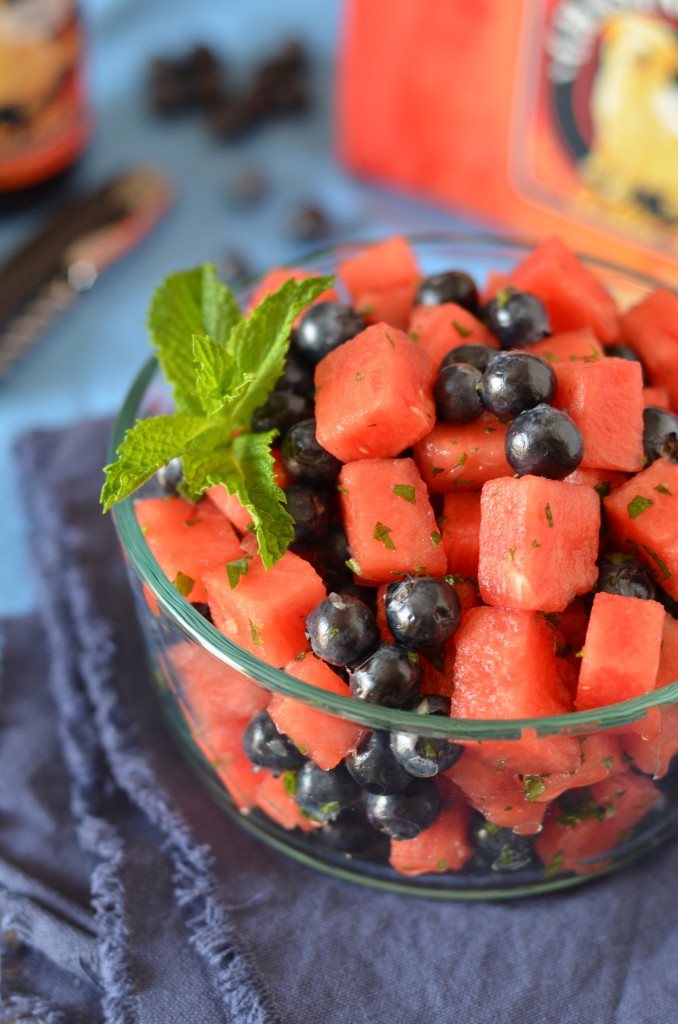 Good morning! I thought we could all start our week off with some beautiful fresh fruit.
It has been ridiculously hot here for the past few days – over 100. I think the whole West has been experiencing this heat wave. Those temps aren't unusal for a Salt Lake summer – but in June?! I was looking forward to a few more weeks of 80s before we moved into the triple digits! But instead we have highs in the 100s until Thursday, when it will be a cool 98. Eek!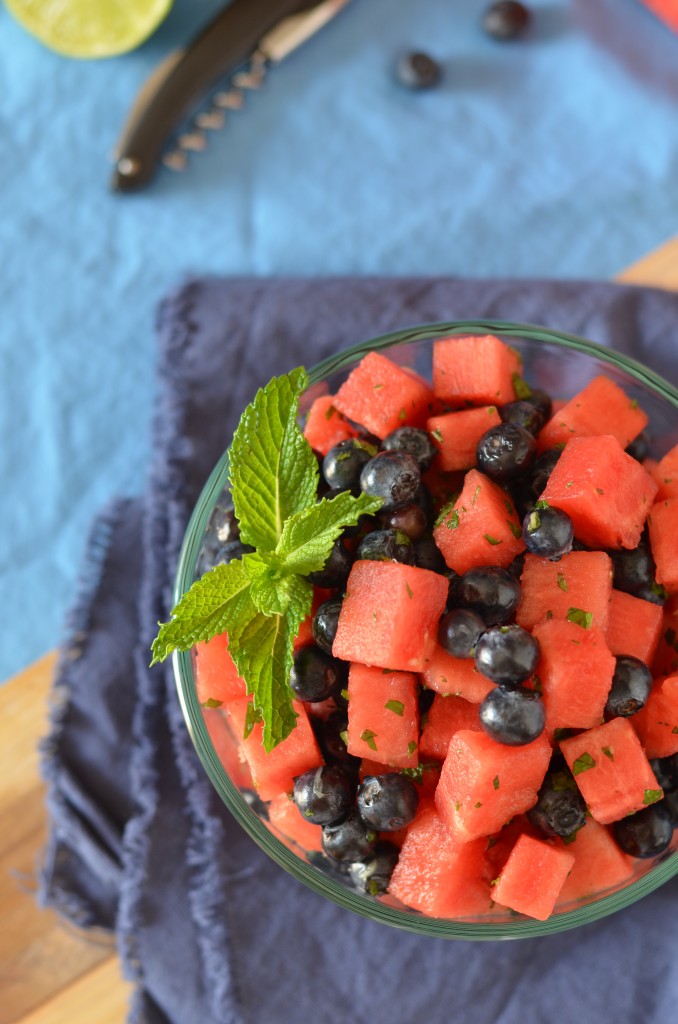 Thank goodness for central air, lots of cold water, and fruit salads like this one. They are basically how I survived the weekend! (Oh and I made some ice cream, too. Just to keep cool, you know?) I'm snacking on this fruit salad as I type, and it's wonderfully cooling and hydrating. I don't usually make a conscious effort to choose hydrating snacks, but it strikes me as I'm munching that the water content is half the reason I'm enjoying it so much. Mmmmm melon.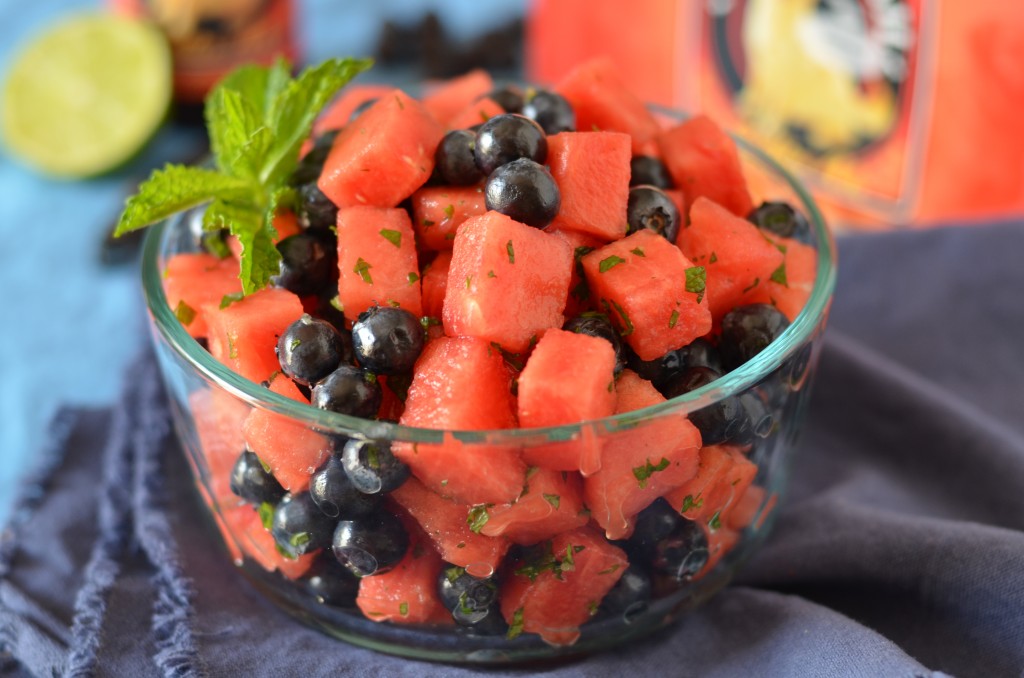 "Recipe" is too big a word for this fruit salad… the instructions only have one step. But that doesn't make it any less perfect! Juicy watermelon, burst-in-your-mouth blueberries, and cool mint and lime make a delicious Fourth of July fruit salad. We've got American flag colors, we've got refreshing watermelon – all around ideal for a picnic or barbecue in the middle of a heat wave.
Now all that's left is to make it til Thursday! (Me in the heat, that is. This salad certainly won't.)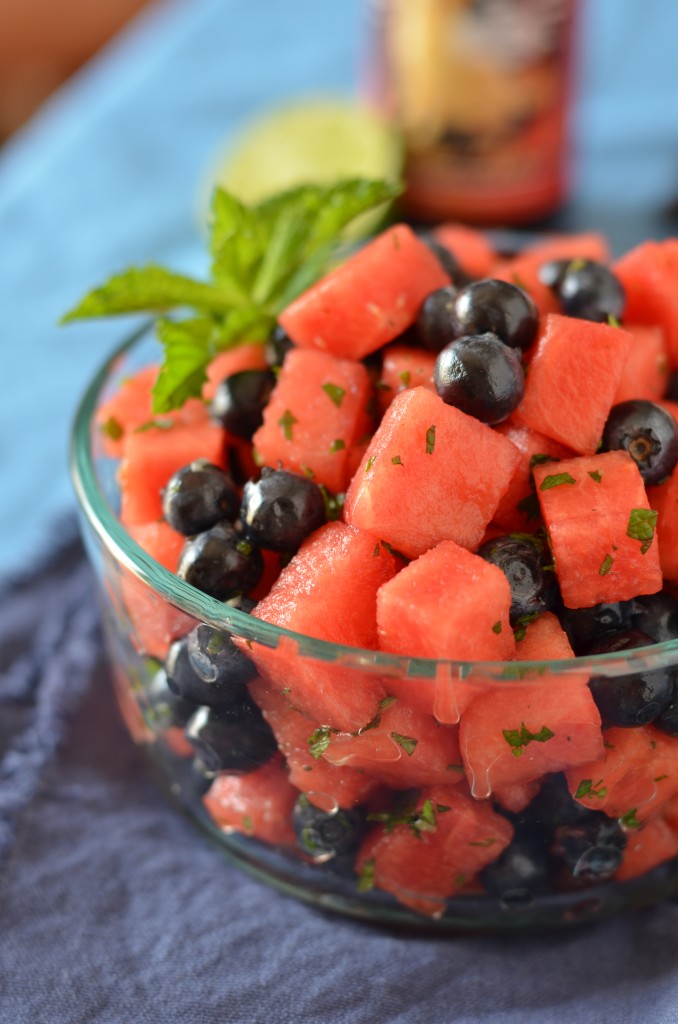 Red, Mint & Blue Fruit Salad
This simple fruit salad with watermelon, blueberries, mint and lime is perfect for a summer picnic or barbecue.
Ingredients
6 cups chopped watermelon
3 cups blueberries
1/4 cup packed mint leaves, finely chopped
juice of 1-2 limes
1 Tbsp honey (optional)
Instructions
Toss all ingredients together in a large bowl. Serve and enjoy!