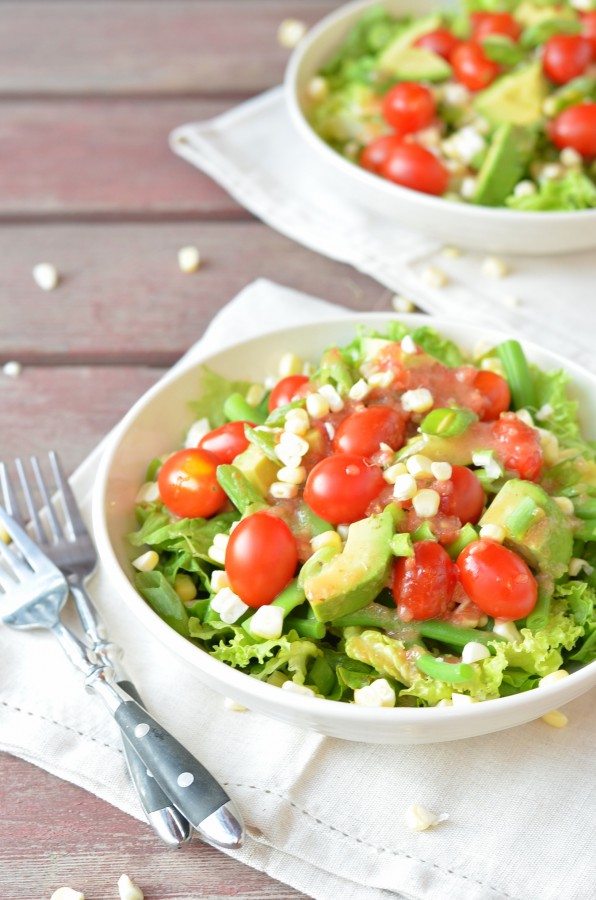 Meet my perfect simple summer salad.
You two should be friends.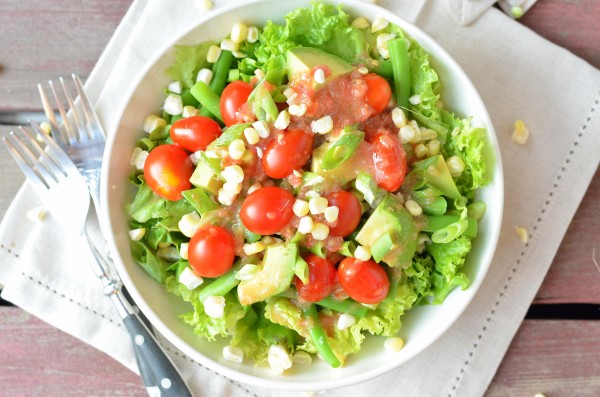 This salad is certainly no culinary breakthrough, but when it comes to summer produce, sometimes simpler is better. And there is about to be a LOT of summer produce up in here, because this past week's CSA box was packed to the brim: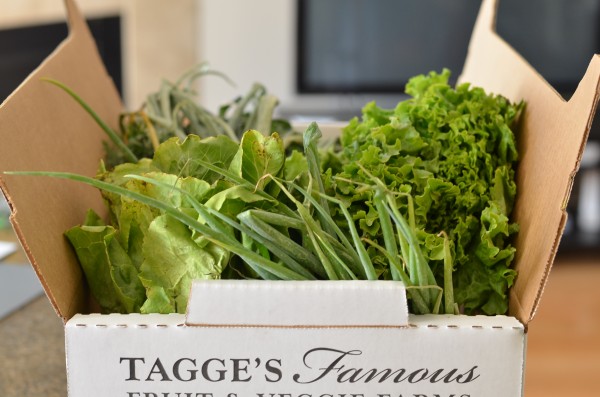 I have more lettuce than I know what to do with, along with zucchini, beets, carrots, garlic, green garlic, spring onions, green beans, apricots, and the season's first corn. Foooooood.
I think the boxes are only going to get more stuffed from here on out. Come August and September, I have no idea how we're going to eat it all!
For now, I think I'll try to stuff as much of it as possible into a salad.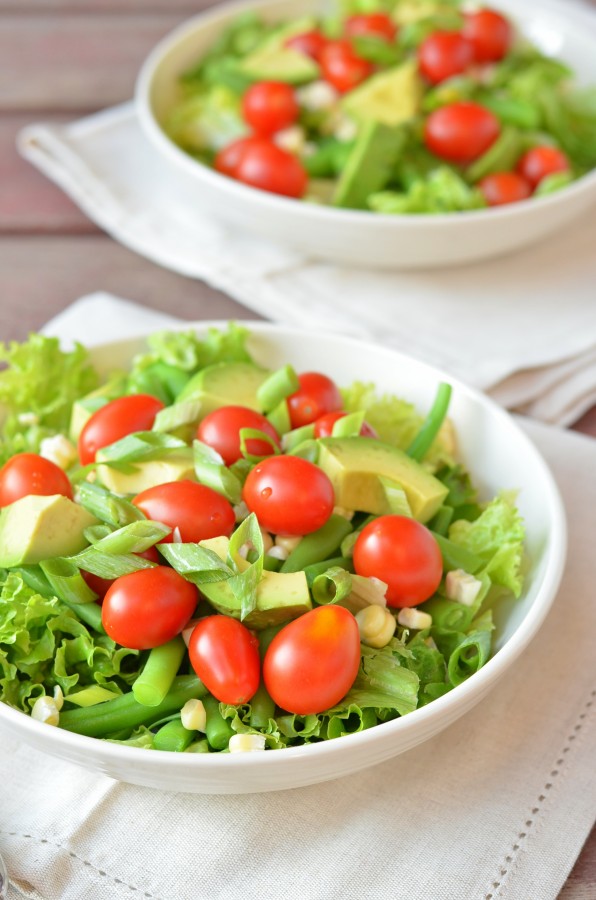 And top it with a yummy red wine vinaigrette made with a fresh tomato!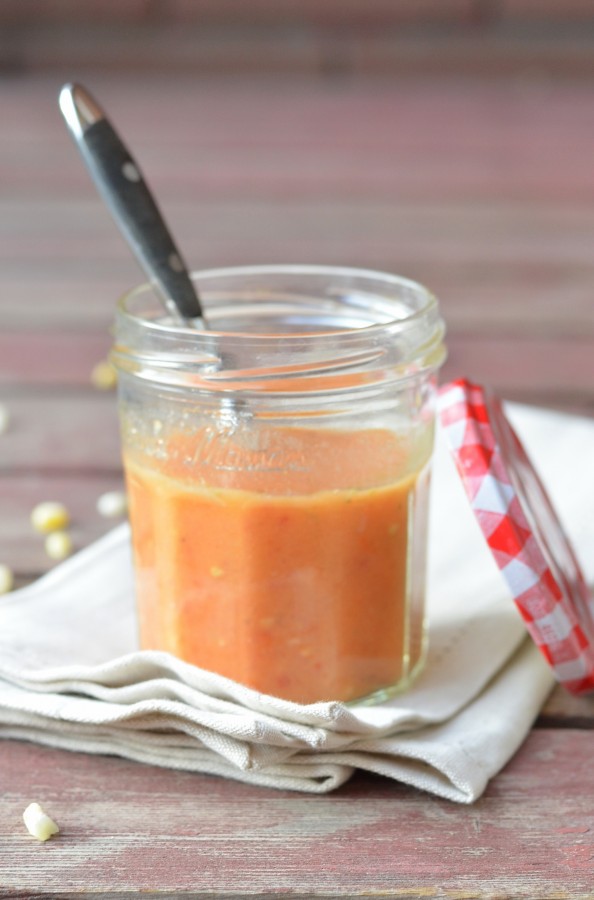 I've had this SkinnyTaste skinny red wine tomato vinaigrette pinned ever since I opened a Pinterest account. I tried it out at long last, and it didn't disappoint! I love blending up fresh dressings like this one to brighten up simple salads.
Is the crazy heat wave in the eastern part of the country finally over? I hope so, because on Friday I am flying out to Boston for a friend's bachelorette party (hi Martha!) and then a week on the beach with my fam. I cannot WAIT! In the meantime, we have highs of 100 every day this week out here in Utah. That's OK… I'm cranking up the AC and making nothing but this salad!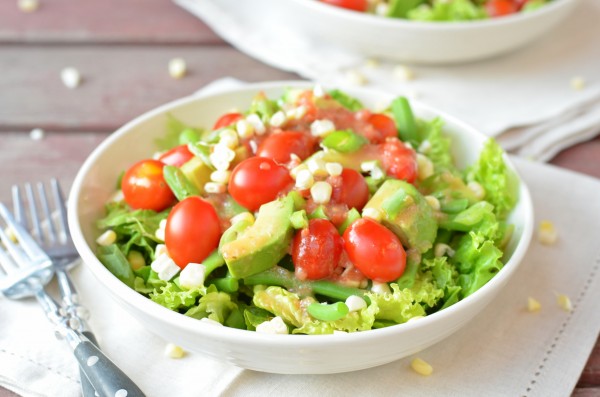 Summer CSA Salad with Red Wine Tomato Vinaigrette
A beautiful summer salad with corn, tomatoes, avocado, and green beans, topped with a fresh tomato and red wine vinaigrette.
Yields:
4 dinner-sized salads
Ingredients
For the dressing:
1 vine-ripened tomato, roughly chopped
1 clove garlic
1 Tbsp red wine vinegar
3 Tbsp extra virgin olive oil
1 tsp prepared mustard
juice of 1 lemon
2 tbsp water
1/2 tsp dried oregano
salt and pepper to taste
For the salad:
1 small head lettuce, torn and washed
4 cups trimmed green beans
kernels from 1 ear of corn (about 3/4 cup)
1 pint cherry or grape tomatoes
1 avocado, chopped
2 green onions, thinly sliced (optional)
Instructions
First, make the dressing. Puree tomato in a food processor until liquefied. Add remaining dressing ingredients and blend again until smooth. Refrigerate until ready to use.
Next, we are going to quickly blanch the green beans. Bring a pot of water to a boil and prepare an ice bath - a large bowl with ice cubes and cold water. Add green beans to boiling water and simmer for 2-3 minutes, until bright green. Drain and immediately plunge green beans into ice bath. Let sit for several minutes before draining the cold water and removing the ice cubes.
Finally, layer salad ingredients in a serving dish or individual bowls. Serve with dressing and enjoy!