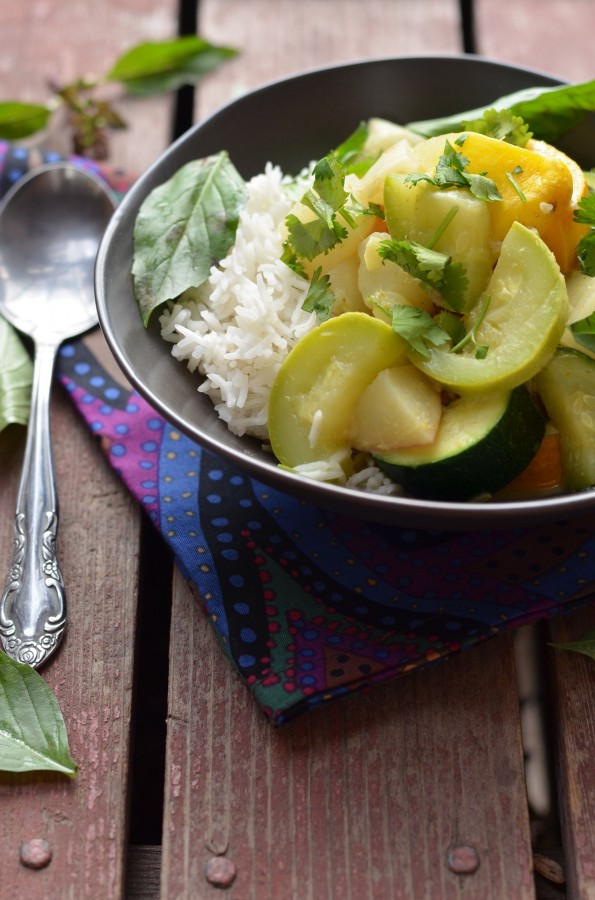 Remember my CSA bounty I told you about on Monday?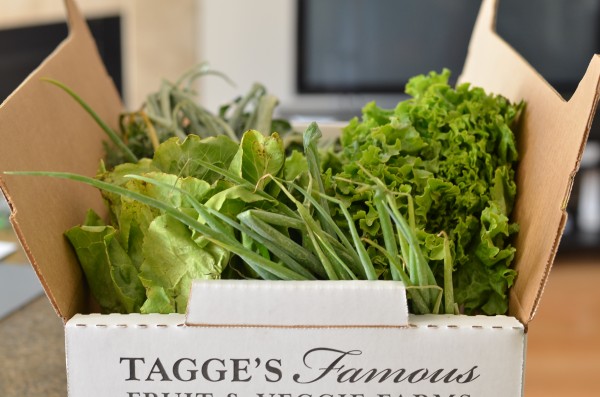 Well, hidden in there were also some adorable summer squash.
Lebanese squash (I think?), pattypan squash, green zucchini, and yellow zucchini.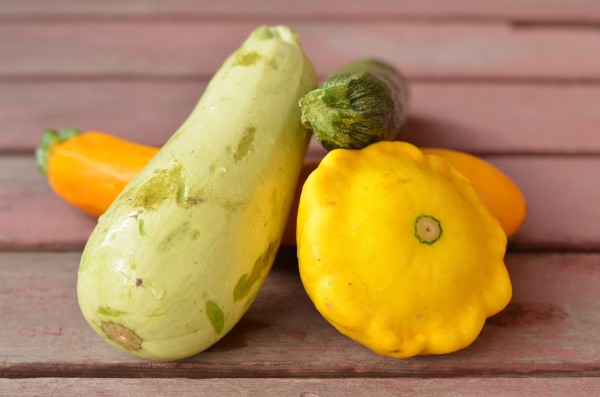 I only ever really buy zucchini and yellow crookneck squash, so I was really excited about the prospect of trying some new kinds. I mean, they all tasted the same, but I loved the colors. And that little pattypan squash is just too cute to be allowed!
Admission: I've been afraid to buy pattypan squash, despite their cuteness, because I didn't know how to cut them up. This forced me to try, and it was super easy: just slice off the stem on top and bottom and chop into wedges. Duh.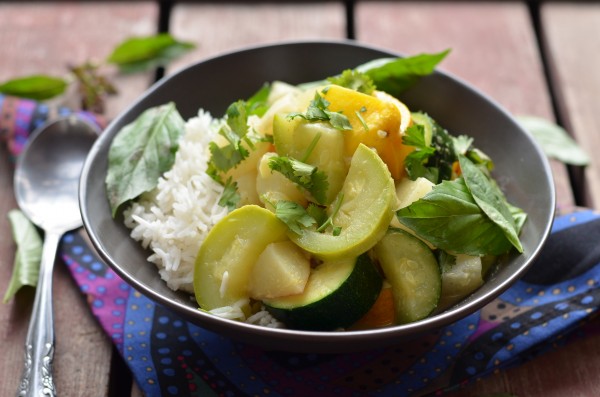 So I got a multitude of squash, but no turnips. I actually planned this meal before I picked up the box, assuming we'd get turnips again. Then, when we didn't, I just bought some anyway. (Buying turnips… who am I?) They are definitely trying to give us a variety in our CSA box – cherries one week, apricots the next, etc. – which is nice, except when you're learning how to cook with something new. I'm like, helloooo, now I'm brimming with turnip recipes! Bring on the turnips! Then nothing. But that's OK, because I'm sure I'll get my fair share of turnips and squash during the rest of the summer, and now I know the perfect dish to use them all up.
This is a curry that I promise is worth turning on your stove for, especially if the turnips and squash in your fridge need a new home. It's quick, flavorful, and super healthy, plus using curry paste makes it easy to throw together on a weeknight.
Speaking of curry paste…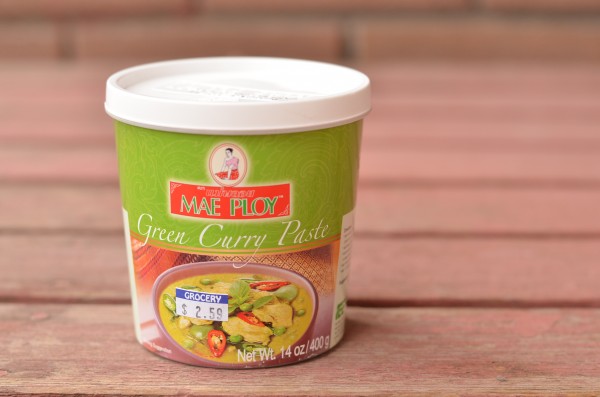 This is the kind I used. Apparently a guy at the Asian market recommended this brand, although I wouldn't know firsthand, as I'm usually too intimidated at the Asian market to ask for help. Luckily, I have friends that are braver than me. Anyway, I picked some up, and found out that the recommendation may have been based purely on spice level. Whooooaa is it spicy. Tasty, but sweat-inducingly spicy. Also, 14 ounces is a LOT of curry paste, especially for $2.59… so maybe it was recommended for value. Anyway, like it or not, I'm going to be serving an abundance of very spicy green curry in the near future.
My mouth is burning just thinking about it.
You can use any green curry paste you'd like; you can usually find some in the international aisle of the grocery store. (Just make sure it's curry paste, not sauce.) Ask for recommendations at your own risk!
Another thing to note is that while I shot these photographs with Thai basil as a garnish, I actually preferred it without. Easier for you! Thai basil is pretty, though.
What are some of your favorite ways to use up summer squash? Betcha 5 bucks I have another squash recipe coming up soon!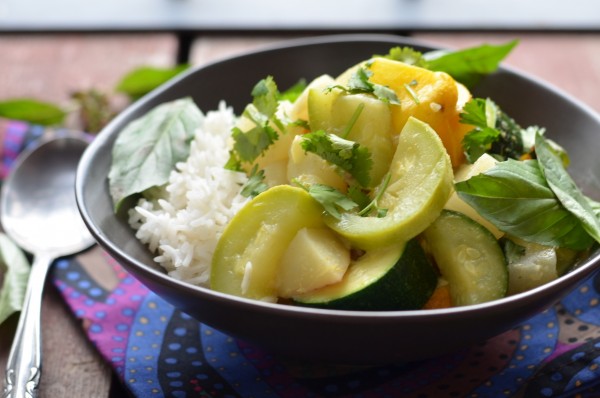 Thai Green Curry with Turnips and Summer Squash
This green curry is the perfect use for summer CSA vegetables like turnips and zucchini. Using curry paste makes this a quick and easy weeknight meal.
Ingredients
For the curry:
1 Tbsp coconut oil (or canola oil)
2 cloves garlic, minced
1 tsp minced fresh ginger
3 Tbsp green curry paste
1 14-oz can light coconut milk
1 stalk lemongrass, tough outer leaves removed, cut into 2-3 shorter pieces and crushed with the side of a knife
1 large turnip, peeled and chopped (about 1-inch pieces)
1/2 lb red potatoes, scrubbed and chopped (about 1-inch pieces), or sub another turnip
3-4 cups chopped summer squash (zucchini, yellow, pattypan, etc.)
For serving:
cooked jasmine rice
chopped fresh cilantro
Instructions
Heat a large pot or Dutch oven over medium heat. Add the coconut oil and, once hot, add the curry paste. Mash it into the oil with the back of your spatula until they combine to form a paste. Toss in the garlic and ginger and saute until fragrant, 30 seconds to a minute. Slowly pour in the coconut milk, whisking to ensure there are no clumps of curry paste. Toss in the lemongrass and bring to a simmer.
Add in potatoes and turnips, cover, and simmer for 10 minutes. Add in squash, return to a simmer, and cook until all vegetables are tender, 15-20 minutes longer.
Serve atop jasmine rice and sprinkle with chopped cilantro. Enjoy!