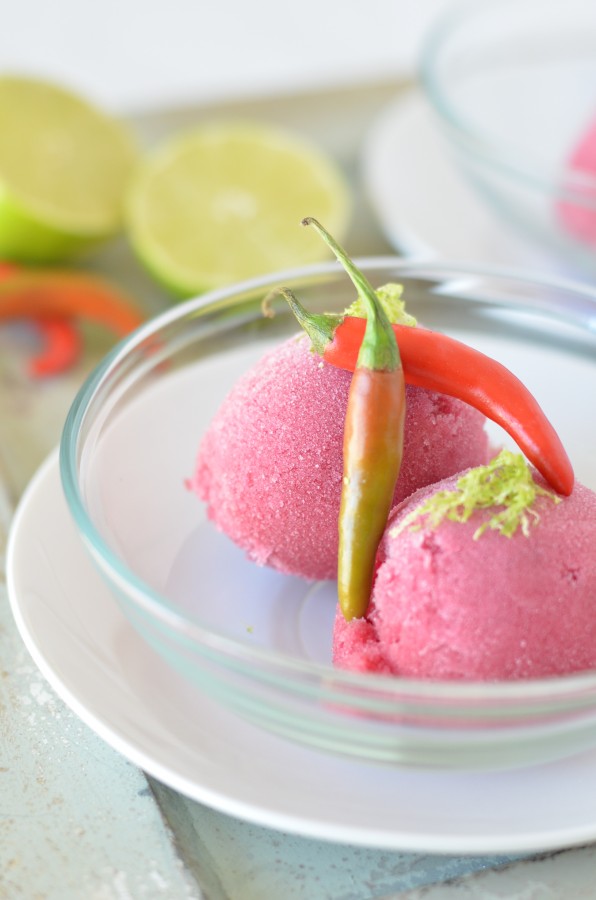 So I guess I never got around to posting my vacation pictures for you this week, did I?
Oops. Maybe this weekend.
I was catapulted head-first into the week when my flights home on Sunday got messed up due to weather delays. We boarded the plane, we sat, then we got off the plane, we sat, my connection from New York took off while I was still on the ground in Boston, and then I went back home to my parents' house for the night.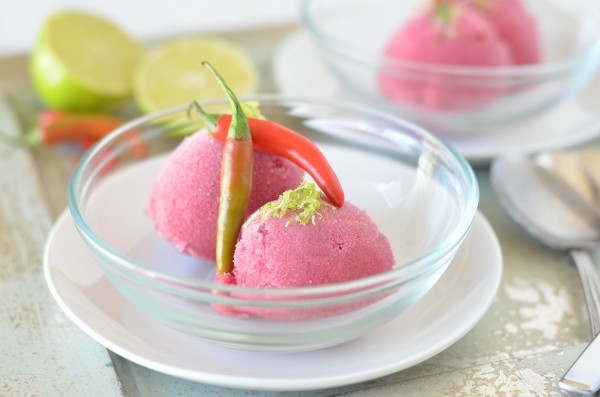 It was a very weird feeling to start the day in my childhood home outside of Boston and end up at my office in Salt Lake, having been up since 2:30 AM Mountain Time. Ugh. Direct flights only from now on!
And that is my long-winded excuse for why I haven't posted vacation photos.
But I doubt that what you wanted out of this post was a bunch of bitching about vacation travel. How rude of me! You wanted sorbet.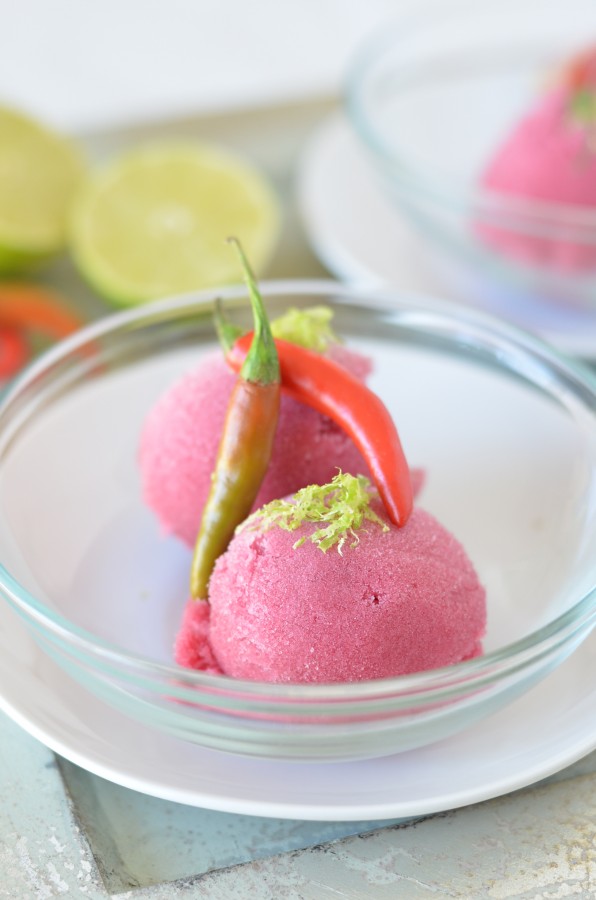 This pomegranate chili sorbet is a flavorful little number that requires no ice cream maker. Hallelujah! Just a handful of ingredients and some patience, because you do have to freeze the stuff, after all. Luckily we're using pomegranate juice and don't have to mess around with whole pomegranates. So we're really saving time, right? Right.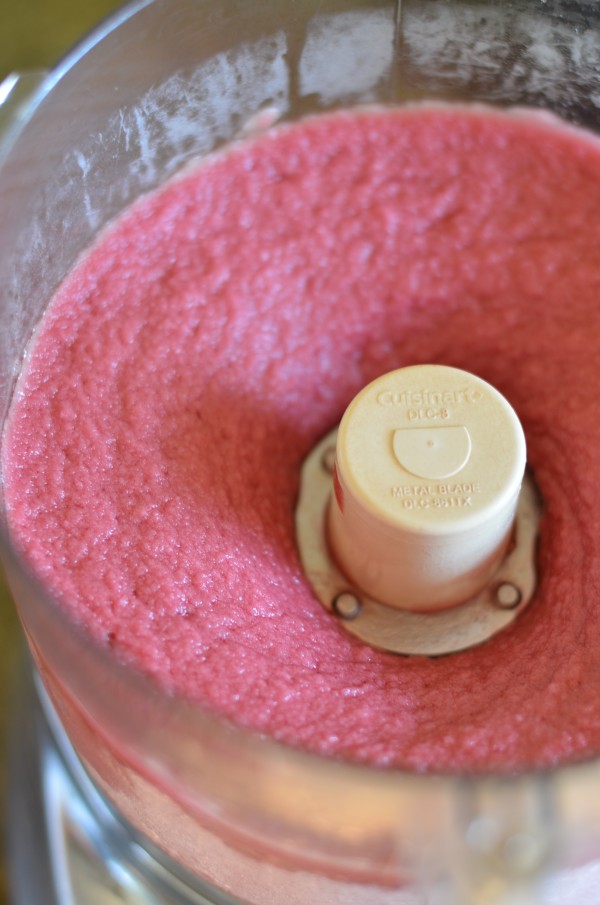 The chilies actually don't make this sorbet spicy – surprising, given that there are four of them in there! They just infuse it with a chili pepper flavor that matches perfectly with the pomegranate and lime. If you're looking for a spicy sorbet, you could play around with the number of chilies or even use habaneros. As the recipe's written, you get all the flavor of the Thai chilies without any of the heat.
For a sweetener, I used half corn syrup and half cane sugar here. I did an all-sugar version, but ended up preferring the less icy texture when using half corn syrup. The sorbet is not too sweet – it's actually quite tangy, which I like – so if you prefer sweeter sorbets, you may consider increasing the sugar to 2/3 of a cup.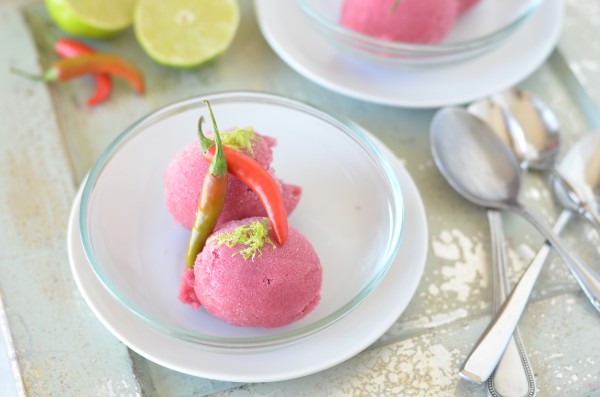 This is the perfect light dessert, or even a "palate-cleanser," if you will. The flavors are strong, so a little goes a long way. I don't think anyone would complain about a little scoop of it after a heavy dinner! Especially in this August heat.
Have a great weekend, friends!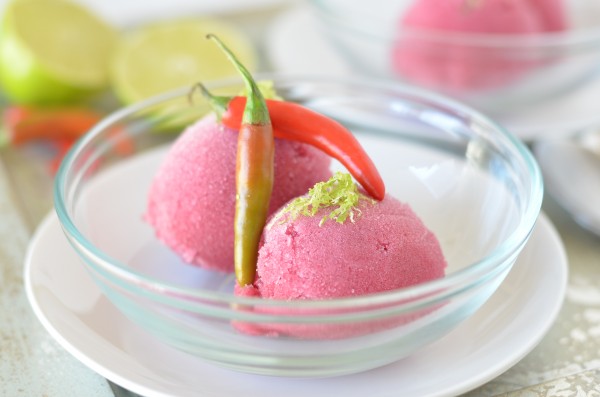 Chili-Infused Pomegranate Sorbet
Yields:
4-6 small servings
Ingredients
3 cups pomegranate juice
4 red Thai chilies, pierced several times with a knife
1/4 cup sugar
1/4 cup light corn syrup
juice of 1 lime
Instructions
Bring pomegranate juice and chilies to a simmer in a small pot. Simmer for 10 minutes, remove from heat, and cool to room temperature (or warm is fine, just not hot). Remove chilies and whisk in sugar, corn syrup, and lime juice.
Pour into a 1-gallon Ziploc bag and zip tightly! Lay flat on a baking sheet in freezer until completely frozen, several hours.
Remove from freezer and cut off the bag. Working quickly, break the frozen juice into chunks and place in the bowl of your food processor or blender.
Blend until smooth. You will have to stop often to rearrange the large frozen chunks until they blend smoothly.
Spread in a loaf pan or other dish, cover, and freeze several hours more until solid. Serve and enjoy!